May 21, 2008
Fresh out of our R&D Department, these chassis stiffeners increase the rigidity of the 350Z, allowing the suspension to deal with road (or track!) conditions more effectively and predictably.
These powder coated braces link rear suspension pick up points together as well as triangulating the factory front suspension braces with the structural members running down either side of the transmission tunnel.
Now available for purchase!
EDIT 8/8/08:  These braces can work in conjunction with the new STILLEN Front Core Support Brace also available.
May 21, 2008
Apparently it's as simple as picking up this used slightly modified 2002 BMW M3, just ask the owner, who has all of the answers you're looking for.. as posted on his AutoTrader entry..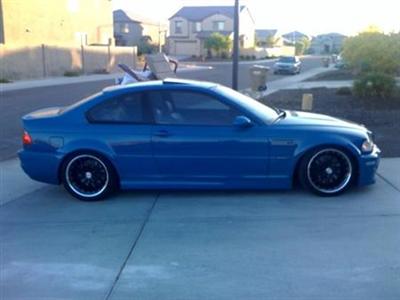 "2002 BMW M3 Coupe, 6-speed manual, Rare Laguna Seca blue, Gruppe M intake, Remus exhaust, Fully adjustable coilover suspension, AC Schnitzer rear spoiler, AC Schnitzer roof spoiler, AC Schnitzer clear corners, LED tail lights with smoke colored lenses, 50k service (big one including valve adjustment) done at 65k miles, New brakes, Maintenance records available, New 18″ wheels and tires, Harman Kardon premium sound system, Ice cold A/C, Looks & runs great, Non-smoker, Power everything, Very clean interior, Well maintained, 100k BMW engine warranty. Private Seller (no sales tax). This car has gotten me laid so much it is ridiculous. I would like pull up to a pimp club in Scottsdale and the valet would crap his pants, but I wouldn't let him park it. I just leave it up front and make sure all the ladies saw me get out. I'm also totally ripped so that helps too. I inject myself with pure bull shark testosterone and lift 4 hours a day. My diet also consists of 24 egg whites a day. I've got a killer 6 pack and some delts that you would not believe. I only hook up with 9s and 10s. Never less because I'm a winner! I'm not saying this car will do the same for you but it's a start. If you're interested in taking the first step to becoming a true Jedi Pimp email me at conner.john2@xxxxx.com. I'll probably be working out so I'll get back to you as soon as I finish my protein shake (and probably hooking up with a hot chick)."
Source:  AutoTrader.com