July 8, 2008
Yesterday Steve Millen was out in Los Angeles for the first delivery of the Nissan GT-R, and while out there Adam from StreetFire.net got a chance to interview Steve regarding the recent controversies surrounding the Road & Track and Car & Driver testing of the Nissan GT-R versus the Corvette Z06 and Porsche GT2, and various other topics.
Video of the StreetFire.net interview is below:

EDIT:  It would seem that this is again creating some buzz in related forums, listed below:
- NAGTROC – Steve Millen Answers the Skeptics on the GT-R
- NAGTROC – GT-R faster than 997 GT2 at Willow Springs
- FerrariChat – GT-R beats 911 GT2 at Buttonwillow
July 7, 2008
At exactly 12:01am this morning on July 7, 2008, the first Nissan GT-R was delivered to the first consumer owner, and STILLEN was on hand at Universal Nissan in Los Angeles for this historic event.
Nissan asked Steve Millen to be on hand to present the vehicle, and deliver a specially painted replica helmet which included the date and details of the first GT-R delivery. And the first GT-R to be delivered is…..
A Black Obsidian Premium Model.
Video of the mini-event was captured from our friends at StreetFire.net:
Check out some photos of the event below:
As you can imagine, this has created a lot of buzz, as people can't wait to get their pre-ordered GT-R's, as well as begin seeing these beasts on the road:
- CNN Money
- NAGTROC Forum Post
- eGMCarTech
- StreetFire.net Photos
For the rest of the specs be sure to visit our Nissan GT-R Tech Section

July 3, 2008
We recently had a G37 at the facility, and we were able to do some testing on the G37 Headers, Cat-Back Exhaust, and High-Flow Catalytic Converters on the same vehicle to compare versus stock.
PDF Dyno Sheets are available below:
STILLEN G37 Cat-Back Stainless Steel Exhaust
Part #504400 – Dual Wall Straight Cut Tips
Part #504401 – Single Wall Slash Cut Tips
18 WHP Gain
STILLEN G37 High-Flow Catalytic Converters
Part #503436 – Metallic Converters (Pair)
14 WHP Gain
STILLEN G37 Stainless Steel Headers
Part #508387C – Ceramic Stainless 409
Part #508387S – Stainless 304
Part #508387N – Stainless 409
14 WHP Gain
These parts are all in stock and available for immediate shipping.  Pictures of these items are also below.
July 1, 2008
Infineon Road Course in Sonoma, California is one of the most challenging tracks on the NASCAR Nextel Cup circuit.  With 12 turns and high speed straightaways leading into 30 mile per hour corners these 3,000+ pound cars abuse their brakes to the limit.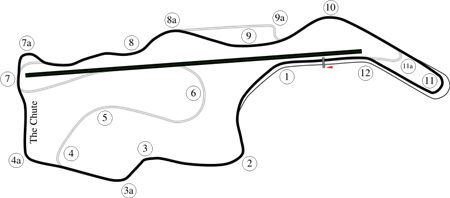 On June 22nd Kyle Busch put his AP Racing brakes to the ultimate test and came from 30th starting position to win the race.  This win moved him even further ahead as the points leader for the Nextel Cup Championship.

.
Immediately after getting out of the car the first company he thanked was AP Racing.  This is even more significant considering he did not thank his PAYING sponsors until after he thanked the manufacturer's of a product his race team pays over $30,000 to use.  If AP Racing brakes can help Kyle Busch win in such a demanding environment, imagine what AP Racing street kits can do you for your car during the day to day grind.
Here is an excerpt of his victory speech from the Joe Gibbs Racing website:
"We unloaded here this weekend and we were absolutely horrible," Busch said in his post-race press conference. "We were so bad we didn't know what was going on. These guys worked their tails off and never gave up. We worked on it and worked on it – made changes to everything – and finally figured it out. I have to thank AP Brakes, MAC Tools, M&M's, Snickers, Interstate Batteries, NOS Energy Drink and everybody that's helped us here. For Toyota to win here at their home race, that's pretty special, too."
Track Photo Courtesy Wikipedia