August 18, 2008
STILLEN Brake Pros is proud to introduce the AP Racing Front Big Brake Kit for the 2002-2008 Subaru Impreza WRX and STI and AP Racing Rear Big Brake Kit for the 2008 Subaru Impreza WRX and STI. The front kit utilizes AP Racing 6-Piston Calipers, 14″x1.25″(355mm x 32mm) 2-Piece Cross Drilled & Slotted (or Slotted Only) Rotors and the rear kit uses AP Racing 4-Piston Calipers, 13″x1″(330mm x 25mm) 2-Piece Cross Drilled & Slotted (or Slotted Only) Rotors. Both kits include high performance Mintex Xtreme brake pads, stainless steel brake lines, and all necessary brackets and hardware. The factory parking brake is also retained with our rear kit.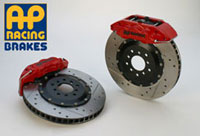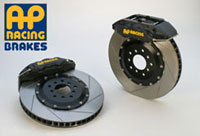 These kits will CLEAR THE OE STI 18-SPOKE BBS WHEELS!
More info after the jump..
Read more
August 15, 2008
We showed some pictures of the STILLEN Production Facility in its earlier construction phase in late June, and as you can see from the photos below, construction is almost complete.  This expansion will double the size of this STILLEN building, giving us the much needed room to expand the fabrication and manufacturing divisions of STILLEN.
Everyone is chomping at the bit to get some machines in there and increase production…
August 11, 2008
We have released the STILLEN 2007-2008 Altima Sedan Front Lip Spoiler, as well as the Side Skirts (Rockers).  The Lip Spoiler is an alternative to the complete Front Fascia which is also available.  The Side Skirts are a perfect match to either front treatment choice.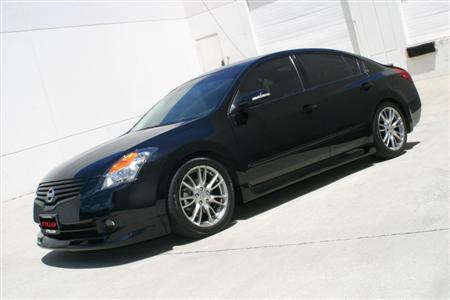 More photos and information after the jump…
August 8, 2008
We ran across a thread from TitanTalk.com from one of our customers fillup who has had the STILLEN 5.6L Titan Intercooled Supercharger System installed for a while now.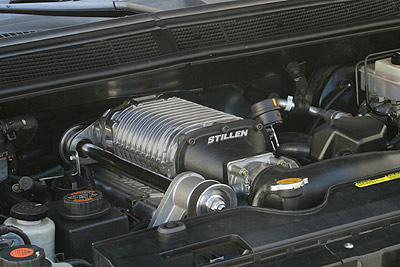 fillup gives his impressions on the kit, and how it has held up over the years:
I have now had my Supercharger for around 3 years and have managed to put 85,000 + miles on it. I have driven in every type of conditions imaginable from Living in Aspen to Working in Yuma and Spending way too much time in LA. My mileage has been 65% highway with rest in heavy urban environments.
August 8, 2008
Another new suspension component that recently left STILLEN's R&D Department and is now in production is the Front Core Support Brace for the 2003-2008 Nissan 350Z.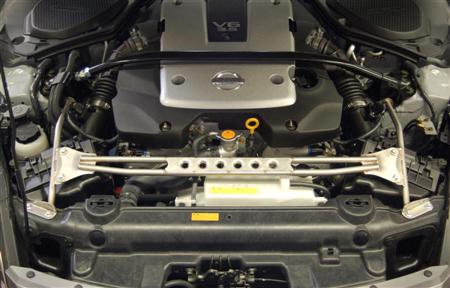 This brace adds crucial support and stiffness to the front clip of the 350Z, and is a must have for anyone looking for maximum cornering ability, especially anyone tracking their Z.
Uninstalled photo and more information after the fold…