STILLEN 370Z Cat-Back Exhaust Released!
February 26, 2009
We have finished final production on the new STILLEN Stainless 370Z Cat-Back Exhaust System, and wanted to share the pictures, video sound clip and dyno sheets with you.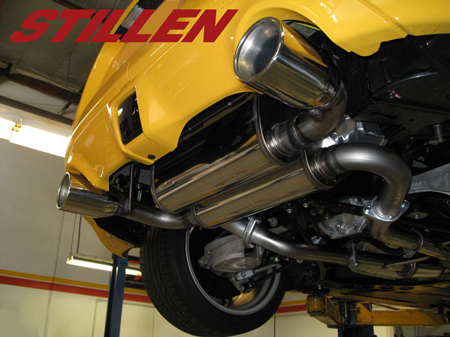 The 370Z is responding excellent to power modifications, and our heritage with tuning the Z car has allowed us to squeeze an additional 18whp from this upgrade.  See below for the pictures and video.
Exhaust Sound Clip

Here's the product information from the STILLEN Product Page:
STILLEN is proud to offer the complete, true dual, stainless steel exhaust system for the NISSAN 370Z. Constructed out of polished stainless steel and finished with 4.5″ polished 304 stainless tips and polished mufflers this exhaust nets a gain of 18 rear wheel horsepower!



With years of experience on the VQ35 engines STILLEN was able to utilize that knowledge with the larger 3.7 liter and find hidden power in the factory exhaust system.



In years past, magazines have always shown the STILLEN exhaust to be the most powerful exhaust when tested in their comparison shootouts. Constantly remarking on the superior construction, perfect fit and finish and attention to detail. With a sound that offers an aggressive, yet refined note that does not disturb the senses or drone inside the vehicle.



Features:

Maximum Horsepower – Dyno proven +18hp at the wheels
Stainless Steel Construction
Dual 4.5″ 304SS Tips
Aggressive Tone Without Annoying Drone
Limited Lifetime Warranty
Photos and Dyno Sheet
Comments