New from STILLEN: Racing-bred stainless steel brake lines for the Nissan GT-R!
This is the first brake line upgrade on the market that does NOT require removing the factory hard lines. Stainless steel braided lines are stiffer than the typical rubber brake lines, but nothing is stiffer than hard steel tubing. That is why it is important to keep the hard lines in place for the firmest, most responsive brake pedal feel.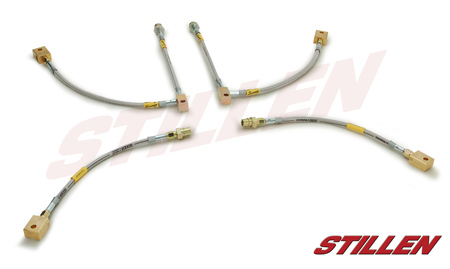 Aircraft-style fitting details are used throughout for leak-free connections – no banjo fittings! The factory junction block functions are replicated to eliminate any possible rubbing issues with suspension travel or steering wheel input. Doing so allows the front lines to be bolted to both the upright and the strut for the most positive location possible.