STILLEN is proud to release something we've been developing and fine-tuning for quite some time, our Secondary Cat Delete Y-Pipe for the Nissan GT-R!
The factory equipment this replaces contains two flow-robbing cats and weighs in at a hefty 30.25 lbs!  Our new Y-pipe replaces those cats with polished 304 stainless steel resonators and drops an astounding 47% of that weight, coming in right at 16 lbs.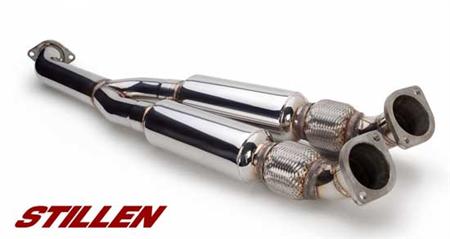 There is a lot of power held back by the factory exhaust system on the Nissan GT-R. By eliminating the factory catalytic converters, STILLEN has successfully improved flow, creating power gains as well as dramatically improving sound.