July 19, 2009
On Saturday we opened up the parking lot and the doors to STILLEN as a place for guys at NICO to come down and throw a BBQ meet.  We were really impressed at the number of attendees, and the quality of the vehicles that showed up!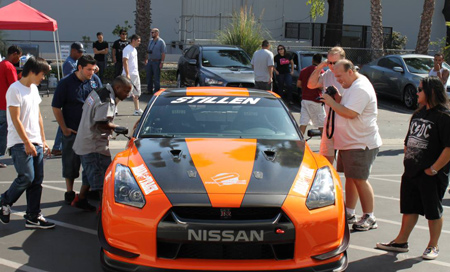 This was also the first time anyone has seen (and heard!) the STILLEN GT-R in a public setting, and the build is getting much closer to being finished in preparation for the upcoming Targa Newfoundland Rally in September. Read more
July 17, 2009
July 17, 2009
Testing is under full swing for the STILLEN Nissan GT-R as preparation continues for the Targa Newfoundland Rally.
Road & Track is finalizing some video of the testing and some of the products being installed, and was nice enough to forward some teaser footage..

See all of the videos at the Road & Track site.. new videos being added constantly.
July 15, 2009
Road & Track Magazine has practically been living at STILLEN documenting the build on the STILLEN GT-R.  We're in the final stages of the build, with the BASF paint recently finished, Password:JDM dry carbon goodies, suspension, AP Racing carbon ceramic brakes and final installation beginning, including track testing in preparation for the 2009 Targa Newfoundland Rally.
Road & Track have released three new videos, one covering the GT-R in the paint booth, one highlighting the ultra lightweight Password:JDM dry carbon parts and some other upgrades, and the most recent with Steve Millen discussing the current suspension upgrades being done to the car.
Road & Track Video: STILLEN R35 GT-R Suspension Upgrades
Road & Track Video: STILLEN R35 GT-R In The Paint Booth
Road & Track Video: STILLEN R35 GT-R Lightweight Body Components and Intake System
July 13, 2009
The office was buzzing today, as development continues on braking improvements to the R35 Nissan GT-R.  Here's a teaser shot of the upcoming STILLEN / AP Racing Carbon Ceramic Brake Upgrades currently in R&D here at STILLEN.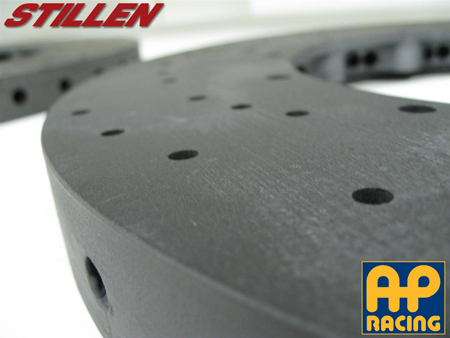 This setup will be used on the STILLEN GT-R being campaigned at the 2009 Targa Newfoundland Rally this September.
More information is coming soon.. be sure to follow our RSS Feed for up-to-date information as we release it.