January 14, 2010
A little while back we had a chance to meet up with Matt Farah and his awesome crew from TheSmokingTire.com and show them around the buildings here at STILLEN.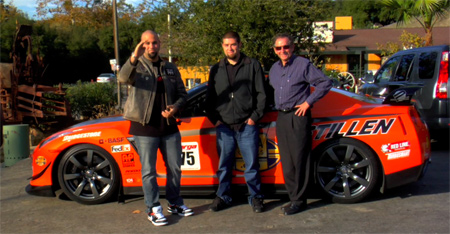 Matt and Steve then jumped in the bright orange STILLEN GT-R and took a run through some of the local canyons.  See below for the video! Read more
January 12, 2010
Join us Saturday, January 16th at STILLEN as we host the first BIG Detail Clinic of 2010!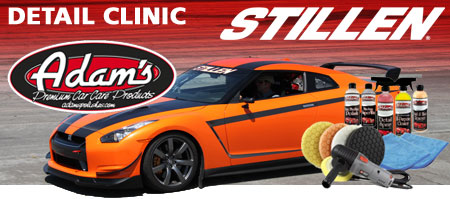 STILLEN relies on Adam's Polishes to keep all of our show cars looking the way they were meant to be, and we're opening up the shop to give our customers an up-close look at these detailing products in action. 
Adam's experts will be on hand, demoing Adam's most popular products, new detailing tools and accessories, and giving you first hand advice for getting the absolute best shine possible. Plus, there will be one-day-only special savings and FREE Adams's samples for all that attend.  Read more
January 8, 2010
STILLEN is proud to announce we are nearing completion for the Nissan 370Z / Infiniti G37 Supercharger System. As we approach production, we will be updating the progress as frequently as possible on our blog. We'll start with the concept, and some insight into the development process.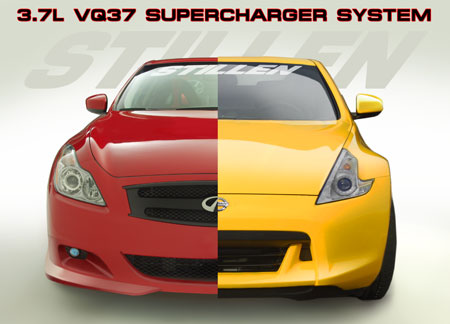 This 3.7L supercharger development began in late 2008 and moved steadily through 2009.  We had a bit of a delay in the development while the STILLEN R35 GT-R was prepared for Targa Newfoundland, but after that car was completed it was back to business on the supercharger!  We have just started the new year in 2010 and we are excited to say the supercharger is nearly finished!  Here is a re-cap on our development and some of the engineering that went into making this kit come to life! Read more
January 7, 2010
This Strap Drive System has been developed by AP Racing both for Road and Race applications. The standard fitment brake discs on many performance cars can suffer from brake vibrations caused by disc distortion. This generally occurs on fast road and track installations.
On many performance cars the typical standard brake disc will be a heavy duty ventilated single piece casting. Couple this type of rigid disc to a standard hub and wheel bearing and the result is any hub distortion / run out will transfer onto the disc brake faces. This eventually results in brake vibrations, usually picked up through the steering wheel.
The AP Racing Strap Drive System offers a new take on the floating systems already in the market place. Strap Drive uses a series of stainless steel straps to locate the disc to the mounting bell, producing a flexible coupling between the hub and the disc faces. This allows the disc to run true in the caliper under all conditions and also permits the disc to expand and contract without being restricted. Read more
January 1, 2010