May 11, 2012
May 10, 2012
For all gear-heads alike the initials B.R.E. represent something almost god like in motorsports. Countless images of 510′s and Z's with iconic stripes on the side of them fill my head with all of racing's glory. Granted, fourty years ago I wasn't alive to enjoy all Brock Racing Enterprises victories, but one can live vicariously through the internet can't he?
In 2010 to celebrate the 40th anniversary of the BRE 240 Z victory at Road Atlanta, Peter Brock  built a 370z with the help of STILLEN as a tribute piece aimed at capturing the soul of the BRE car with a modern twist.
While building the car, they turned to STILLEN to make sure the car ran as good as it looked on the track and among other products we made sure to install the STILLEN 370Z Oil Cooler Kit to make sure oil temperatures were under control at the track. STILLEN 370Z SWAY BARS to take car of the handling, STILLEN 370Z CAT BACK EXHAUST to give a little more grunt but still stay within class regulations.
Road and Track put together a pretty awesome video that highlights both of these car's at speed on the Spring Mountain circuit in Pahrump Nevada. Check it out:
It turns out the BRE 370z tribute car decided to pay us a visit this week. I love the autographed dash on this thing!!!

For more info on this car and the BRE 240Z check out the Road and Track article.
May 9, 2012
Last week, we told you about the IMPORT TUNER Power Pages article that featured our Supercharged 370z with just 3 magical parts on it.
STILLEN 370Z INTERCOOLED SUPERCHARGER KIT
STILLEN 370Z DUAL EXHAUST SYSTEM
STILLEN UP REV ENGINE TUNE
As you can see from the previous article, those three parts alone gave the 370z a 139HP boost at the wheels and 90lb/ft of torque. While we would LOVE to equip our customers cars with superchargers all day, the $8,000+ price tag might be a little too much for every budget. So today, we figured it would be fitting to cover a more cost effective approach to the "magic number."
While navigating through the wonderful world of YOUTUBE this morning, I stumbled upon a video from EFI LOGICS that features the magic number of 3 in a much more affordable combination.
For their customer (Richard Park) EFI LOGICS  combined the
370Z GEN 3 STILLEN LONG TUBE INTAKE $499
370Z STILLEN CAT BACK DUAL EXHAUST SYTEM $1269.61
370Z UP REV OSIRIS ECU TUNE $499 (plus dyno time)
For some pretty amazing horsepower and torque gains.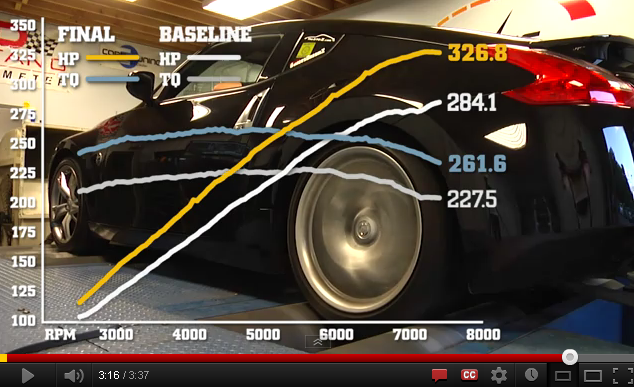 As you can see, it turns out 3 is in fact the magic number on the 370z for gains good for +40HP at the wheels and +30 lb/ft of torque. All for a price that's roughly around $2500.
If you are interested in taking your 370z to the next level, give us or EFI LOGICS a call and both of us will gladly help point you in the right direction.
May 7, 2012
The list of amazing cars using AP RACING brakes continues to grow every day, we have touched on some of those vehicles before but today is a perfect time to highlight the ULTIMATE AP RACING equipped vehicle.
What makes it the ultimate? Other than the obvious name, how about it beating the Koenigsegg CXX around the Top Gear test track by over 4.5 seconds, and the Pagani Zonda R by over 5.5 seconds.  Yeah I'd say that pretty much makes it the ULTIMAte! Check the video below for the record breaking run:
If that's not enough for you, how about some of these amazing photos by GF WILLIAMS that were posted today on Jalopnik.
For the rest of gorgeous photo shoot
Cruise over to Jalopnik:
http://jalopnik.com/5908347/ultima-gtr-straight-up-car-porn/gallery/1
May 4, 2012
Since today marks the unofficial start of the 2012 Tire Rack One Lap of America with the first drivers meeting of the year, we thought it would be fitting to highlight some of the vehicles running STILLEN products.
The One Lap of America is one of those racing series that is as equally bad ass as it is grassroots, as quoted from the One Lap of America website: " The TIRE RACK ONE LAP OF AMERICA is the toughest 8 days of racing featuring the fastest street-legal cars on America's most challenging racetracks."
Ill sum up what makes this series so awesome in a couple short bullet points.
- Drivers must drive to 9 racetracks across the county to compete in Time attack, Drag and Skidpad events in the same car they will be competing in.
- Drivers only get ONE set of street radial tires (tread wear 140 or above)  to complete the 5000 mile journey and track events in.
-The driver with the most points at the end of 8 days wins
Very simple yet very intense.
Last year's winner TOPSPEED motorsports ran our AP RACING J-hook rotors for their 2011 campaign, they loved them so much they decided to run them again this year.
TOPSPEED motorsports aren' the only guys running the J-HOOK rotors… Forged performance opted for the tried and true formula as well.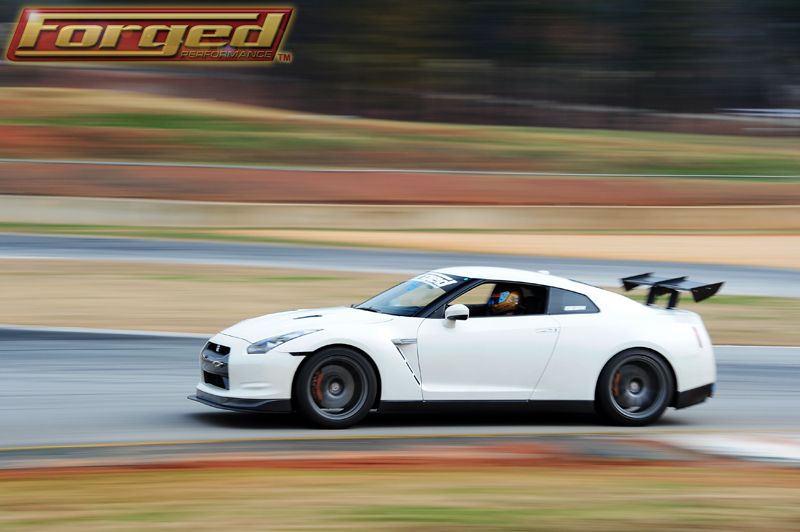 The SPEED CONCEPTS team is running the DBA Curved Vane rotors and STILLEN sway bar products on their GT-R
I'm sure I'm missing a few other GT-R teams that are running STILLEN product so if any one has any info or news they want to sent over please have them email me at msabounchi@stillen.com
We wish everyone the best of luck and we can't wait to see how this year turns out.