July 11, 2012
The new 2013 Nissan Altima is making waves all over the car world and we were lucky enough to get our hands on one this week for some R&D.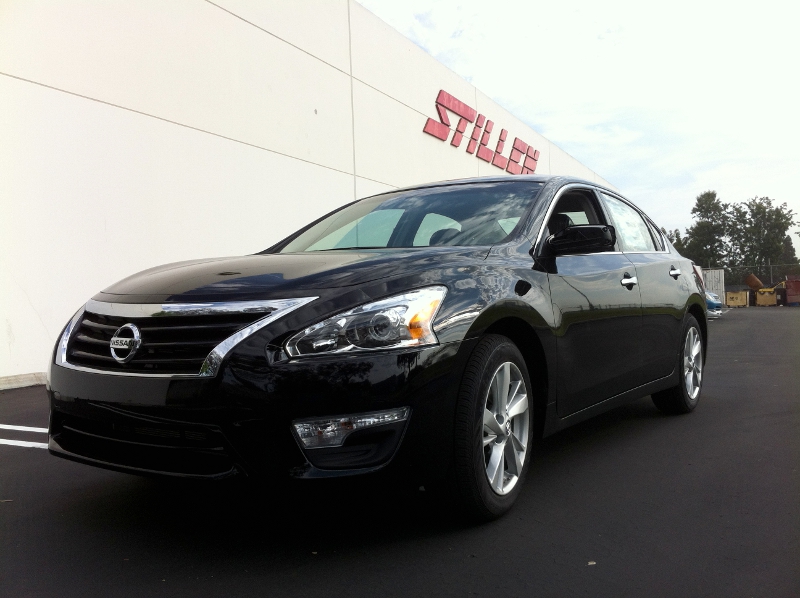 As you can see the new Altima is starting to look more and more like it's big brother Mr. Maxima, but that's about the only thing it shares with it's bigger sibling.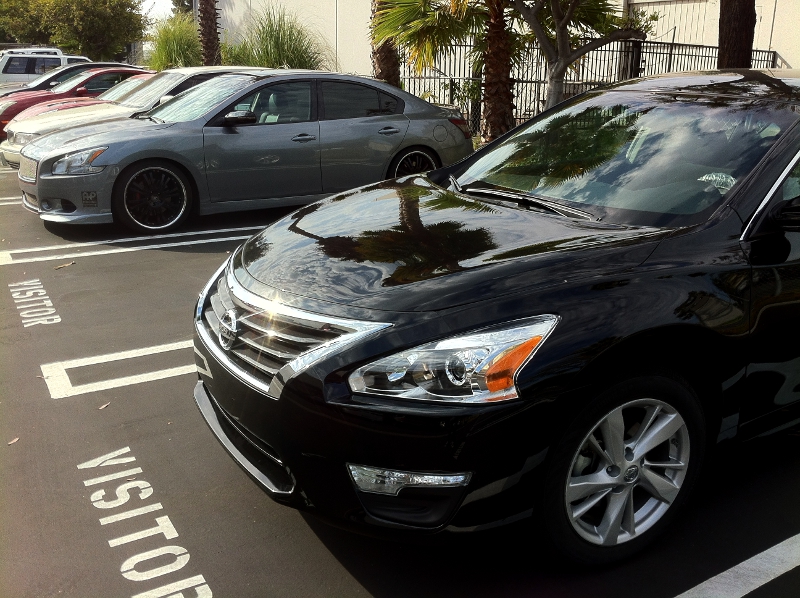 We are working on a full array of products for the new 2013 Altima but for now, we have already dialed in a Big Brake Kit, and a STILLEN intake kit. Stay tuned for the release date announcements.
July 10, 2012
This is your chance to get a FREE Oil or Transmission cooler as well as up to 50% OFF STILLEN urethane.
Check out the flyer below for details: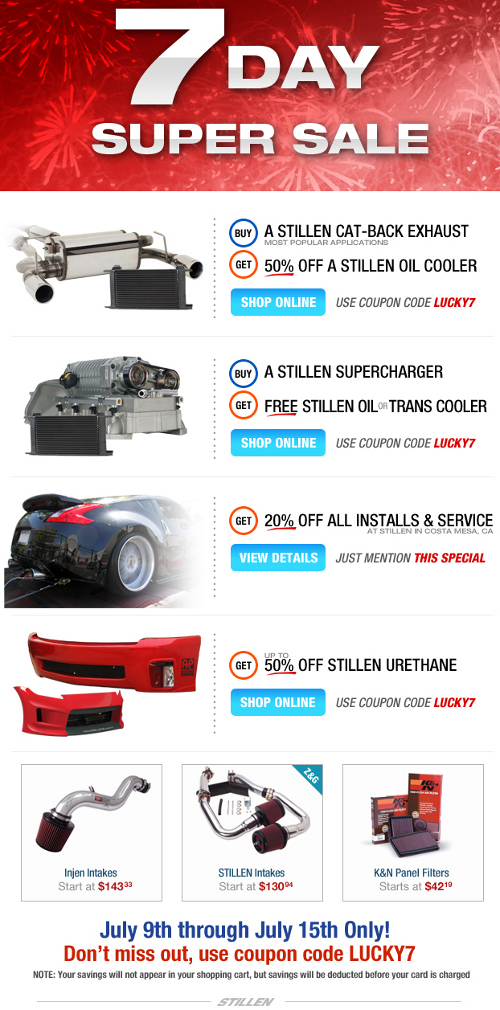 Don't forget to enter LUCKY7 as your coupon code.
Note: Your savings will not appear in your shopping cart but your savings will be deducted before your card is charged.
July 6, 2012
July 5, 2012
In the world of Social Media, today is known as #ThrowbackThursday and when you have been in business for 20 plus years, the amount of amazing content at your disposal to "throw back" to is insane. Today's throwback Thursday post was very difficult chose, it was most definitely a toss up between covering Montel Jordan's STILLEN equipped glorious 1990′s Chevy Suburban or some NISSAN TITAN awesomeness. Needless to say, the Titan won.
I swear, I can watch that video over and over.
In case you were wondering which STILLEN parts, that TITAN happened to have on it. Here's the breakdown:
STILLEN NISSAN TITAN SUPERCHARGER
STILLEN NISSAN TITAN HEADERS
STILLEN NISSAN TITAN AP RACING BIG BRAKE KIT
STILLEN NISSAN TITAN TRANSMISSION COOLER
STILLEN NISSAN TITAN HI FLOW INTAKE KIT
Back in 2006 during one of our "STILLEN DAYS" a customer brought out his INSANE Nissan Titan just to lend us a hand in destroying one of our cars that was already scheduled to be crushed. This moment will go down history as eternally epic.
July 3, 2012
Magazine's and parts manufacturer have always had a relationship much like peanut butter and jelly. Magazine's usually rely on manufacturer's for ads and manufacturer's rely on magazines for advertising. They are good on their own, but it seems like they were made for each other.  I'm proud to let you know that STILLEN and DSPORT have teamed up to give you something just as wonderful as the perfect PB&J.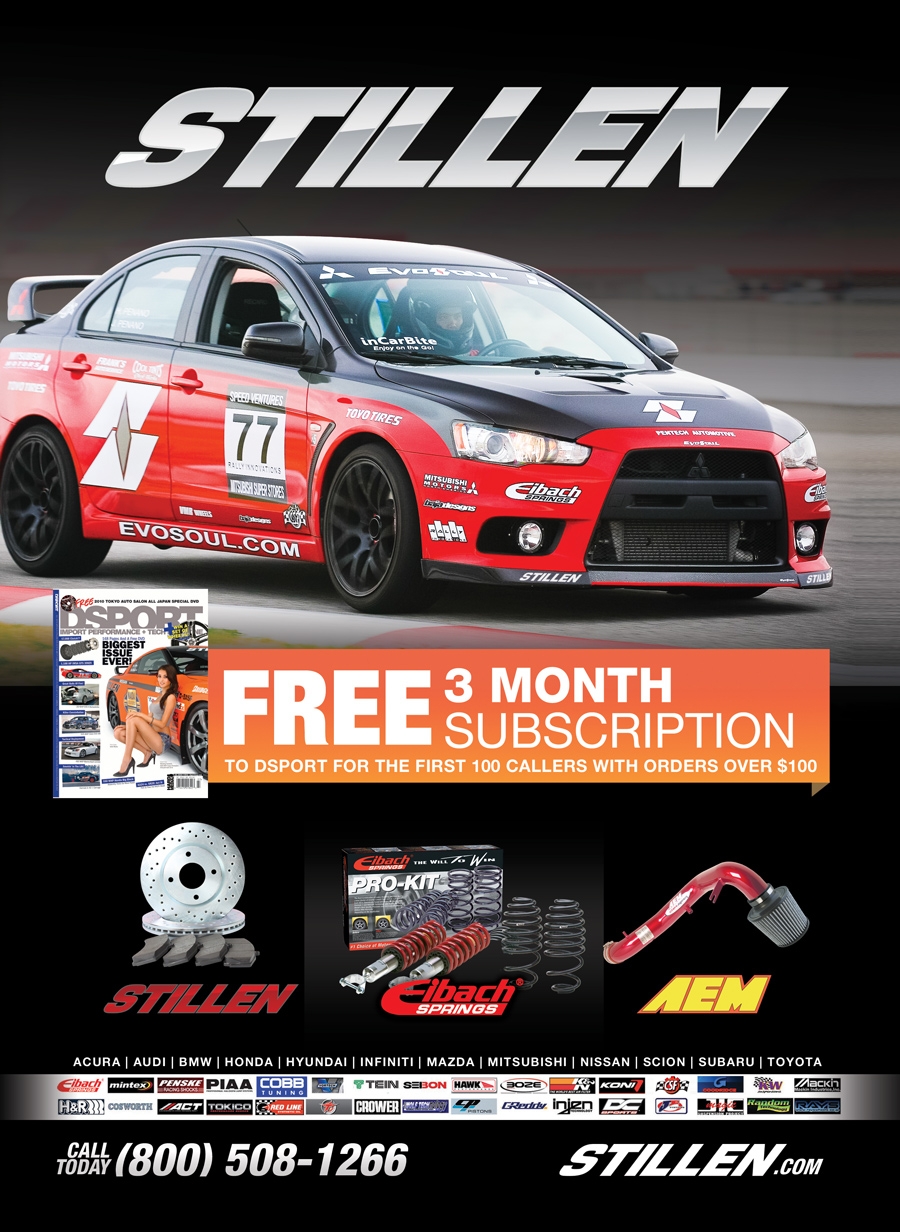 THE FIRST 100 CALLERS WITH ORDERS OF $100 OR MORE will get a FREE 3 month subscription to
DSPORT
magazine.
Don't sleep on this folks, spots are filling up fast.
CALL TODAY
1800 508- 1266