It doesn't get any better than this for the late model year Corvette owner who's looking to add some affordable performance and a stand-alone sound to enhance the already great performance of their Corvette. MagnaFlow has released Competition and Street Series Corvette Exhaust kits for 2000-2013 models, including an Axel-Back, Muffler Delete for the 09-11's, and these Corvette Exhaust kits are the real deal. Each new Corvette Exhaust is dyno tested and proven to make power, and provide performance gains in horsepower and torque, as well as delivering that deep, smooth tone MagnaFlow is known and sought after for.
Listen to these MagnaFlows sing and place your order today!!

The Competition and Street Series Corvette Exhaust kits are all made of 100% stainless steel, and come with the MagnaFlow lifetime warranty that makes them an easy choice for those looking for long lasting quality and performance enhancement. With the exception of the Muffler Delete system for the 09-11 models, these new Corvette Exhausts kits come with an 18-inch muffler while the entire line-up boasts 2.5-inch mandrel-bent tubing and 4-inch quad stainless tips.
Part# 15281 – 2000-2004 V8 5.7L Corvette Exhaust – Competition Cat-Back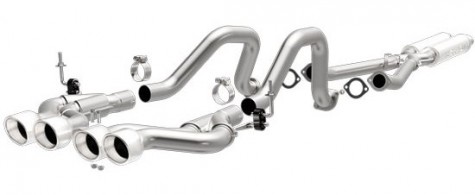 Part# 15282 – 2005-2011 V8 6.0/6.2L  Corvette Exhuast – Competition Cat-Back

Part # 15283 – 2009-2011 6.2L Corvette Exhaust – Competition Axle-Back Muffler Delete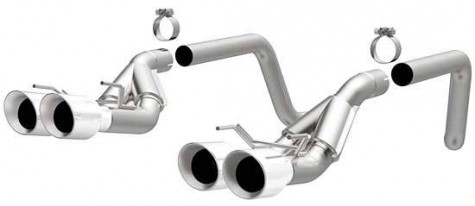 Part# 15284 – 2012-13 6.2L Corvette Exhaust – Street Series Cat-Back

To speak with an expert and place an order, give us a call at (866) 250-5542. You can also check out the entire STILLEN line, or search for other MagnaFlow products. Visit the Performance Shop site and schedule anything from routine maintenance or an install to a full build.