March 21, 2014
Here at STILLEN, we're pretty proud of the products we make. We know firsthand how much time and effort goes into sourcing the correct materials, developing the perfect design and testing the prototypes all so that we are 100% confident that the aftermarket parts our customers are putting into their cars are the best they possibly could be. As proud as we are of the parts we make, we are even more proud when a third party recognizes a STILLEN part for its quality. Needless to say, the office was abuzz this week when we found out the STILLEN brake cooling kit for the Nissan 370Z was featured in a MotoIQ Project 370Z article!
Project 370Z Article Summary
As the article mentions, the goal of Project 370Z is to get some track time with their 370Z. As improvements to the car have led to improved lap times, they have also led to more stress on the brakes. With this in mind, the team decided it was time to upgrade with the brake cooling kit. With that decision made, it was time to actually install the kit and test it. By this time, most of the STILLEN team was on the edge of their seat wanting to hear how our in-house testing was comparing to MotoIQ's third party testing. Checkout the quote below to see how our brake cooling kit fared:
"With the brake ducts covered, the right front caliper temperature peaked at 272 degrees Fahrenheit, and the rotor at 529 degrees Fahrenheit. The Left front caliper reached 259 degrees, with the rotor at 550 degrees. Once the ducts were opened, both the left and right side caliper dropped 44 degrees. The right front rotor dropped 156 degrees, and the left front rotor dropped a whopping 216 degrees! This is a significant reduction and spot on with STILLEN's in house testing at the same track. We were truly impressed with the numbers. Also the brake feel and control stayed more consistent throughout the session with the ducts functioning. Any 370 that sees a decent amount of track time should look into purchasing this kit, it's a cost effective way to give yourself a higher temperature threshold for your brake system and will also prolong the life of the ware items such as pads, rotors, piston seals, and brake fluid." – Clint Boisdeau, MotoIQ
Get More Information On the STILLEN Brake Cooling Kit for Nissan 370Z
For more information on this great brake cooling kit check out the full article here or visit www.stillen.com for more details. If you would prefer to speak with our experts about this kit or any of the other Nissan 370z parts we sell, please call 866-250-5542 and we will be happy to answer any questions you have. For our Southern California 370Z enthusiasts, we also have a full service performance shop that can install everything from brake cooling kits to superchargers and exhausts. If you want your kit professionally installed, just let us know and we'll schedule an appointment for you!
March 5, 2014
Here at STILLEN, we typically focus on performance – getting the most horsepower, most torque and best sound possible out of our cars and our customer's cars. Today, however, we were reminded of a whole different side of performance – building armored vehicles. Now, you may be wondering what STILLEN has to do with armored cars, trucks and SUVs. After all, we're known for superchargers and race cars. The answer is simple: AP Racing brakes by STILLEN.
Answering The Call
A few weeks ago we were contacted by an armorer that specializes in outfitting luxury SUVs for dignitaries, royalty and wealthy individuals. These trucks are used in the toughest, most hostile environments and have no margin for error or the results can be fatal. This company was not happy with the previous brake supplier because their aftermarket brakes were actually testing worse than the factory brakes after their modifications were made. When they asked us for our recommendations on which brakes we would suggest for their trucks, there was no question in our mind about which brake system to recommend… The AP Racing big brake kits by STILLEN.
We suggested the AP Racing brakes for many reasons, but here are a few of the most important:
Designed For Armored Vehicles – This caliper was specially designed by AP Racing for use in armored vehicles. This means that the calipers and the rest of parts in the brake kit are designed to withstand the additional weight of the armoring and work together to provide exceptional braking performance.
Perfect Wheel Fitment – Another important reason we recommended this brake kit is the wheel fitment. These big brake kits were specially designed to fit the wheel fitment the armored SUVs they would be used on.
Putting The AP Racing Brakes To The Test
Since this company works with such influential clientele, they wanted to test the brakes before placing an order with us and installing the brakes in their cars. After making all their normal modifications, which added over 5,400 pounds to the SUV, they tested the brakes and the results were impressive. Not only did the AP Racing by STILLEN brakes live up to our expectations, but they exceeded them and in the process, thoroughly impressed the armoring company. Even with all of the additional weight, the AP Racing brakes returned the SUV's braking performance to nearly stock braking distances!
The Results
After the AP Racing brake kit made such an impressive showing in their testing, the armoring company decided to place an order for 40 kits to start. This means that 40 prominent people along with their family, friends and colleagues are literally putting their lives in the hands of AP Racing brakes designed by STILLEN. We could not be more proud of our brakes or have more confidence in their performance. We are looking forward to filling many more orders for this armoring company.
Next Steps
If you are interested in learning more about the AP Racing brakes by STILLEN, please visit our selection of brake kits or call us at 866-250-5538 and we will be happy to answer any questions you have.
February 21, 2014
So you're thinking about upgrading your brake kit, but aren't sure if you want to go with cross drilled slotted rotors vs J-hook rotors. First, both are great options and you will notice significant improvement in braking power over your factory discs. Now, it's time to discuss the differences between the two brake disc options. See below for benefits of each option.
Cross Drilled Slotted Rotors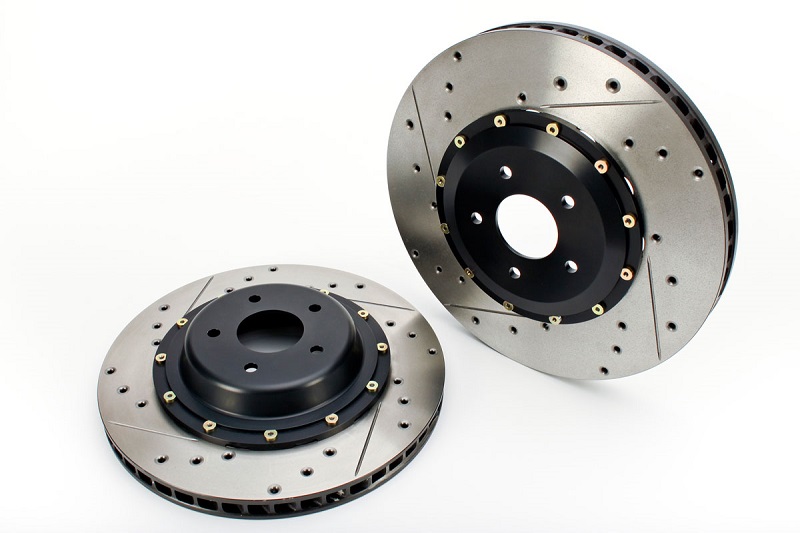 Cross drilled slotted rotors are characterized by the lines or slots that are machined into the disc and span the face of it. They also feature holes that have a chamfered edge that are drilled into the rotor and must align with the internal vanes of the rotor.
Aids in Cooling- The cross drilled design that works with vanes of the rotor to help keep your brakes cool, which allows you to push your car harder and still know that you will be able to stop without a problem.
Provides Extra Bite- Cross drilled slotted rotors improve initial pad bite with the leading edge of the hole and slot. This allows the pad to really grab a hold of the rotor and bring you to a stop faster.
Fresh Pad Surface & Optimum Performance- Get the most out of your high performance brakes with cross drilled slotted rotors. The design of the rotor allows it to evenly go over the pad and also allows for outgassing to keep the pad fresh.
J-Hook Brake Rotors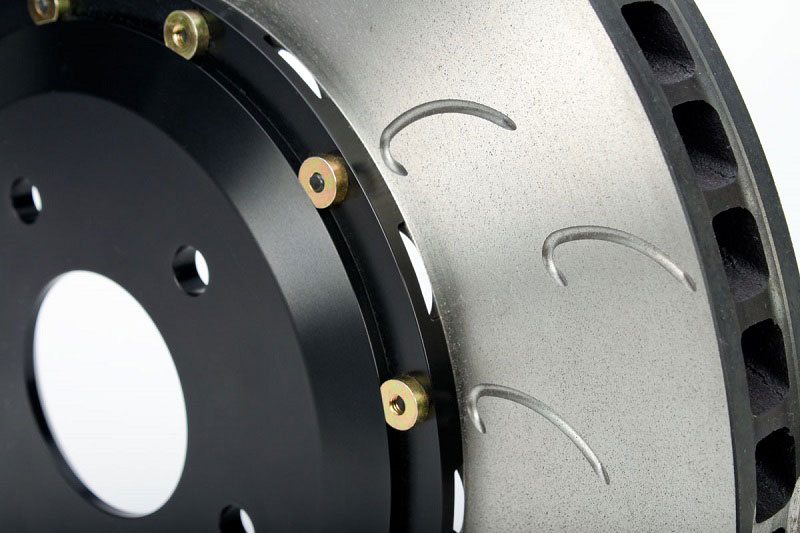 J-Hook rotors prominently feature a hooked pattern that is machined into the face of the rotor. This pattern has previously been utilized on the track and has just recently become available for general use.
Increased Durability- During the machining process, J-Hook rotors are not penetrated through the rotor. This makes the rotor more durable and helps prevent surface cracks. What this means for you is the rotors can be driven harder and at higher temperatures than other comparable rotors.
Additional Bite- If you're looking for extra bite, the j-hook rotors are the brake discs for you. Like cross drilled rotors, they provide a great initial bite on the pad and extra grip, but they take it a step further. The J-hook design provides leading edges for the brake pad that create additional bite you are looking for.
Cleaning & Outgassing- Like the cross-drilled rotor, the J-hook rotor cleans the pad surface and allows for outgassing through it slotting of the rotor face.
More Information About Cross Drilled & Slotted vs J-Hook Rotors
Learn more about the differences between cross drilled slotted vs J-hook rotors at apradical.stillen.com. We feature a full J-hook rotor page and a full cross drilled/slotted rotor page that allows you to get more detailed information about each option. We also feature a full team of specialists that are happy to answer any questions that you have. Just give us a call at 866-250-5542 and we will be happy to help you!
Last, but not least, if you've made up your mind about which brake kit you want and are just looking to get them installed, check out the STILLEN performance shop. We have a full team of expert mechanics that specialize in big brake kit installations.
February 4, 2014
STILLEN is pleased to announce the release of our new website, www.apradical.com featuring information on our brand new line of AP Racing Radi-CAL Big Brake Kits by STILLEN.  The micro-site has been designed with the user in mind with user-friendly navigation, bold colors, stunning photography as well a contemporary design. The newly designed Web site went live January 31st, 2014.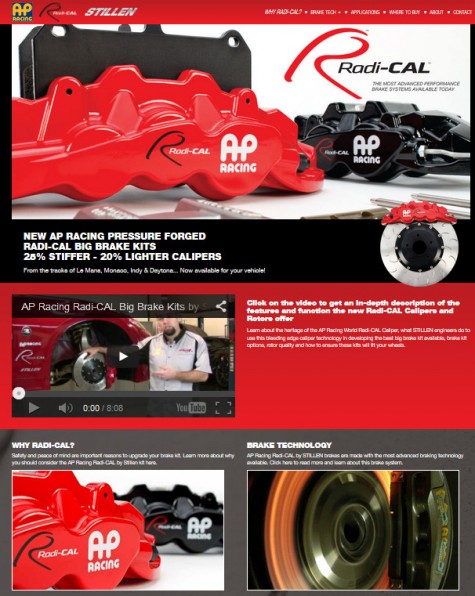 Design, Functionality, Technical Information & More
The site has been broken down into several sections that clearly highlight the different features, functionality, applications and technical information on the kits. It features expanded content and streaming media including an in-depth video filmed in the STILLEN performance garage. Also included is an "About Us" page that provides information on both of the major companies involved in the production of these big brake kits, AP Racing and STILLEN, as well as an applications page in which every viewer can see the list of vehicles this braking system is available for.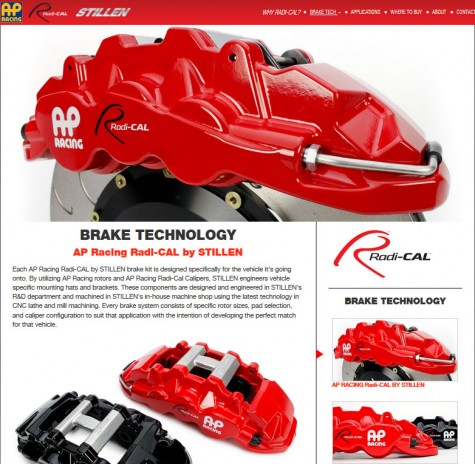 The apradical.com site aims to extend its reach to a broad audience of brake professionals, enthusiasts and wholesalers. Online visitors will now experience a more vibrant and seamless view of the entire Radi-CAL Big Brake Kit system with photography showing the calipers and discs in fine detail.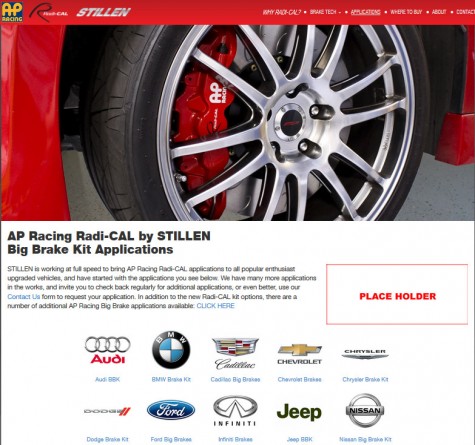 In addition to the huge catalog of beautiful photography, the micro-site showcases pages of technical information our customers have been asking for since we released these brakes at SEMA last year. The site has been organized to provide quick and direct access to all of these resources for all audiences.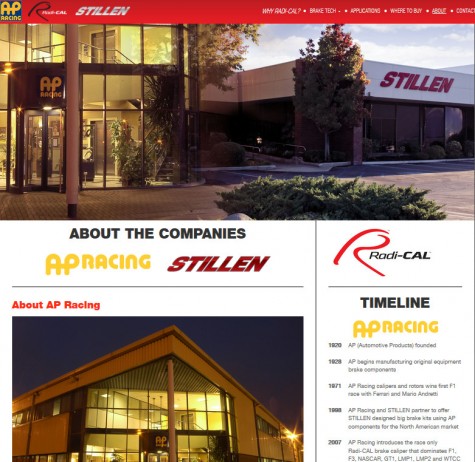 AP Racing Radi-CAL BY STILLEN Informational Video
Learn More About AP Racing Radi-CAL by STILLEN
For more information about the AP Racing Radi-CAL brake kit by STILLEN and to read our full white paper on the Radi-CAL, please visit our website or call us at 800-576-2120 and we will be happy to answer any questions you have! Be sure to check back regularly for information on new applications and to check out new images and reviews from our happy customers!
November 5, 2013
It's that time of year again.. thousands are burning up the 30+ miles worth of carpeted aisles at the infamous SEMA Show in Las Vegas!  The STILLEN Team is no exception, with a big booth introducing the world to the new AP Racing Radi-CAL line of calipers used in the STILLEN-engineered Big Brake Kits.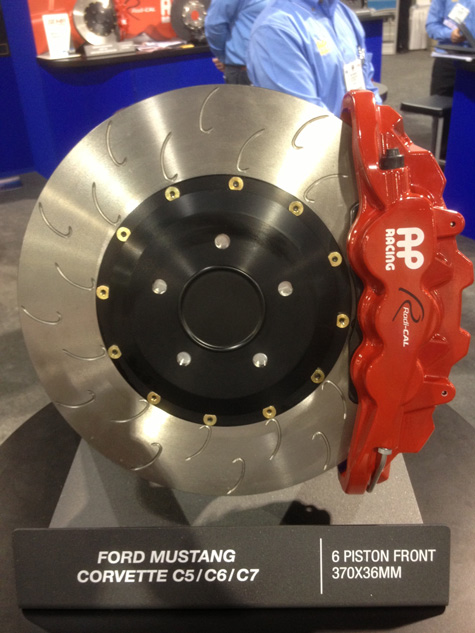 These new Radi-CAL road calipers get there heritage from the racing Radi-CAL high performance calipers launched in motorsports in 2007, which have been dominating the likes of F1, F3, NASCAR and countless others.  This new caliper design features a 2-piece aluminum body with H-structure, and a non-symmetrical design developed to have a large reduction in mass yet improved resistance to braking torque.  Another benefit is increased caliper cooling surface without decreasing structural rigidity.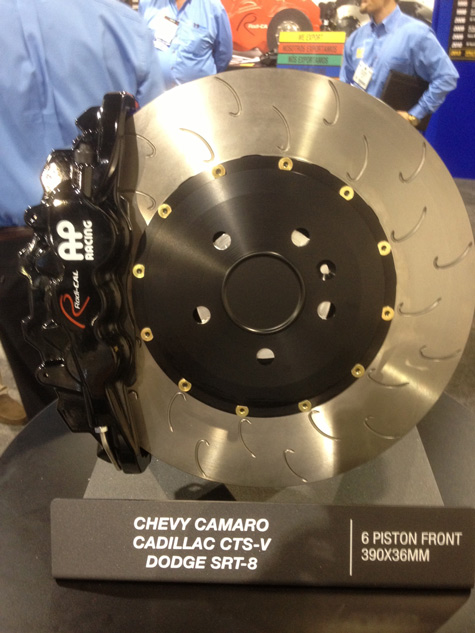 STILLEN has developed applications for many popular setups, which are listed below, and have plans to continue to grow the line.
BMW M3 applications
Chevy Corvette applications
We will be releasing much more information as we return from SEMA, and the response has already been overwhelming at it's introduction!
When nothing but the best will do, serious customers look to AP Racing and STILLEN.