July 26, 2012
It's like Christmas morning inside our warehouse today. We just received a shipment of over 17 palletes of AP RACING product. Everything from full big brake kits to rotors to hardware to everything in between. We can't wait to get everything unpacked and shipped out to you ASAP.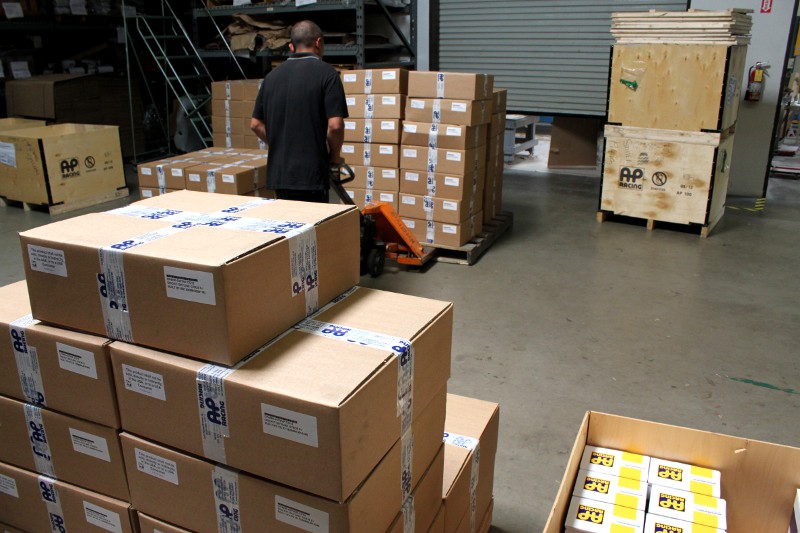 This isn't even HALF of the AP Racing shipment and we are already running out of space in the warehouse.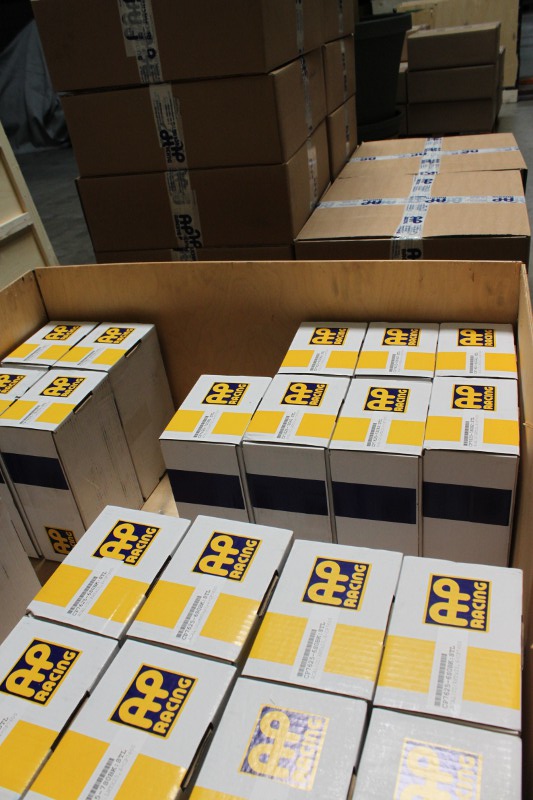 For those of you waiting on your AP RACING back orders to arrive from overseas we got many of you covered.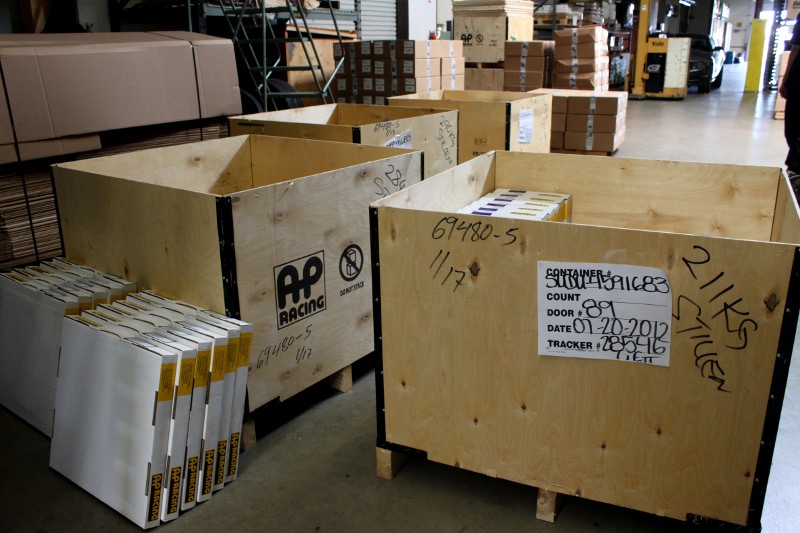 Make sure to give our specialists a call ASAP to pick up your
AP RACING
goodies before they all disappear. This stuff always moves fast.  (No pun intended)
STILLEN
(800) 891-1058
Or you can always visit our
AP RACING
section of our website for all your braking needs.
June 29, 2012
STILLEN is proud to announce the release of the AP RACING 4 Piston and 6 Piston Big Brake Kit for the Scion FR-S and Subaru BRZ.
The 4 Pisont front kit under part number AP3120 uses a 330x28mm two piece disc and you have the option of getting either crossed drilled and slotted or just Slotted. You also have 2 color options when it comes to the 4 piston caliper: Red, or Black will look really nice in the wheel well of any BRZ / FR-S.
RED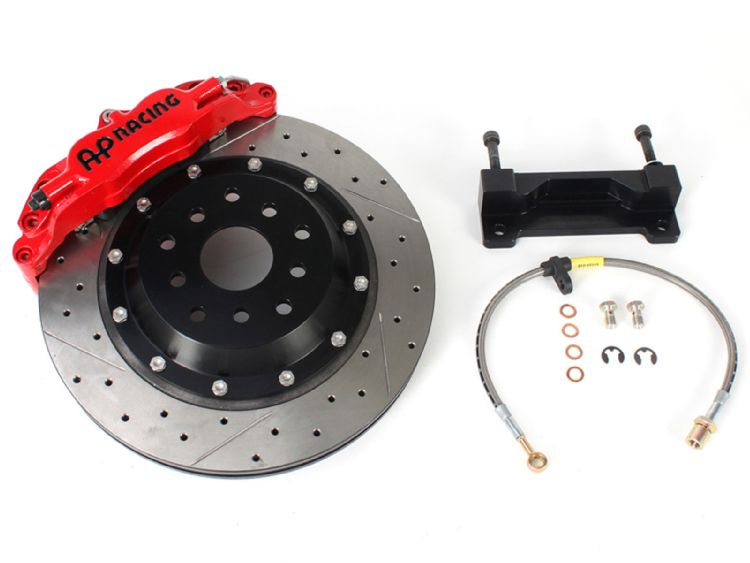 BLACK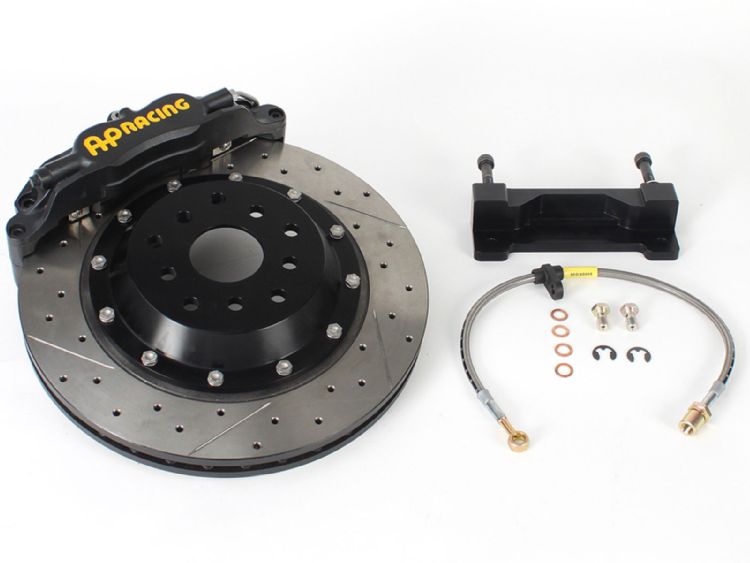 If you're looking for the next level of braking performance we also offer the AP6100 6 Piston kit.
The  AP6100 kit uses the AP RACING 6 piston caliper with larger 355x32mm two piece discs. You also have the option of three different Caliper colors, and two rotor styles.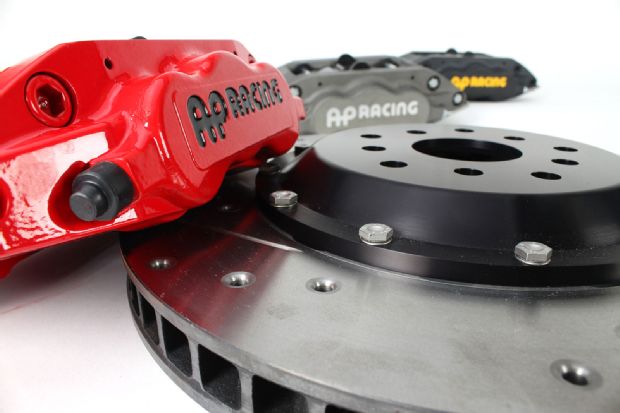 As you can see, we also offer the Slotted and Drilled, or just Slotted rotor options for the AP 6100 brake kit rotors.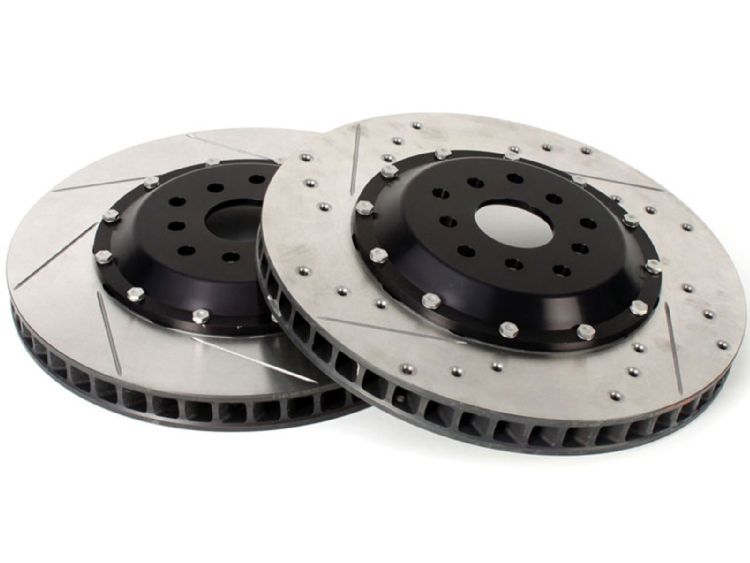 Both of these AP RACING kits bolt up to the factory locations and are designed to work well with the factory ABS systems and brake master cylinder. They also feature dust seals over each caliper piston to ensure reliability and high performance for as long as you own your vehicle.
If you have any questions or would like more information on the BRZ / FR-S AP racing Big Brake kits please give us a call
(800) 891-1058
June 13, 2012
Most people immeditately associate STILLEN with everything Nissan, while we do pride ourselves on our extensive knowledge of the name plate that was the corner stone of our founder Steve Millen's racing career. We also, pride ourselves in our knowledge of just about every other make and model as well. We treat every car that comes into our performance center with extreme care and respect. From routine oil changes, to motor swaps, to brake jobs, there is never a corner cut or a shortcut taken in the work we do for our customer vehicles.  We are glad to see that word of this commitment to quality is spreading faster than ever,  a quick snapshot of the vehicles in our Performance Center today further illustrates this.
This customer is blending the line between street and track with an amazing suspension set up and a front and rear set of AP RACING brakes for his Subaru WRX STI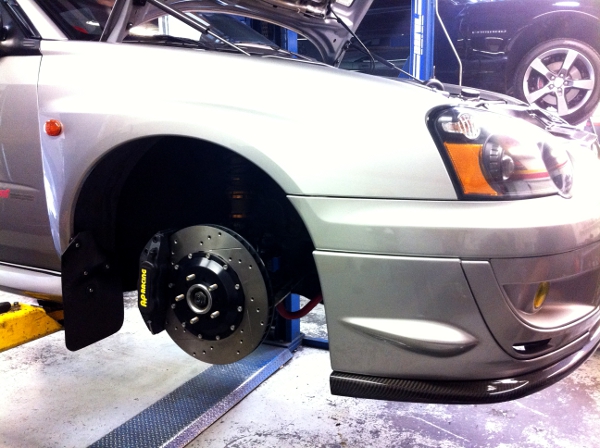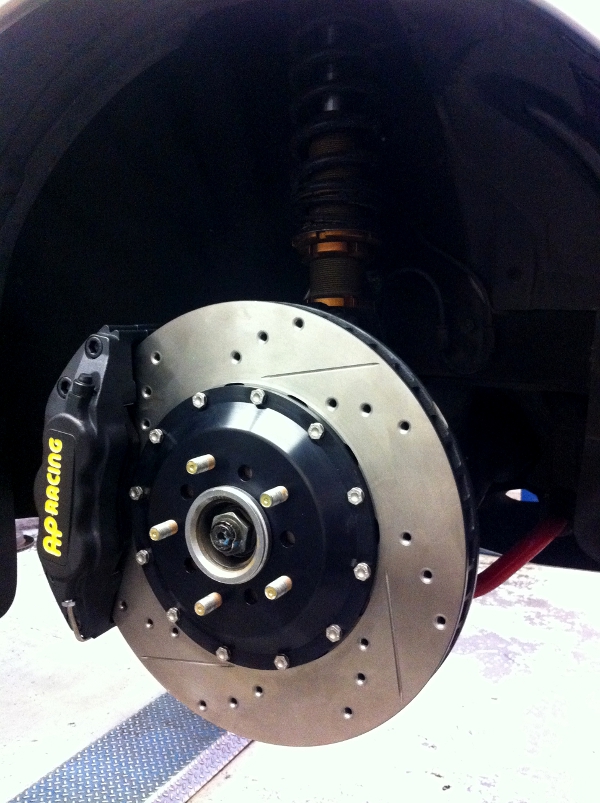 A different customer brought in his 2012 Chevrolet Camaro to get a Cat-back exhaust system installed in order to unleash the power and the sounds of his 6.2L  L99 Camaro SS.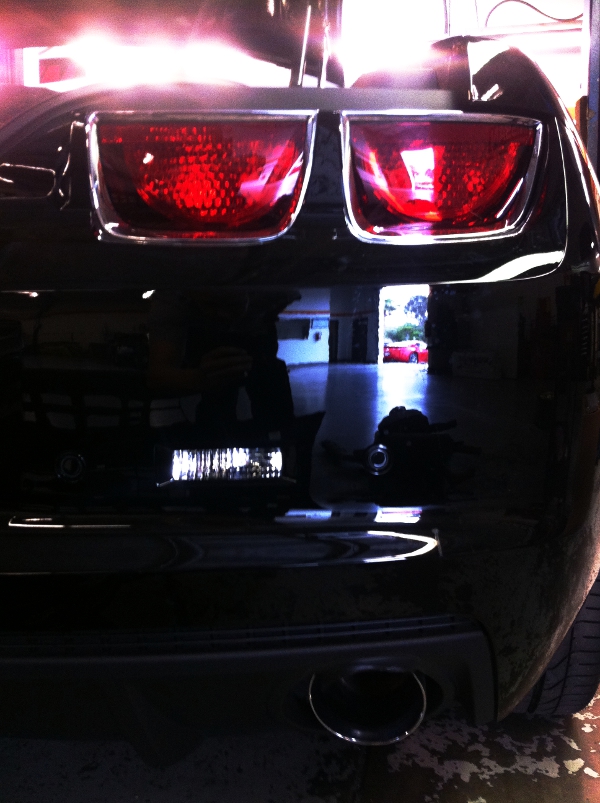 We have a beautiful Nismo 350z in the corner of our shop getting a tune up and a Stage 3 Supercharger installed.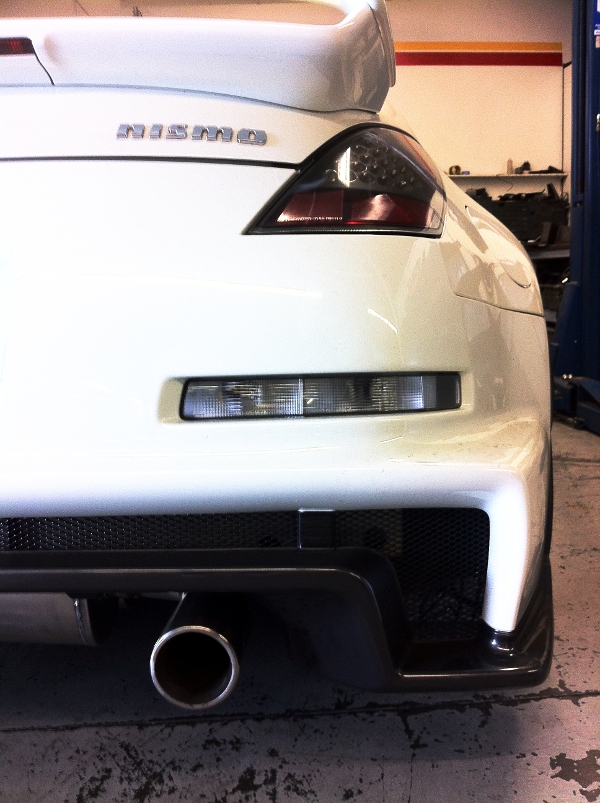 On our alignment rack we have a 2011 GT-R getting some angle dialed into it's suspension in order to make it handle even better on the street and track.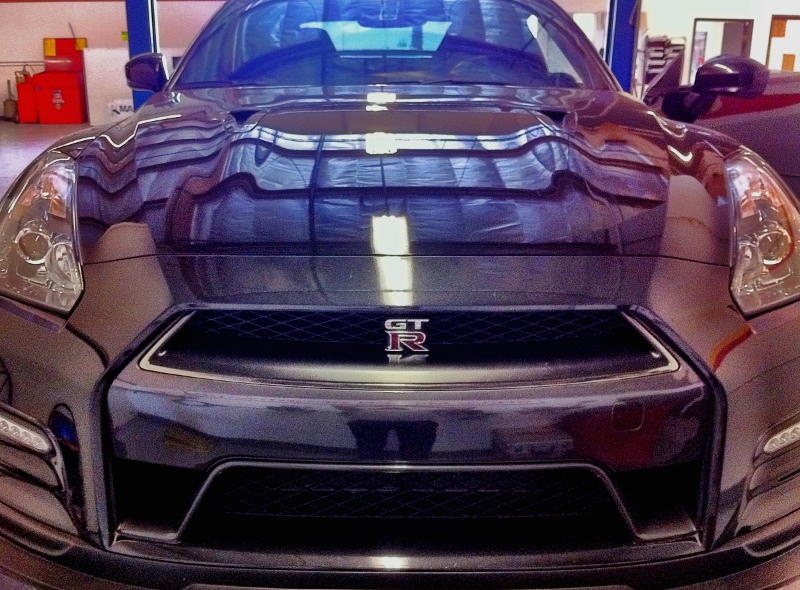 If you happen to own a specialty vehicle and feel it deserves to get the respect and attention you put into it by a PROFESSIONAL mechanic. Please don't hesitate to give us a ring. 1-866-250-5542 One of our specialists will gladly set up and appointment for you and make sure your ride gets the attention it deserves.
May 24, 2012
For those of you looking to improve the braking of your 2012+ NISSAN GT-R we are please to announce the release of the AP RACING 390x34mm JHOOK rotor kits.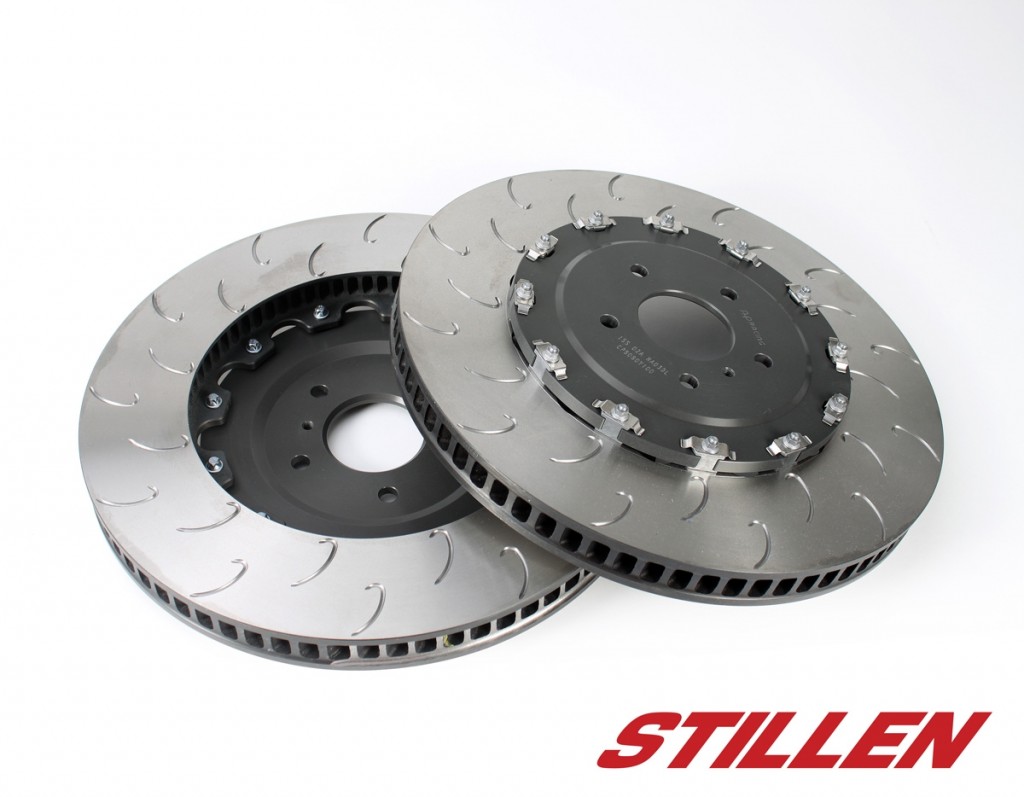 As most of you know, the R35 NISSAN GT-R is notorious for cracking it's factory rotors,  it has been a major problem for GT-R owners looking to take their cars to the track. For 2012, Nissan changed the size dimensions of the factory rotor size from 380x34mm discs, to 390×32.6mm discs. Essentially making the OE rotors larger in diameter but thinner in thickness, AP Racing saw this as an opportunity and beefed up the thickness, materials, and Diameter of their J-Hook rotor kit in order to greatly expand the brake heat capacities compared to stock.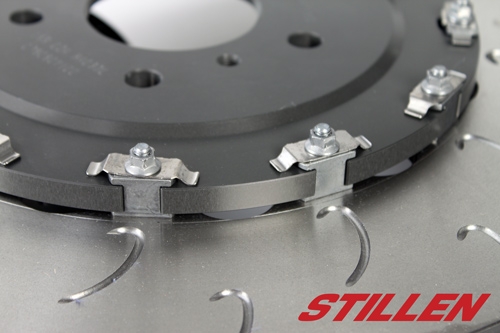 Not only does the kit fit the 2012+ NISSAN GT-R's but it can a lso be retrofitted to fit 2008-2011 GT-R'S as well. We will be offering a retrofit kit, to ensure every generation of R35 GT-R can take advantage of these amazing brakes. (pictured below)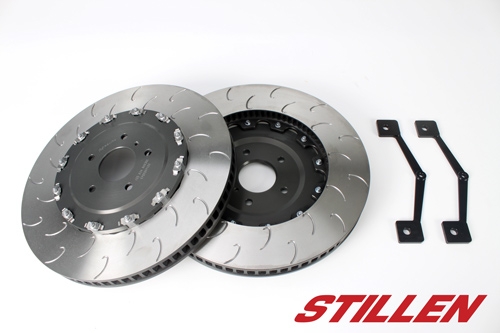 Feel free to give one of our product specialists a call at  (800) 834-0376 or stop by our website
WWW.STILLEN.COM
for more information.
May 7, 2012
The list of amazing cars using AP RACING brakes continues to grow every day, we have touched on some of those vehicles before but today is a perfect time to highlight the ULTIMATE AP RACING equipped vehicle.
What makes it the ultimate? Other than the obvious name, how about it beating the Koenigsegg CXX around the Top Gear test track by over 4.5 seconds, and the Pagani Zonda R by over 5.5 seconds.  Yeah I'd say that pretty much makes it the ULTIMAte! Check the video below for the record breaking run:
If that's not enough for you, how about some of these amazing photos by GF WILLIAMS that were posted today on Jalopnik.
For the rest of gorgeous photo shoot
Cruise over to Jalopnik:
http://jalopnik.com/5908347/ultima-gtr-straight-up-car-porn/gallery/1