August 20, 2009
This past weekend at 59th Pebble Beach Concours d'Elegance, Spyker debuted the drop-top version of it's latest hand-crafted supercar – the Spyker C8 Aileron Spyder.
July 31, 2009
Steve Millen and the R&D crew here at STILLEN are at full throttle wrapping up the build of the STILLEN GT-R, and Road & Track has been continuing their great video coverage of the build and testing.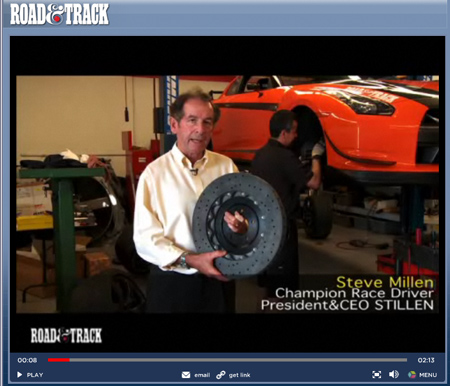 These three videos bring the total to 16 videos surrounding the STILLEN GT-R and the build for the Targa Newfoundland Rally which is in mid-September and quickly approaching. Read more
July 13, 2009
The office was buzzing today, as development continues on braking improvements to the R35 Nissan GT-R.  Here's a teaser shot of the upcoming STILLEN / AP Racing Carbon Ceramic Brake Upgrades currently in R&D here at STILLEN.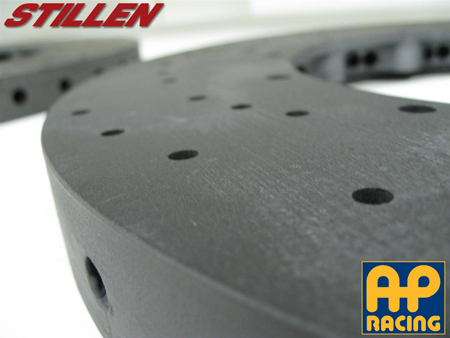 This setup will be used on the STILLEN GT-R being campaigned at the 2009 Targa Newfoundland Rally this September.
More information is coming soon.. be sure to follow our RSS Feed for up-to-date information as we release it.
June 17, 2009
We posted earlier that MOTORZ TV was doing a brake upgrade install using STILLEN Brake Pros components, and the episode has been released!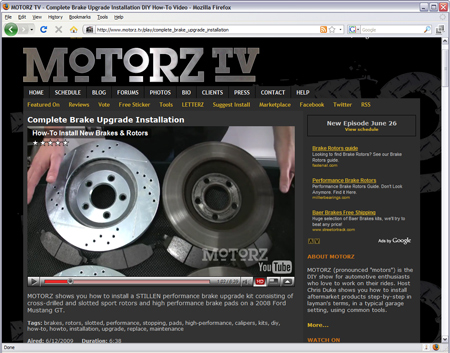 Take a peek as they go through the steps of upgrading a 2008 Ford Mustang GT with STILLEN Sport Rotors and STILLEN High Performance Metal Matrix Brake Pads. Read more
June 4, 2009
Our friends at MOTORZ TV approached us when looking at brake upgrades for their 2008 Mustang GT, and we were excited to get a chance to put some parts in their hands and get their feedback.
MOTORZ is a TV show framed around the DIY auto enthusiast who loves to get his/her hands dirty, and provides a step-by-step install on products, just like it's done in a typical garage or driveway setup.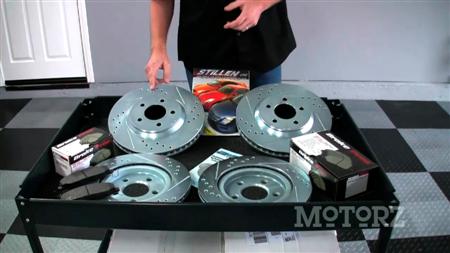 As they received the product, Chris Duke (the producer and on-screen personality) immediately ripped open the boxes to check out the STILLEN Sport Rotors and Metal Matrix High Performance Brake Pads and give them a once over.
(Video below the jump) Read more
April 22, 2009
New from STILLEN: Racing-bred stainless steel brake lines for the Nissan GT-R!
This is the first brake line upgrade on the market that does NOT require removing the factory hard lines. Stainless steel braided lines are stiffer than the typical rubber brake lines, but nothing is stiffer than hard steel tubing. That is why it is important to keep the hard lines in place for the firmest, most responsive brake pedal feel.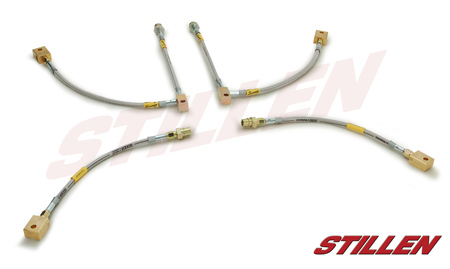 Aircraft-style fitting details are used throughout for leak-free connections – no banjo fittings! The factory junction block functions are replicated to eliminate any possible rubbing issues with suspension travel or steering wheel input. Doing so allows the front lines to be bolted to both the upright and the strut for the most positive location possible. Read more
April 4, 2009
We are sorry we haven't had a chance to get some of the cool things we've been working on up, we have a bunch of new content that's in the can, we'll be working feverishly to get that up.
In the meantime we had some GT-R's out to the STILLEN workshop this morning, and while we had some of the new AP Racing Curved Vane Rotors out, thought it might be a good time to grab the camera and shoot some video with our Brake Manager Chris Bernal (with little to no warning.. sorry Chris!)
These rotors are an excellent upgrade for anyone serious about performance on their GT-R, and correct the problems associated with cracking cross-drilled holes and wear issues of the OEM rotors.  Bonus is they are half the cost of the factory replacements, with the improved performance and longevity.
These rotors are now available in a Slotted or J-Hook rotor face configuration, depending on the goal of the owner.  More information on the AP rotors can be found on our previous blog post on these rotors.
March 6, 2009
STILLEN is excited to announce the availability of select AP Racing brake systems in a limited-edition caliper color – Competition Gray.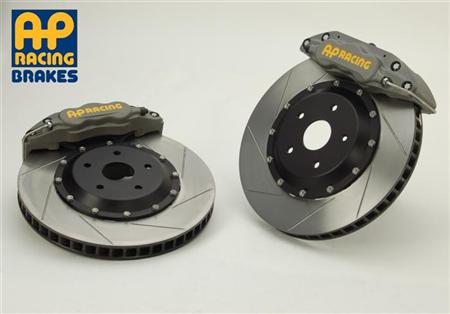 Racing fans will notice this color is exactly what full-blown race calipers from AP Racing look like. But unlike the race-only hardware, these are built for every day use with secondary dust seals, anti-rattle clips and extra corrosion protection. Finally – the best of both worlds with no compromises! Read more
October 22, 2008
On newsstands now! Modified Magazine's Project G35 receives a full AP Racing brake upgrade this month, and the improvements in performance are impressive.
After realizing that a pad/fluid change could not bring the factory brakes up to snuff, Modified Magazine decided to step up to the big leagues with our AP Racing G35 Front Big Brake Kit (AP3700) and our AP Racing G35 Rear Big Brake Kit (AP3750).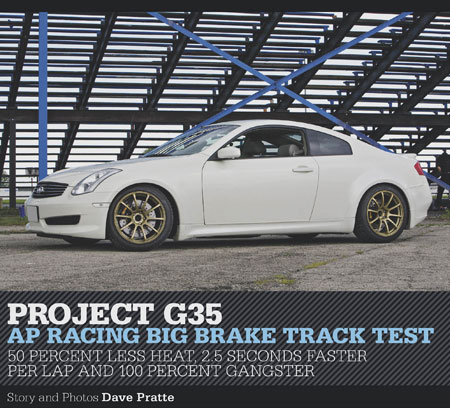 More info after the jump… Read more
August 20, 2008
STILLEN Brake Pros is proud to introduce the STILLEN Front Big Brake Kit for the 2007-2008 Nissan Altima (Coupe or Sedan). This kit utilizes STILLEN / PBR 2-Piston Calipers, 13″ 1-Piece Cross Drilled & Slotted Rotors, high performance Mintex Xtreme brake pads, stainless steel brake lines, and all necessary brackets and hardware.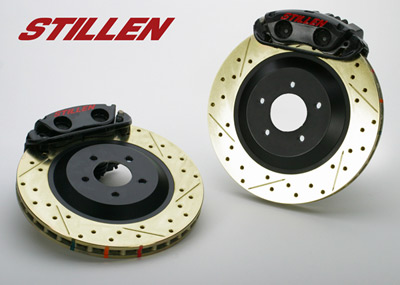 This kit will CLEAR THE STOCK OE 17″ 12-SPOKE WHEELS!
More information after the jump.. Read more