March 20, 2012
STILLEN is proud to announce the release of the new brake cooling option for 370Z owners looking to improve track times and lower brake temperatures.
These kits can be used with both Stillen Sport Rotors and Metal Matrix brake pads, AP Racing Brake Kits, and other 370Z Brakes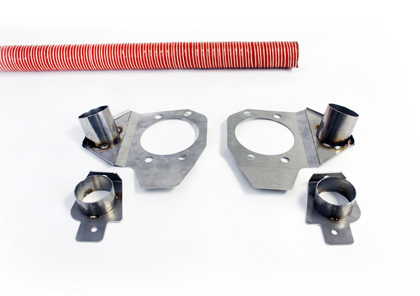 The efficient design of the STILLEN 370z brake cooling kit can lower brake surface temperatures by as much as 25%.  Or as much as  140F. (Yeah that's a lot of heat).  The best part about this kit is it can be used with just about any brake set up and it works perfectly with the STILLEN 370Z front bumper or the Stock 370z front bumper, WITHOUT any cutting.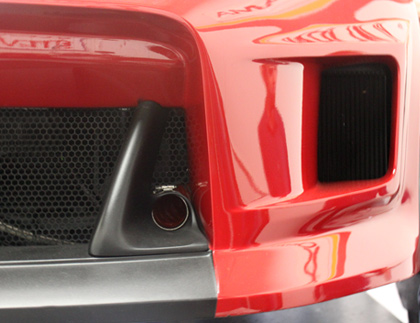 We spared no expense in the quality of components of this kit, from the High Temperature hoses to the CNC machined stainless steel mounting brackets. We made sure that everything fit perfectly and worked perfectly.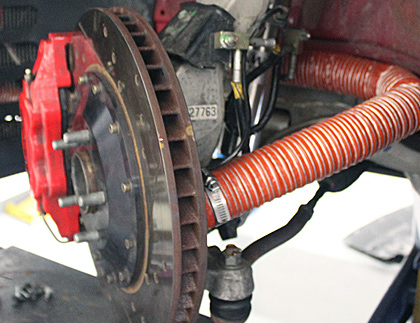 After we made sure all the components of the kit fit properly, we decided to take our test vehicle to the Auto Club Speedway in Fontana, CA for some serious testing.
We installed the 370z Brake Cooling kit on one side of the vehicle and left the other side untouched. We then installed temperature sensors on both sides of the vehicle to give us our comparison figures.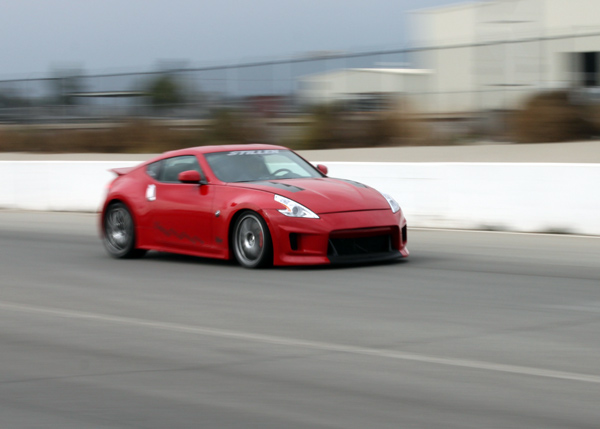 The results ended up being much better than we expected, and we saw a difference in over 140 F between the two sides.  In case you're wondering what the advantages of running cooler brakes are, here's a quick list:
• Decrease in braking distance – Reduction in brake fade
• Prevents warping – Reduced chance of pad glazing – Extends life of brakes
• Reduces the chance of brake fluid boiling
• Decreases the chance of catastrophic damage to brake system
• Improved track time and longer track sessions
Below is an illustration on how brake discs vent out heat under operating conditions, as you can see from the illustration, brake temperatures will substantially increase under periods of prolonged use. Our 370z Brake Cooling kit is specifically designed to reduce brake surface temperatures by supplying a constant stream of fresh air to the brake rotor, allowing it to vent out heat more efficiently.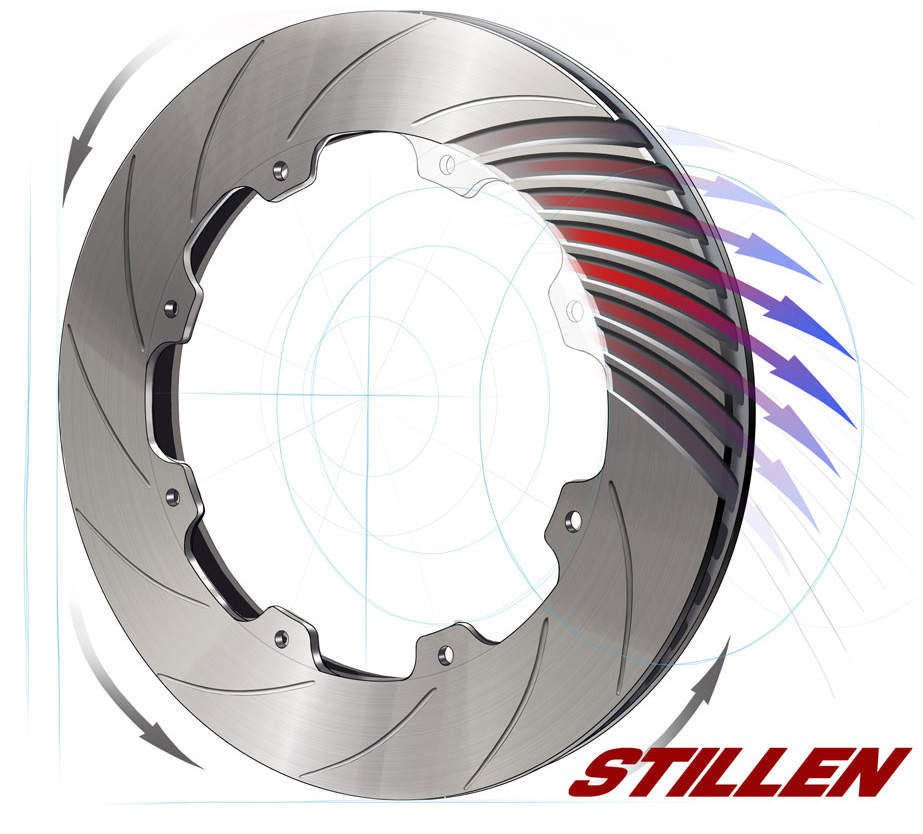 From weekend warriors to the occasional autocross 370z owners, The STILLEN 370z Brake Cooling Kit is sure to become a "must have" item.
March 16, 2012
Increase horsepower and improve gas mileage on your 2012 Infiniti M37 with Stillen's Gen 2 Dual Intake Kit.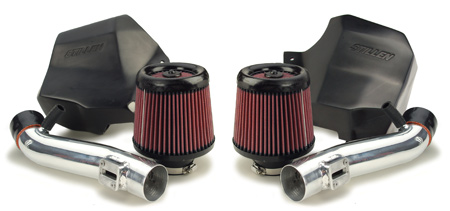 The STILLEN Infiniti M37 intake kit replaces the restrictive factory air boxes with 2 dual cone genuine K&N reusable high flow conical air filters. These filters are designed with an integral velocity stack and attach to our newly designed polished aluminum long tubes. Replacing the factory intake tubes with the STILLEN design adds additional horsepower, and a great look for the engine bay. We have also included two paint able urethane heat shields to keep the intake charge as cool as possible.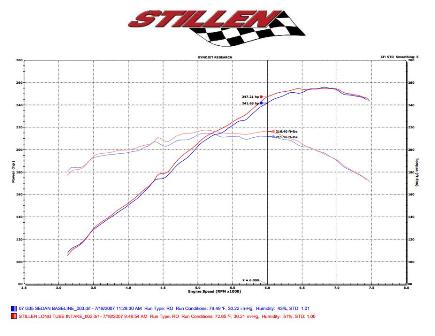 By installing just the intake kit we have seen a gain of +5 horsepower and +4lb feet of torque at the wheels on our test vehicles. Plus, you getting the added bonus of adding a little grunt to the intake sound of your M37.

For more information on the Infiniti M37 STILLEN Intake kit, click here. 
March 15, 2012
A quick snapshot of Colin setting up photos for our new R35 Nissan GTR brake options.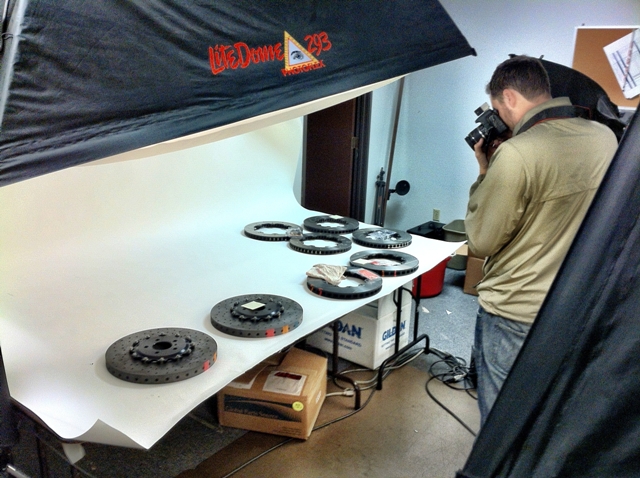 Sometimes the beauty is in the details.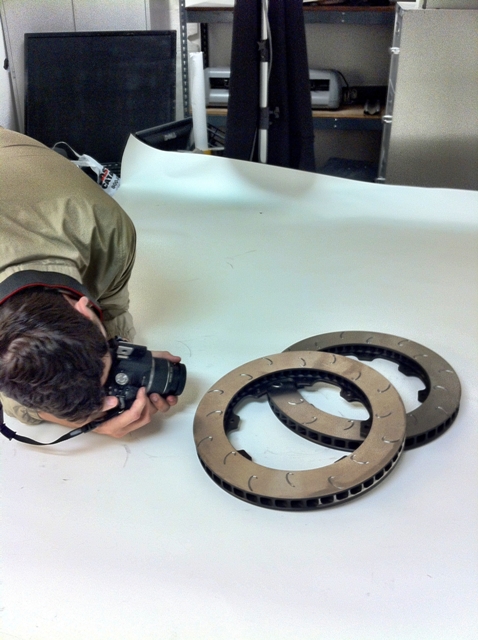 IF the standard AP / DBA rotor options just aren't enough for you, how about the holy grail of R35 GTR brake rotor options.
The new Carbon Ceramic Matrix STILLEN R35 GTR brake rotors.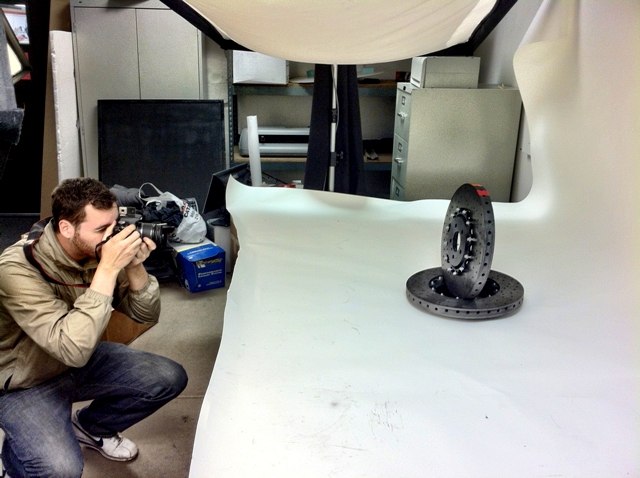 Check out more R35 GTR products on our website, and make sure to stay tuned for more  DBA, APRACING, and STILLEN braking options coming your way soon.
March 4, 2011
Goodridge has released information on their new limited edition Phantom Gstop Brakeline kits available for popular selected applications. For the ultimate brake line upgrade, look no further!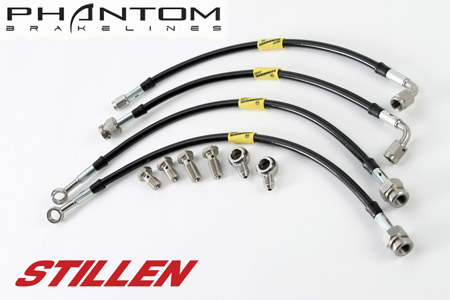 Upgraded stainless steel brake lines are one of the easiest modifications to make and get tangible results from.  Installing Goodridge G-Stop SS lines will dramatically improve brake pedal feel, eliminate the soft spongy feeling, and improve braking performance and reducing stopping distances.
The Phantom G-Stop kits take that performance and kick it up a notch, utilizing stainless hose ends, banjos and bolts, as well as feature black poly-coating to the stainless steel hoses.  Even the brackets and hardware are protective coated, creating a superior appearance, and ensuring durability. Read more
November 19, 2010
News Release
For Immediate Release
 
STILLEN OFFERS RUGGED AP RACING BRAKE UPGRADE
FOR 2000-2010 GM 2500/3500 TRUCKS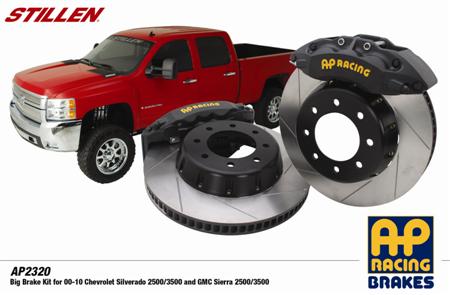 Costa Mesa, Calif.– STILLEN announces the availability of a new front and rear big brake system for the 2000-2010 Chevrolet Silverado 2500/3500 and GMC Sierra 2500/3500 (including Dual Rear Wheel models). This rugged, state-of-the-art brake upgrade is based on AP Racing brake technology, the number one choice for a wide range of professional race teams that compete at the highest levels (i.e. NASCAR, FORMULA 1).
 
Available from the STILLEN brake product division, these GM Truck brake upgrades Read more