March 18, 2014
Here at STILLEN, we love cars and the Infiniti Q50 is no exception. This car has already become a favorite among the STILLEN team, so it's no wonder that we've been hard at work developing brand new performance parts that will squeeze every ounce of power, sound and performance out of this car. Just a few months ago, we introduced you to the STILLEN 504440 cat-back exhaust for the Infiniti Q50 (read more about this exhaust our blog post by clicking here) and now we're proud to introduce you to the STILLEN 403230 Generation 2 Dual Cold Air Intake Kit for Infiniti Q50.
History of Excellence
The STILLEN R&D team has a long history of developing top of the line air intakes for the Nissan and Infiniti cars and chose to incorporate many of these principles in the Infiniti Q50 Gen2 cold air intakes. Like our other Gen2 intakes, this Infiniti Q50 air intake kit comes with polyurethane heat shields that effectively direct air inside the engine bay to maximize performance.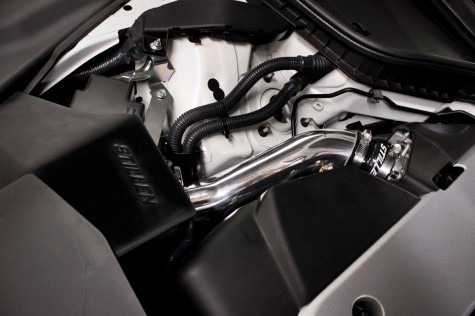 Impressive Sound
While many of us upgrade to aftermarket intakes from the stock intakes for the performance gains, sound is also another reason to upgrade. Aftermarket intakes just sound better and this is definitely true for the STILLEN Cold Air Intakes for Infiniti Q50. With these hi-flow intakes you can enjoy a mild sound while cruising, but also enjoy a richer sound as the engine comes to life under acceleration.
The Best Cold Air Intakes for Infiniti Q50
Heat shields and sounding good aren't the only reasons we believe the STILLEN Generation 2 Dual Cold Air Intake Kit is the best cold air intake available. Here are a few more reasons why we like this cold air intake:
Twin mandrel bent polished aluminum intake tubes
Comes with two K&N Filters

1,000,000 mile warranty on filters
Dual cone integrated with velocity stack

No check engine light (CEL) problems – guaranteed!
50 State legal
Customizable – paint the urethane intake boxes to match your car or leave natural black
Hassle-free, bolt-on installation with easy to follow instructions
Made in the USA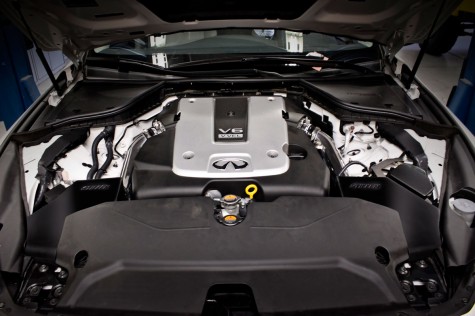 Next Steps
For more information about the STILLEN Cold Air Intakes for Infiniti Q50 or browse our selection of other Infiniti Q50 parts, please visit www.STILLEN.com/?utm_source=blog&utm_medium=referral&utm_campaign=released_q50_cold_air_intakes. Also, if you would like us to install the intake for you or need any other installations done, we feature a full service performance shop at our headquarters in Costa Mesa, CA. We specialize in a wide variety of performance part installations, dyno tuning and more. Just give us a call at 866-250-5542 and we will be happy to schedule an appointment for you or answer any questions you have about cold air intakes or any of the other parts we carry!
March 5, 2014
Here at STILLEN, we typically focus on performance – getting the most horsepower, most torque and best sound possible out of our cars and our customer's cars. Today, however, we were reminded of a whole different side of performance – building armored vehicles. Now, you may be wondering what STILLEN has to do with armored cars, trucks and SUVs. After all, we're known for superchargers and race cars. The answer is simple: AP Racing brakes by STILLEN.
Answering The Call
A few weeks ago we were contacted by an armorer that specializes in outfitting luxury SUVs for dignitaries, royalty and wealthy individuals. These trucks are used in the toughest, most hostile environments and have no margin for error or the results can be fatal. This company was not happy with the previous brake supplier because their aftermarket brakes were actually testing worse than the factory brakes after their modifications were made. When they asked us for our recommendations on which brakes we would suggest for their trucks, there was no question in our mind about which brake system to recommend… The AP Racing big brake kits by STILLEN.
We suggested the AP Racing brakes for many reasons, but here are a few of the most important:
Designed For Armored Vehicles – This caliper was specially designed by AP Racing for use in armored vehicles. This means that the calipers and the rest of parts in the brake kit are designed to withstand the additional weight of the armoring and work together to provide exceptional braking performance.
Perfect Wheel Fitment – Another important reason we recommended this brake kit is the wheel fitment. These big brake kits were specially designed to fit the wheel fitment the armored SUVs they would be used on.
Putting The AP Racing Brakes To The Test
Since this company works with such influential clientele, they wanted to test the brakes before placing an order with us and installing the brakes in their cars. After making all their normal modifications, which added over 5,400 pounds to the SUV, they tested the brakes and the results were impressive. Not only did the AP Racing by STILLEN brakes live up to our expectations, but they exceeded them and in the process, thoroughly impressed the armoring company. Even with all of the additional weight, the AP Racing brakes returned the SUV's braking performance to nearly stock braking distances!
The Results
After the AP Racing brake kit made such an impressive showing in their testing, the armoring company decided to place an order for 40 kits to start. This means that 40 prominent people along with their family, friends and colleagues are literally putting their lives in the hands of AP Racing brakes designed by STILLEN. We could not be more proud of our brakes or have more confidence in their performance. We are looking forward to filling many more orders for this armoring company.
Next Steps
If you are interested in learning more about the AP Racing brakes by STILLEN, please visit our selection of brake kits or call us at 866-250-5538 and we will be happy to answer any questions you have.
February 21, 2014
So you're thinking about upgrading your brake kit, but aren't sure if you want to go with cross drilled slotted rotors vs J-hook rotors. First, both are great options and you will notice significant improvement in braking power over your factory discs. Now, it's time to discuss the differences between the two brake disc options. See below for benefits of each option.
Cross Drilled Slotted Rotors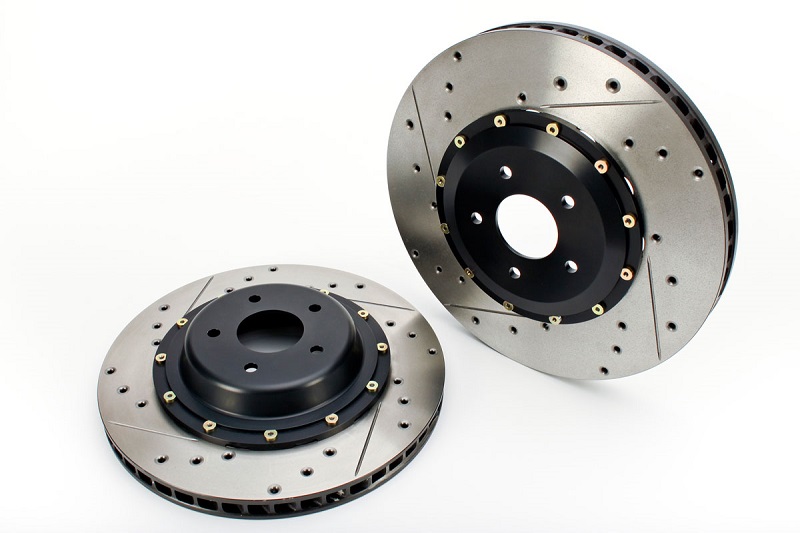 Cross drilled slotted rotors are characterized by the lines or slots that are machined into the disc and span the face of it. They also feature holes that have a chamfered edge that are drilled into the rotor and must align with the internal vanes of the rotor.
Aids in Cooling- The cross drilled design that works with vanes of the rotor to help keep your brakes cool, which allows you to push your car harder and still know that you will be able to stop without a problem.
Provides Extra Bite- Cross drilled slotted rotors improve initial pad bite with the leading edge of the hole and slot. This allows the pad to really grab a hold of the rotor and bring you to a stop faster.
Fresh Pad Surface & Optimum Performance- Get the most out of your high performance brakes with cross drilled slotted rotors. The design of the rotor allows it to evenly go over the pad and also allows for outgassing to keep the pad fresh.
J-Hook Brake Rotors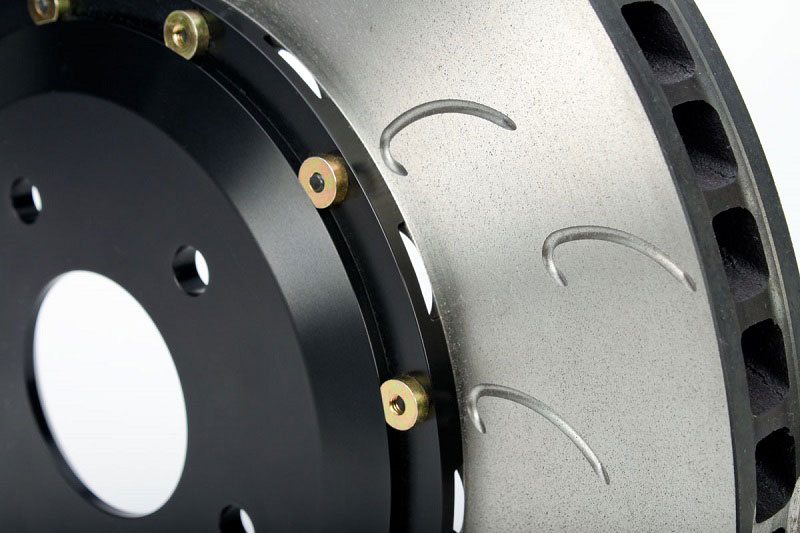 J-Hook rotors prominently feature a hooked pattern that is machined into the face of the rotor. This pattern has previously been utilized on the track and has just recently become available for general use.
Increased Durability- During the machining process, J-Hook rotors are not penetrated through the rotor. This makes the rotor more durable and helps prevent surface cracks. What this means for you is the rotors can be driven harder and at higher temperatures than other comparable rotors.
Additional Bite- If you're looking for extra bite, the j-hook rotors are the brake discs for you. Like cross drilled rotors, they provide a great initial bite on the pad and extra grip, but they take it a step further. The J-hook design provides leading edges for the brake pad that create additional bite you are looking for.
Cleaning & Outgassing- Like the cross-drilled rotor, the J-hook rotor cleans the pad surface and allows for outgassing through it slotting of the rotor face.
More Information About Cross Drilled & Slotted vs J-Hook Rotors
Learn more about the differences between cross drilled slotted vs J-hook rotors at apradical.stillen.com. We feature a full J-hook rotor page and a full cross drilled/slotted rotor page that allows you to get more detailed information about each option. We also feature a full team of specialists that are happy to answer any questions that you have. Just give us a call at 866-250-5542 and we will be happy to help you!
Last, but not least, if you've made up your mind about which brake kit you want and are just looking to get them installed, check out the STILLEN performance shop. We have a full team of expert mechanics that specialize in big brake kit installations.
February 20, 2014
When it comes to your new 2014 Chevrolet Silverado or GMC Sierra 1500 there are quite a few options for a more aggressive look. One of the best ways to add an aggressive look to the already beefy styling of the new 2014 trucks is to add some bigger tires. From the factory, the Silverado and Sierra come with a staggered stance, where the rear of the truck is higher than the front. This limits the tire size you can add to the front of the truck without rubbing the tire on the inner fender and suspension components. Adding a leveling kit is a great way to raise the truck enough to clear bigger tires, increase the off road potential of the truck and improve the look – all without spending a tremendous amount of money and maintaining the factory suspension characteristics. Below, we've listed some of our favorite leveling kits for the 2014 Silverado and 2014 GMC Sierra.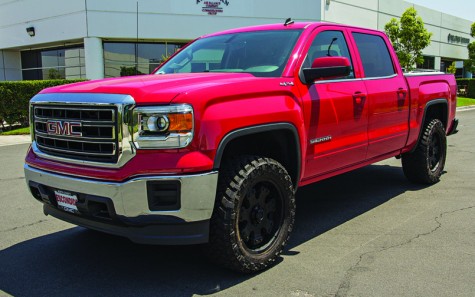 McGaughy's Leveling Kit for 2014 Silverado & GMC Sierra
McGaughy's offers a great, affordable spacer that works with the 2WD and 4WD trucks. The spacer is good for 1.5 inches of lift in the front. It does this by utilizes a billet spacer on the upper strut and under lower strut mount. This kit allows you to run up to a size 32.5 inch tire without rubbing and a 33 inch tire with minor rubbing.
Part Numbers
McGaughy's 50710 1.5" Leveling Kit
ReadyLift Leveling Kits for 2014 Silverado & Sierra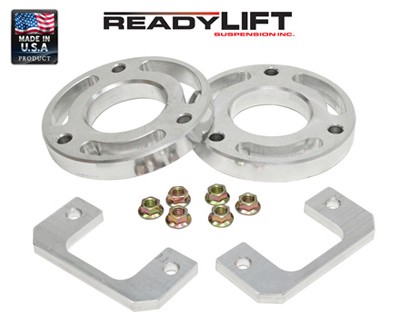 ReadyLift offers two different leveling spacer kits that work with both 2WD and 4WD 1500's 6-lugs. The first kit is an upper strut spacer that offers 1.5 inches of leveling. This spacer allows for up to a 32.5 inch tire. The second kit offers 2.25 inches of leveling using a billet upper and lower strut spacer.  The larger leveling kit allows you to run a 33 inch tire without any rubbing.
Part Numbers
2014 Silverado and Sierra Icon Leveling Kits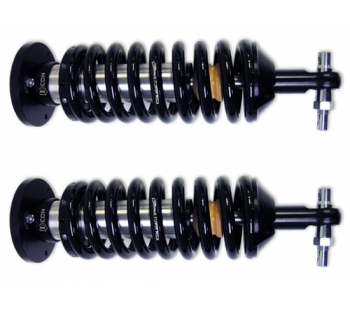 Icon Vehicle Dynamics offers a more advanced style of leveling kit. Icon's kit is a standard coilover kit. The coilover kit replaces the stock strut unit with an adjustable coilover unit. This unit is designed to allow you to adjust you ride height from the stock height to an additional 2 inches of ride height with keeping the same stock control arms. This will allow you to clear 33 inch tires at the 2 inch adjustment. The advantage to getting a coilover is getting a drastically improved suspension, both off-road and on-road use. Icon also offers an extended travel coilover that can work with aftermarket control arms to give you an extra inch of adjustment and clearance.
Part Numbers
Next Steps
These leveling kit options are just the start to the options available to your new 2014 Silverado or Sierra 1500. We also have full lift kits available for a more extreme look and off road capability, superchargers, exhausts and more. For more information on our full line of Silverado performance parts and GMC Sierra performance parts, please visit www.stillen.com or call us at 866-250-5542 and we will be happy to help you. If you live in the Orange County, CA area, be sure to stop by our performance shop in Costa Mesa, CA. Every day, we are installing exhausts, body kits, superchargers, brake kits and more. We'd love to talk with you about any ideas you have for upgrading your truck!
February 18, 2014
Once you check out the new ReadyLIFT Dodge Ram Off Road Lift Kits for the 2009-13 Ram 2500/3500 4WD trucks, you'll know why things have changed forever in the world of Dodge Ram Off Road capabilities!! ReadyLIFT is confident in the product development and testing they put into the brand new 5″ lift they build right here in the US, so much so that they make an array of guarantees on the performance they will provide.
The ReadyLift Dodge Ram Guarantee:
Keep your factory ride
Never wear, break or fail
Have the Toughest finish
Safest way to lift your 2009-13 4WD Ram 2500/3500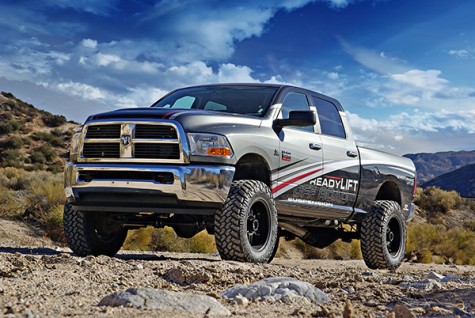 These Dodge Ram Off Road Lift Kits are entirely comprehensive, and come with everything you need to make your 09-13 4WD Dodge Ram off road ready like you've never known. ReadyLIFT has brought the power of their research, development and production expertise to bear and created this kit to have all clearance and durability necessary for owners to take their 4WD 2500 or 2500 Dodge Ram off road and getting wild without fear of a breakdown at the first, or last obstacle.
Features of ReadyLift 5″ 4WD 2500/3500 Dodge Ram Off Road Lift Kit:
5″ Powder Coated Steel Front Coil Springs
1-3/4″ – 5/16″ DOM Tube Steel Upper and Lower Control Arms
Special Currie Original Johnny Joints for Every Pivot Point – TOUGHEST Joints on the Market
Zinc-plated Johnny Joints are 100% Serviceable and Provide Maximum Articulation
Track Bar Bracket Designed to Correct Axle Swing on 5″ Lifts
Forged Steel Pitman Arm to Correct Steering Angle of Lift
2″ OEM Style Cast Iron Rear Lift Blocks with New Longer E-Coated U-Bolts
Special Polyurethane Bump Stops
Extended Length Sway Bar Extensions
Brake Line Extension Brackets and Adapters
All Required Hardware
Contact Us
Give us a call to speak to an expert @ (866) 250-5542 and place your order for this Part – 49-1000 today, and have your Dodge Ram Off Road after a quick install. You can also check out all the ReadyLIFT products we have to offer, or just see the STILLEN site to see all the performance options we have for any of your vehicles. Visit the Performance Shop site to schedule anything from a routine maintenance or install to a full-scale race build.