July 30, 2012
The response to our FR-S body kit design contest has been overwhelming, don't for get to send in your designs as soon as possible.
We are getting a lot of really awesome work sent in.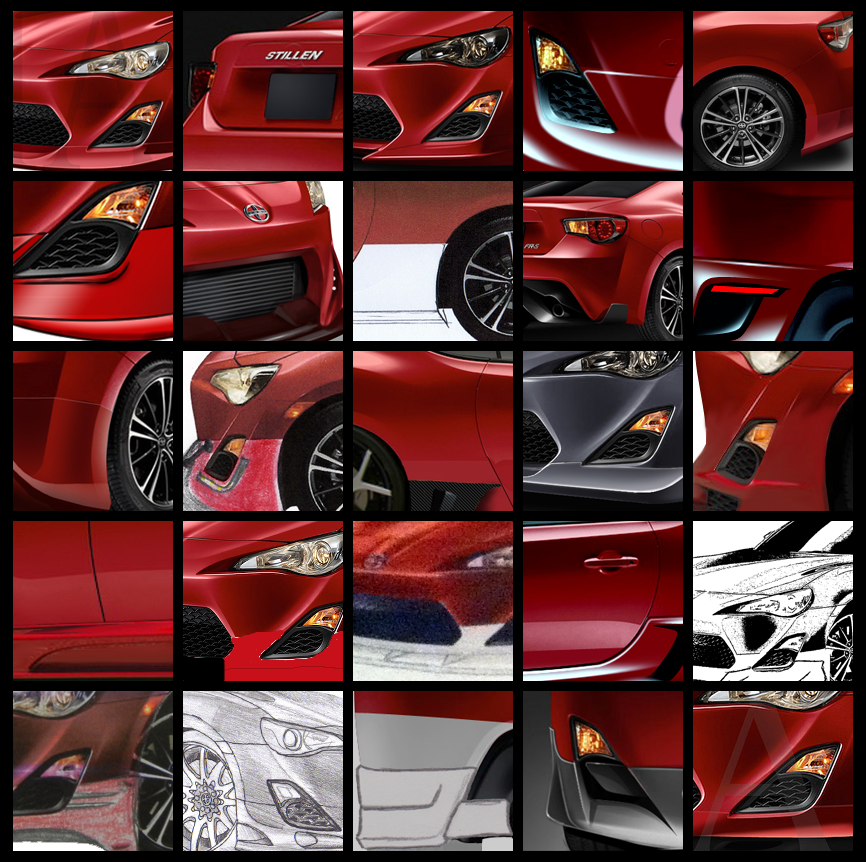 Don't miss out on getting your entry in before it's too late.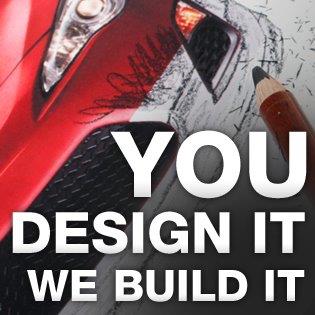 July 23, 2012
We have been getting an overwhelming response to our STILLEN FR-S body kit design contest. While we are basing our judging on overall design and function and NOT on technical ability, some of the designs that have been sent in are very impressive.
Here are some examples of the quality of work we have received.
We have more coming in each day so stay tuned for some really amazing examples. Also if you haven't done so already, make sure you stop by www.STILLEN.com/frscontest to get started on your design before it's too late.
July 18, 2012
We here at STILLEN are very excited about the release of the new Scion FR-S / Subaru BRZ.  In typical STILLEN fashion, we have already got the ball rolling on many upgrades for the car, but here is YOUR chance to make your mark on the aftermarket FR-S world.
For the first time in STILLEN history, we are giving YOU, the public, the chance to design the next STILLEN lip kit that will be produced by STILLEN for the Scion FRS.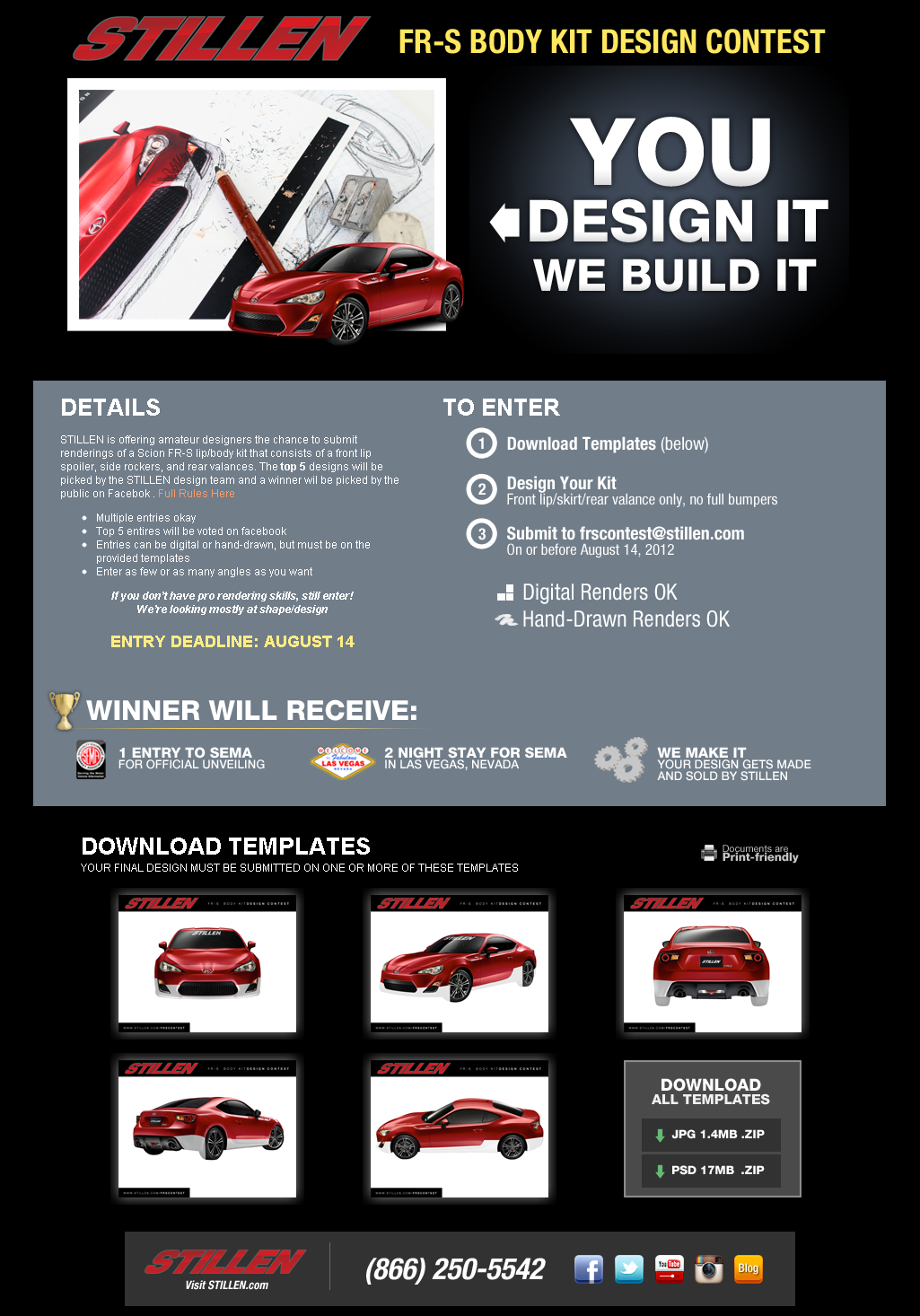 That's right YOU DESIGN IT, WE BUILD IT! 
We are accepting submissions today through August 14th 2012, once all the submissions are collected (send to:  frscontest@stillen.com ) we will pick the top 5 designs for people to vote on via facebook poll.  The designs must be able to be reproduced out of urethane only. Sorry guys, no carbon fiber or fiberglass work. You can include them in your renderings but just know, we won't be manufacturing those pieces.
Submissions must be based off the downloadable templates (found here) and can either be hand drawn or digital.
After all the facebook votes have been tallied, the winner will be announced by us on August 20th 2012.
The grand prize winner will receive:
THEIR BODY KIT BEING BUILT AND SOLD BY STILLEN
2 NIGHTS STAY IN VEGAS FOR SEMA 2012
SEMA SHOW PASSES TO SEE THEIR BODY KIT REVEALED FOR THE FIRST TIME
This is your chance to build the Scion FR-S of your dreams. We can't wait to see what you guys come up with.
July 16, 2012
How can you possibly make a FORD GT look any better? From the factory these things are the perfect combination of vintage throwback looks and modern bad assery.
While the phrase "you don't mess with perfection" comes to mind every time I think of adding a "body kit" to a Ford GT. There are very very few products I would put on my Ford GT if I owned one, could you imagine seeing one with a Black Widow body kit on it ? Oh dear god. That being said, I have to say these dry carbon pieces from Tecnocraft most definitely raise the game of any Ford GT to a whole new level.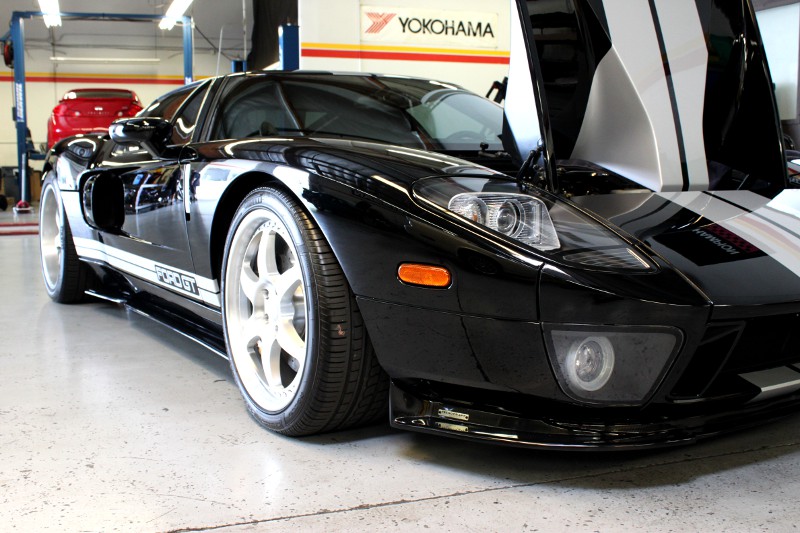 This Ford GT received the FULL dry carbon aero treatment. Front lip, Side skirts, Rear diffuser, and custom painted spoiler. I'd say it looks amazing wouldn't you agree?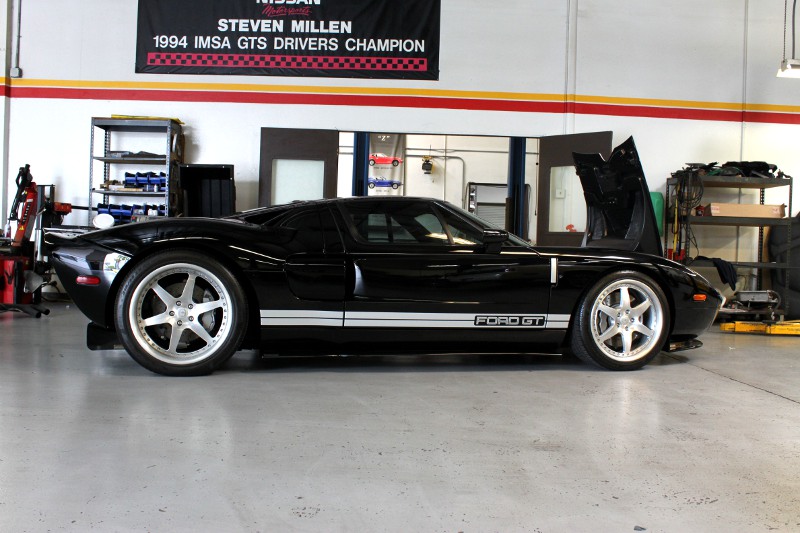 This rear diffuser is most definitely a work of art.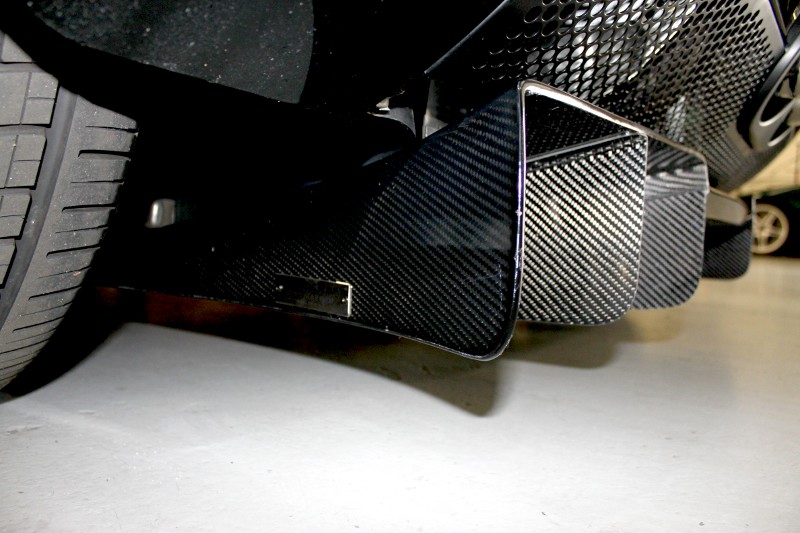 These side skirts aren't just for looking cool, they are actually very functional, check out the notch in front of the rear wheel to ad some turbulence to the air flow.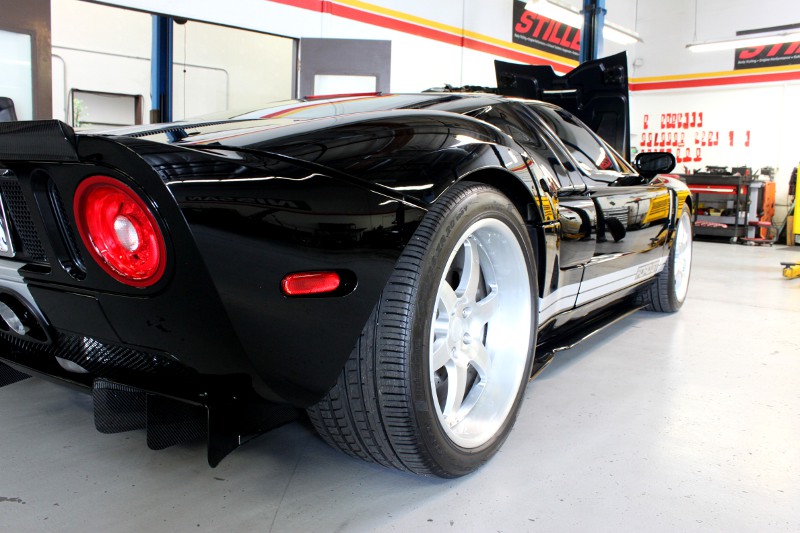 Check out the custom paint work on the dry carbon spoiler…. the beauty is always in the details.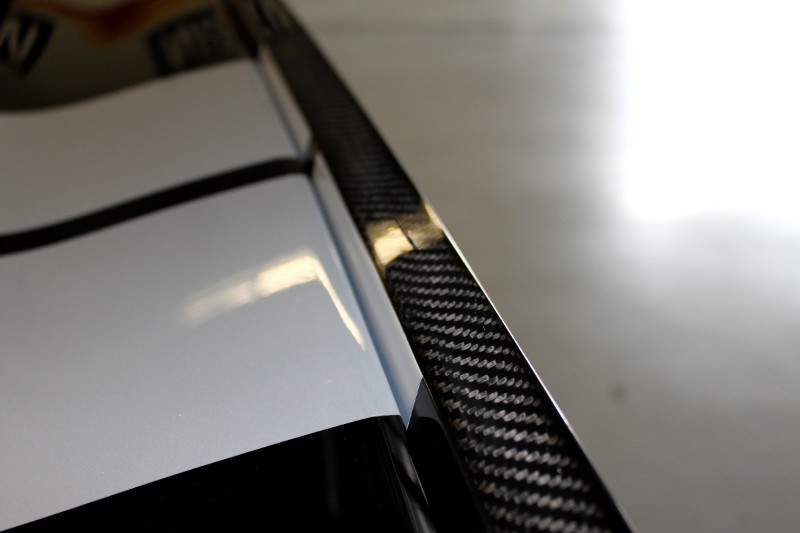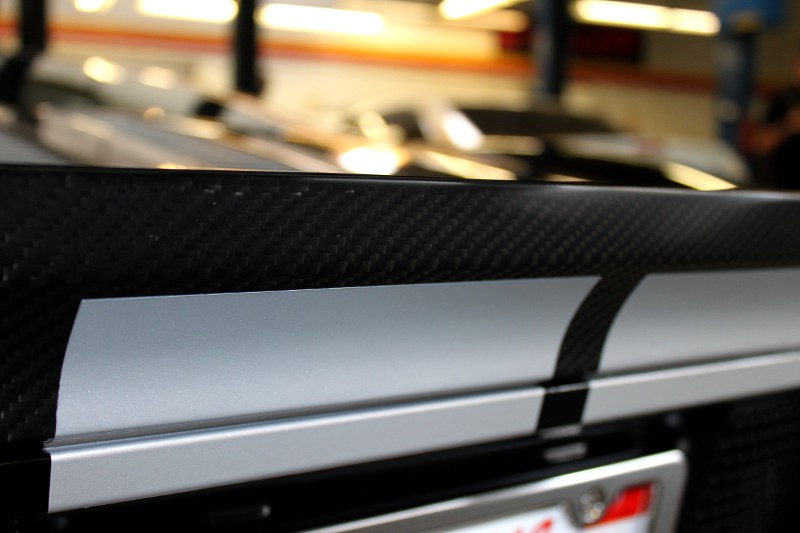 For more info on this build please feel free to give one of our product specialists a call.
STILLEN
3176 Airway Ave
Costa Mesa, CA 92626
(800) 834-0376
July 12, 2012
There aren't many Mustang's that impress me as of late, but this little red pony from our pals over at Street Scene could very well be the perfect California cruiser.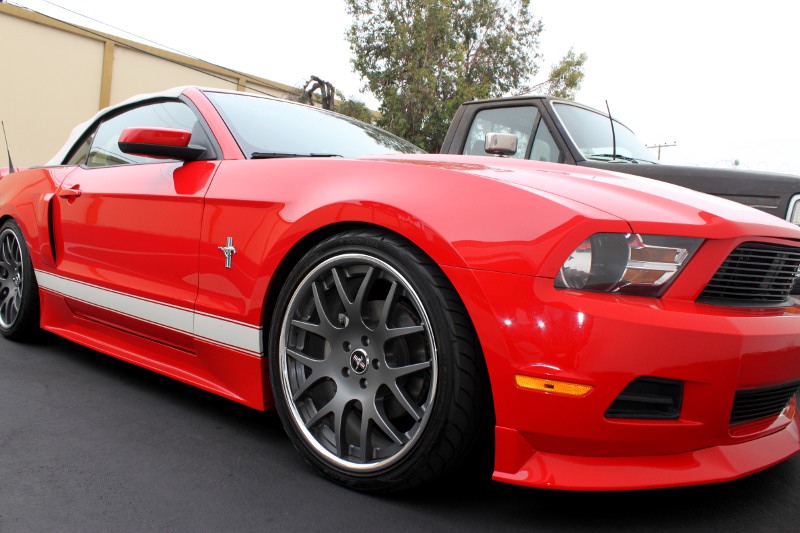 Upon first site, you can't help but notice the full STREET SCENE body kit.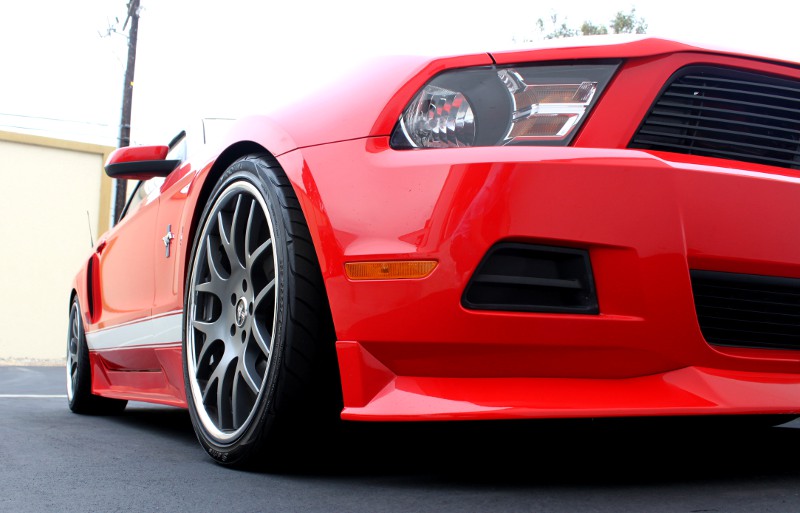 The mustang's stance has been addressed as well. This pony is sitting on a set of H&R springs and a set of 20″ wheels all around. Tire sizes are as follows (Rear:  275/35/20 and front 255/35/20) Not only does this stang have the perfect wheel fitment on there but it also has some substantial tire meat under it's feet.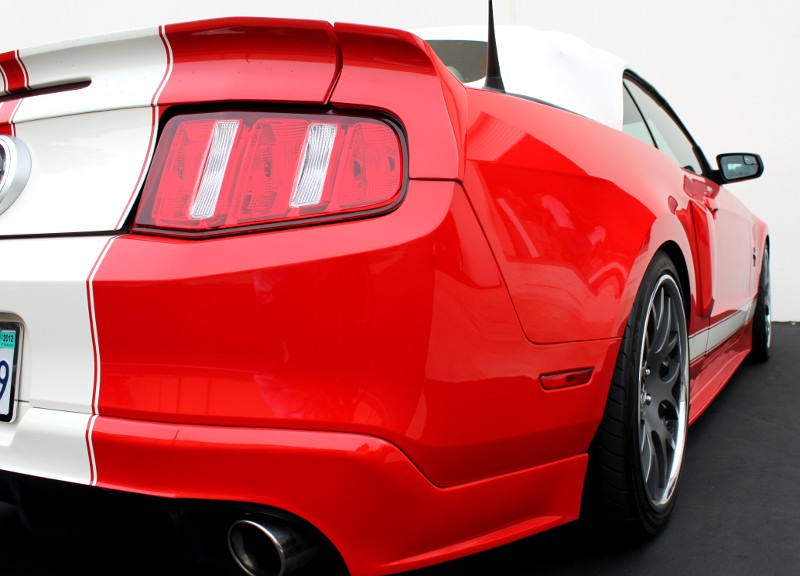 Inside, the mustang also got a custom treatment.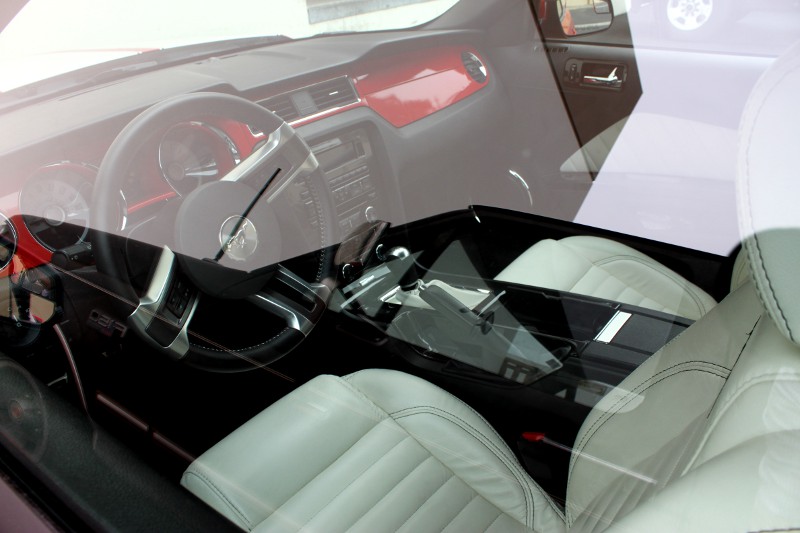 The interior has been we-wrapped in a gorgeous white leather by Katzkin which makes this thing even more stunning with the top down.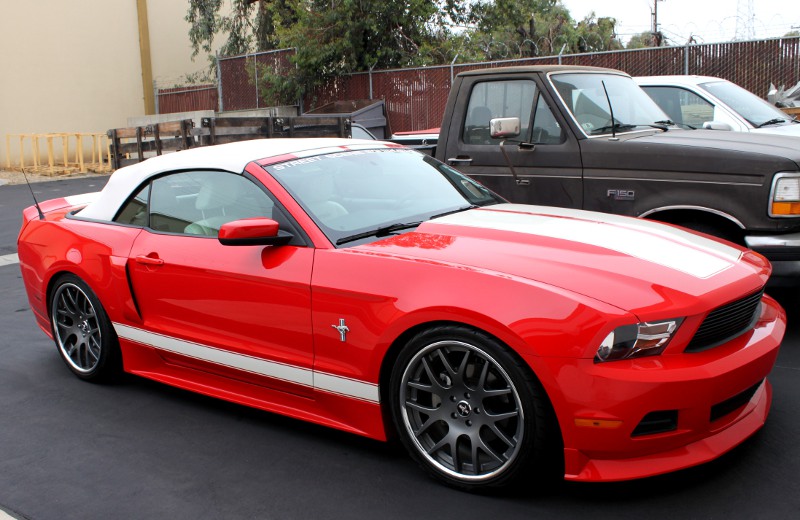 Needless to say, this mustang is gorgeous!!! and to top it off, it's 6-speed with a V6!!! yeah I know crazy right?!!!
Now that Procharger has released its V6 mustang supercharger kit that puts out over 470HP (video here) it almost makes this pony a must buy for the meager selling price of $24,000.
Give the boys over a Street Scene a call for more details on this gorgeous pony.
365 McCormick Avenue Costa Mesa, CA 92626
(714) 426-0590