May 31, 2012
It's one of those days when almost every flavor of horsepower deliciousness is represented inside our Performance Center today. I gotta say it's day's like today that really give me an appreciation for all the amazing work our guys in our shop can do.
On our alignment rack we have a very sleek / innocent looking 350z … that is until you spot the all business 6 pot AP RACING brakes tucked behind the NISMO wheels.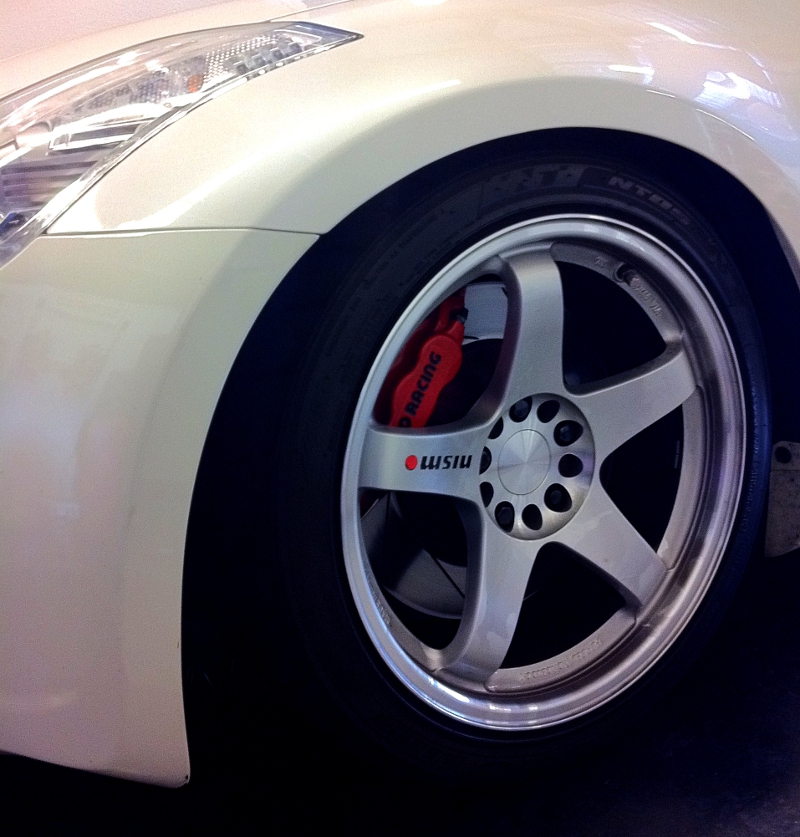 Every corner of the shop has something glorious stuffed in it, on our lift next the the alignment rack, we have a GORGEOUS Amuse kitted 370z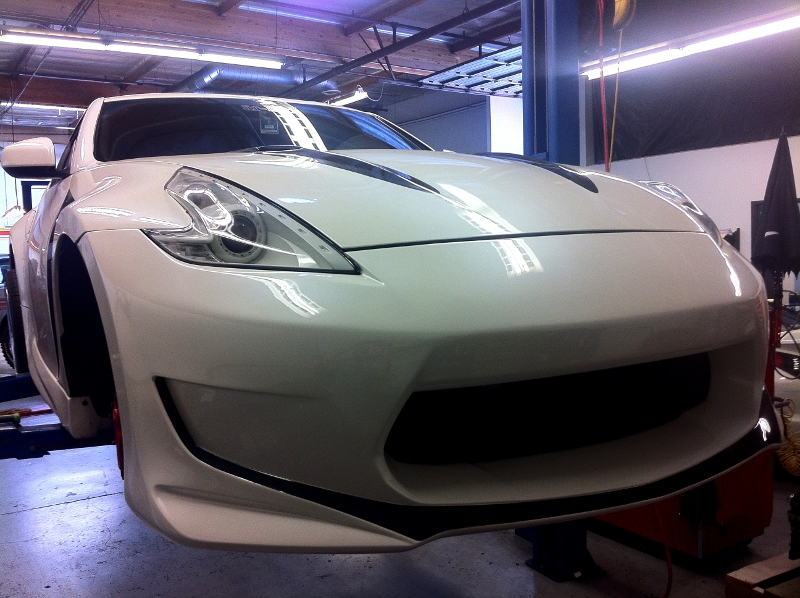 Right next the the Amuse 370z, we have a 350z getting some forced induction love by way of a STILLEN STAGE 3 Supercharger.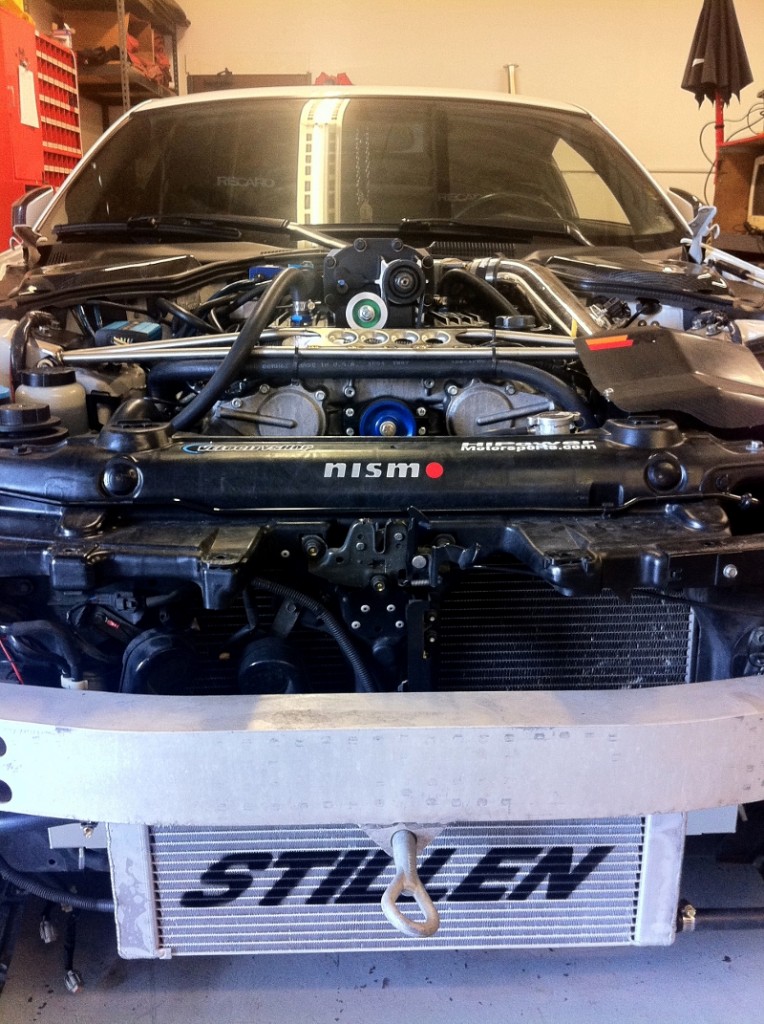 In front of the newly boosted 350z we have some good old fashioned american muscle by way of a FORD GT that is getting a new STILLEN exhaust fitted onto the back of it.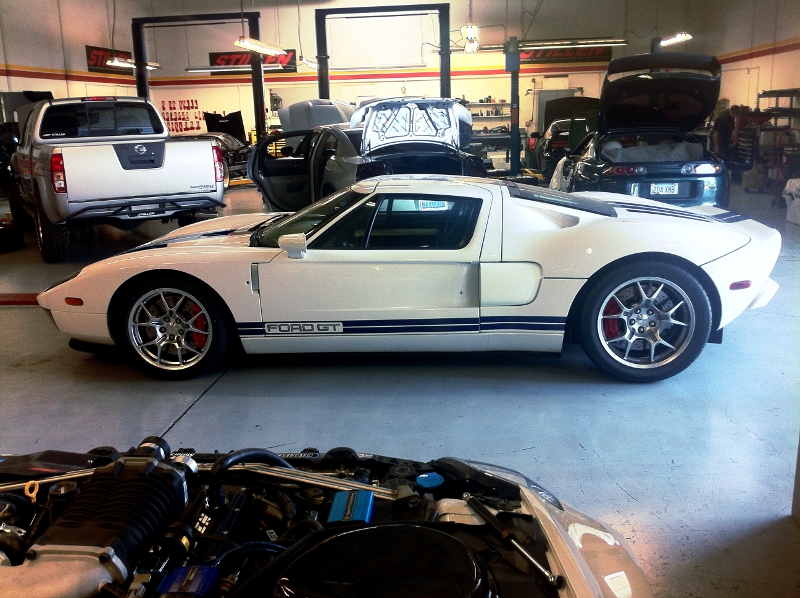 Hiding behind the Ford GT lies some more horsepower god's just waiting to lay down some power on the streets.
Since we are already on the subject of American, here's an insanely powerful Stroked, Cammed and Supercharged Dodge Charger….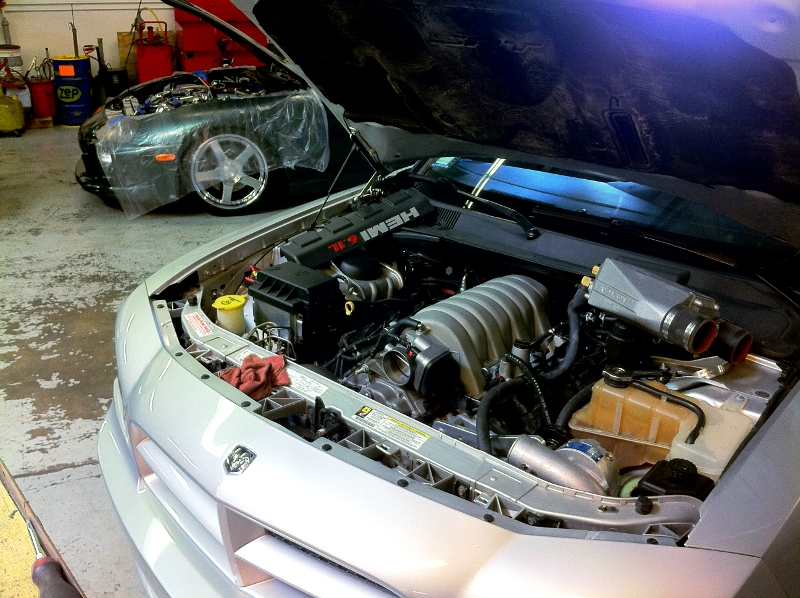 Last time we dyno tuned it, we had to limit the power because the beast ran out of fuel. So today the Charger is getting bigger injectors and a higher volume fuel pump installed. I can't wait to see how much power this thing can put down.
In front of the Charger is another FORD GT that is getting some good old fashioned Coilovers installed to take it up to a whole new level.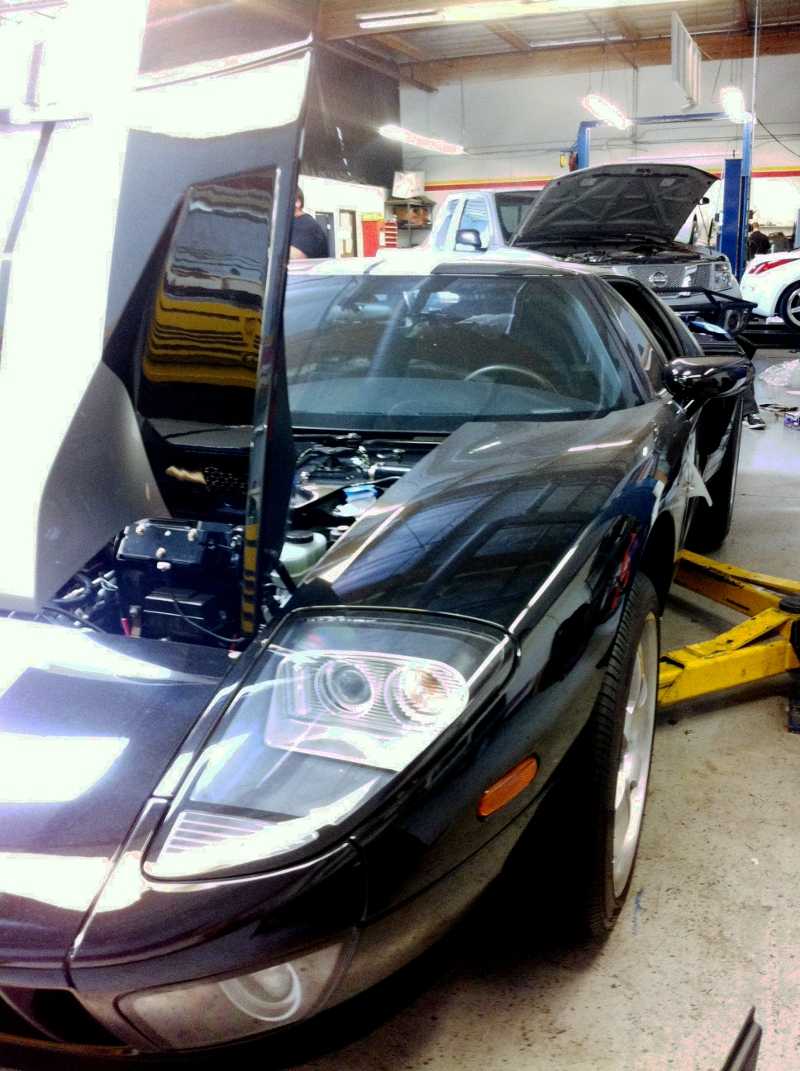 Next to the FORD GT we have a twin pair of twin turbo'd 300zx's that are getting tune up's to make sure their VG30DETT'S run strong for another 15 years.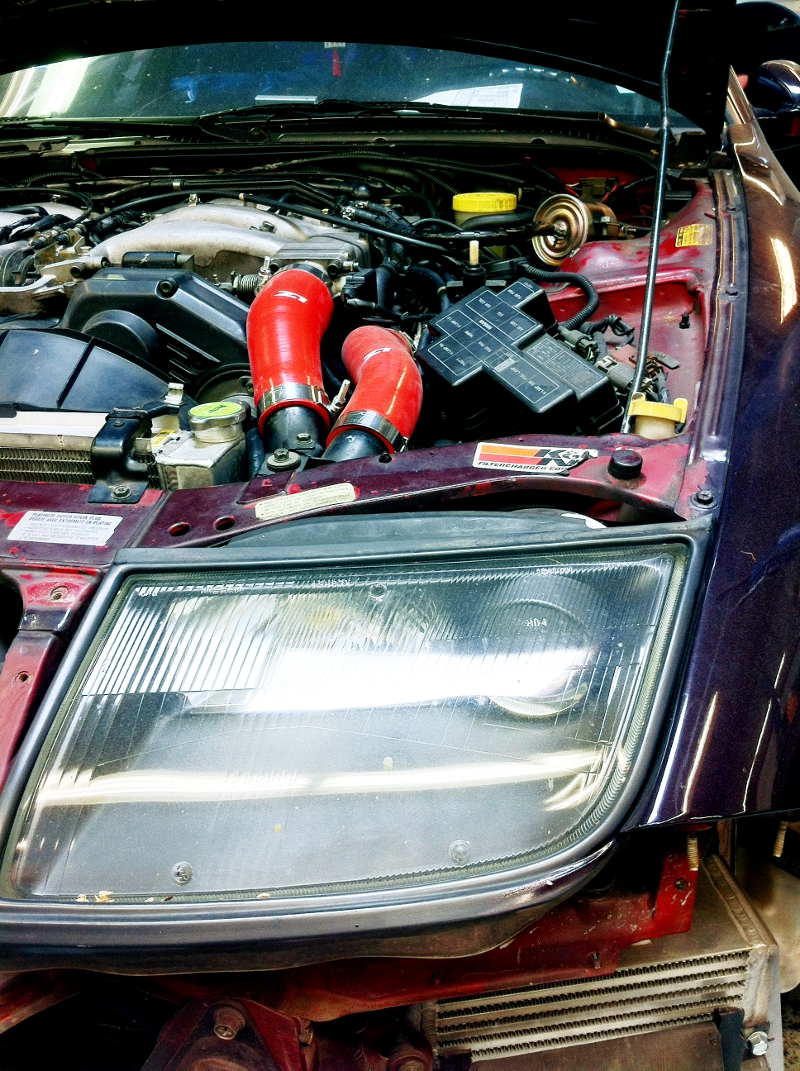 And Big green elephant in the room that everyone wants to know about is a 800+ WHP Toyota Supra that has an engine bay clean enough to eat every meal of your life off of.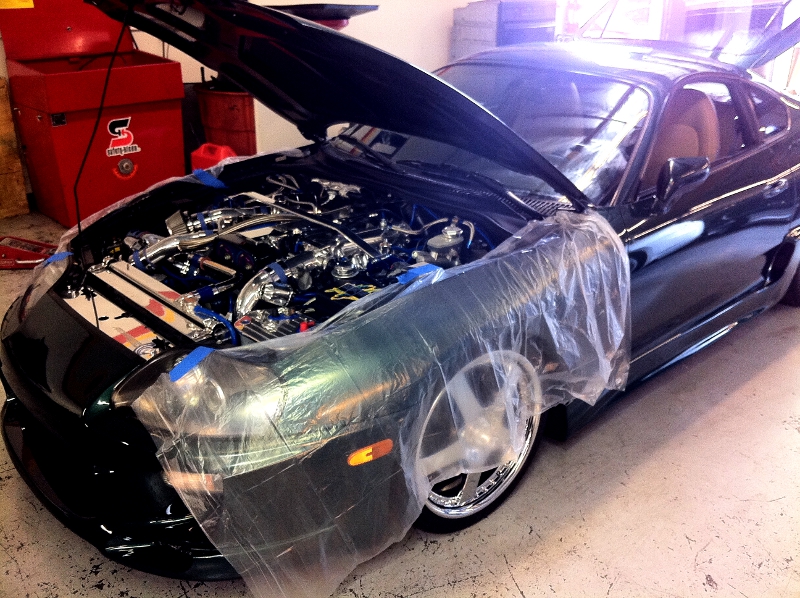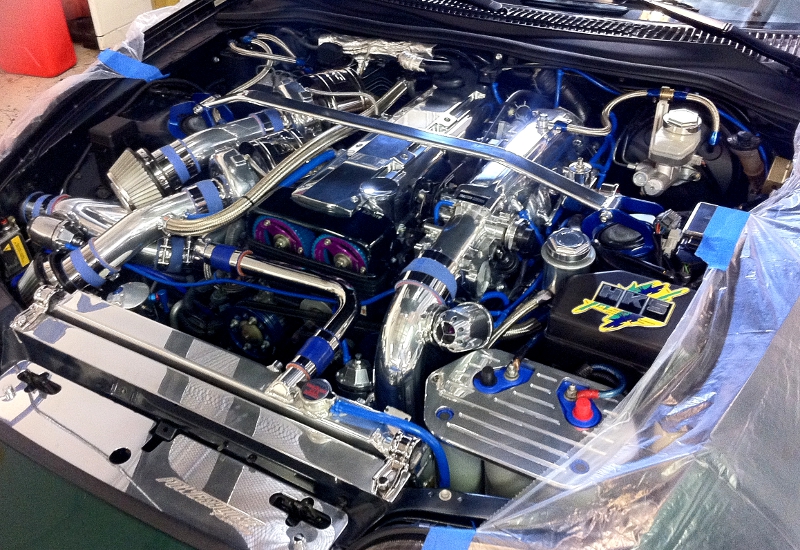 It turns out, this customer's Supra was built by STILLEN around 10 years ago and every year since then he has added more and more to it. As it stands now, the 2jZ with the STOCK bottom end is putting out just over 800 horsepower to the wheels!!!! This is one Supra I most definitely will never forget.
If this isn't a testament to the quality of work our performance center does EVERY DAY… I don't know what is. Well maybe the fact that we have been doing stuff like this for 20+ years could count too.

May 23, 2012
A few weeks ago we featured a Nissan Altima and a R35 GT-R from 66 MVP that were most definitely show stoppers. We are happy to let you know that they are at it again, but this time they set their sights on a 370z.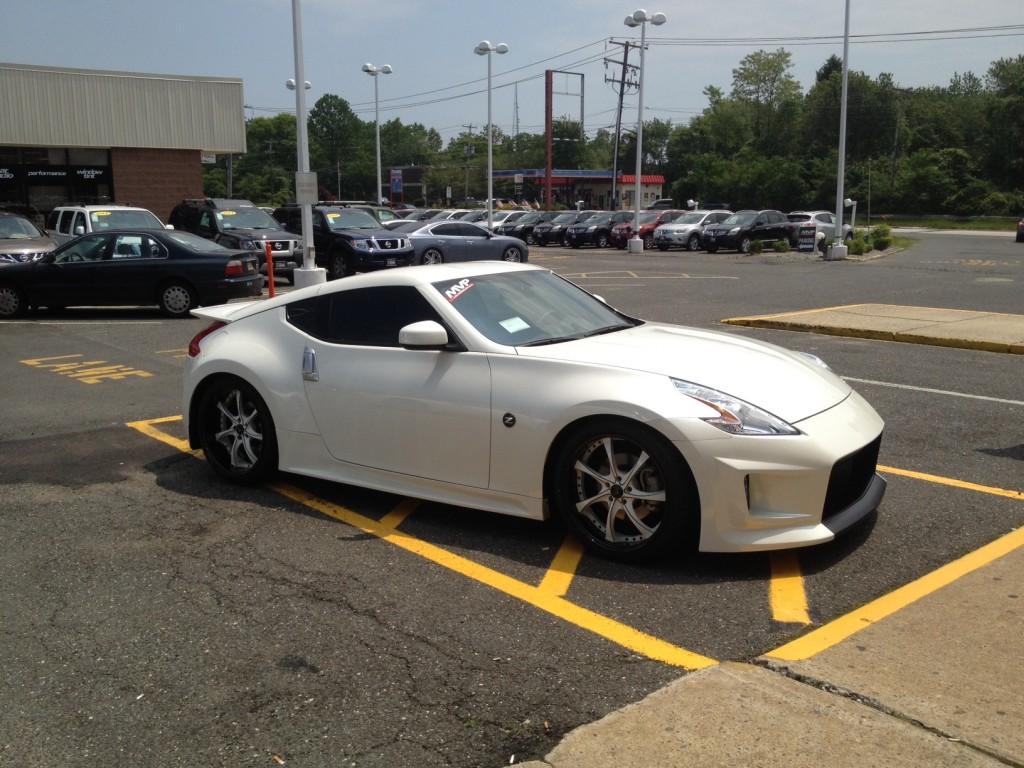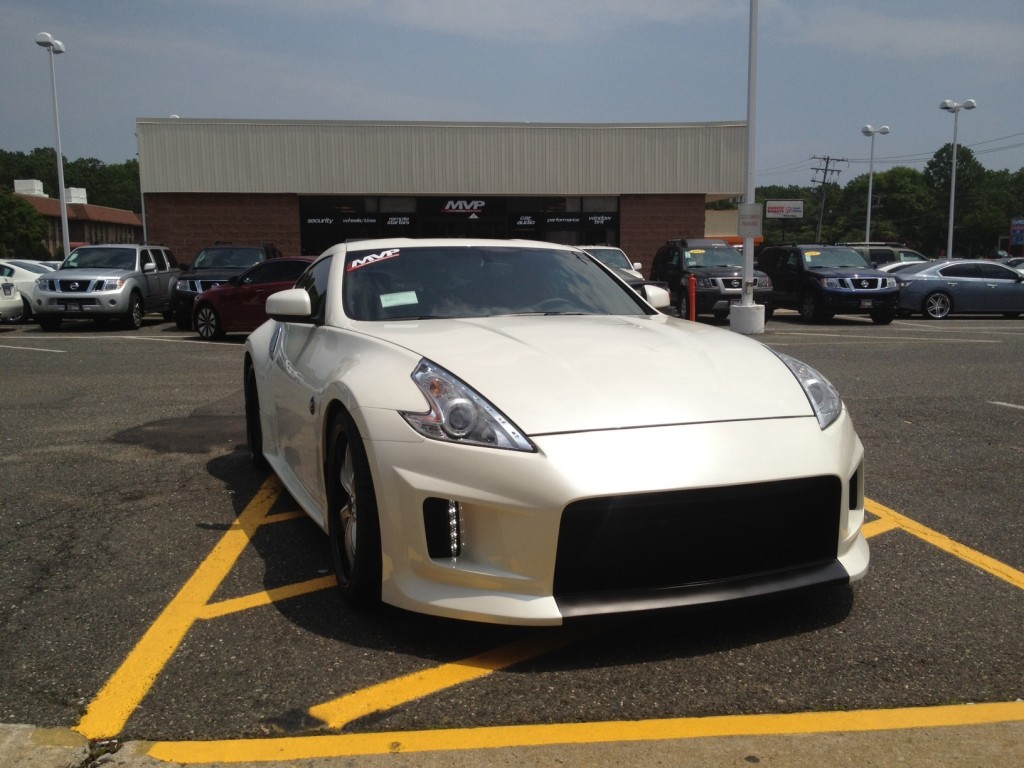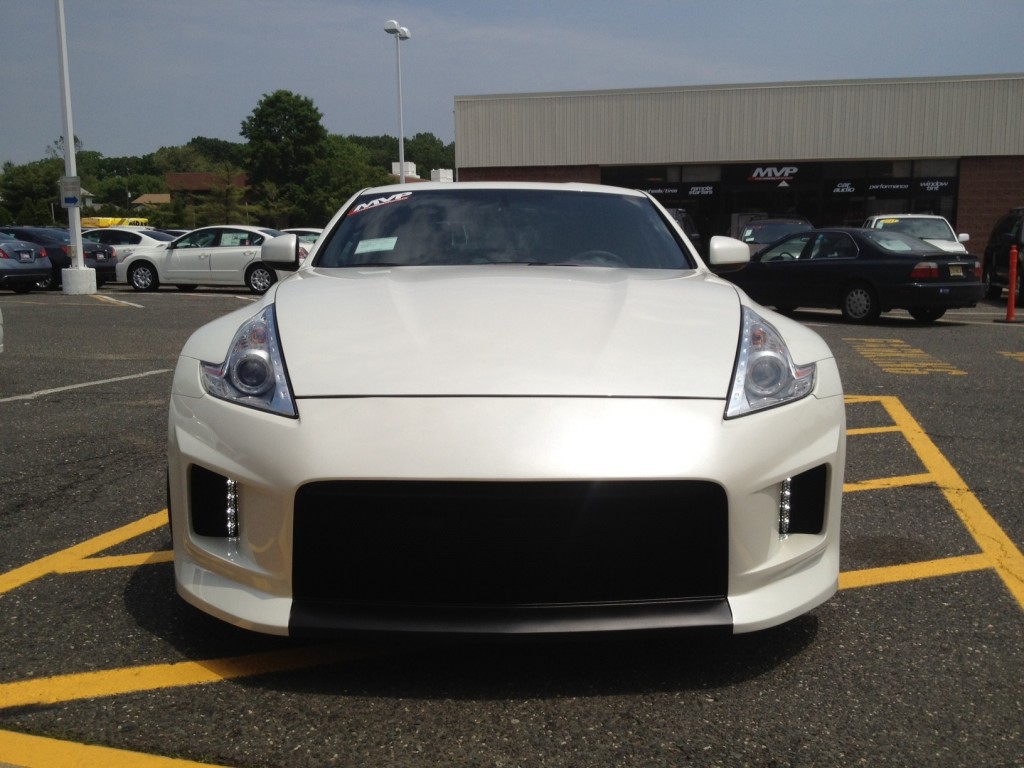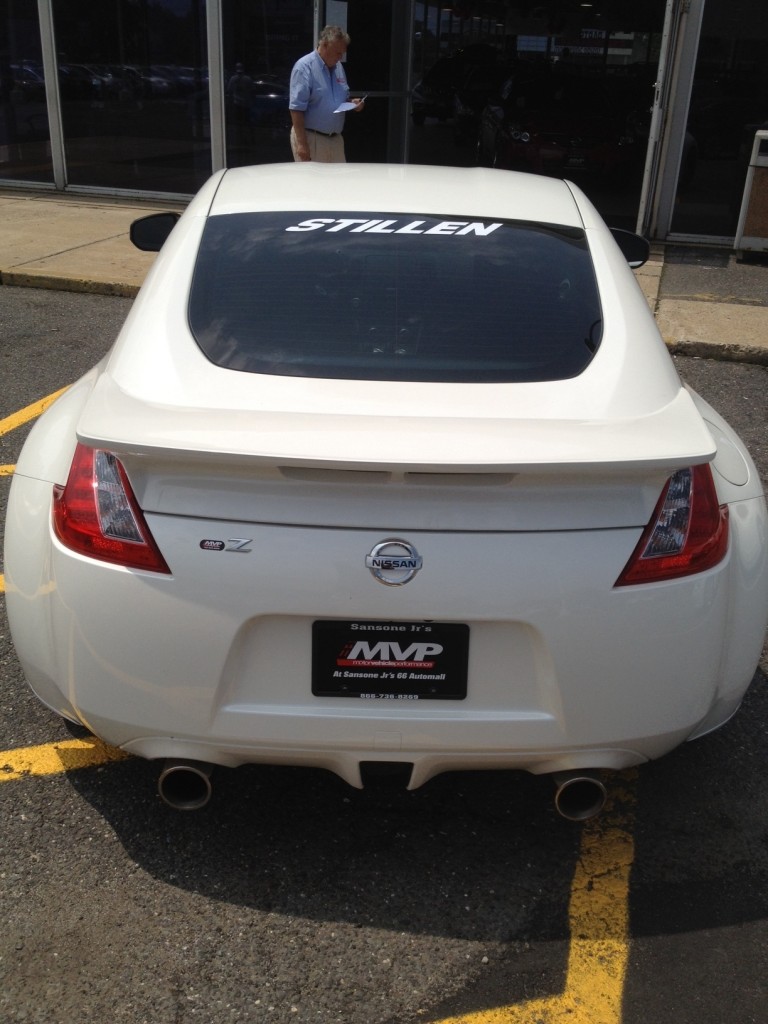 According to STEVE from 66MVP this baby has got an entire array of custom parts. "This vehicle has a full STILLEN 370Z Body Kit, STILLEN 370Z GEN 3 Intake, STILLEN 370Z CAT BACK Exhaust, Piaa High Intensity LED Driving Lamps in the bumper, Custom built 20″ Staggered Savini Wheels, and a black leather interior with white stitching for a touch of flare on the inside. Are just a few of the 370Z's highlights."
The best part about it is that this baby is for sale!!!!
Don't hesitate to give them a call or stop by their website for more information…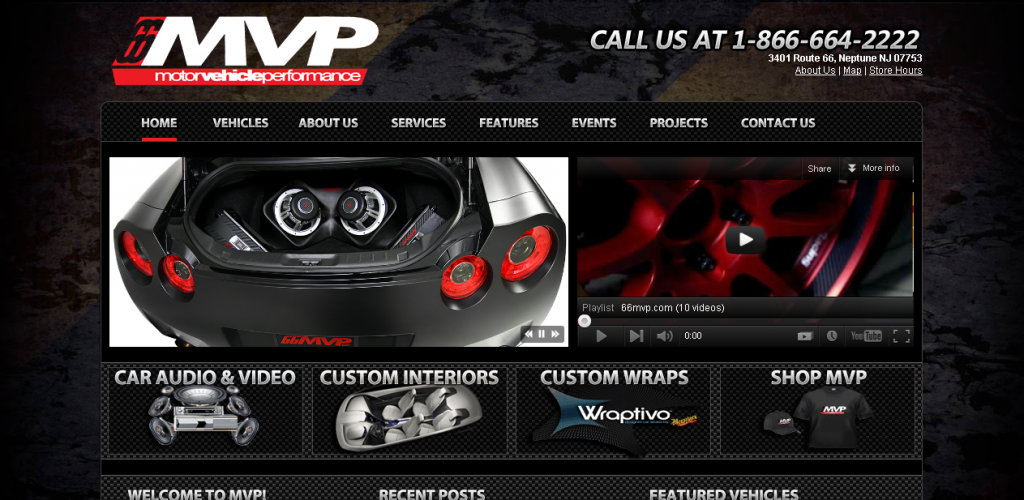 May 10, 2012
For all gear-heads alike the initials B.R.E. represent something almost god like in motorsports. Countless images of 510′s and Z's with iconic stripes on the side of them fill my head with all of racing's glory. Granted, fourty years ago I wasn't alive to enjoy all Brock Racing Enterprises victories, but one can live vicariously through the internet can't he?
In 2010 to celebrate the 40th anniversary of the BRE 240 Z victory at Road Atlanta, Peter Brock  built a 370z with the help of STILLEN as a tribute piece aimed at capturing the soul of the BRE car with a modern twist.
While building the car, they turned to STILLEN to make sure the car ran as good as it looked on the track and among other products we made sure to install the STILLEN 370Z Oil Cooler Kit to make sure oil temperatures were under control at the track. STILLEN 370Z SWAY BARS to take car of the handling, STILLEN 370Z CAT BACK EXHAUST to give a little more grunt but still stay within class regulations.
Road and Track put together a pretty awesome video that highlights both of these car's at speed on the Spring Mountain circuit in Pahrump Nevada. Check it out:
It turns out the BRE 370z tribute car decided to pay us a visit this week. I love the autographed dash on this thing!!!

For more info on this car and the BRE 240Z check out the Road and Track article.
May 9, 2012
Last week, we told you about the IMPORT TUNER Power Pages article that featured our Supercharged 370z with just 3 magical parts on it.
STILLEN 370Z INTERCOOLED SUPERCHARGER KIT
STILLEN 370Z DUAL EXHAUST SYSTEM
STILLEN UP REV ENGINE TUNE
As you can see from the previous article, those three parts alone gave the 370z a 139HP boost at the wheels and 90lb/ft of torque. While we would LOVE to equip our customers cars with superchargers all day, the $8,000+ price tag might be a little too much for every budget. So today, we figured it would be fitting to cover a more cost effective approach to the "magic number."
While navigating through the wonderful world of YOUTUBE this morning, I stumbled upon a video from EFI LOGICS that features the magic number of 3 in a much more affordable combination.
For their customer (Richard Park) EFI LOGICS  combined the
370Z GEN 3 STILLEN LONG TUBE INTAKE $499
370Z STILLEN CAT BACK DUAL EXHAUST SYTEM $1269.61
370Z UP REV OSIRIS ECU TUNE $499 (plus dyno time)
For some pretty amazing horsepower and torque gains.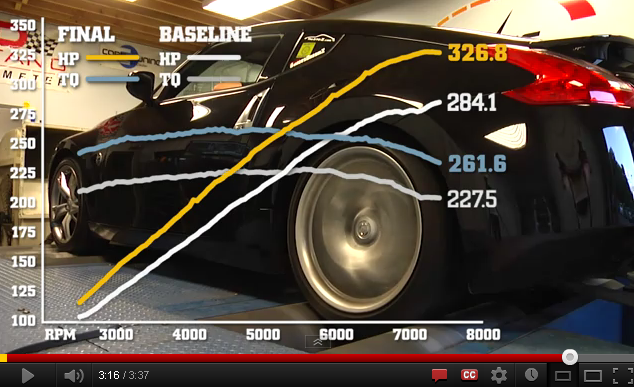 As you can see, it turns out 3 is in fact the magic number on the 370z for gains good for +40HP at the wheels and +30 lb/ft of torque. All for a price that's roughly around $2500.
If you are interested in taking your 370z to the next level, give us or EFI LOGICS a call and both of us will gladly help point you in the right direction.
May 3, 2012
There are a handful of cars in this world that will make any enthusiast stop what they are doing and admire the "collection of parts" in front of them. Those cars will always hold a special place in just about any enthusiasts heart. While there aren't many nameplates that can make just about any enthusiast stop in their tracks, anything with COSWORTH in it's name will always fall into that category. Today, SPEEDHUNTERS.com featured a very special Ford Focus RS Cosworth that spared no expense with the level of quality and detail that went in to the car.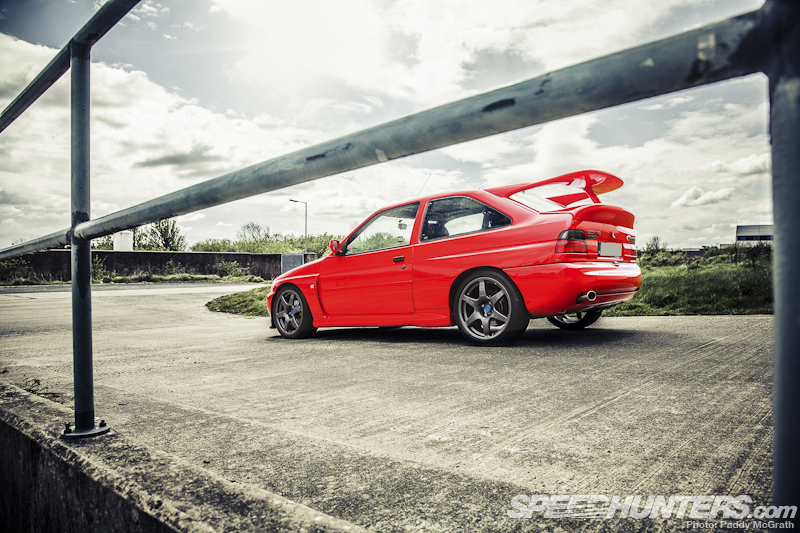 As you can see, this COSWORTH has been meticulously prepared and every area had either been rebuilt or improved. This holds true even with the brakes.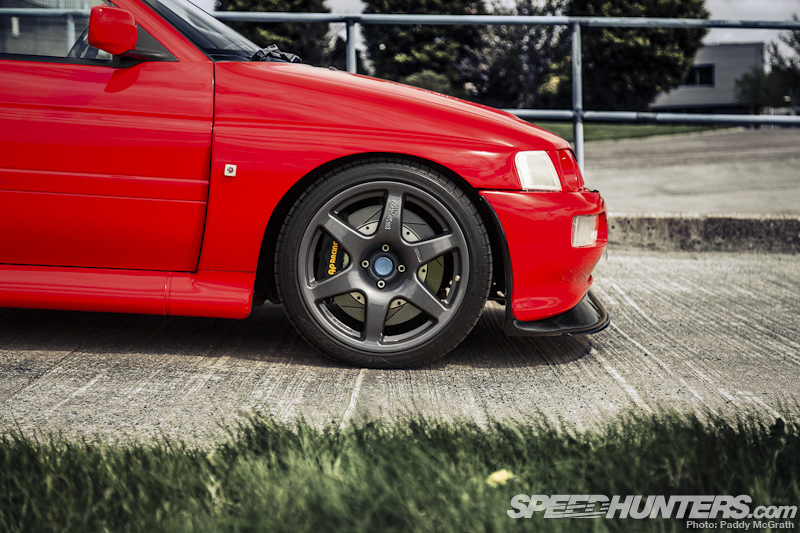 The factory brakes were ditched and replaced with AP Racing Six Piston Front Brakes with Reyland Floating Alloy Bells.
The quality and beauty of this car is hard to ignore and so are those 6 piston AP RACING brakes and 365mm discs.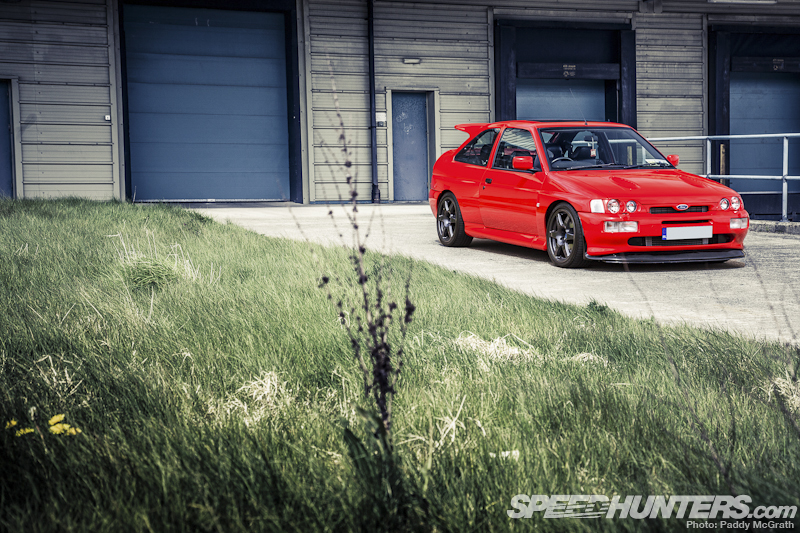 You can catch the rest of the article here…
SPEEDHUNTERS.COM THE LADY IN RED
And for more information on our line up of AP RACING products.. don't hesitate to pay us a visit.
STILLEN.COM AP RACING PRODUCT PAGE