April 18, 2012
Dealing with fast car's all day long rarely gets boring, but sometimes the luster of seeing a "dream" car like a GTR simply just parked in our parking lot day after day can wear off. Thankfully some of our customers in Russia like to put their GTR's through their paces. They also like to challenge their buddies with some other dream machines while doing so.
If you haven't heard of DRAGTIMES-IFO, make sure you cruise over to their YouTube page and subscribe immediately! Their goal is to bring you the best Racing videos from Moscow, and their video of the UNLIM 500+ races are simply awe inspiring. That race is automotive greatness at its best.  Six categories of vehicles from the Italian, German, American, British and Japanese automotive industry all with a MANDATORY horsepower MINIMUM of 500+ are all competing to see who can post up the fastest standing mile time.  Lucky for us, those cars need a way to scrub off such immense speed numbers and that's where our GTR Carbon Ceramic Matrix rotors come in.
These rotors represent the best of the best braking technology and are available for one of the best cars on the road today. As it turn's out, they are very popular with the guys who regularly compete in the UNLIM 500+ series.  I'm sure you can imagine how quickly stock brakes can get warped when consistently stopping a car from 150+ mph, because of the CCM-X's rotors ability to run 140 degrees cooler than the stock setup up, they are less prone to warping.  Check out the vid below for some jaw dropping standing mile action courtesy of DRAGTIMES-IFO.
October 29, 2011
Well, the week long Targa rally has come to a close here inNew Zealand.  It was a great week and Steve and Jen did a very good job.  Before arriving for the start of the week we installed larger fuel injectors, a new tune, and some stiffer springs in the shocks.  We figured this would be a fairly natural and reliable progression.  We had no idea what the other GT-R teams had in store!  Tony Quinn arrived with bigger turbos and an engine that had been bored and fitted with larger pistons, 410mm brake rotors and more.  Proctor had a stroker motor with stock turbos as well as larger brake rotors.  Steve said that as Proctor's GT-R launched off the line he would spin all four wheels.  Dodson's R35 also came in with heavy modifications and increased horsepower.  Last year, we were all on a similar playing field and ran tight all week.  This year everyone brought the big guns.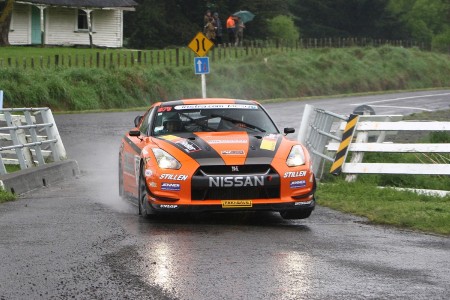 Steve and Jen pushed hard all week and were able to bring the car home with a fourth place finish.  The event winner, Tony Quinn in his R35, won the event for his fourth time.  Glenn Inkster in his high horsepower Mitsubishi Evo 6 came home in second place just a few seconds behind Quinn despite having a couple of offs and having to take a tire penalty.  Glenn Smith rounded out the top 3 in his 600+ horsepower Mitsubishi Evo X which looked like it had just come out of a video game!
Steve was pushing hard the last day of competition and had a bit of an off.  He was able to carry on with the stage and never actually stopped moving.  We don't think he lost more than a few seconds after it was all said and done.
These Targa rallies are a great way to test as well as develop new products.  This year we brought down a few new STILLEN products like adjustable camber arms and some other performance components as well as the new generation Dunlop Sport Maxx tires.  These Targa events are run on roads that would normally be open to the public so you can really see how the parts are going to perform in all conditions in the real world.  The new Dunlop tires are an amazing tire and proved to work well all week long.  In an event like the Targa where you only get 8 tires to last the week it's important that your tires will offer supreme grip without wearing too quickly.  The Dunlop Sport Maxx tires worked great in the wet and dry conditions all week long!
The 2011 Targa New Zealand rally ran the way these rallies are supposed to be run.  There were hot days, there were rainy days, and all in all it was a lot of fun!  Steve and Jen did a great job and really fought hard for a top five finish!  On the drive North after the rally was over we had already started planning for next year and coming with ways to improve the car to make it even more competitive for next year!  We have some pretty wild ideas forming and we're excited to show you all what we come up with!
Check out the video below for a taste of the action, and more photos below!
httpv://www.youtube.com/watch?v=XUYTzOKVisI
All 2011 Targa New Zealand Coverage
================================================
October 28, 2011
Fourth day down and one to go!  New Zealand Targa rallies are generally ran in both wet and dry conditions.  It is extremely rare for the entire rally to go completely dry, however last year it did happen!  This year however, the weather has arrived and brought with it some more carnage.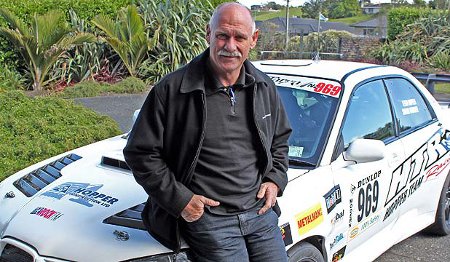 Hopper has officially retired from the rally.  We found out last night that the car may be a total right off.  Initial conversations were that it wasn't too bad but apparently the car endoed and the coil overs were relocated through the hood!  I'm sure we'll see Leigh back next year though.  The white Maserati performed some its own air show this morning.  The story is the car went flying off the road completely missing a turn.  According to reports around the rally the driver said they flew a solid thirty feet in the air and the car kept going for about 200 meters down a hill before coming to rest at the bottom of another hill….thanks to the assistance of a tree stump!  Apparently the car isn't too bad though and may be back in the morning if they can find a new radiator.  Best of luck to them!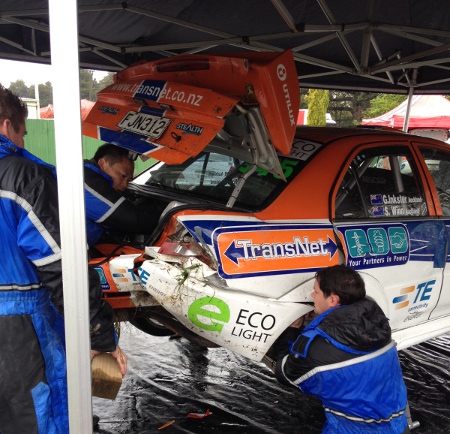 Inkster also had a couple of moments today with one or two spins and a slide off the road and into a bank which re-designed the right rear corner of his Mitsubishi.  No worries though as Inkster comes from a gravel rally background where these situations are common place.  The crew pulled out the hydraulic spreaders and bent it back into shape again.  He didn't miss a single stage and is still running strong.
Today we traveled to the town of Marton which is home of the infamous "cop corner."  A few years ago a local police officer decided to blow the road closure after the sweep car went through but before the rally cars started.  The story goes that the rally organizers tried stopping him but he informed them of his official position in the region and took off anyways.  He ended up getting his just deserves as he blew through the 90 degree left hander and launched his car into the paddock beyond…Hence the name "cop corner."
This corner can be tricky in the best conditions but the local council just laid down new tarmac last week.  Apparently the term "laying down new tarmac" in this region means…opening a giant bag of rocks and dragging it from one side of the road to the other!  It was nothing but gravel!  Add to that the wet weather conditions and you can imagine how tricky this corner became!  The drivers ran the stage twice today.  The first time around a Ford escort panel wagon about three cars in decided to park it in the grass/fence.  So all of the upcoming cars had to slow way down to avoid them. (Video Below)
A WRX (drivern by Leigh Hoppers helicopter instructor, not kidding!) performed a perfect job of parallel parking as he slid directly between the Escort and the armco for the single lane bridge.  With the assistance of the all wheel drive in the Subie he was able to get right back on the road and continue on.  The Escort meanwhile had to be pulled out after the stage had closed. (Video Below)
After the cars had gone through the first time we heard a report that Proctor was being towed down the transit stage on the back of a tow rope.  Rumor has it he has blown his transmission…Which is a HIGHLY modified unit.  He missed the repeat of "cops corner" which was the last stage of the day.  Hopefully his team can repair the car and get him back out in the morning.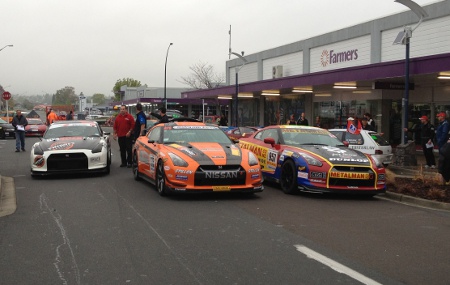 Steve and Jen are doing a great job of pushing hard and doing their best.  We didn't get off to a great start with the differential issues we had early in the week and that put us in a hole which has been basically impossible to climb out of.  The team is doing well though and we are coming up with new ideas on how to prepare the car for next year!  The car is running well and we had a nice team dinner tonight to celebrate Jen's birthday.  These races are a lot about competition and winning but the biggest thing is having fun and bringing the car and drivers home safely.
Last night more footage was added to the video capturing Steve Millen racing the STILLEN GT-R against Leigh Hopper and his helicoper as well!
Footage from local spectators is beginning to hit the web as well, here's a quick shot of the STILLEN GT-R rounding a corner on Day 1
httpv://www.youtube.com/watch?v=JntzIFKCnkY
All 2011 Targa New Zealand Coverage
================================================
October 27, 2011
We are officially past the middle of the week and the car is running very well!  Tonight we swung by a local auto shop to do some simple service work.  Just an oil change, brake pad replacement and general inspection.  Everything looked great and we can't wait to see how Steve and Jen do the next two days.  Today consisted of a lot of running around and trying to help the service crew and I wasn't able to get on any stages.  However, i assure you there will be more photos coming in tomorrow.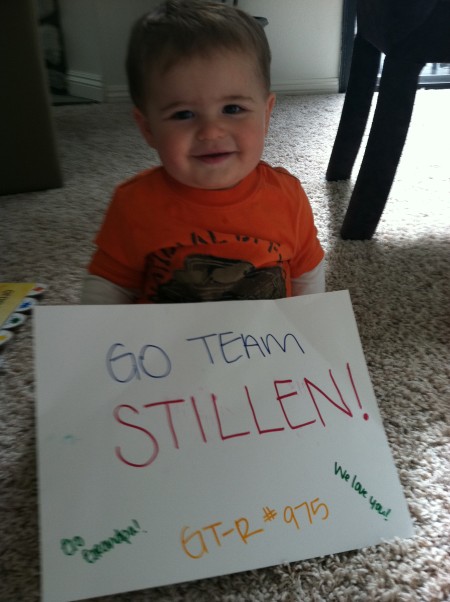 There's no lack of support for Steve Millen, as shown by his youngest fan, his grandson Braeden!
There have been quite a few interesting developments over the day.  Quinn was experiencing a damaged oil return line from one of his turbos but that is/was a pretty minor repair.  The car is back in overnight parking now and ready for tomorrow.  Glenn Inkster in the Evo 6 Mitsubishi is still going strong, actually had a bit of an off today on one stage damaging his hood and front bumper.  Nothing too major though as he only lost 15 seconds on the stage!  Rumor is that he actually spun one or two times after that stage and is still able to continue taking time off the leaders!  man, this guy can drive!!!
Leigh Hopper, the guy dad raced in the helicopter yesterday, apparently though he was still in his helicopter…The story is he tried doing a barrel roll on the fifth stage of the day before realizing his car doesn't fly quite like the chopper…Haven't seen the car yet but apparently it was on its roof.  Hopper, always in good spirits, was sited on the side of the stage throwing rocks at the Giddy car, good friends of his, as they went by!  Best of luck to team HTR in getting the car back out in the morning.
Overall the car and the team are working well.  Steve and Jen are doing their best and we're hoping for a good result!
More photos and updates to come tomorrow!
Another angle of yesterday's GT-R vs. Helicopter drag race
Quick interview with Steve Millen at 3:00 in on the official Targa NZ daily recap
All 2011 Targa New Zealand Coverage
================================================
October 26, 2011
Well we had an eventful day today!!!  I wrote last night's first blog post from the hotel room prior to everyone else arriving.  Conrad and I got there a bit early so we checked in and started getting things organized for the rest of the teams arrival.  Once Steve and Jen arrived we ran down to the town they were in and went straight over to the local Nissan dealership who were kind enough to offer the use of their facilities so we could go over the car after the first days events.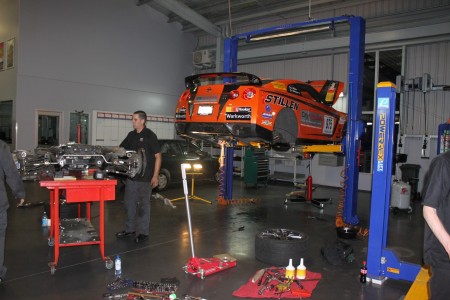 Steve had lost considerable amounts of time because the car was going into limp mode due to high transmission temperatures.  We wanted to inspect everything and see what was going on.  As soon as we dropped the diff fluid, we knew we had found the culprit.  Inside the diff fluid there were clear signs of metal wear.  The fluid had taken on a metallic shimmer.  We inspected the transmission fluid and it looked fine.  For those of you who don't know, the GT-R rear differential, transmission, and transfer case all share one big assembly.  So, we figured that the differential was getting so hot it was cooking the transmission as well.  The only thing we could do was pull out our spare assembly and install it.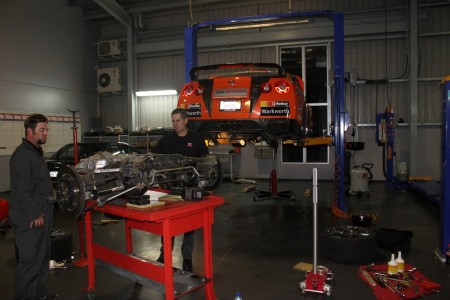 Normally, if we were in a GT-R certified dealership working with the right tools, this would be a 3-5 hour job.  However, this was not a certified GT-R dealer, and we did not have all the tools!  After a lot of swearing, some busted knuckles, and some frustrating moments, we finished the swap….at 5:15 a.m. this morning!!!  We went back to our hotel rooms, got an hour of sleep and packed up to take on today's adventures.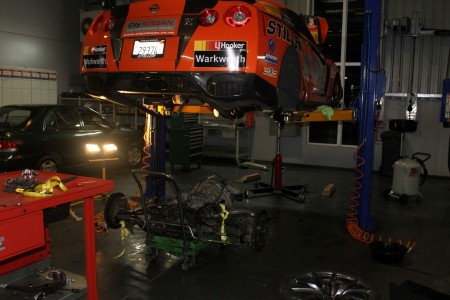 That was a lot of work and a real pain but boy was it worth it!!!  Steve was pushing hard today and according to early reports finished second in a couple stages.  Had he been able to push harder yesterday like he did today we would be in a much better position!!!  Unfortunately, we're a little out of luck as it is what it is, but that's racing!
Attrition is already showing on some of our competitors cars!  Dodson blew up one of their gear boxes yesterday and was having more issues today, keep in mind their transmissions are HEAVILY modified and far from stock.  Proctor cracked three wheels yesterday and arrived to the parking garage this morning with a brand new set on all four cars!  A couple of cars have gone off but fortunately nothing major and everyone has been able to carry on and make the necessary repairs.
While it was awesome to see Steve and Jen pushing hard today and making big strides, it was even more exciting when Leigh Hopper challenged Steve to a bit of a drag race at this afternoon's extended stay lunch stop on an airport strip.  Normally these stops are only an hour or so, but to avoid the evening traffic crossing the bridge in Auckland the organizers set up a three hour event at Sunny Hills airport in Warkworth.  Leigh challenged Steve to a drag race in the GT R….against his acrobatics helicopter!!!  It was insane!  Leigh is an amazing pilot and was performing some amazing aerial acrobatics, including sliding his helicopter along the grass for a good 100 feet or so.  They raced twice and Steve won the first time but Hopper took the victory the second go around. Check out the video on-board to see the race!  The GT-R's ECU has been set with a top speed limiter of 200km/hr, which is the maximum speed allowed in the rally.. Leigh's helicopter doesn't have such a limiter!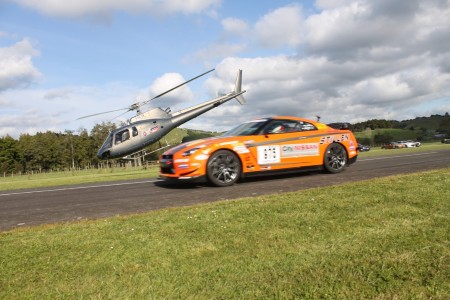 All in all, it was an awesome day!  However, as you can imagine, I'm exhausted!!!  Enjoy the pictures and video, I'm going to bed!
All 2011 Targa New Zealand Coverage
================================================