July 5, 2012
In the world of Social Media, today is known as #ThrowbackThursday and when you have been in business for 20 plus years, the amount of amazing content at your disposal to "throw back" to is insane. Today's throwback Thursday post was very difficult chose, it was most definitely a toss up between covering Montel Jordan's STILLEN equipped glorious 1990′s Chevy Suburban or some NISSAN TITAN awesomeness. Needless to say, the Titan won.
I swear, I can watch that video over and over.
In case you were wondering which STILLEN parts, that TITAN happened to have on it. Here's the breakdown:
STILLEN NISSAN TITAN SUPERCHARGER
STILLEN NISSAN TITAN HEADERS
STILLEN NISSAN TITAN AP RACING BIG BRAKE KIT
STILLEN NISSAN TITAN TRANSMISSION COOLER
STILLEN NISSAN TITAN HI FLOW INTAKE KIT
Back in 2006 during one of our "STILLEN DAYS" a customer brought out his INSANE Nissan Titan just to lend us a hand in destroying one of our cars that was already scheduled to be crushed. This moment will go down history as eternally epic.
December 15, 2011
Few things stick out in my life as such happy times as ripping open the giant Slot Car box at Christmas with the TYCO logo and the huge "Zero Gravity Cliff Hangers" or            "US1 Trucking" emblazoned on the side, shoving aside other gifts and wads of torn and crumpled wrapping paper to clear enough room and take over the living room.
Getting the track set up, plugged in, the hum of the power supply, finally jamming a finger down on the trigger and watching the little car shoot down the track at what seems like 900mph with tiny sparks visible under the chassis, not having a chance in the world at making the turn and spiraling off somehow getting airborne and disappearing in the depths and darkness behind the Christmas tree in the corner.. Controller surprisingly hot in my hand and a curl of smoke coming up through the vents..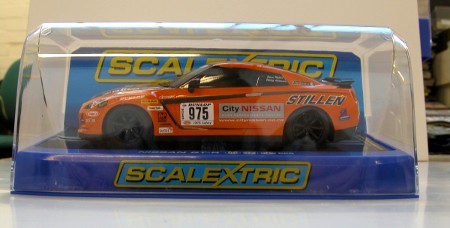 For those who hung on to those good times and continued on with Slot Car Racing, no doubt Scalextric is a name you've heard of and trust. They specialize in bringing realistic vehicles to the slot car world, and this year they've taken on recreating the STILLEN R35 Nissan GT-R in striking detail.
The Nissan GT-R is done in a 1:32 scale, and even be modified just like the real thing, changing anything from tires to gears to swapping motors. Check out the detail in the pictures below:
Steve Millen and STILLEN have a history with Scalextrix, as they also did the STILLEN Ford GT a couple of years back after it competed in the New Zealand Targa:
So if you are a slot car enthusiast, or know of one, this is a perfect Christmas item to add to the vehicle fleet!
March 29, 2010
Last month we celebrated Steve Millen's birthday in the style that would only fit a bunch of car guys and racers… We gave him an exact replica remote control car of his Nissan GT-R Targa Rally car. 
After a bit of research online we found that HPI Racing has a 1:10 scale 2009 Nissan GT-R.  Read more
September 19, 2008
Arrrrrrgh.. It's September 19th again Matey.. and hopefully you know what that means..
Yes, the always anticipated Talk Like A Pirate Day (TLAP) has come upon us, so spread some Pirate folklore and find some booty.. (ahem.. treasure.. right..)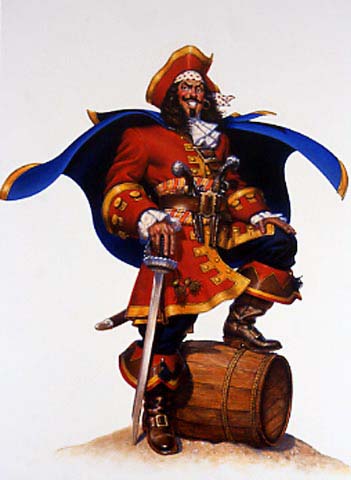 (my favorite captain)
What's that, you say you don't know how? Well you're in luck, the fine folks at talklikeapirate.com have you covered with their handy how-to section that should get you rolling.
They also have a flickr photostream to get you inspired.
Once you have the passion, you'll find that anything is possible, just see what some old-fashioned creativity can bring:
(shamelessly gleaned from google images and flickr)
July 30, 2008
We'd like to think so.. case in point..
It's nice to know with new innovations in the automotive world, new technology, new products, pyretic gas prices, new anti-enthusiast laws, changing shifts in every industry, there are always the staples that never seem to change.
You might think I'm referring to such companies and products supplied by K&N, Eibach, AP Racing, Bilstein and many others.. but in this case.. not so much.
See below the fold to hear our thoughts..