March 25, 2014
Just announced… STILLEN cold air intakes for Nissan and Infiniti vehicles have been CARB approved through 2014! For nearly 20 years, STILLEN has worked with the California Air Resources Board (CARB) to develop products that are compliant with OE standards of total vehicle integration and performance. With this long history in mind, STILLEN is proud to announce the cold air intakes for the Infiniti Q50 and Q60 have been CARB approved. We are equally proud to announce year range extensions for the 2014 370Z , Maxima and more. For a full list of vehicle applications, please see below.
STILLEN was the first company to prove that a cold air intake on the VQ37 engine could actually make power and is still recognized as the leading cold air intake with the highly sought after Generation 3 long tube cold air intakes for the 370Z, G37 and Q60.   It took 6 months of in-house R&D and testing and 56 different variations of prototype intake systems but it was all worth it and the end result was the leading cold air intake for the VQ37 equipped vehicles.
When it came time to manufacturing air intake systems for vehicles like the Altima, Maxima, Titan, Frontier, etc. STILLEN leaned on its vast experience in manufacturing high performance parts for NISSAN/INFINITI vehicles.  On the Nissan Altima and Maxima applications STILLEN is the only manufacturer of high performance intakes that incorporates a poly-urethane ducted air intake path leading fresh air from behind the factory grille directly into the air intake filter.  Included in many of these kits is STILLEN's unique velocity ring which increases the velocity of the air as it is drawn into the engine thus producing more power!
Note: The California Air Resources Board (CARB) is a division of the California state government and is widely recognized for having the most stringent emissions control regulations in the United States. Therefore, each of the 50 states recognizes its standards as the emissions standard for all performance parts. Each performance part that achieves CARB legality is considered 50-state legal.
STILLEN CARB Approved Cold Air Intakes (EO# D-436-21)
Contact Us
For more information about the STILLEN cold air intakes, please browse our website or call (866) 250-5542 to speak with one of our experts. We will be happy to answer any questions you have. If you life in the Orange County, CA area and need your air intake installed, we will also be happy to schedule an appointment for you in our performance shop.
March 25, 2014
When it comes to the 2014 Chevy Silverado and 2014 GMC Sierra, everyone wants their truck to be a bit different than the rest. This is one of the best-selling trucks in the US, so it's no wonder many STILLEN customers want to stand out from the crowd and make their truck distinctly theirs. Like most trucks, the front end of the Silverado and Sierra is the most recognizable part of the vehicle and one of the best ways to improve it is with a grill.
The Best Grilles in the Industry
STILLEN offers grilles from two of the best manufacturers in the industry: Rolling Big Power (RBP) and T-Rex. Both companies offer grilles offer a huge selection, pretty much guaranteeing that they have a grille to fit your style. Both companies have everything you could want. From aggressive grilles with off road functionality to classy grilles that would make the VIPs jealous of your car or truck, you'll be able to find want your dream grille at STILLEN.
LED Grilles
For the off road specialist or the back hills driver, both T-Rex and RBP offer LED option grilles. These grilles help increase the light output of your vehicle and help keep the stock lines of the truck, without needing a light bar mount. They also make it easy to install with a plug and play harness. Needless to say, these grilles are the most popular option for off-roading trucks right now!
Below are a few of the LED Grilles we carry:
Billet & Mesh Grilles
If the LED lights on your grille is not your style, RBP and T-Rex have a wide selection of billet grilles and wire mesh grilles to fit your taste. These billet or mesh grilles help give the Silverado and Sierra a more aggressive look, while keeping the same body lines and classy look that the factory designed them to have. These grille styles also come as a grille insert and some come as a complete shell and grille- it all depends on what you are looking for.
Check out a few of the billet grilles and wire mesh grilles we carry:
Lower Grilles
Each grill can also be matched with a lower grill to compliment the main grill. T-Rex and RBP both offer bumper grilles for a wide selection of vehicles to compliment the other cars and trucks in your driveway as well.
See below for some of the lower grilles we carry:
Contact Us
You can see our full collection of grilles at www.stillen.com. We are adding new grilles often, so be sure to check back regularly. We also have a wide variety of other parts for Chevy Silverado trucks and GMC Sierras, including side steps, bull bars, tonneau covers and more. If you have any questions, please give us a call at (714)540-5566 or stop by our performance shop in Costa Mesa, CA and we will be happy to help you!
March 21, 2014
Here at STILLEN, we're pretty proud of the products we make. We know firsthand how much time and effort goes into sourcing the correct materials, developing the perfect design and testing the prototypes all so that we are 100% confident that the aftermarket parts our customers are putting into their cars are the best they possibly could be. As proud as we are of the parts we make, we are even more proud when a third party recognizes a STILLEN part for its quality. Needless to say, the office was abuzz this week when we found out the STILLEN brake cooling kit for the Nissan 370Z was featured in a MotoIQ Project 370Z article!
Project 370Z Article Summary
As the article mentions, the goal of Project 370Z is to get some track time with their 370Z. As improvements to the car have led to improved lap times, they have also led to more stress on the brakes. With this in mind, the team decided it was time to upgrade with the brake cooling kit. With that decision made, it was time to actually install the kit and test it. By this time, most of the STILLEN team was on the edge of their seat wanting to hear how our in-house testing was comparing to MotoIQ's third party testing. Checkout the quote below to see how our brake cooling kit fared:
"With the brake ducts covered, the right front caliper temperature peaked at 272 degrees Fahrenheit, and the rotor at 529 degrees Fahrenheit. The Left front caliper reached 259 degrees, with the rotor at 550 degrees. Once the ducts were opened, both the left and right side caliper dropped 44 degrees. The right front rotor dropped 156 degrees, and the left front rotor dropped a whopping 216 degrees! This is a significant reduction and spot on with STILLEN's in house testing at the same track. We were truly impressed with the numbers. Also the brake feel and control stayed more consistent throughout the session with the ducts functioning. Any 370 that sees a decent amount of track time should look into purchasing this kit, it's a cost effective way to give yourself a higher temperature threshold for your brake system and will also prolong the life of the ware items such as pads, rotors, piston seals, and brake fluid." – Clint Boisdeau, MotoIQ
Get More Information On the STILLEN Brake Cooling Kit for Nissan 370Z
For more information on this great brake cooling kit check out the full article here or visit www.stillen.com for more details. If you would prefer to speak with our experts about this kit or any of the other Nissan 370z parts we sell, please call 866-250-5542 and we will be happy to answer any questions you have. For our Southern California 370Z enthusiasts, we also have a full service performance shop that can install everything from brake cooling kits to superchargers and exhausts. If you want your kit professionally installed, just let us know and we'll schedule an appointment for you!
March 18, 2014
Here at STILLEN, we love cars and the Infiniti Q50 is no exception. This car has already become a favorite among the STILLEN team, so it's no wonder that we've been hard at work developing brand new performance parts that will squeeze every ounce of power, sound and performance out of this car. Just a few months ago, we introduced you to the STILLEN 504440 cat-back exhaust for the Infiniti Q50 (read more about this exhaust our blog post by clicking here) and now we're proud to introduce you to the STILLEN 403230 Generation 2 Dual Cold Air Intake Kit for Infiniti Q50.
History of Excellence
The STILLEN R&D team has a long history of developing top of the line air intakes for the Nissan and Infiniti cars and chose to incorporate many of these principles in the Infiniti Q50 Gen2 cold air intakes. Like our other Gen2 intakes, this Infiniti Q50 air intake kit comes with polyurethane heat shields that effectively direct air inside the engine bay to maximize performance.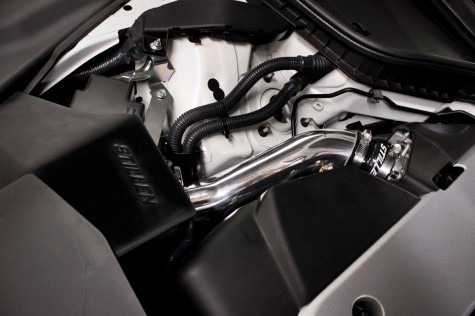 Impressive Sound
While many of us upgrade to aftermarket intakes from the stock intakes for the performance gains, sound is also another reason to upgrade. Aftermarket intakes just sound better and this is definitely true for the STILLEN Cold Air Intakes for Infiniti Q50. With these hi-flow intakes you can enjoy a mild sound while cruising, but also enjoy a richer sound as the engine comes to life under acceleration.
The Best Cold Air Intakes for Infiniti Q50
Heat shields and sounding good aren't the only reasons we believe the STILLEN Generation 2 Dual Cold Air Intake Kit is the best cold air intake available. Here are a few more reasons why we like this cold air intake:
Twin mandrel bent polished aluminum intake tubes
Comes with two K&N Filters

1,000,000 mile warranty on filters
Dual cone integrated with velocity stack

No check engine light (CEL) problems – guaranteed!
50 State legal
Customizable – paint the urethane intake boxes to match your car or leave natural black
Hassle-free, bolt-on installation with easy to follow instructions
Made in the USA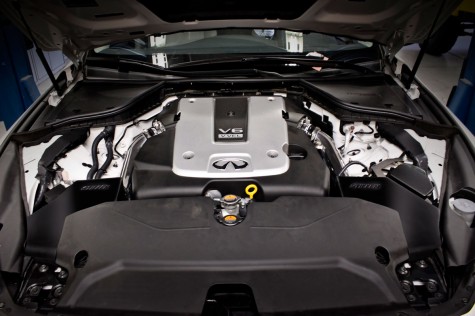 Next Steps
For more information about the STILLEN Cold Air Intakes for Infiniti Q50 or browse our selection of other Infiniti Q50 parts, please visit www.STILLEN.com/?utm_source=blog&utm_medium=referral&utm_campaign=released_q50_cold_air_intakes. Also, if you would like us to install the intake for you or need any other installations done, we feature a full service performance shop at our headquarters in Costa Mesa, CA. We specialize in a wide variety of performance part installations, dyno tuning and more. Just give us a call at 866-250-5542 and we will be happy to schedule an appointment for you or answer any questions you have about cold air intakes or any of the other parts we carry!
February 21, 2014
So you're thinking about upgrading your brake kit, but aren't sure if you want to go with cross drilled slotted rotors vs J-hook rotors. First, both are great options and you will notice significant improvement in braking power over your factory discs. Now, it's time to discuss the differences between the two brake disc options. See below for benefits of each option.
Cross Drilled Slotted Rotors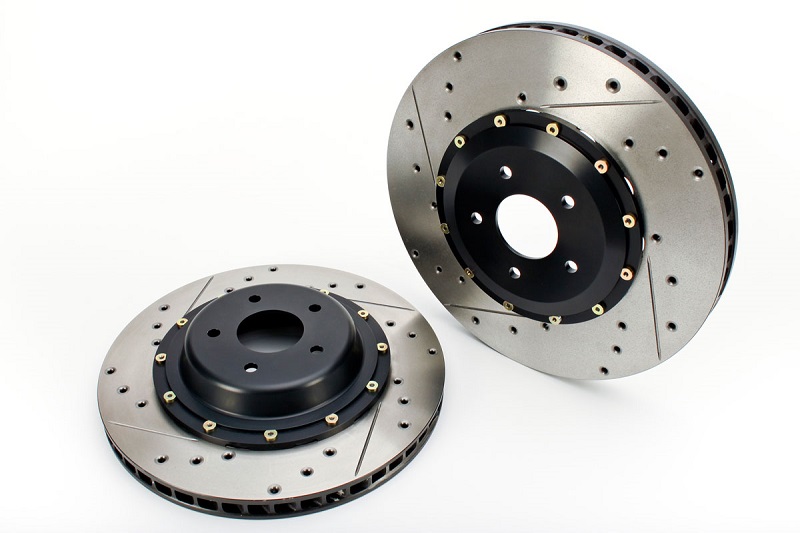 Cross drilled slotted rotors are characterized by the lines or slots that are machined into the disc and span the face of it. They also feature holes that have a chamfered edge that are drilled into the rotor and must align with the internal vanes of the rotor.
Aids in Cooling- The cross drilled design that works with vanes of the rotor to help keep your brakes cool, which allows you to push your car harder and still know that you will be able to stop without a problem.
Provides Extra Bite- Cross drilled slotted rotors improve initial pad bite with the leading edge of the hole and slot. This allows the pad to really grab a hold of the rotor and bring you to a stop faster.
Fresh Pad Surface & Optimum Performance- Get the most out of your high performance brakes with cross drilled slotted rotors. The design of the rotor allows it to evenly go over the pad and also allows for outgassing to keep the pad fresh.
J-Hook Brake Rotors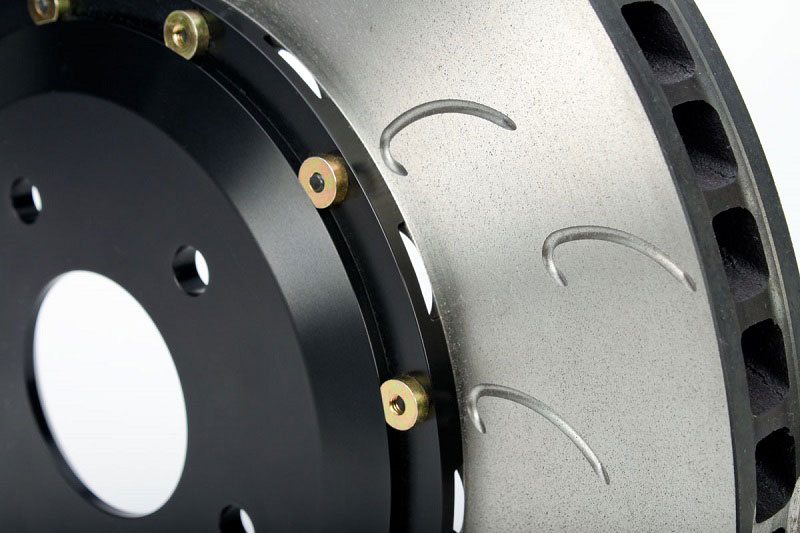 J-Hook rotors prominently feature a hooked pattern that is machined into the face of the rotor. This pattern has previously been utilized on the track and has just recently become available for general use.
Increased Durability- During the machining process, J-Hook rotors are not penetrated through the rotor. This makes the rotor more durable and helps prevent surface cracks. What this means for you is the rotors can be driven harder and at higher temperatures than other comparable rotors.
Additional Bite- If you're looking for extra bite, the j-hook rotors are the brake discs for you. Like cross drilled rotors, they provide a great initial bite on the pad and extra grip, but they take it a step further. The J-hook design provides leading edges for the brake pad that create additional bite you are looking for.
Cleaning & Outgassing- Like the cross-drilled rotor, the J-hook rotor cleans the pad surface and allows for outgassing through it slotting of the rotor face.
More Information About Cross Drilled & Slotted vs J-Hook Rotors
Learn more about the differences between cross drilled slotted vs J-hook rotors at apradical.stillen.com. We feature a full J-hook rotor page and a full cross drilled/slotted rotor page that allows you to get more detailed information about each option. We also feature a full team of specialists that are happy to answer any questions that you have. Just give us a call at 866-250-5542 and we will be happy to help you!
Last, but not least, if you've made up your mind about which brake kit you want and are just looking to get them installed, check out the STILLEN performance shop. We have a full team of expert mechanics that specialize in big brake kit installations.