February 20, 2014
When it comes to your new 2014 Chevrolet Silverado or GMC Sierra 1500 there are quite a few options for a more aggressive look. One of the best ways to add an aggressive look to the already beefy styling of the new 2014 trucks is to add some bigger tires. From the factory, the Silverado and Sierra come with a staggered stance, where the rear of the truck is higher than the front. This limits the tire size you can add to the front of the truck without rubbing the tire on the inner fender and suspension components. Adding a leveling kit is a great way to raise the truck enough to clear bigger tires, increase the off road potential of the truck and improve the look – all without spending a tremendous amount of money and maintaining the factory suspension characteristics. Below, we've listed some of our favorite leveling kits for the 2014 Silverado and 2014 GMC Sierra.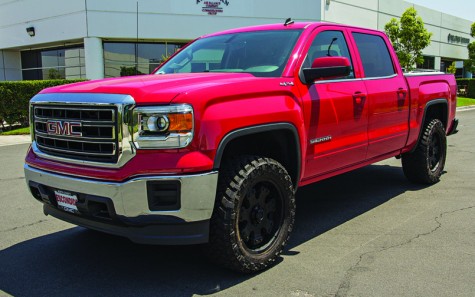 McGaughy's Leveling Kit for 2014 Silverado & GMC Sierra
McGaughy's offers a great, affordable spacer that works with the 2WD and 4WD trucks. The spacer is good for 1.5 inches of lift in the front. It does this by utilizes a billet spacer on the upper strut and under lower strut mount. This kit allows you to run up to a size 32.5 inch tire without rubbing and a 33 inch tire with minor rubbing.
Part Numbers
McGaughy's 50710 1.5" Leveling Kit
ReadyLift Leveling Kits for 2014 Silverado & Sierra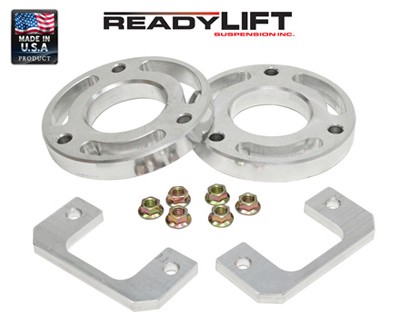 ReadyLift offers two different leveling spacer kits that work with both 2WD and 4WD 1500's 6-lugs. The first kit is an upper strut spacer that offers 1.5 inches of leveling. This spacer allows for up to a 32.5 inch tire. The second kit offers 2.25 inches of leveling using a billet upper and lower strut spacer.  The larger leveling kit allows you to run a 33 inch tire without any rubbing.
Part Numbers
2014 Silverado and Sierra Icon Leveling Kits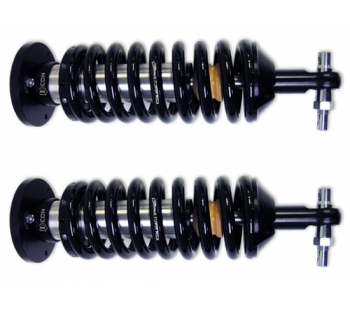 Icon Vehicle Dynamics offers a more advanced style of leveling kit. Icon's kit is a standard coilover kit. The coilover kit replaces the stock strut unit with an adjustable coilover unit. This unit is designed to allow you to adjust you ride height from the stock height to an additional 2 inches of ride height with keeping the same stock control arms. This will allow you to clear 33 inch tires at the 2 inch adjustment. The advantage to getting a coilover is getting a drastically improved suspension, both off-road and on-road use. Icon also offers an extended travel coilover that can work with aftermarket control arms to give you an extra inch of adjustment and clearance.
Part Numbers
Next Steps
These leveling kit options are just the start to the options available to your new 2014 Silverado or Sierra 1500. We also have full lift kits available for a more extreme look and off road capability, superchargers, exhausts and more. For more information on our full line of Silverado performance parts and GMC Sierra performance parts, please visit www.stillen.com or call us at 866-250-5542 and we will be happy to help you. If you live in the Orange County, CA area, be sure to stop by our performance shop in Costa Mesa, CA. Every day, we are installing exhausts, body kits, superchargers, brake kits and more. We'd love to talk with you about any ideas you have for upgrading your truck!
February 18, 2014
Once you check out the new ReadyLIFT Dodge Ram Off Road Lift Kits for the 2009-13 Ram 2500/3500 4WD trucks, you'll know why things have changed forever in the world of Dodge Ram Off Road capabilities!! ReadyLIFT is confident in the product development and testing they put into the brand new 5″ lift they build right here in the US, so much so that they make an array of guarantees on the performance they will provide.
The ReadyLift Dodge Ram Guarantee:
Keep your factory ride
Never wear, break or fail
Have the Toughest finish
Safest way to lift your 2009-13 4WD Ram 2500/3500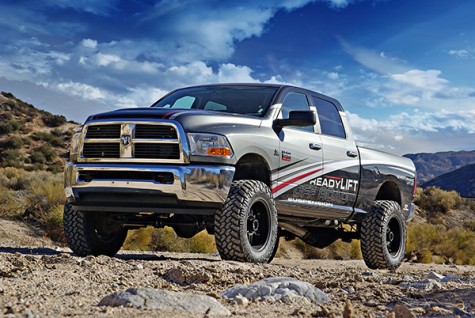 These Dodge Ram Off Road Lift Kits are entirely comprehensive, and come with everything you need to make your 09-13 4WD Dodge Ram off road ready like you've never known. ReadyLIFT has brought the power of their research, development and production expertise to bear and created this kit to have all clearance and durability necessary for owners to take their 4WD 2500 or 2500 Dodge Ram off road and getting wild without fear of a breakdown at the first, or last obstacle.
Features of ReadyLift 5″ 4WD 2500/3500 Dodge Ram Off Road Lift Kit:
5″ Powder Coated Steel Front Coil Springs
1-3/4″ – 5/16″ DOM Tube Steel Upper and Lower Control Arms
Special Currie Original Johnny Joints for Every Pivot Point – TOUGHEST Joints on the Market
Zinc-plated Johnny Joints are 100% Serviceable and Provide Maximum Articulation
Track Bar Bracket Designed to Correct Axle Swing on 5″ Lifts
Forged Steel Pitman Arm to Correct Steering Angle of Lift
2″ OEM Style Cast Iron Rear Lift Blocks with New Longer E-Coated U-Bolts
Special Polyurethane Bump Stops
Extended Length Sway Bar Extensions
Brake Line Extension Brackets and Adapters
All Required Hardware
Contact Us
Give us a call to speak to an expert @ (866) 250-5542 and place your order for this Part – 49-1000 today, and have your Dodge Ram Off Road after a quick install. You can also check out all the ReadyLIFT products we have to offer, or just see the STILLEN site to see all the performance options we have for any of your vehicles. Visit the Performance Shop site to schedule anything from a routine maintenance or install to a full-scale race build.
February 13, 2014
After extensive research into the articulating Jeep Wrangler lift kit options on the market and over a year of rigorous development ReadyLIFT has come to market with the best answer for the off-road Jeep driver, whether a rock-crawler, sand-runner or anywhere in between. No question that the ReadyLIFT Max Flex Jeep Wrangler Lift Kit is the BEST kit on the market to get you over, around and through the toughest terrain on the planet!!!
Not Convinced Yet?
Watch this true life video of product development done right:

Features of the ReadyLift 49-6407 Jeep Wrangler Lift Kit:
You've seen the possibilities you can unlock with the ReadyLIFT's Max Flex Jeep Wrangler lift kit, let's talk about some of the specs a bit, because this bolt on kit is no other Jeep Wrangler lift kit on the market today and offers features and benefits that are unsurpassed:
Tough powder-coat of black and silver
Kits Come With the Original Currie Johnny Joint which is fully serviceable and coated in their own element-defying zinc plating finish
4″ Front Lift
3″ Rear Lift
Lifts Provided by Progressive Wound Coil Springs
Provide Maximum Articulation with No Binding or Limitations
1-2/3″ – 5/16″ Heavy Duty DOM Tube Steel Control Arms
3/16″ Plate Steel Rear Track Bar Bracket (to correct your roll center and bushing alignment)
Fits up to 38″ Tires on 4.5″ Backspacing Wheels
Fits 2 and 4-door Wranglers, including the Unlimited and Rubicon
Designed and manufactured in the USA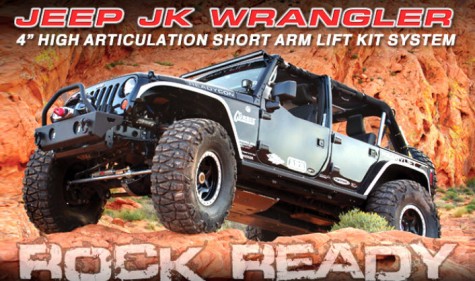 To complete your kit and take your Wrangler out to conquer all you see, the addition of longer shocks is required and are sold separately. Grab your ReadyLIFT 99-6400F front shocks for 4″ front lift and ReadyLift 99-6400R rear shocks for 3″ rear lift. ReadyLIFT tested these shocks in MOAB and ran them relentlessly on the street to prove they are the best shocks for a 4/3″ lift.
Contact Us:
For more ideas on how to customize your Jeep Wrangler, visit www.STILLEN.com or our experts a call at 866-250-5542 and we will be happy to help you. We also feature a full service Jeep performance shop that specializes in installing lift kits, exhausts and more!
February 12, 2014
With temperatures at all-time lows throughout most of the country, you probably don't have a lot of motivation to spend hours on end in a cold garage lifting your truck, lowering your truck, upgrading your braking system or making other modifications to your truck. But, if you're like us, you're probably getting antsy to start modifying your Ford F150 or Chevy Silverado and making it your own. With the cold weather in mind, we've listed out some of our quickest and easiest winter truck upgrades that you can be making now and not spending hours freezing in a cold garage.
Top 5 Easy Winter Truck Upgrades:
1. Tonneau Covers
Adding a truck bed cover or tonneau cover to your truck is a great addition for protecting your gear year round, but this is especially true during the winter. A tonneau cover will help protect items you haul in your truck bed from rain, snow and other winter conditions. Plus, they are extremely easy to install on your truck. For an example installation, see the Extang Trifecta Tonneau Cover installation video below.
Popular Tonneau Covers:
2. Floor Mats
Installation literally could be easier than getting new floor mats, but these can easily become your favorite truck accessories. They help protect your interior from mud, dirt and everything else that comes with winter weather. Not only will this make you happier because your truck will look better, but it will help with the resale value down the line because your truck will be better protected from nasty stains. Getting new floor mats for your truck is one of the best winter upgrades you can make.
Popular Floor Mats and Floor Liners:
3. Grilles
For a quick upgrade that will make a big impact on the look of your truck, consider changing out the existing grill with a new aftermarket grille or grille insert. Like most aftermarket parts, installing a certain types of grilles can be easier than others, but in general this should be a fairly quick and easy upgrade. Check out the video below to see how to install a T-Rex Billet Grill on a Ford F-150.
Popular Grilles:
4. Mud Flap Kits:
While these are a good year round truck accessory, mud flaps are especially important during the winter months. Mud guards are great for keeping your tires from kicking up water on the road, but did you know they actually help protect your vehicle from damage? As roads wear down and leave loose rocks and debris in their wake, your tires kick up debris and can cause unwanted dents, dings and chipping. Mud guards can help prevent this.
Popular Mud Flap Kits:
5. Paint Protectors & Hood Protectors
Like mud guards, hood protectors are great upgrades that you can make in the winter that are helpful all year round. Again, as loose gravel, rocks and other road debris are kicked up by tires, they can cause unsightly chipping and dings. Using a clear paint protector or hood protector can help prevent this and it's an easy upgrade to take care during the winter.
Popular Hood Guards:
Next Steps:
If you have any questions about the winter truck upgrades above or are feeling more ambitious and have questions about our other product lines like superchargers, brake kits or exhaust systems, give us a call at 866-250-5542 and we will be happy to help you. Also, check out our performance shop site for more ideas on modifications you can make to improve your truck's performance!
February 4, 2014
STILLEN is pleased to announce the release of our new website, www.apradical.com featuring information on our brand new line of AP Racing Radi-CAL Big Brake Kits by STILLEN.  The micro-site has been designed with the user in mind with user-friendly navigation, bold colors, stunning photography as well a contemporary design. The newly designed Web site went live January 31st, 2014.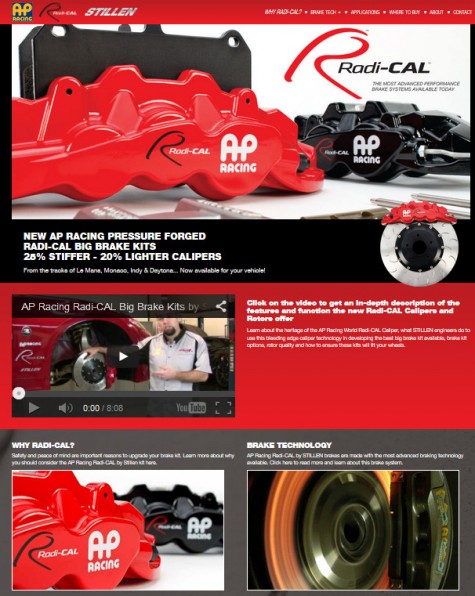 Design, Functionality, Technical Information & More
The site has been broken down into several sections that clearly highlight the different features, functionality, applications and technical information on the kits. It features expanded content and streaming media including an in-depth video filmed in the STILLEN performance garage. Also included is an "About Us" page that provides information on both of the major companies involved in the production of these big brake kits, AP Racing and STILLEN, as well as an applications page in which every viewer can see the list of vehicles this braking system is available for.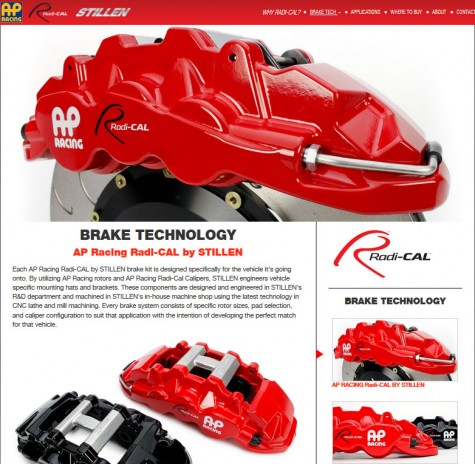 The apradical.com site aims to extend its reach to a broad audience of brake professionals, enthusiasts and wholesalers. Online visitors will now experience a more vibrant and seamless view of the entire Radi-CAL Big Brake Kit system with photography showing the calipers and discs in fine detail.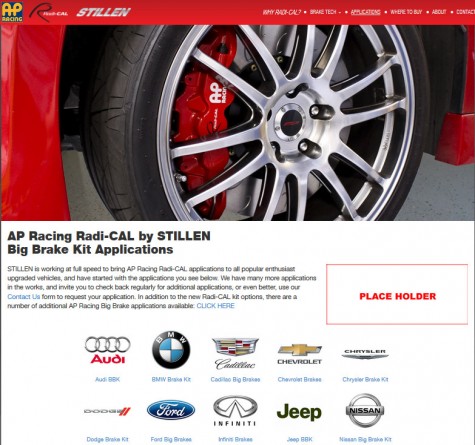 In addition to the huge catalog of beautiful photography, the micro-site showcases pages of technical information our customers have been asking for since we released these brakes at SEMA last year. The site has been organized to provide quick and direct access to all of these resources for all audiences.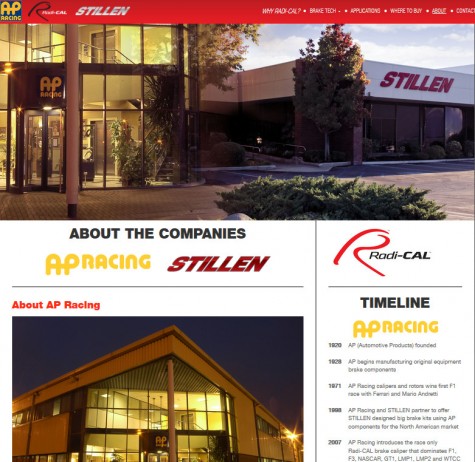 AP Racing Radi-CAL BY STILLEN Informational Video
Learn More About AP Racing Radi-CAL by STILLEN
For more information about the AP Racing Radi-CAL brake kit by STILLEN and to read our full white paper on the Radi-CAL, please visit our website or call us at 800-576-2120 and we will be happy to answer any questions you have! Be sure to check back regularly for information on new applications and to check out new images and reviews from our happy customers!