February 4, 2014
STILLEN is pleased to announce the release of our new website, www.apradical.com featuring information on our brand new line of AP Racing Radi-CAL Big Brake Kits by STILLEN.  The micro-site has been designed with the user in mind with user-friendly navigation, bold colors, stunning photography as well a contemporary design. The newly designed Web site went live January 31st, 2014.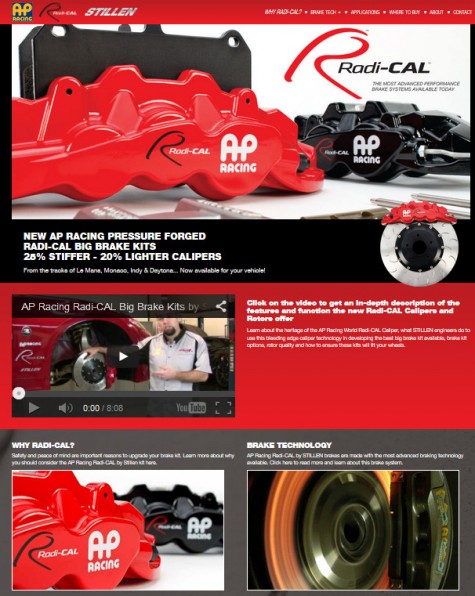 Design, Functionality, Technical Information & More
The site has been broken down into several sections that clearly highlight the different features, functionality, applications and technical information on the kits. It features expanded content and streaming media including an in-depth video filmed in the STILLEN performance garage. Also included is an "About Us" page that provides information on both of the major companies involved in the production of these big brake kits, AP Racing and STILLEN, as well as an applications page in which every viewer can see the list of vehicles this braking system is available for.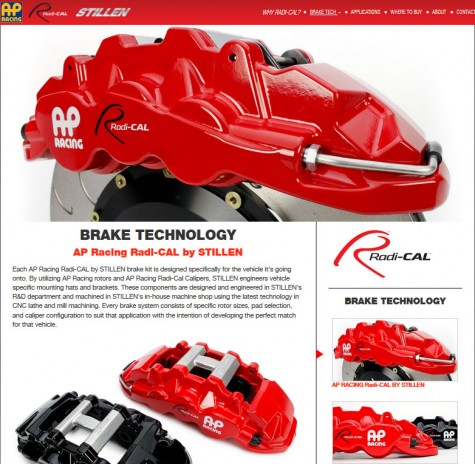 The apradical.com site aims to extend its reach to a broad audience of brake professionals, enthusiasts and wholesalers. Online visitors will now experience a more vibrant and seamless view of the entire Radi-CAL Big Brake Kit system with photography showing the calipers and discs in fine detail.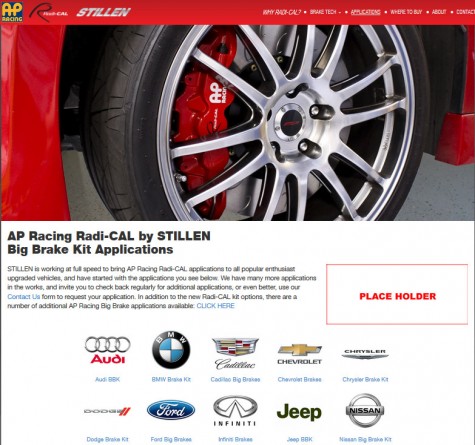 In addition to the huge catalog of beautiful photography, the micro-site showcases pages of technical information our customers have been asking for since we released these brakes at SEMA last year. The site has been organized to provide quick and direct access to all of these resources for all audiences.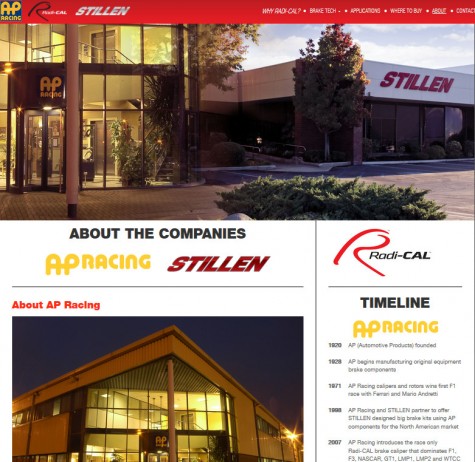 AP Racing Radi-CAL BY STILLEN Informational Video
Learn More About AP Racing Radi-CAL by STILLEN
For more information about the AP Racing Radi-CAL brake kit by STILLEN and to read our full white paper on the Radi-CAL, please visit our website or call us at 800-576-2120 and we will be happy to answer any questions you have! Be sure to check back regularly for information on new applications and to check out new images and reviews from our happy customers!
January 30, 2014
Take your 2013-2014 Sentra to the next level with a new STILLEN stainless steel axle back exhaust. Just released, this exhaust system for the Sentra is some of the finest work the STILLEN R&D has produced to date. It offers mandrel bent piping, a polished stainless steel wall tip and 304 stainless steel construction. With these high quality materials and expert manufacturing, it's easy to see why we're proud of it.
Like other STILLEN exhausts, this rear section exhaust for 2013-2014 Nissan Sentras boasts an aggressive tone under hard acceleration to add a little kick to your drive!
A Long Friendship: Nissan & STILLEN
With over 25 years' experience installing and developing Nissan aftermarket parts, you can trust that the STILLEN team of experts with your Sentra. Every one of our exhaust systems are meticulously engineered and crafted by our research & development team  at our automotive campus in Costa Mesa, California. Every exhaust that we develop is tested time and time again until we got an unsurpassed level of the perfect sound and performance.
Features & Benefits of the 2013-2014 Sentra Axle Back Exhaust by STILLEN
304 stainless steel mufflers & tip for added durability and a long life
Backed by a manufacturer's limited lifetime warranty
Mandrel bent piping for a smooth flow and fuel mileage gains at cruising speeds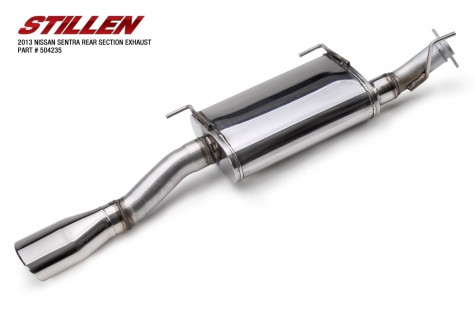 If you're interested in this Nissan Sentra axle back exhaust, please visit our website at STILLEN.com, or call us at 866-250-5542 and we will be happy to help you. We also offer rear section exhaust installations at our full service auto shop in Costa Mesa, California that specializes in both Nissan & Infiniti installations.
January 28, 2014
Just got a brand new Chevy Silverado, Ford F-150 or GMC Sierra? Sweet! Now, what are you going to do customize it? That's easy; make it taller, of course! But here comes the hard part… Do you want a lift kit or a leveling kit? That"s where we come in. By answering a few simple questions, we can help you find which kit is right for you. Keep reading to find out more information about these two kits and if you should install a ReadyLift leveling kit, Daystar urethane leveling kit, or McGaughy's leveling kit. You may find that the best fit for you would be a lift kit by CST or you might prefer a McGaughy's lift kit. All of these are excellent options depending on your goals and plans for the vehicle.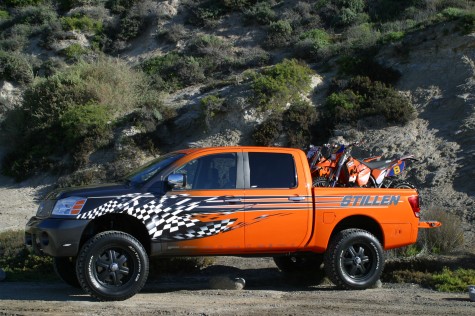 Lift Kit vs. Leveling Kit: What's the Difference?
A leveling kit is a great way to change the look of your vehicle without having to spend a lot of money. Truck leveling kits will raise the front of your vehicle anywhere from 1-3″ depending on the kit and the vehicle. With this additional increase in ride height you can fit a larger and more aggressive tire size and pattern. You will also gain the additional ground clearance and an overall more aggressive look and stance. One of the great things about a leveling kit is the low cost of entry. Most front leveling kits range from $100-$400. Leveling kits also maintain your factory ride characteristics as you are not actually changing out the shocks or springs so you aren't making any adjustments to the overall ride.
A truck lift kit is also about elevation! Most lift kits will give you 4-11″ of additional height, depending on what kind of truck you have and which type of lift kit you purchase. Lift kits are very versatile. Whether you're simply looking for a great look or you intend on using your truck out in the wild, a lift kit is a great way to make a statement. There are many different types of lift kits. Your options include everything from replacement spindles and upper control arms to complete bracket lifts. Replacement spindles allow for an increase in ride height and additional wheel travel. Complete braket lifts actually lower the subframe and suspension mounting points of the vehicle to effectively lift the rest of the truck. Neither option is "right" or "wrong" it all depends on the vehicle, the kit, and the purpose of the lift kit.
Questions To Ask Yourself Before Buying: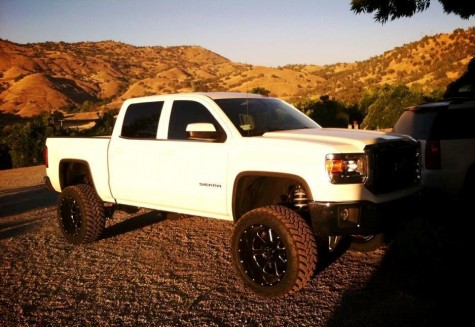 What Type of Driving Will I Be Doing With My Truck?
If you're looking to use your truck as a daily driver and occasionally see some light off-roading, low speed, minimal wheel travel required, you can definitely get away with a simple leveling kit. However, if you plan on pushing the truck or climbing obstacles a leveling kit may not suffice for you.
If you use your truck to tow your off-road vehicles out to the wild and occasionally want to have a bit of fun taking the truck around and kicking up some dirt, you might find that a lift kit will be a better solution for you. One thing to keep in mind is that a lift kit is strictly designed to lift the vehicle. Just because the vehicle is taller, doesn't mean you've built a trophy truck. We don't recommend trying to jump the vehicle or trying to push the vehicle beyond it's limits. Lift kits are also an excellent choice if you're simply trying to build a great looking truck that will offer additional ride height, and a stand-out style!
How Much Taller Do I Want My Truck?
If you want to raise your truck 3″ or less, a leveling kit is perfect for you. However, if you want to raise your truck more than that, you'll want to go with a lift kit.
How Much Do I Want to Spend?
Leveling kits are typically $100-$400, while lift kits start at $400-$500 and run into the thousands depending on the quality of lift kit you are purchasing. There are also a lot of options on the lift kits such as shock types, single or double shock conversions, lift blocks vs. leaf springs, etc.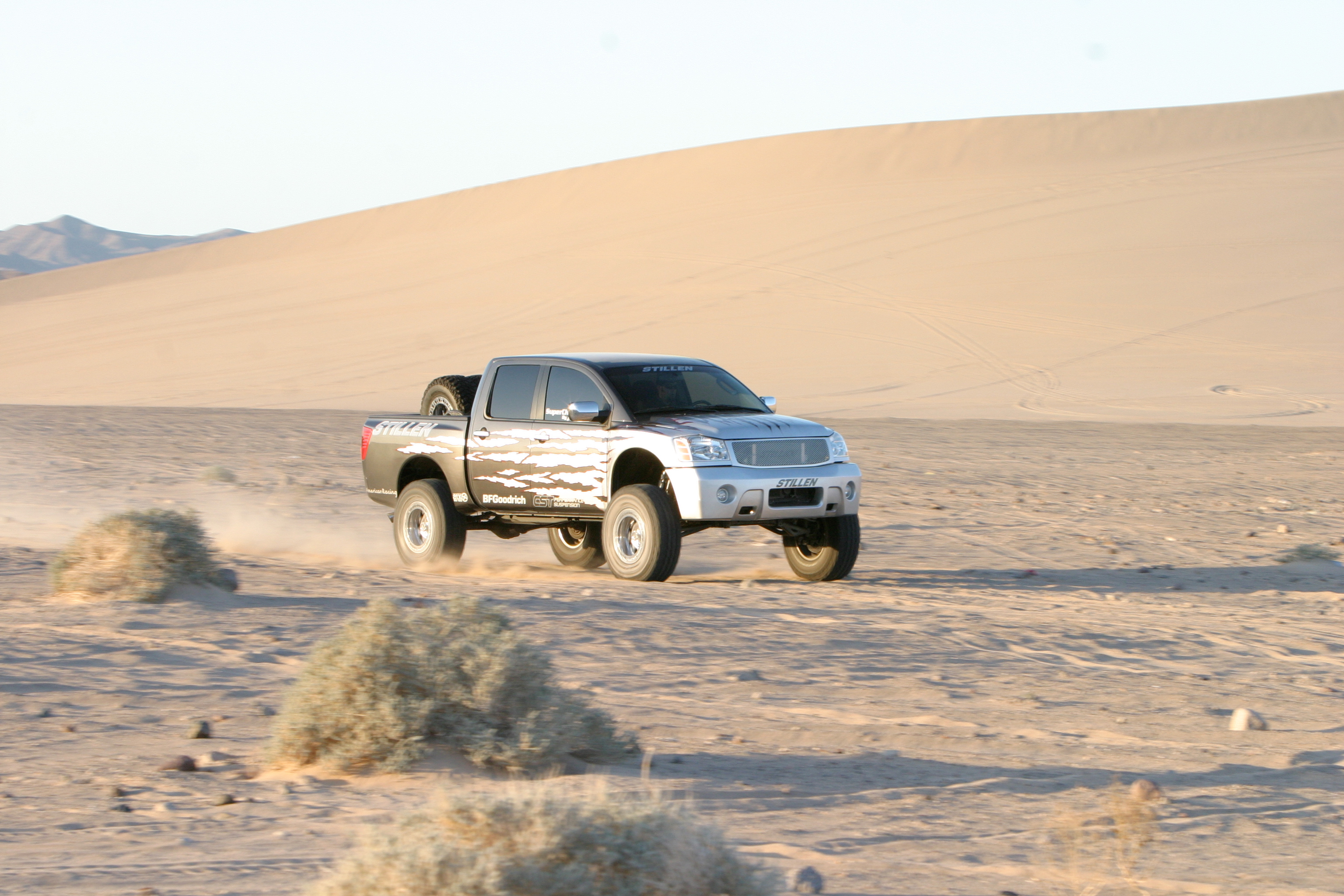 How to Pick the Right Lift Kit or Leveling Kit for Your Truck?
By now, you should know whether you should be buying a lift kit or a leveling kit. But now, you're probably wondering what lift kit or leveling kit is right for you. See below for more information to help you make your decision.
Which Lift Kit is Right For Me?
This is a two part question, what lift kit is right for my uses, and which lift kit is right for my budget. To know one you must know the other. There is no point in spending more than you have to or want to but at the same time, if you go cheap today you'll end up spending more in the long run.  We recommend selecting the lift kit that you feel will accomplish your goals, whatever they may be, and will fit within your budget.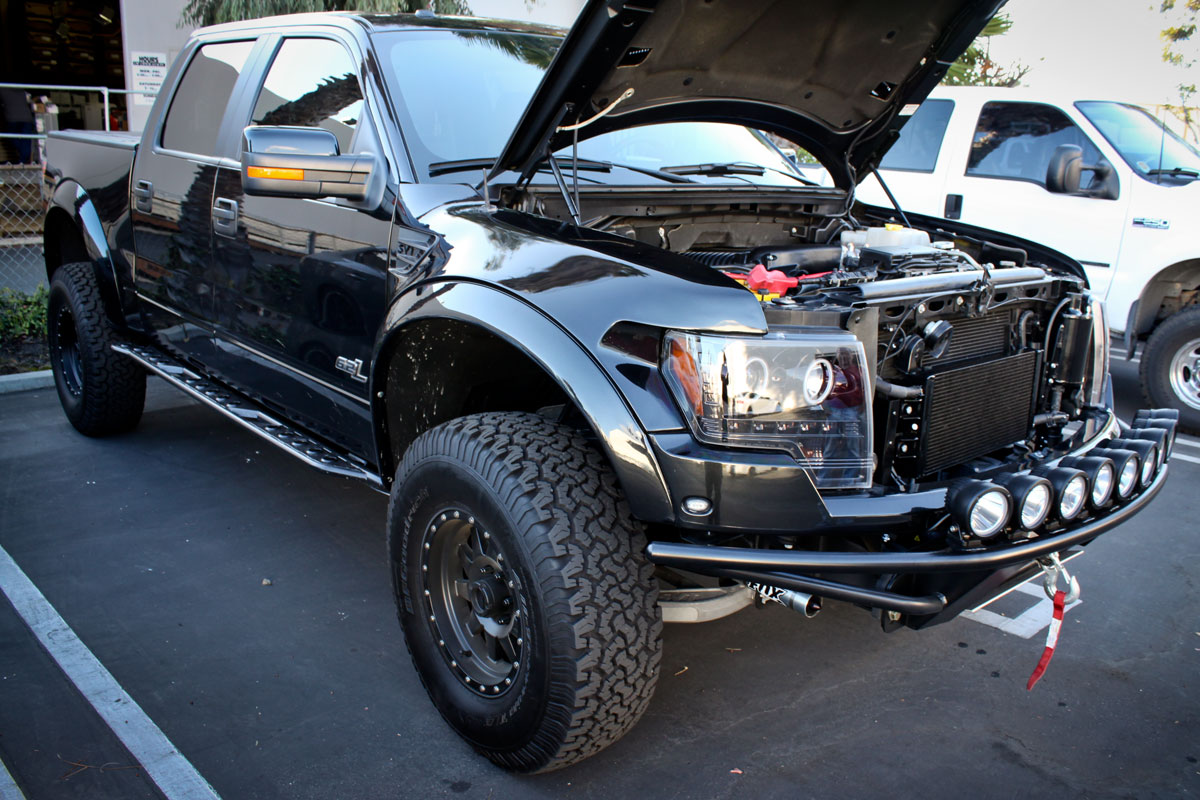 Which Leveling Kit is Right For Me?
If it sounds like you want a leveling kit, the type of leveling kit you purchase depends entirely on which type of suspension you have. If you have a strut suspension, you should use an aluminum or steel leveling spacer. On the other hand, if you have a coil spring suspension, you should use a urethane spacer leveling kit. Finally, if you have a torsion bar suspension, you should use a torsion key leveling kit. A very common question is, can't I just adjust my torsion bars and raise the front of the truck? The simple answer is yes, that is possible. However, what you'll need to be aware of is that you are putting additional tension and stress on your torsion bars that they were not intended to see. Additionally, this is pre-loading the torsion bar thus increasing the stiffness of the bar. This translates to an altered ride quality that may be too stiff and too harsh for most people. The best solution is to install a new torsion key which clocks the torsion bars at an angle that is optimized to maintain a good ride quality as well as reduce the stress put on the various parts of the suspension.
Next Steps
If you are looking for more specific recommendations for leveling kits or lift kits for your truck, give us a call at 866-250-5542 and we will be happy to help you. Also, if you live in Southern California, stop by our performance shop and we will be happy to install your lift kit or leveling kit for you.
January 23, 2014
Eibach has been a trusted vendor with STILLEN for over 25 years having created many products needed to meet the extreme requirements of racing, from the 245-mph Mulsanne straight of Le Mans to the fender-to-fender combat of the Daytona Motor Speedway.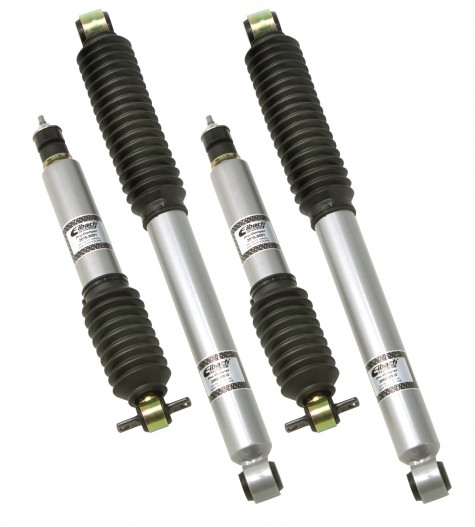 The chassis of a production vehicle is designed to be built at a minimum cost, and suited for an "average driver". We enthusiasts, however, are anything but average. We know what we want from a vehicle. We want immediate response, reduced body roll, increased stability and enhanced cornering ability. And we want the look that comes with those characteristics-a lower, more muscular, more athletic stance.
The special skills of Eibach engineers are in the tuning of the individual components (springs, dampers and stabilizers) to achieve the best possible harmony between the driver, the automobile and the road. As a driver you immediately feel more direct handling and greater predictability. Nose dive under braking is reduced, as well as excessive body roll in hard cornering. In any performance driving situation, tracking stability-and driver confidence-is greatly enhanced.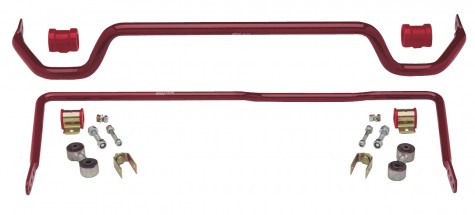 Eibach production technology is recognized worldwide as leading its field. This company is know for high-strength spring-steel alloys, advanced CNC winding process, high-quality corrosion protection and the legendary longevity of their components.
The entire process, from initial development to final shipping, is subject to a rigid Quality Control System that is certified by the highest ISO 9001:2000 international quality standard. In fact, Eibach operates in accordance to its own, often more rigid, specifications. When you see the Eibach logo on a part, you can be sure that it is of the highest possible quality.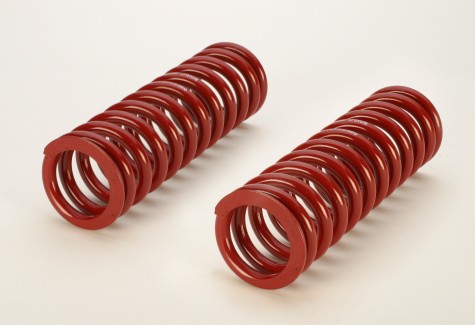 Eibach springs have supported innumerable race and championship winners over the last two decades. In series as different as Formula 1 and NASCAR, the winning factor is often chassis setup and tuning. When everybody has comparable power, the guy who wins is the guy who can put that power to the ground-and maintain his momentum through the corners. The list of Eibach partners reads like "Who's Who" in Motor Sports: AMG, Audi, BMW, Ferrari, Ford, Honda, Lamborghini, Lola, MazdaSpeed, Mitsubishi, Nissan, Subaru, Porsche, Renault F-1, Toyota, and many, many more.
Whether you're talking about F1, NASCAR, WRC, CART or Indy Car, Eibach regards Motor Sports as the ideal proving ground. The experience Eibach gains at the highest levels of racing is directly converted into their development of the highest-grade chassis components on the planet. And the enthusiasm created by the challenges of motor sports drives them to ever-higher performance-performance that you will enjoy every time you pull out of the pits-or your own garage.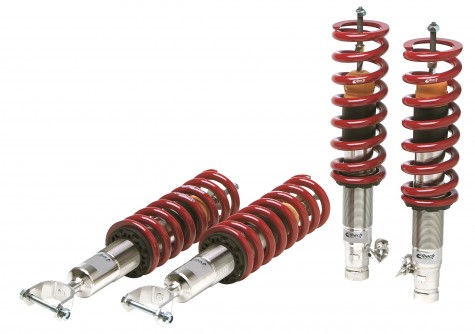 To speak with an expert and find out more about our full line of Eibach products, give us a call at (866) 250-5542. You can also visit STILLEN.com and check out the entire range of we Eibach products offer. To schedule anything from a routine maintenance to a full-scale build, visit the Orange County Performance Shop site and make your appointment.
January 21, 2014
STILLEN has been developing high performance products since the early 80′s. After a few years of frustrations with outside vendors and outside machine shops STILLEN decided to invest in an in-house CNC machine shop and has never looked back. With in-house CNC lathes and CNC mills STILLEN is able to control every aspect of their products. From the material selections and quality, to the machining accuracy and consistency all the way down to the plating and finishing processes STILLEN controls each detail so we can be 100% confident in the quality of our product from start to finish. For many years STILLEN carried other manufacturers pulleys and were able to learn what to do and most importantly, what not to do. The line of STILLEN lightweight pulleys and complete pulley sets is the combination of decades of that experience combined with STILLEN's expertise in CNC machining.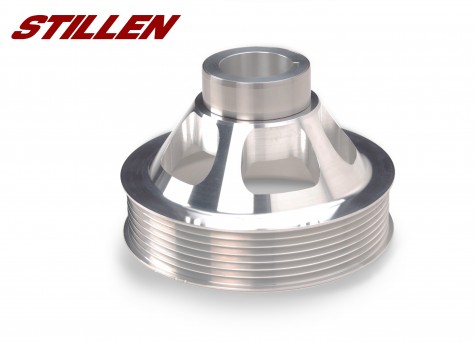 What Is A Lightweight Pulley or Underdrive Pulley?
The simplest answer to this is that they are exactly what their name implies. From the factory your vehicle comes with a cast-iron pulley or steel crank pulley. There is nothing wrong with this other than the fact that it is not optimized for vehicle performance. Anything that spins takes power to spin it. This means that a heavy cast iron or steel pulley is going to take more power to spin than a lighter weight pulley constructed out of billet aluminum and machined to reduce as much rotating mass as possible.
Underdrive pulleys are designed to slow down the rotation of the surrounding accessory pulleys such as alternator, air conditioning etc. By slowing down the rotation of these pulleys it further reduces the amount of work the engine is having to perform. The less accessory work you make the engine do the more power can be transferred to the rest of the drivetrain, thus ultimately reaching the tires. We like to say that lightweight or underdrive pulleys do not actually "make" horsepower. They recover power that was lost due to the excess power the engine had to put out simply to rotate those pulleys.
Why Are They Important?
Lightweight and/or underdrive pulleys are a great way to make your engine run more efficiently and with less resistance. Whether developing a performance vehicle for the street or for the track one of the most important things to keep in mind is efficiency. How can you make the vehicle run as efficiently as possible? One of the best ways to improve the performance of a vehicle is to reduce the weight of any rotating mass. Whether you're reducing the weight of wheels and tires, rotors, flywheels, or crank pulleys you are effectively transferring more of that regained power to the tires and therefore to the road.
Aside from the increase in rear wheel horsepower we've had, customers tell us they've noticed that the engine revs quicker, feels like it's been freed up and is less restrained. Some customers also report an increase in fuel economy as the engine is running more efficiently and does not have as much weight to spin.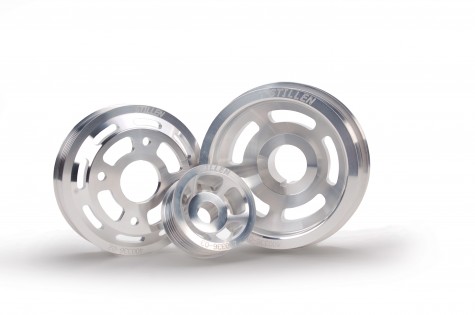 How Are STILLEN Pulleys Different?
As we mentioned earlier, before embarking on the STILLEN line of high performance pulleys the engineers at STILLEN sat down and discussed all of the things we've learned from our decades of experience and what we wanted our pulleys to be. We have seen where other manufacturers pulleys were improperly machined and/or improperly balanced or the factory timing marks were not machined correctly in relation to the crankshaft keyway. All of these things and more are huge factors in the performance of a crank pulley and need to be taken into consideration when developing the crank pulleys and associated accessory pulleys.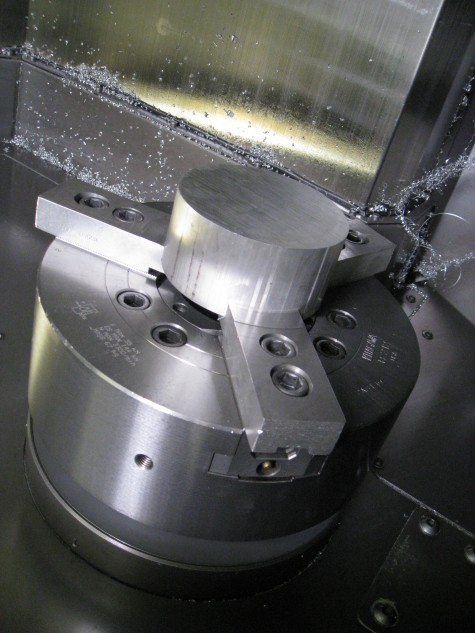 To start with all STILLEN pulleys are designed in our 3D CAD software. Once the initial design is completed the parts are rendered in our FEA (finite element analysis) software. This software will simulate loading the parts with forces higher than what they will see in real world situations. By doing this we are able to see the weak points of the design and at what forces the part will fail. Once we know that our design exceeds the real world forces this part will see it will be approved for production.
Some pulleys, primarily crank pulleys, also need to be finished with precise timing marks that need to be correctly machined in relation to the crank keyway. It is extremely important to do this process accurately as this will make the car run improperly if these timing marks are not accurately machined.
Finally, the crank pulleys are finished with a 304 stainless steel sleeve used for main seal contact points just like the factory pulleys.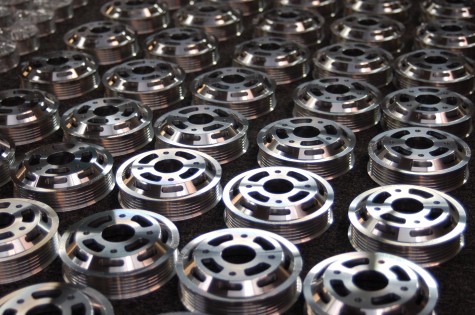 To speak with an expert and find out more about our full line of STILLEN lightweight aluminum pulleys, give us a call at (866) 250-5542. You can also visit STILLEN and check out the entire range of performance pulleys we offer. To schedule anything from a routine maintenance to a full-scale build, visit the Orange County, CA Performance Shop site and make your appointment.
Up to 80% lighter weight than stock steel and up to 10% lighter than other aftermarket pulleys, we've seen power gains of up to 10+ HP at the wheels.
Both underdrive and stock diameter applications available for most popular Nissan / Infiniti vehicles. – See more at: http://www.stillen.com/product/pulleys/stillen-standard-performance-lightweight-crank-pulley-400340-8117.html#sthash.4xvNEuhb.dpuf