January 9, 2014
Break out of the ordinary and take your new 2014 Infiniti Q50 to the next level with a new STILLEN Stainless Steel Cat-Back exhaust. Just released, these exhaust systems for the Infiniti Q50 are the pride of the STILLEN R&D team. With mandrel bent pipping, dual wall tips made of polished stainless steel and a 304 stainless steel construction, it's easy to see why.
Hear the Difference
This cat-back exhaust boasts the sound STILLEN exhausts are known for with an aggressive tone under hard acceleration to add a little kick to your drive. Watch the video below to hear the difference between the Q50 stock exhaust and the STILLEN Q50 exhaust.
STILLEN Infiniti Q50 Exhaust Details
304 stainless steel mufflers & tips for added durability and a long life
Backed by a manufacturer's limited lifetime warranty
Mandrel bent piping for a smooth flow and fuel mileage gains at cruising speeds
STILLEN & Infiniti
The relationship between STILLEN and Infiniti has been a long and successful venture. With over 25 years' experience installing and developing Infiniti aftermarket parts, you can trust that the STILLEN team with your Infiniti Q50. Each exhaust system is meticulously engineered and crafted by our research & development at our facility in Costa Mesa, California and is tested time and time again until we get the perfect sound and performance.
Next Steps
If you're interested in an Infiniti Q50 exhaust, please visit our website at STILLEN.com or call us at 866-250-5542 and we will be happy to help you. We also offer exhaust installations at our full service auto shop in Costa Mesa, California that specializes in Infiniti installations.
January 8, 2014
Enjoy the feeling of people checking out your car with the new body components for 2014 Infiniti Q50 by STILLEN, including a front splitter, roof wing and deck wing. Adding these details can take your 2014 Q50 from nice to custom in just one visit to the body shop!
Expert Design & Manufacturing
Like all STILLEN aero parts, the Q50 body components have been specially designed for the vehicle. They are also made of durable polyurethane, which is known for its resilience to scratches and dings. Each part is designed, tested and produced in our shop in Costa Mesa, CA. Our expert team has taken time to ensure that air flow management and overall look were built-in to the design. Additionally, the body components are shipped ready for final prep and painting. This makes them easy to install over your stock fascia.
Please Note: We recommend installation and paint should be done by an experienced and quality oriented body and paint shop.
Infiniti Q50 Front Splitter
Part #: KB11225
This lip spoiler for Infiniti Q50 sport models is designed for more than just looks. It actually helps make your car more efficient by creating a high pressure zone that allows you to slice through the air as you drive down the road. See below for additional Infiniti Q50 front spoiler benefits: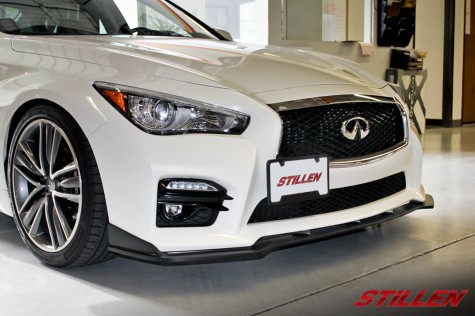 Stillen 2014 Infiniti Q50 front lip spoiler
Creates a more aggressive, custom look for 2014 Infiniti Q50 sedans
Features a matte black finish, but can be customized to any color by your body or paint shop
Attaches directly to your front fascia
Adds downforce to front wheels and increases air flow through radiator & heat exchange
Please note: This lip spoiler is specially designed for sport models only.
Infiniti Q50 Roof Wing
Part #: KB11224
Manage air flow and enjoy a distinctive look with a STILLEN Infiniti Q50 roof wing, which attaches at the top of the rear window. The STILLEN R&D team spent countless hours refining this body component so that the fit is so precise that it looks as though it came from the factory's design studio. Plus, it is made of durable polyurethane and ships ready for prep and paint!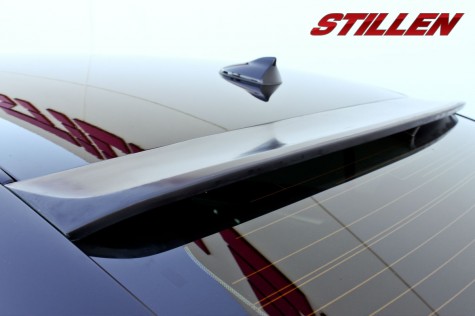 Developed and manufactured by the STILLEN team in our Costa Mesa, California body shop
Manufacturer's limited lifetime warranty that guarantees against breakage or cracking
Specially designed for 2014 Infiniti Q50
Infiniti Q50 Rear Wing
Part #: KB11223
Make a statement with an Infiniti Q50 rear spoiler. This deck wing is made at the STILLEN body shop in Orange County, CA and is shipped with a black matte finish that's perfect for prep and paint. It also features a limited lifetime warranty that guarantees the component will not break or crack under with normal use.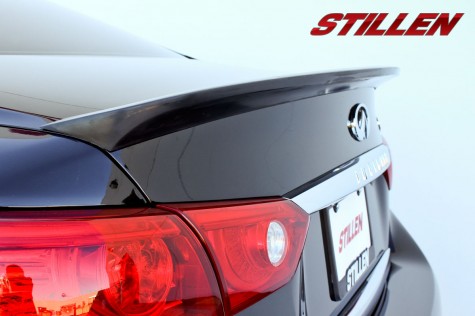 Designed specifically for the Infiniti Q50
Ready for prep and paint a polyurethane construction
Developed and manufactured in-house the STILLEN Infiniti experts
Next Steps
If you're ready to order or just want more information, visit our website at stillen.com or give our experts a call at 866-250-5542 and we will be happy to help you. We also offer a full service body shop in Orange County, CA that specializes in Infiniti body component installation!
January 7, 2014
Get major HP and torque with the new K&N Blackhawk 5.0 Mustang cold air intake for the 2011-2014 Mustang GT, and it's a serious performance upgrade that will make your stallion gallop faster and breathe better. The Blackhawk Mustang cold air intake gets its name from the stylish, all black design and the story goes deeper for this K&N 5.0 GT Mustang cold air intake, because on the dyno, it made over 14HP and 16ft/lbs torque for the pony wearing it!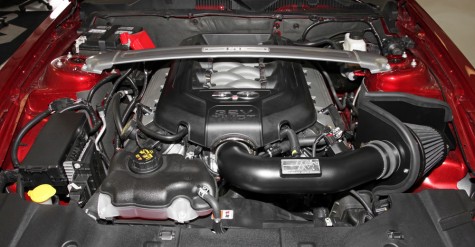 The Mustang Cold Air Intake That's Made to Last
Just as they do with every product, K&N backs their new Blackhawk Mustang cold air intake with a million mile warranty. However, with this quality system, chances are you'll never find or have a reason to use this industry leading guarantee. The Blackhawk Mustang cold air intake is easy to mount and requires no more than a few common hand tools. It's also washable and comes with a with a Dryflow filter and heat shield, which utilizes the fresh air scoop in your pony to push air through your intake.  Once you have this cold air intake kit installed, you'll know the difference the first time you press the gas!
K&N makes the intake tube out of aluminum and then black powder coats it to match the heat shield. Each Blackhawk Mustang cold air intake has a K&N engraved name plate welded onto the tube and comes with the RU-3102HBK Dryflow filter, which doesn't require oil and can go for up to 100,000mi between cleanings in certain environments. So, if you're looking for a stylish, affordable performance upgrade that's long lasting, high quality and makes for a killer engine sound, what you're looking for is the K&N 71-3527 Blackhawk 5.0 GT Mustang cold air intake.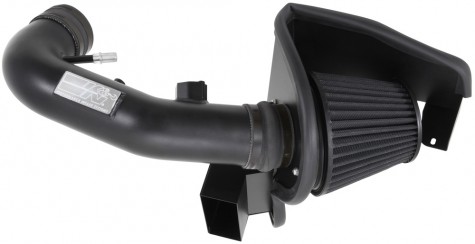 Next Steps
Give us a call to speak to an expert and place your order today at (866) 250-5542. If you have another Mustang and would like to see what K&N can do for you, check out all of the available K&N Mustang products or look over all of the K&N we have to find nearly any vehicle's K&N product options. Also, look around at the whole lineup of products available at STILLEN. Visit the STILLEN Costa Mesa Performance Shop site to schedule anything from a routine maintenance or install to a full-scale build.
December 30, 2013
The new Hellwig 2014 Sierra / Silverado Sway Bar kits for the General Motors' 1500 trucks are perfect for the person who wants to get better sway control, especially while hauling heavy loads or towing.  Hellwig developed the 2014 Sierra sway bar kits and 2014 Silverado sway bar kits just for you, to cut the body roll of your vehicle to a minimum, distributing the weight of the load over your rear axle evenly and allowing you better handling and control with greatly improved cornering traction.
2014 GMC Sierra and Chevy Silverado Rear Sway Bar Kit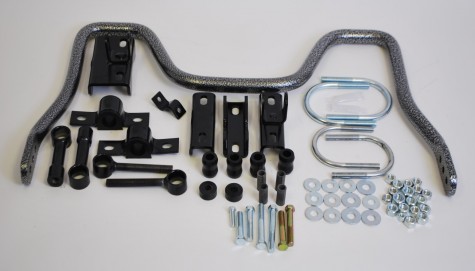 Hellwig 7735 Sierra rear sway bar kit, Hellwig 7685 Sierra front sway bar kit, Hellwig 7735 Silverado rear sway bar kit, and Hellwig 7685 Silverado front sway bar kit are all installed easily with simple hand tools for most models and the 4140 chromolly steel is tested to a tensile strength of 189,000 psi, and combined with advanced polyurethane bushings which are sure to last and endure through whatever you can throw at them, or drag them through. You're going to enjoy the performance, feel and reliability you get from Hellwig with these Sierra and Silverado anti-roll bars.
2014 Chevy Silverado & 2014 GMC Sierra Front Sway Bar Kit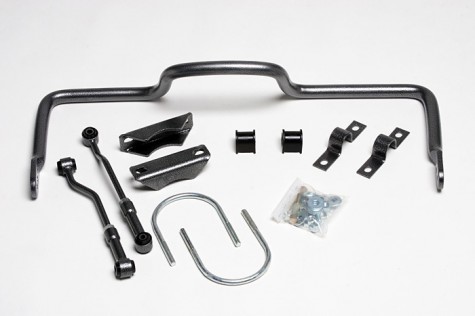 Each of the 2014 Sierra sway bars and 2014 Silverado sway bar kits are made to the exacting specifications of your vehicle and is fully adjustable, allowing you to maintain desired amount of sway control and handling, noticeably improving your ride, whether traveling through windy hills, or loaded down with cargo. For the full coverage, check out the front 2014 Sierra and 2014 Silverado sway bar kit as well, and get all the additional stability and handling you want from both ends of your truck.
How Hellwig Produces Their Anti-Roll Bars
If you have been wondering how US based Hellwig makes their anti-roll bars so strong, check out the video below.
Next Steps
Take a look at all the Hellwig products we carry and see all the other parts you're looking for at stillen.com. You can also browse the other Hellwig products we carry including air springs, helper springs and sway bars. We also carry a variety of products for other vehicles including 2013 Silverado performance parts, 2013 Sierra parts, F150 aftermarket parts, Nissan Juke performance parts and Nissan Titan parts.
To speak with an expert and place an order or schedule installation or maintenance give us a call at (866) 250-5542, or visit the Performance Shop Site today.
December 24, 2013
MagnaFlow is introducing their new Performance Audi S6 exhaust for the already powerful 2013-2014 V8 4.0L Turbocharged. You're not going to want to miss out on this opportunity to make your beautifully designed, luxury-defining S6 purr even louder and perform at an even higher standard.
The MagnaFlow quad-split stainless steel Audi S6 exhaust is Dyno tested and proven to make power and create performance gains for horsepower and torque, and of course they feature the iconic smooth, deep-toned sound MagnaFlow specializes in. The Audi S6 exhaust features a set of 5x8x14-inch mufflers and a 5x8x14-inch dual in/out resonator to make the beautiful engine noise of your turbocharged 4.0L come to life in the sweetest of ways.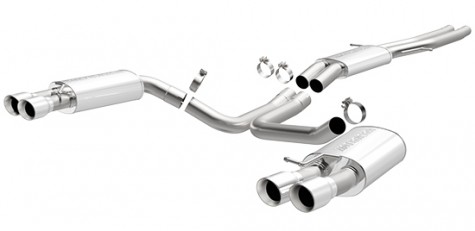 If the sound of the dual in/out resonator is not enough to get the attention or feeling you're looking for, the 2.5/3in tubing, 3.5/4in tipped, all stainless quad-split design of the Audi S6 exhaust is sure to turn heads and give you a warm and fuzzy about your decision. Backed by MagnaFlow's Lifetime Warranty the 100% stainless steel, mandrel bent, all welded Audi S6 exhaust is reliable and long lasting, sure to make your S6 rumble for as long as you keep driving it.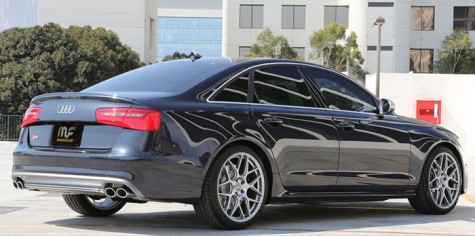 These affordable, MagnaFlow Performance Audi S6 exhaust kits are incredibly simple to install, and the step-by-step, easy to read and understand install sheet. The instructions come directly from MagnaFlow, who designed the system to be simplistic and still give you the added performance and great sound you're looking for.
How to Get More Information About the MagnaFlow Performance Audi S6 Exhaust Kit
Check out all the MagnaFlow we carry, or see the whole product line and search by vehicle at STILLEN or speak with and expert and place an order.  You can also schedule installation or maintenance on your car by giving us a call at (866) 250-5542, or visit the Performance Shop Site today.