March 29, 2012
It's safe to say that we are firm believers in the "Form follows function" principal, all the parts we put our name on serve a purpose OTHER than just looking good. Our 370z front bumper is a testament to that. Not only did we want to make sure that it would channel air to crucial areas of the vehicle (As every front bumper SHOULD do) we also wanted to make sure that it looked good while doing it's job.  We feet as though we combined the two very well with this bumper and apparently so does Tiago's Drifthobby drift team.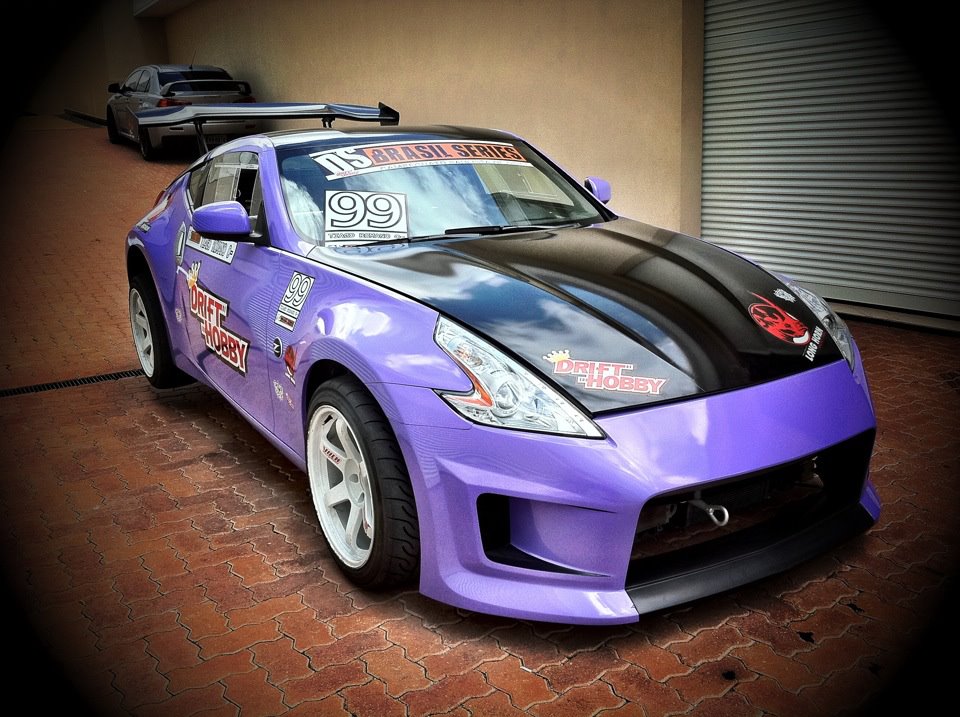 It actually looks pretty good in purple don't you think?
Well if a picture isn't enough for you, check out the quick video these guys put together of this car in action…
March 28, 2012
Often times we get customers who stop by to pick up parts they purchased from our online store and they aren't aware of our fully functioning service bay.  Heck, it even surprised me when I first showed up here. We know that in this day and age it's very rare to have an actual shop that allows local pick up of purchased parts and it's even MORE rare to have a kick ass service bay attached to that shop that will install those parts for you.  We pride ourselves in providing both to our customers.
That was actually the case for the customer with the Ford Mustang Boss 302.  Being an avid ford enthusiast, he has more than one Ford vehicle in his driveway, a (550 hp) Ford GT, a "plain old" (400hp) Mustang GT , and this (440hp) Ford Mustang BOSS 302 are a few of the ponies in his stable.  Guess which one he takes to track the most?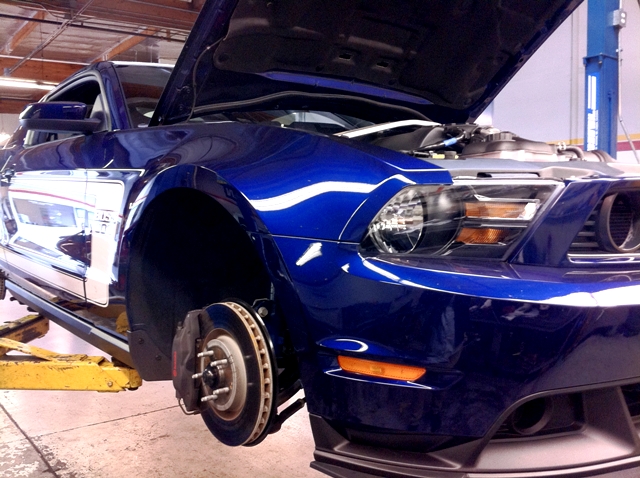 Yeah, I wouldn't take my priceless FORD GT to the track that much either, and the Mustang GT I would probably let the wife use to get groceries and roast boy racers on the weekends. Which leaves only one option… BOSS!
Having a weekend warrior track car usually means that you burn through items such as brake pads and tires pretty quickly, and the only shop he trusts to do all his maintenance work is, yeah you guessed it, STILLEN.
We threw the thoroughbred BOSS 302 up on the lift and swapped out the Brembo brake pads and added new brake fluid in a jif, so our customer can spend more time at the track with rock solid brakes and less couch time.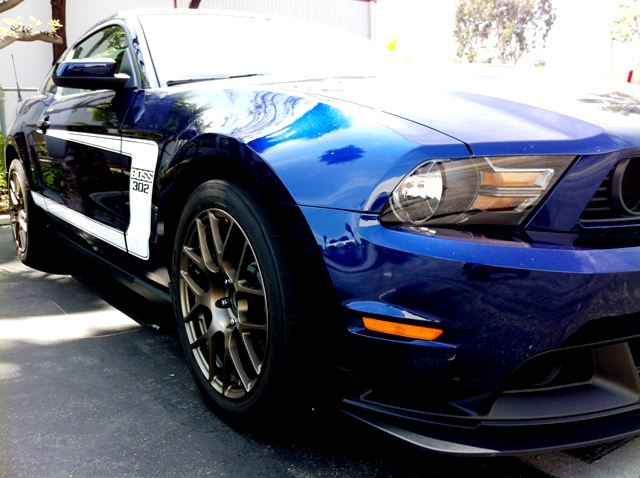 If you have any questions or would like to schedule a service appointment for your car please feel free to give us a call at (888) 366-0686 or go to www.STILLEN.com
March 20, 2012
Although FORD GT owners are few and far between, we pride ourselves on providing a complete array of services for that particular vehicle. From offering a full spectrum of performance parts, to doing oil changes, and full transmission rebuilds, we offer it all.
Here's a quick snapshot of Aaron in our service department prepping a Ford GT for a new clutch.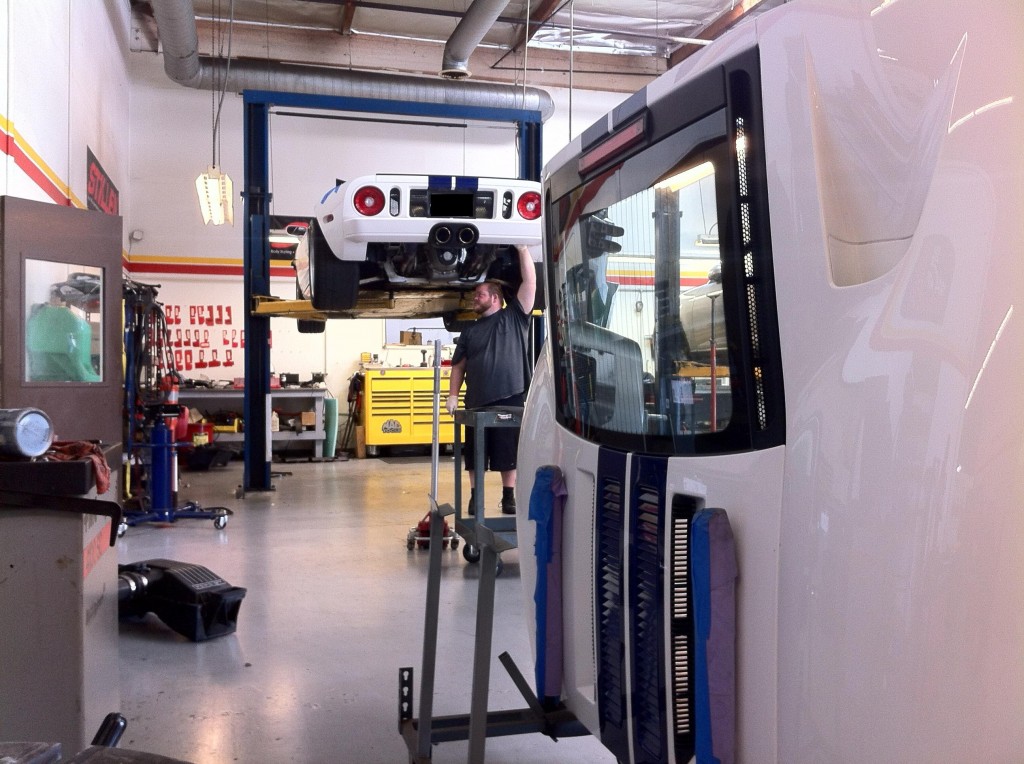 And if you were wondering what that bad boy looks like without the bonnet on.

Ill take one of those superchargers with a side of fries please!!
Be sure to check out our FORD GT section of the site for all your performance needs.
March 1, 2012
This G37 Sedan just rolled into the Stillen Performance Center looking completely stock on the outside but packing serious heat under the hood with our G37 Sedan Dual Throttle Body VQ37 Supercharger.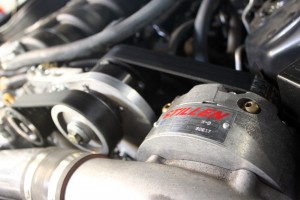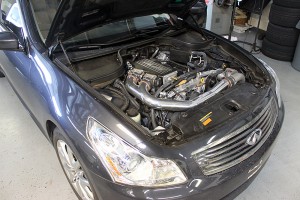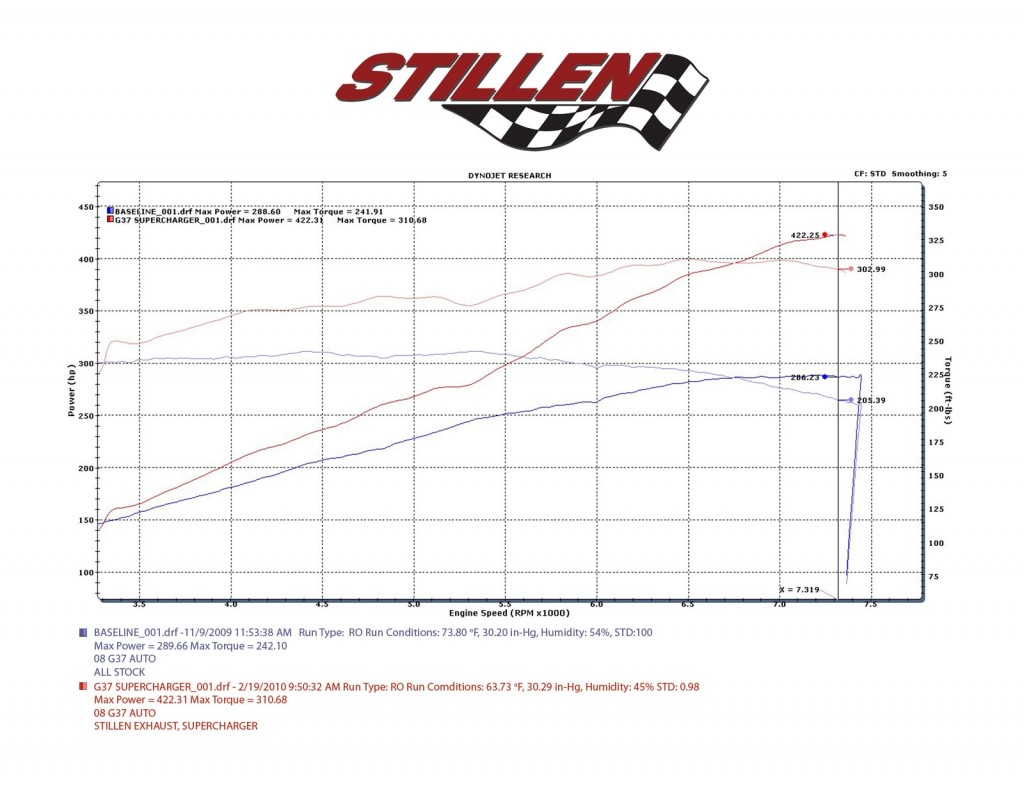 February 28, 2012
Beaverton Infiniti is bringing some serious heat to the showroom floor with this 2011 Infiniti G37S equipped with a Stillen supercharger custom tuned by PSI in Portland, Oregon to 400whp. They're asking $61691 for this one of a kind G: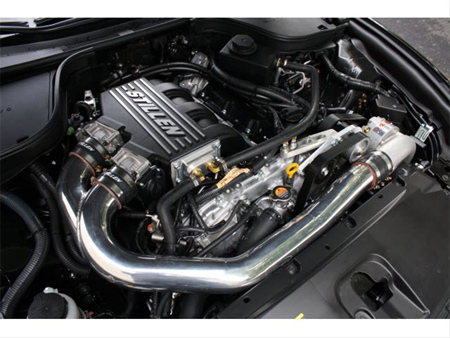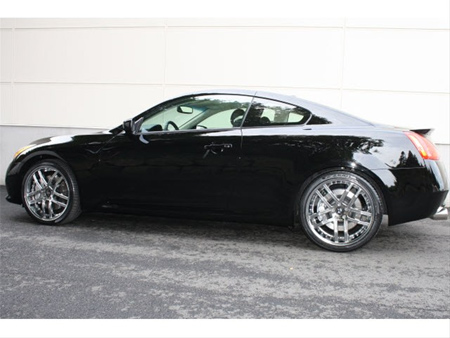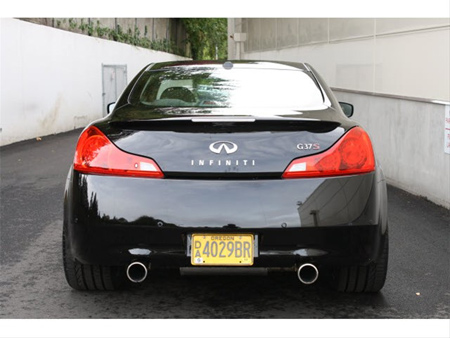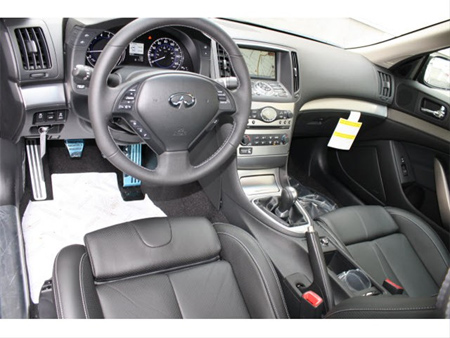 Contact Beaverton Infiniti if you have any questions (503) 626-8822 or check it out on their website.
February 10, 2012
Newmarket Infiniti/Nissan's latest build: this stylish 2012 Nissan Maxima.
Parts List
20″ M56S Wheels in Toyo Tires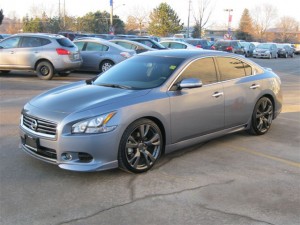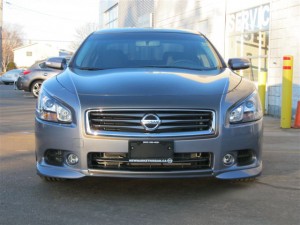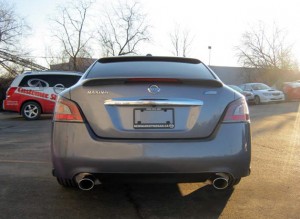 If you're in Ontario, Canada and want to check out this modified Maxima and others like it, stop by New Market Infiniti/Nissan or call Tom @ (905) 895-8785
February 10, 2012
This mean 6.1L hemi-powered Charger is getting a Vortech Supercharger (#4CL218-030L) installation finished up today before getting unleashed on the streets for what's sure to be a good weekend for the owner of this beast.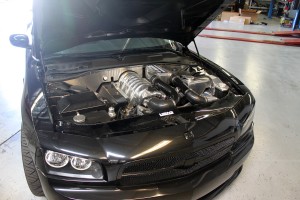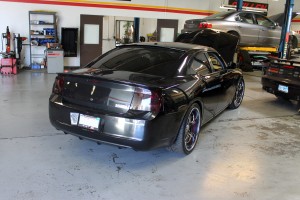 February 10, 2012
The STILLEN Performance Center is in the process of installing a C6 Corvette Supercharger kit by Edelbrock (#EDE1590) – Right now the techs are doing the unpackaging of the kit and prepping the car for install.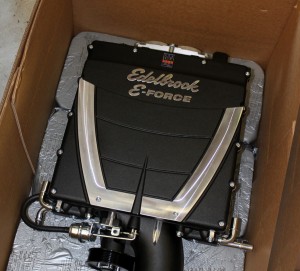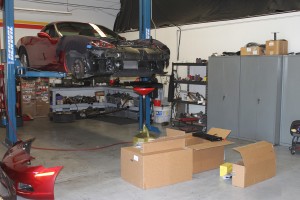 January 9, 2012
Our friends over at Newmarket Infiniti/Nissan in Ontario, Canada have made getting quality aftermarket parts straight from the dealership possible for Nissan and Infiniti owners in Newmarket.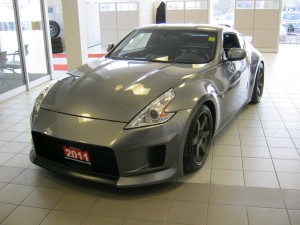 These 370Z's don't just look fast, they are fast; outfitted with Stillen performance cat back exhausts, Gen III intakes and more.
Newmarket Infiniti Nissan is a fully authorized Stillen performance center, offering a full line dealer of all Infiniti and Nissan models.
If you have a Versa, 307Z, G37 M37 or anything in between, Newmarket will make it look great and go fast.
Call Tom in the parts department at (905) 895-8785 and he will get you all the STILLEN style and power you need!
To make your 370Z look like this, pick up the STILLEN 370Z Fascia or Full Body Kit.
June 27, 2011
Meet Paul and Robyn Mullen of Australia, who are taking a neat trip on the historic Route 66 from California to Chicago.  The Mullen's are recently married, and taking their honeymoon on the road, after purchasing the Ford Mustang we built and hitting the pavement hard on a multi-state US trip!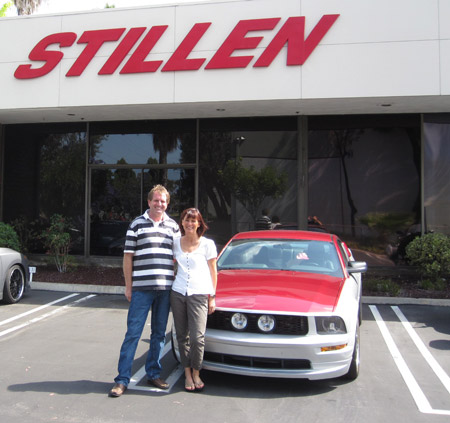 Paul Mullen and Steve Millen have known each other for years and years, with Paul heading up Black Magic Media, a television production company which has handled coverage on numerous New Zealand Targa Rallies Steve has raced in.  Read more