July 5, 2012
In the world of Social Media, today is known as #ThrowbackThursday and when you have been in business for 20 plus years, the amount of amazing content at your disposal to "throw back" to is insane. Today's throwback Thursday post was very difficult chose, it was most definitely a toss up between covering Montel Jordan's STILLEN equipped glorious 1990′s Chevy Suburban or some NISSAN TITAN awesomeness. Needless to say, the Titan won.
I swear, I can watch that video over and over.
In case you were wondering which STILLEN parts, that TITAN happened to have on it. Here's the breakdown:
STILLEN NISSAN TITAN SUPERCHARGER
STILLEN NISSAN TITAN HEADERS
STILLEN NISSAN TITAN AP RACING BIG BRAKE KIT
STILLEN NISSAN TITAN TRANSMISSION COOLER
STILLEN NISSAN TITAN HI FLOW INTAKE KIT
Back in 2006 during one of our "STILLEN DAYS" a customer brought out his INSANE Nissan Titan just to lend us a hand in destroying one of our cars that was already scheduled to be crushed. This moment will go down history as eternally epic.
June 18, 2012
The Hyundai Genesis coupe is one of those cars that quietly keeps impressing critics and owners over and over. Lately, it seems as though all the FR love has gone in the direction of the FR-S / BRZ but that's not to say that they Hyundai Genesis has disappeared.
A week or so ago, GCoupe de Ville posted his  install walkthrough and impressions of the STILLEN adjustable front and rear sway bars on the GenCoupe boards.  The full write up can be found here: http://www.gencoupe.com/media/100615-stillen-sway-bar-install.html
But a here's a brief re-cap.
As you can see, the STILLEN Hyndai Genesis sway bars are not only beefed up from the factory, but we give you the ability to adjust how much stiffness you would like to dial in.
You can also see that sway bars bolt up perfectly to the factory mounting points. Also note the quality of welds on the bars. One thing I should mention is that all of our sway bars are made RIGHT HERE IN THE USA!!! Which gives us the ability to hold the quality of our products to the highest standard.

His quick write up on his initial impressions express exactly what our sway bars were engineered to do:
"I went for a short test drive after the install and let me say even though I had the track suspension this is a HUGE step forward. The car just Feels tighter even when I'm driving it in a straight line and it corners like a dream. In the turns the back end is just pleading to drift out with how I set my bars up. Overall I love the upgrade!"
We are glad to hear you are pleased with your purchase and set up GCoupe de Ville, and we can't to hear what you have to say about them in the future.
In case, you are wondering, we are fully stocked on our Genesis front and rear Sway bar kit and they are available right now.
Give us a call at (800) 834-0376
Or visit our website:
STILLEN Hyundai Genesis Coupe Front and Rear Sway Bars.
June 15, 2012
Our $500 STILLEN BUCKS facebook sweepstakes has officially come to an end and we have found our lucky winner!!!!!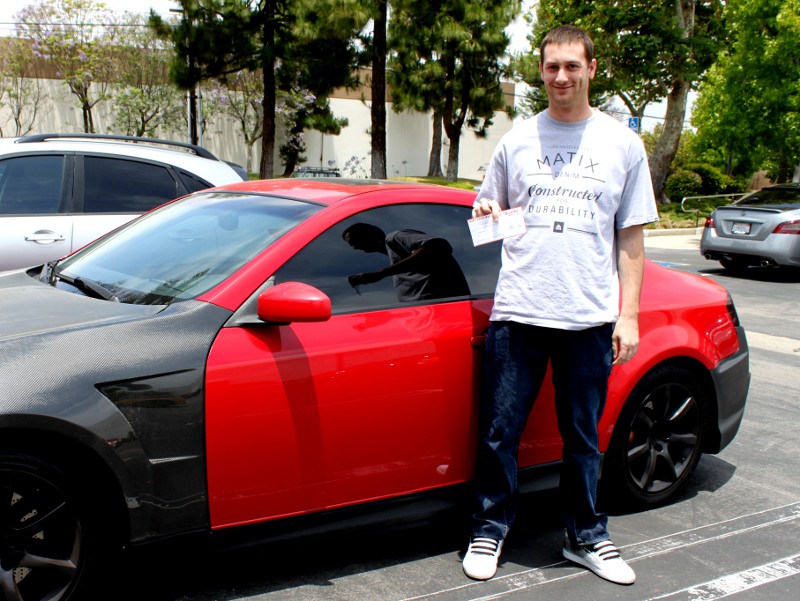 During our 1 month contest we received over 1,000 entries and almost twice as many facebook likes… On behalf of Team STILLEN, I would like to say THANK YOU to everyone who liked our page / shared the contest / and filled out the entry form.
In order to make things the most unbiased and fair as possible, we inputted the amount of unique entries into a random number generator and the results chose entry #195 for TERRANCE WHITE!!!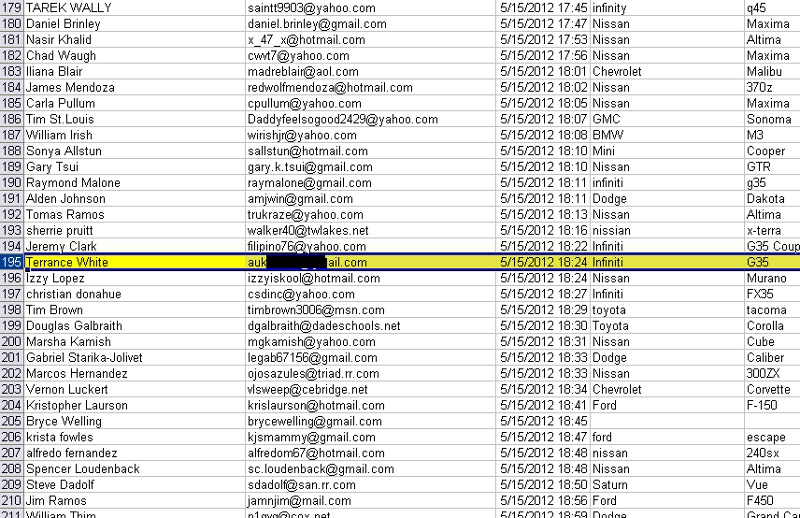 Congratulation Terry. We can't wait to get you outfitted.
June 13, 2012
Most people immeditately associate STILLEN with everything Nissan, while we do pride ourselves on our extensive knowledge of the name plate that was the corner stone of our founder Steve Millen's racing career. We also, pride ourselves in our knowledge of just about every other make and model as well. We treat every car that comes into our performance center with extreme care and respect. From routine oil changes, to motor swaps, to brake jobs, there is never a corner cut or a shortcut taken in the work we do for our customer vehicles.  We are glad to see that word of this commitment to quality is spreading faster than ever,  a quick snapshot of the vehicles in our Performance Center today further illustrates this.
This customer is blending the line between street and track with an amazing suspension set up and a front and rear set of AP RACING brakes for his Subaru WRX STI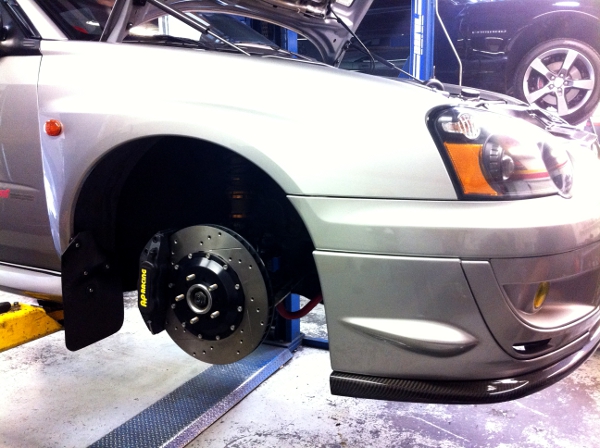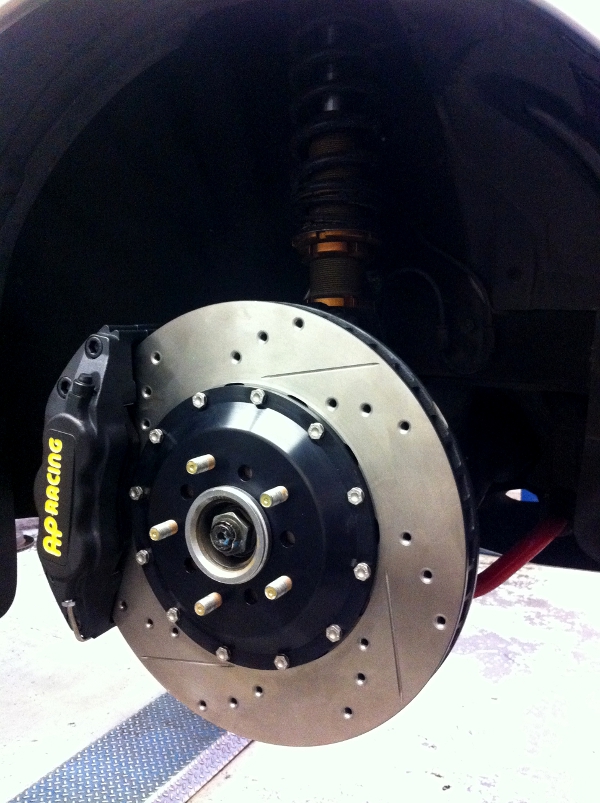 A different customer brought in his 2012 Chevrolet Camaro to get a Cat-back exhaust system installed in order to unleash the power and the sounds of his 6.2L  L99 Camaro SS.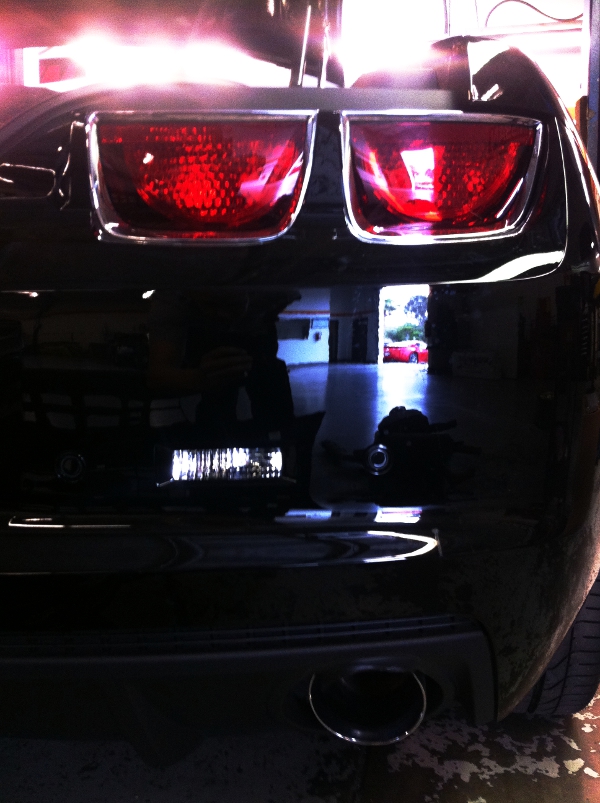 We have a beautiful Nismo 350z in the corner of our shop getting a tune up and a Stage 3 Supercharger installed.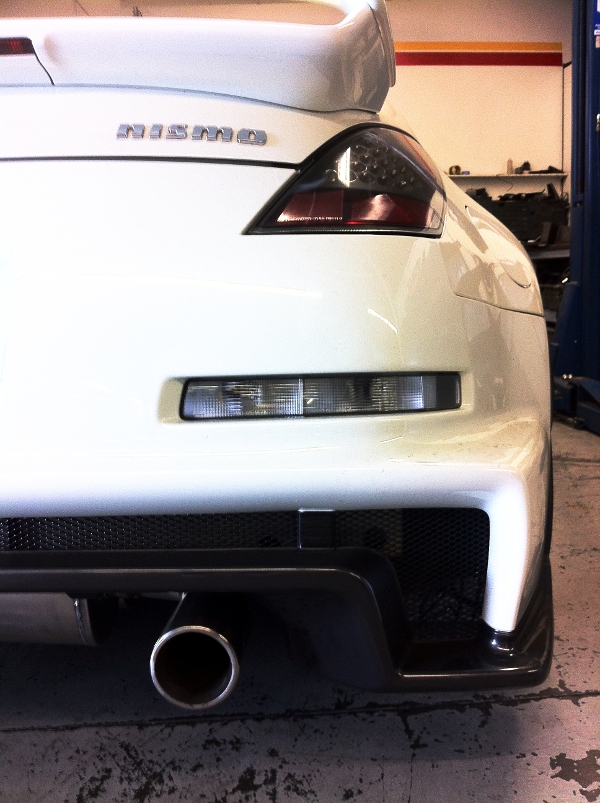 On our alignment rack we have a 2011 GT-R getting some angle dialed into it's suspension in order to make it handle even better on the street and track.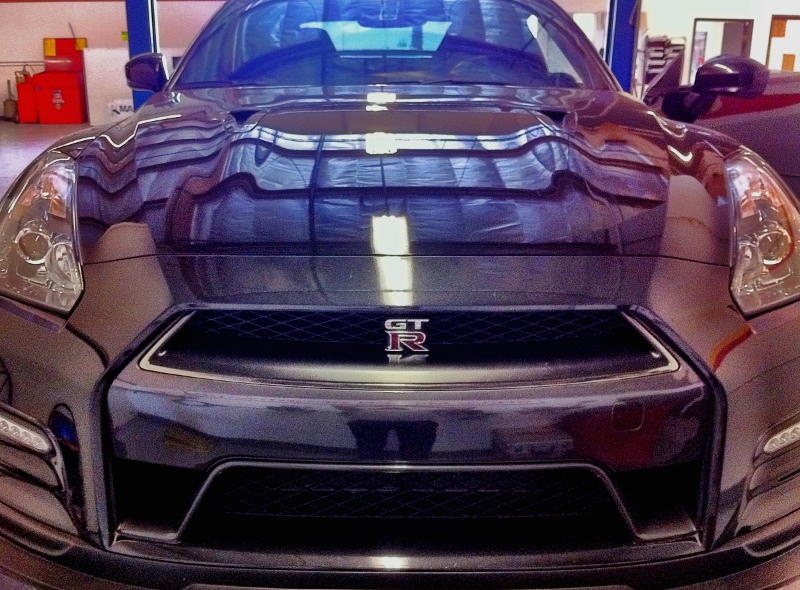 If you happen to own a specialty vehicle and feel it deserves to get the respect and attention you put into it by a PROFESSIONAL mechanic. Please don't hesitate to give us a ring. 1-866-250-5542 One of our specialists will gladly set up and appointment for you and make sure your ride gets the attention it deserves.
May 9, 2012
Last week, we told you about the IMPORT TUNER Power Pages article that featured our Supercharged 370z with just 3 magical parts on it.
STILLEN 370Z INTERCOOLED SUPERCHARGER KIT
STILLEN 370Z DUAL EXHAUST SYSTEM
STILLEN UP REV ENGINE TUNE
As you can see from the previous article, those three parts alone gave the 370z a 139HP boost at the wheels and 90lb/ft of torque. While we would LOVE to equip our customers cars with superchargers all day, the $8,000+ price tag might be a little too much for every budget. So today, we figured it would be fitting to cover a more cost effective approach to the "magic number."
While navigating through the wonderful world of YOUTUBE this morning, I stumbled upon a video from EFI LOGICS that features the magic number of 3 in a much more affordable combination.
For their customer (Richard Park) EFI LOGICS  combined the
370Z GEN 3 STILLEN LONG TUBE INTAKE $499
370Z STILLEN CAT BACK DUAL EXHAUST SYTEM $1269.61
370Z UP REV OSIRIS ECU TUNE $499 (plus dyno time)
For some pretty amazing horsepower and torque gains.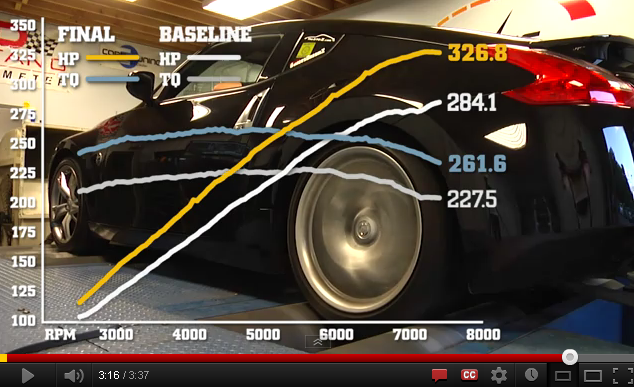 As you can see, it turns out 3 is in fact the magic number on the 370z for gains good for +40HP at the wheels and +30 lb/ft of torque. All for a price that's roughly around $2500.
If you are interested in taking your 370z to the next level, give us or EFI LOGICS a call and both of us will gladly help point you in the right direction.
April 27, 2012
Hooraaaaaaaay we made the cover of IMPORT TUNER!!! Well sort of, we actually made the cover of IMPORTTUNER.COM. Today, or 4/26/12, (depending on when you read this) Import Tuner put our 370z Power Pages feature on the homepage of their website.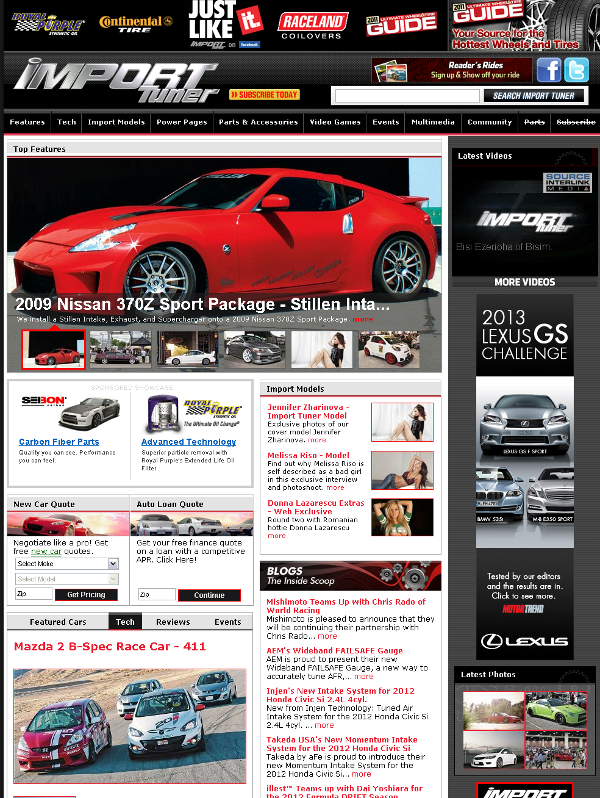 As we have stated before in earlier blog entries, the NISSAN 370Z is a very good car straight out of the box, and it takes quite a bit of patience and finess to squeeze extra ponies out of the VQ37. That being said, adding the wrong Intakes or exhausts can actually rob that car of some horsepower, so to answer the troves of people on the forums asking us how much power our 370z products make… check out the Power Pages Article here..
http://www.importtuner.com/powerpages/
SPOILER ALERT!!!! With some mild tuning we managed to squeeze and extra 139 HP out of the venerable 370z with just 3 PARTS!!!! … That's just like throwing an extra honda civic in the engine bay of your 370z but without any of the weight.
We accomplished this with the following:
STILLEN 370Z GEN3 LONG TUBE INTAKE
STILLEN 370Z INTERCOOLED SUPERCHARGER
I guess 3 really is the magic number after all

April 19, 2012
The connection with STILLEN and anything NISSAN is extremely obvious, but many people aren't aware that we also can help many other nameplates reach their peak power potentials.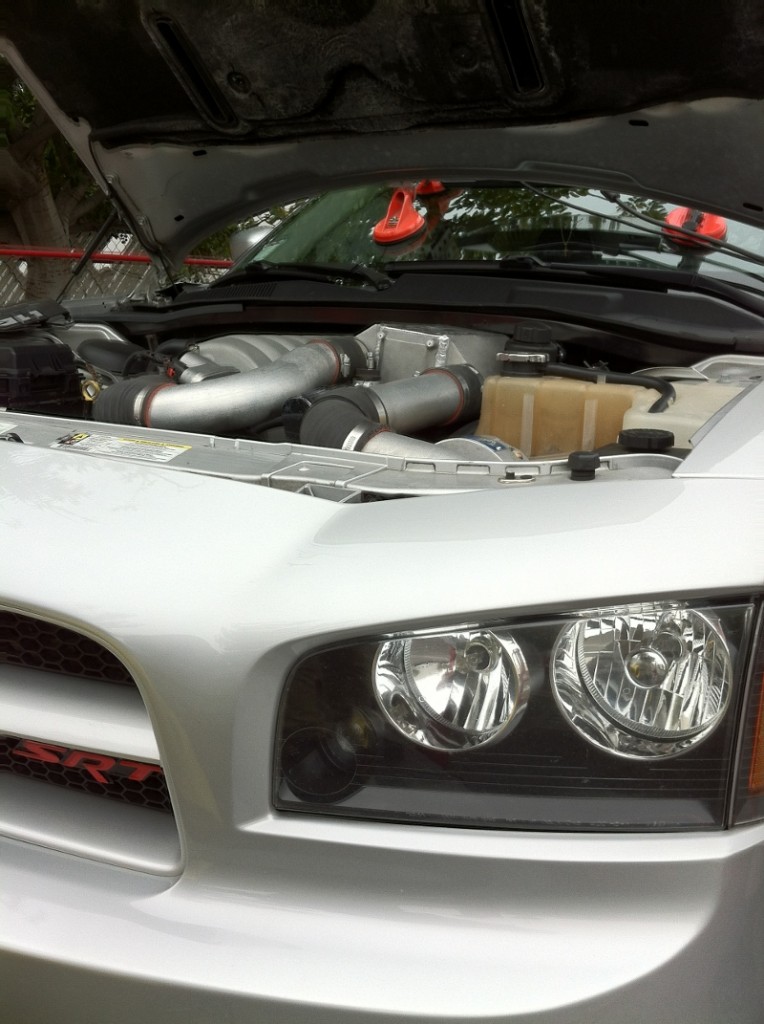 In the case of this 2011 SRT8 Dodge Charger, the customer just wasn't happy with the factory performance levels, he turned to us to help him build a very mean machine. With the help of our Performance Department, we addressed as many areas in the engine as we could that would fit into our customers budget.  He told us he wanted to make some serious power figures with his Vortech supercharger kit, and instead of just slapping a big pulley on there and calling it a day. We did what any respectable shop would do and started with the basics.
First, we installed forged pistons and rods in order to handle the larger volume of air in the cylinders. Then we of course, added larger injectors and upgraded the fuel pump to provide the engine with plenty of fuel for safety. In order to keep things flowing properly, we then ported and polished the head and made sure to beef up the hardware holding everything together. After all the known weaknesses in the engine were addressed we installed the Vortech Supercharger and gave the customer a smaller pulley, raising his boost to 7lbs.  With all that serious engine work done, the customer opted to go for the more smog friendly route and installed some high flowing cats and a cat back exhaust.
After everything was bolted back together, it was time to get some baseline dyno runs and begin the tuning process to keep everything working in harmony.
While I can't release the final numbers just yet, I will leave you with a quick vid of the Mopar beast laying down some serious power on our dyno….  I apologize for the quality of the video (shot with my iPhone) but it most definitely get's the point across.
All you MOPAR fans make sure you get yourselves acquainted with our Performance Center as soon as you can. We got you covered.
April 9, 2012
Before we dive directly into the crazy action that went down this Saturday in Long Beach, I'd like to first thanks John P and everyone over at Formula D for accomodating us with press passes for the event. We had a wonderful time and we are already stoked for the next one.  Secondly, I'd like to say it's amazing to see how much the sport has grown over the past six years. Cars are getting faster and faster (even with the new tire size rules) and drivers keep pushing the limits of their vehicles I can't wait to see how much farther Formula Drift will go before the end of this season.
Our day at the Streets of Long Beach started rather early which gave us a good amount of time to get some test shots in and walk around the event before the mayhem ensued.
Our first destination was the car show area presented by FATLACE / SLAMMED SOCIETY because we wanted to check out as many cars as we could before too many people got in the way.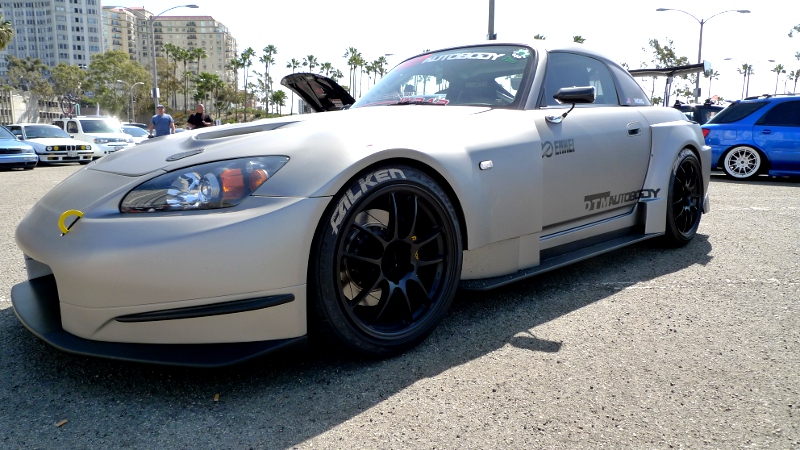 As soon as we crossed the bridge to the car show area, we noticed a beautiful widebody s2000 that happened to be running some serious AP RACING brakes.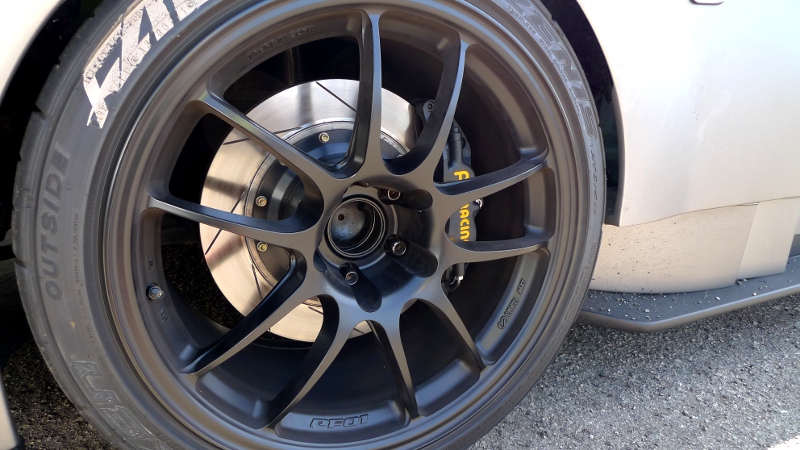 It's very hard to beat that set up in terms of looks and performance. I especially love the road debris still stuck on the sideskirts from the drive in.
After we were done drooling over the widebody glory we noticed a very clean 350z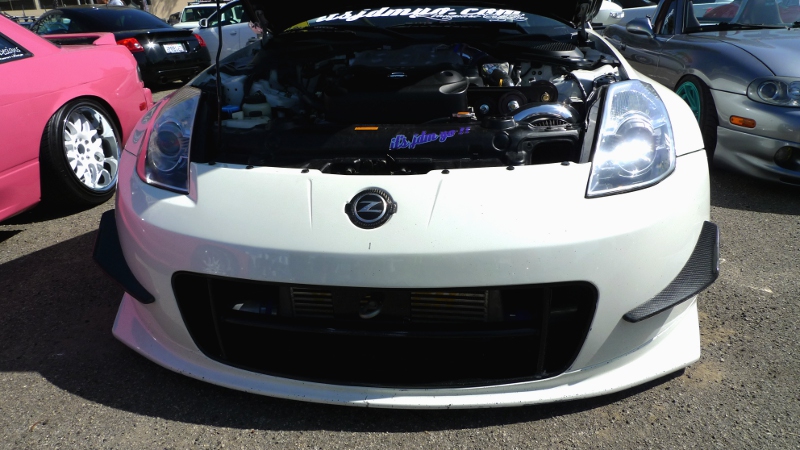 The "It'sJDMYO 350z was running an equally as clean Supercharger set up that was tucked in the engine bay very well.
Right in front of the Supercharged Z was a fine example of what happens when you combine the best of two world's when it comes to car design.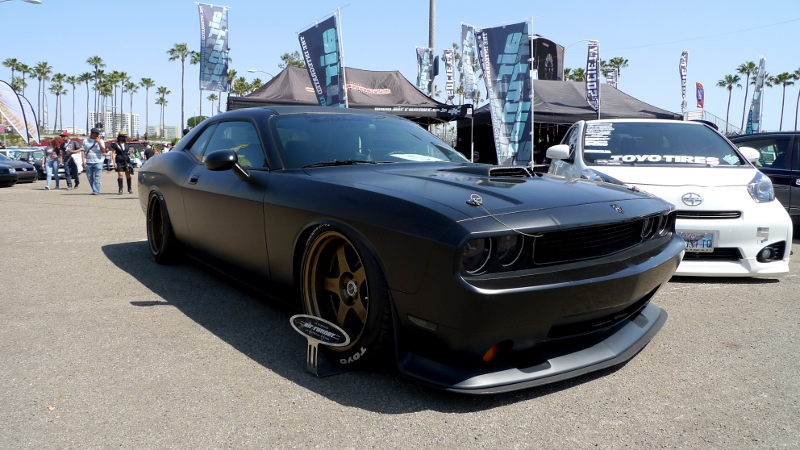 American muscle plus Japanese flavor make for a very clean and mean set up courtesy of JonSibal and Dodge.
After we walked our way through the car show, we noticed something you don't see at too many car shows and we were extremely stoked to see it.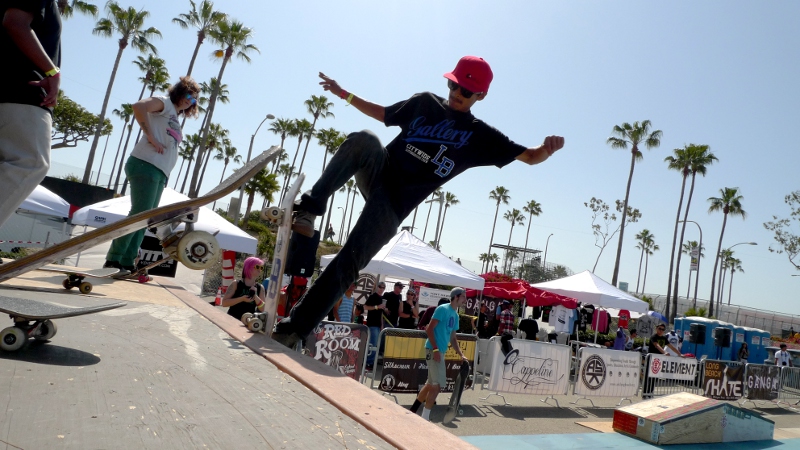 April 2, 2012
For the past couple weeks or so, we have been giving you random snapshots of our top-notch Performance Center in action. Although, most people aren't aware that STILLEN has a full service garage, the people who do know keep coming back because they know this is one place where you can get the right work done at the right price. I could spend an entire week covering a new daily project the Performance Center is working on and I still wouldn't be able to scratch the service all the services these guys do. From Dyno tuning, to Corner Balancing, to Fab Work, to Routine Oil Changes, we literally can do it all. If you don't believe me, here are a couple photos that are prime examples of the range of work we can do.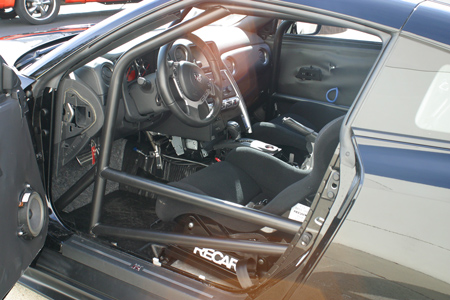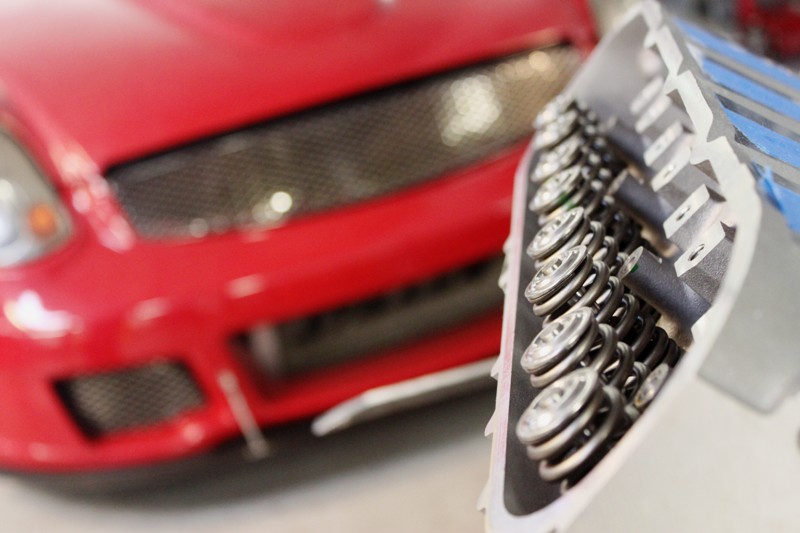 LS1 swaps are becoming more and more popular these days and people are putting them in just about anything. While I can't divulge which application this LS1 went into, I can say that we added a "mild" cam and used an aluminum block to save the customer 80lbs off the front end and to give him roughly 500 crank horsepower.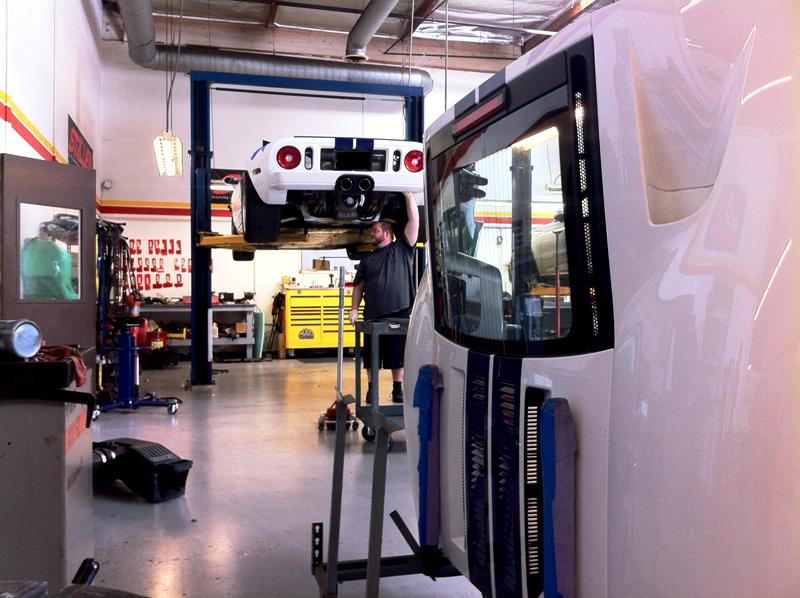 To my knowledge there are only two places in the world that are certified to do transmission rebuilds on the FORDGT, we happen to be one of them. Luckily, all this customer needed was a new clutch and throw out bearing which we happily replaced for him.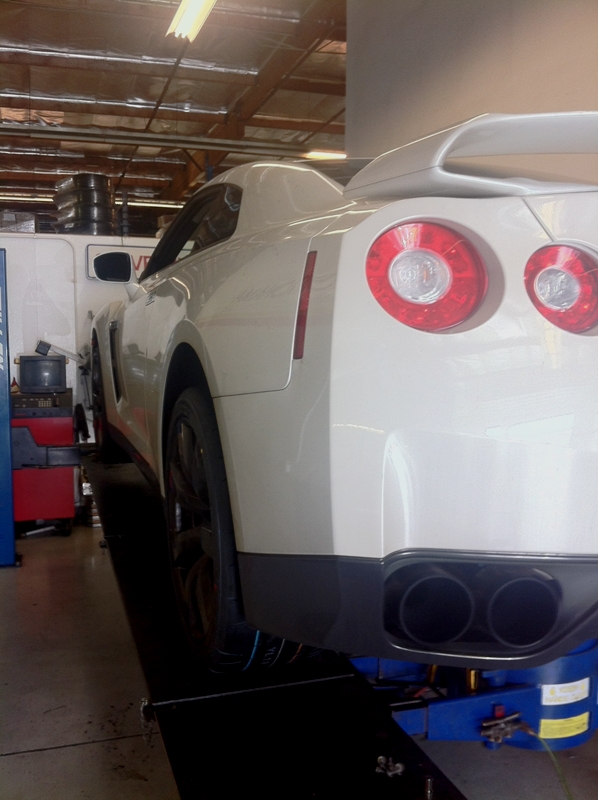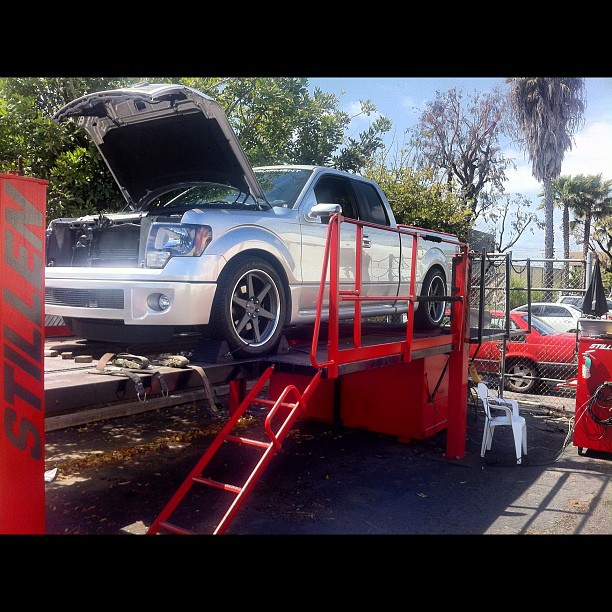 We offer dyno tuning services on just about any application, from sub compact 4 bangers to Coyote equipped 5.0L F150′s, to everything in-between.  There's a little surprise under the hood of that bad boy that you can read more about in an upcoming issue of TRUCKIN' magazine.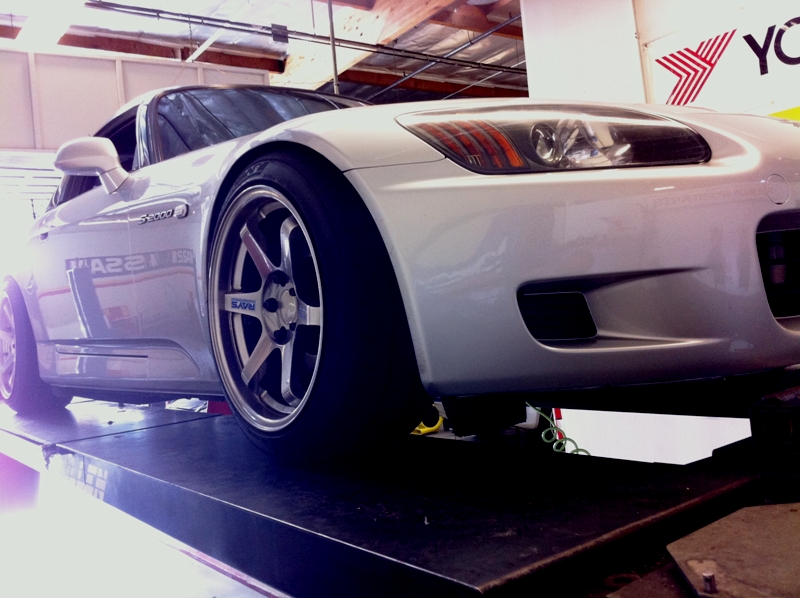 Most people think that once you slam you're car on a decent set of coil-overs you are ready to attack the street and track but more often than not your car's alignment actually gets worse in terms of handling. That's exactly why our Performance Center offers alignment and corner balancing services to keep your car planted to the ground and pointing in the right direction.
We are always working on improving and optimizing our current list of products available through our Performance Center.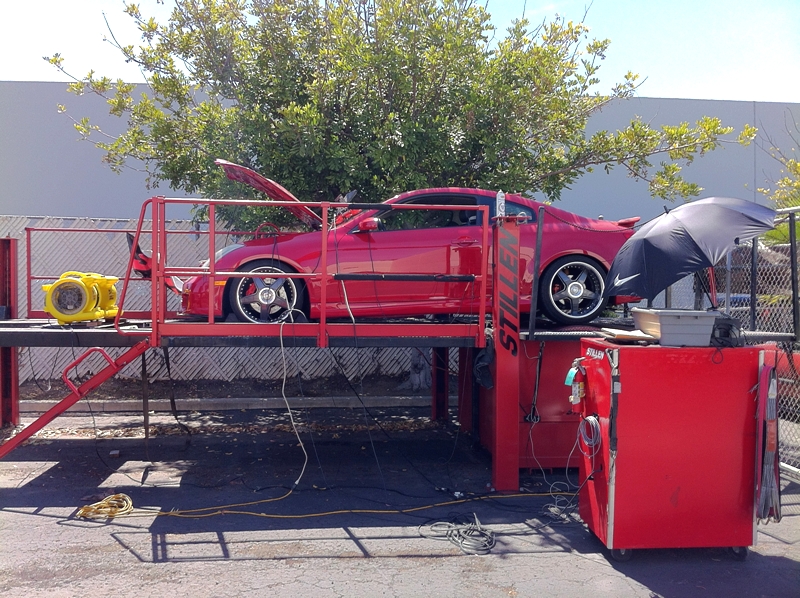 The benefits of having a Dyno in-house is that we can always test, and retest simulated road conditions while monitoring the results in real time. Keeping us ahead of the curve when it comes to product development. We can also revisit past products and find room for improvement.
The list of services we offer can be quite extensive, so make sure you give us a ring before you take your modified or stock vehicle to some other shop for service / maintenance.
I forgot to mention we are AFTERMARKET FRIENDLY!!! I know that seems rather obvious but I can't tell you how many times I've taken my car to the WRONG shop for some routine maintenance and they have either broken or taken off my aftermarket parts because they had no idea what they did.
(I once had a dealership rip off my INGS+1 side skirts when I took my Subaru in for an OIL CHANGE!!! I wish I knew about STILLEN before I did that)
GIVE US A CALL TO SET UP YOUR NEXT APPOINTMENT.
STILLEN Performance Center
(866) 250-5542
sales@stillen.com
3176 Airway Ave.
Costa Mesa, CA 92626
March 29, 2012
It's safe to say that we are firm believers in the "Form follows function" principal, all the parts we put our name on serve a purpose OTHER than just looking good. Our 370z front bumper is a testament to that. Not only did we want to make sure that it would channel air to crucial areas of the vehicle (As every front bumper SHOULD do) we also wanted to make sure that it looked good while doing it's job.  We feet as though we combined the two very well with this bumper and apparently so does Tiago's Drifthobby drift team.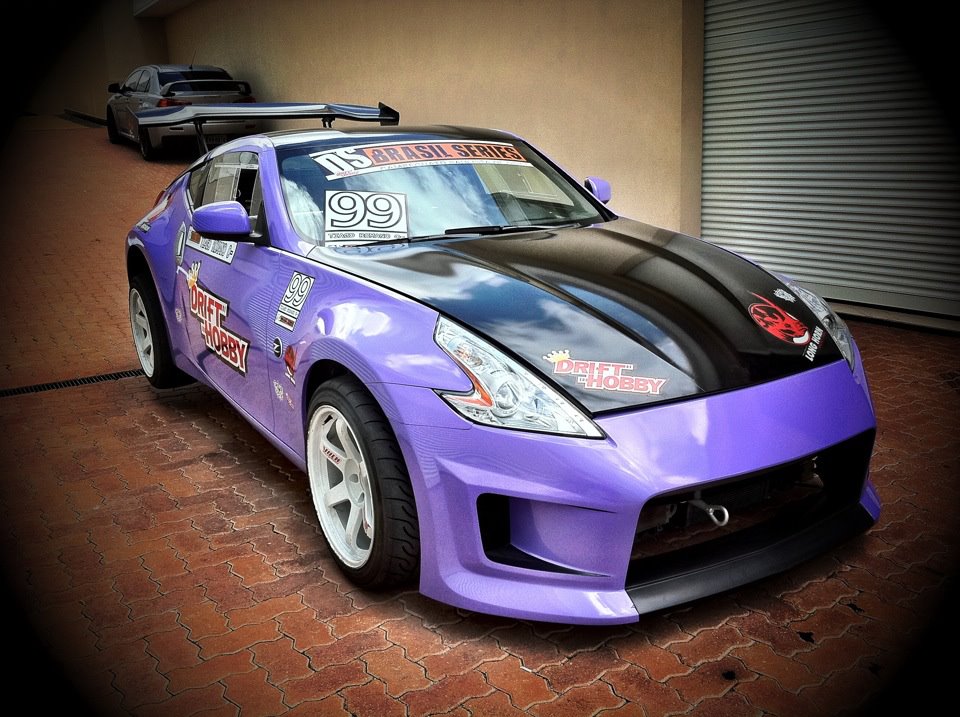 It actually looks pretty good in purple don't you think?
Well if a picture isn't enough for you, check out the quick video these guys put together of this car in action…