September 24, 2013
There's a new way to turn the best-selling truck in the country into an off-road beast of the night, LED light grilles. Industry front runner and American produced developer T-Rex has just released their Torch Series LED light grilles for the F-150 series vehicles from '09-'13.
The LED light grilles comes fully ready to install as a replacement or just for more adventure, with 2 three inch LED cubes and a twelve inch LED light bar in between them!!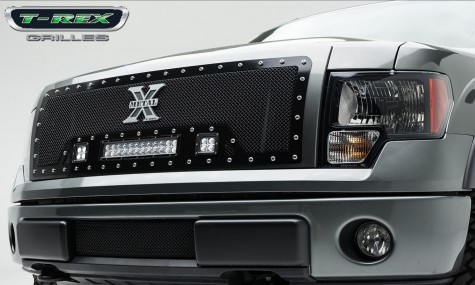 You just have put the LED light grilles on and plug the lights in, without the hassle of developing or ordering a complex mounting system so you can trudge through the forest or desert. These LED light grilles are plug-and-play in comparison, and still carry the Iconic "X Metal" T-Rex design as well as being sure to output all the light you'll need to make it through wherever the fun may beckon.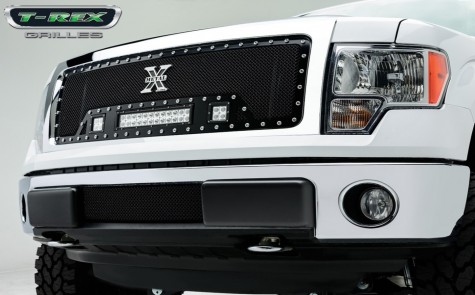 **All Torch LED light grilles with lights can be quickly and easily installed with the Optional T-Rex wiring harness 639HAR1, sold separately for $69.95, so just give us a call @ (866) 250-5542 or mention it in the comments section during checkout and we can add the harness to your order. **
Check out more T-Rex products and everything we carry @ STILLEN.
To speak with and expert and place an order or schedule installation or maintenance give us a call at (866) 250-5542, or visit the Performance Shop Site today.
September 23, 2013
The Chevy Camaro SS has been a staple in the STILLEN Performance Shop for a while now and is always welcome for a Camaro LS3 supercharger install. We bolted on a Magnuson Supercharger to the 6.2L V8 motor, but this time with a different look… a Wrinkle Red finish.
Magnuson Camaro LS3 Supercharger Install
You may remember the beautiful Victory Red Camaro SS in the shop back in June, but this Camaro LS3 supercharger install is slightly different, this Magnuson Supercharger has a wrinkle red finish. The wrinkle red Magnuson Supercharger is not as common as the black finished version, in fact, you'll be hard pressed to find one as we have sold out of this color and is now only available as a special order, but the bright red color gives an aggressive look and style to this black Camaro LS3 engine bay.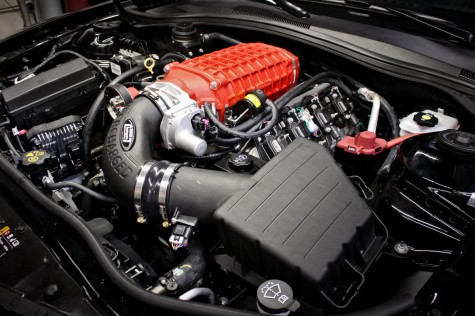 The Magnuson Camaro LS3 Supercharger is a hybrid-roots supercharger with OEM-like fitment that does not require any modifications to the hood.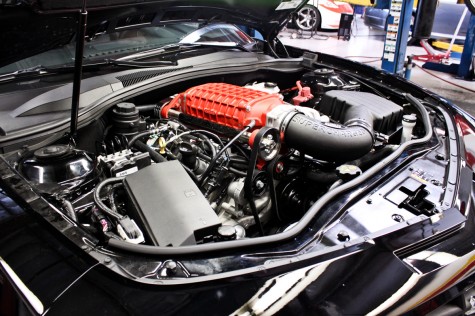 You can rest assured knowing this bolt-on system carries a 3-year / 36,000 mile warranty on supercharger hardware and a 1-year limited warranty on electronics. Magnuson also offers an optional 3-year / 36,000 mile, 5-year / 60,000 mile or 5-year / 100,000 mile powertrain warranty for the Camaro LS3 supercharger at an additional cost. Visit the Magnuson Superchargers website for more warranty information.
In addition to Magnuson Superchargers, STILLEN is an authorized dealer and installer for Edelbrock Superchargers, Vortech Superchargers, and Whipple Superchargers.
Camaro Magnaflow Exhaust Install
A Camaro Magnaflow Exhaust is a perfect companion to any Supercharger install, creating better exhaust airflow as well as a smooth deep tone. The Magnaflow 100% Stainless Steel Cat-back Exhaust System shows dyno proven increases in both horsepower and torque and carries a lifetime warranty.
For more information on the Camaro LS3 Supercharger Install, the Camaro Magnaflow Exhaust Install, or any other aftermarket performance parts for your vehicle, please give us a call at (888) 366-0686 or visit the STILLEN website.
September 20, 2013
The 2001 Chevy C5 Corvette is back in the shop after the Magnuson Corvette Supercharger install, running strong and with a freshly painted hood. Now it's time for the Corvette dyno tune to dial in the Supercharged LS1 V8.
Supercharged Corvette Dyno Tune
The California sun was beating down on the fresh black paint and pushing temperatures close to 100 degrees, which isn't ideal for optimal horsepower gains. Powering through the heat and after a few pulls, the Corvette dyno tune showed increased power to 394HP on the Magnuson supercharged C5!
To schedule a Corvette dyno tune or dyno tuning for any vehicle, please contact the STILLEN Performance Shop in Orange County at (888) 366-0686 or visit the Performance Shop webpage for more information.
September 9, 2013
The Nissan Titan has a lot of strengths, but as countless owners know, one of them is not the factory OEM radiator.  It's combination of aluminum and plastic end tanks do one thing really well, and that is crack, dumping all of the engine coolant, leaving you helpless and stranded.  Getting towed to the dealership, paying upwards of $600 for a new radiator and you're on your way right? Until it happens again, the plastic end tanks cracking and emptying the cooling system on the ground below.
STILLEN has long been the solution to the failing Nissan Titan radiators for years, designing and having CSF Radiators produce an all-aluminum 2-row performance radiator, which has been a lifesaver for Titan owners stuck replacing their radiators over and over again.  And we've improved things once again!
Meet the STILLEN Nissan Titan 3-Row All-Aluminum Performance Radiator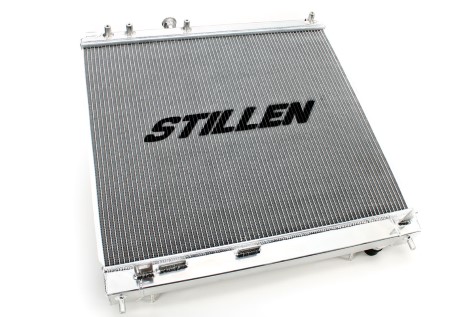 In 2013 STILLEN has has redesigned a brand new drop-in replacement radiator for the 2004-2013 Nissan Titan, Armada and QX56.  This new radiator features a 3-row thick core, and holds twice as much coolant as the factory radiators!  The construction is all-aluminum, and designed to improve reliability, airflow, total cooling and also comes with an internal transmission oil cooler just like the OE unit.  The STILLEN Radiator is designed to be an easy installation, with drop-in fitment like the factory unit, and features a 2-year warranty.
Even with all of these improvements for the 2013 version, we were able to keep the price identical to the 2-row version!
Click Here to visit the STILLEN website and purchase the STILLEN Nissan Titan Radiator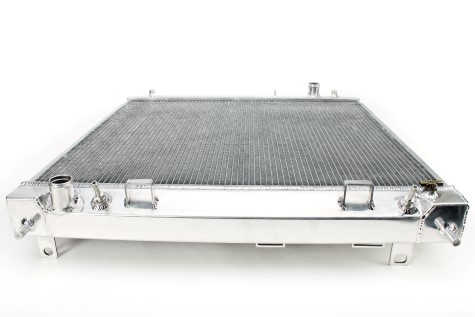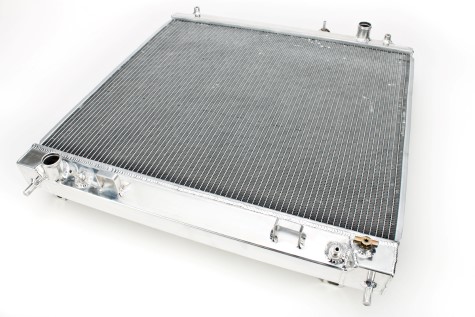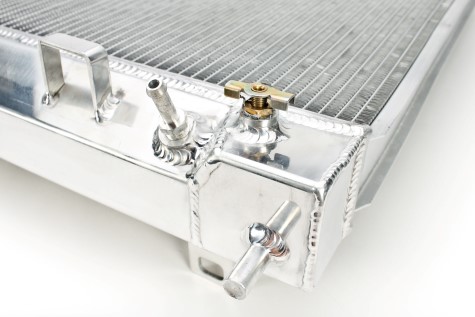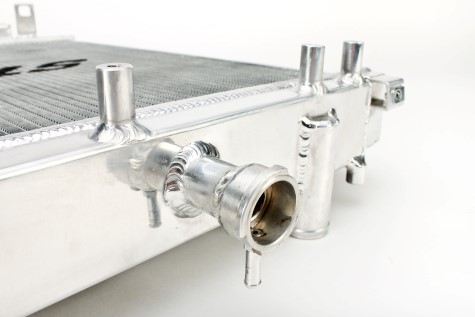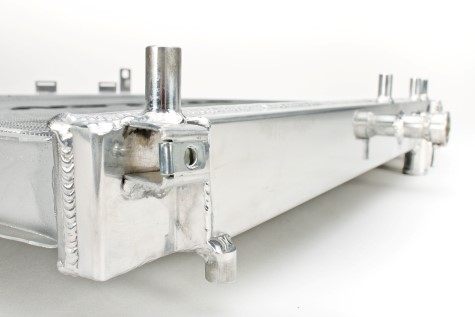 September 5, 2013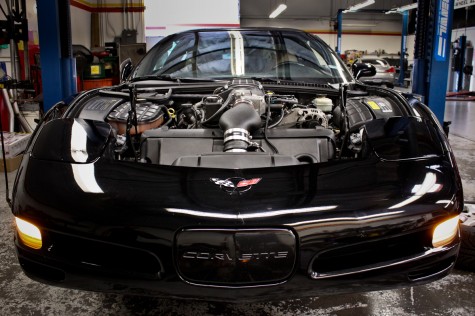 Since 1953, the Chevrolet Corvette has been a true American Classic. Old or new, it's always a treat to have a Vette in the STILLEN Performance Shop, especially for a Corvette supercharger install on top of the LS1 V8.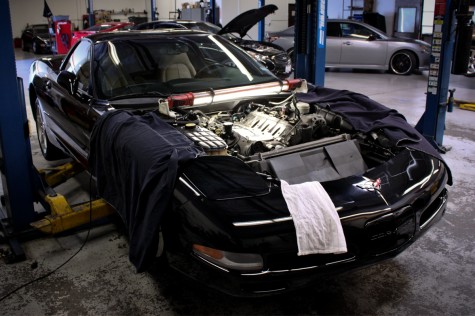 Magnuson Corvette Supercharger Install
With the Corvette supercharger installed, the Hybrid-roots supercharger produces 6 lbs of boost and delivers performance power while retaining reliability and drivablity.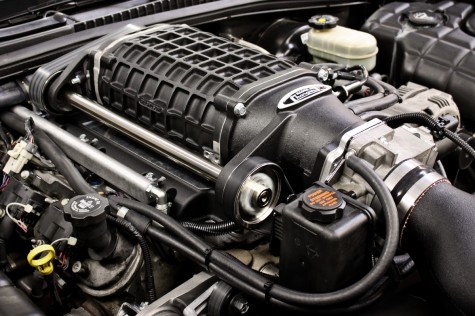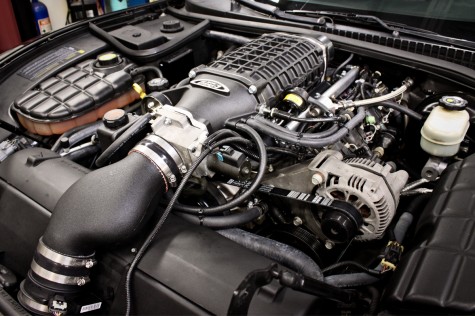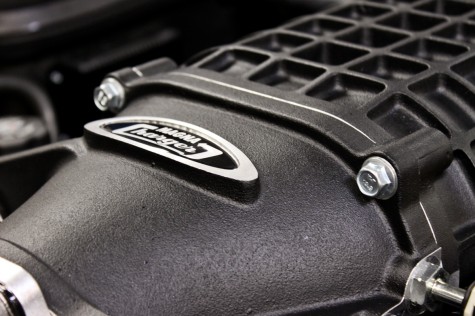 Magnuson Superchargers comes with a 3-year / 36k mile warranty on supercharger hardware and a 1-year limited warranty on electronics.
After the 2001 Chevy Corvette supercharger install, a new RK Sport fiberglass hood was put in place to cover it and Dual Stainless Steel Magnaflow Exhaust installed for increased flow.
RK Sport Corvette Supercharger Fiberglass Hood
RK Sport RK5 Supercharger Hood – Part# RKS04011007
In addition to the Corvette supercharger install, a new hood is required to clear the blower. We opted for the RK Sport RK5 fiberglass hood, not only for clearance, but for the sleek, aggressive look it adds to the front of the car.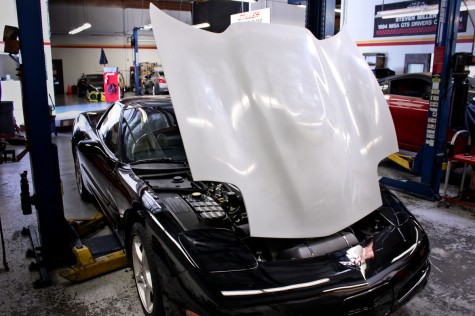 The RK Sport RK5 Fiberglass Hood for the supercharged Corvette comes raw and ready for prep and paint.
Magnaflow Corvette Exhaust System
The Corvette Magnaflow exhaust is a bolt on application constructed from mandrel-bent, stainless steel tubing. The stainless steel Magnaflow Performance mufflers and polished rear exhaust tips generate a smooth, pleasing, deep tone.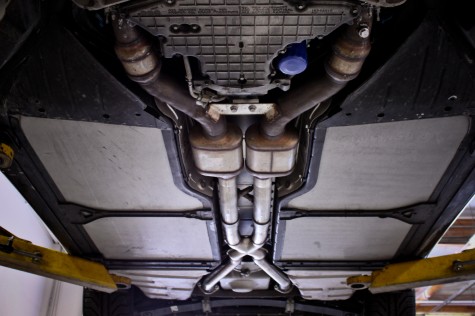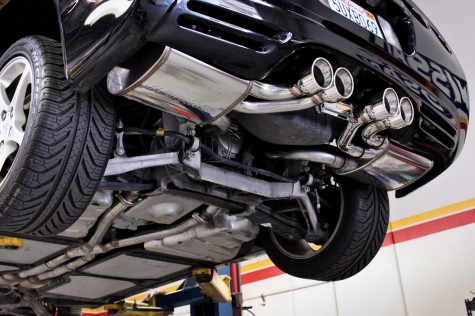 The Corvette Magnaflow exhaust system carries a limited lifetime warranty and has been dyno tested and proven for performance gains in horsepower and torque. It is a perfect add-on after the Magnuson Corvette Supercharger install.
The Supercharged Corvette is now off to have the hood painted, but will be back soon for the Corvette dyno tune.
For more information on this Corvette supercharger install or any of the products used on the Corvette upgrade, give us a call at (888) 366-0686 or visit www.STILLEN.com.