April 4, 2012
We pride ourselves on the quality of products we sell here at STILLEN. From intakes to sway bars to superchargers we make sure that products we put our name on use the highest quality materials and can stand the test of time on any application. The same can be said for our brake selection. It's no secret that we have partnered up with AP RACING on many products in the past. We also happen to be the main U.S. Distributor and Technical Partner for road car's for AP RACING products.  While the reasons for this partnership can go on for days, I'll spare you the details and compile a short list of AP RACING 's accomplishments.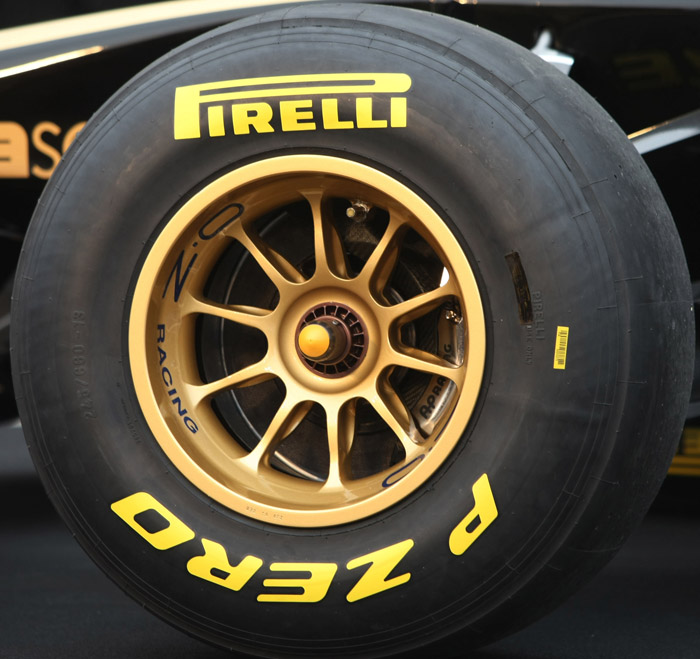 Formula One
"AP Racing's success has been underlined by the fact that every Formula One Championship since 1967 has been won using the company's equipment. Since their first appearance in F1 at the Dutch Grand Prix in 1967, AP Racing has achieved 687 wins with brakes, clutches or both". (Taken from AP RACING's Website)
That statistic alone is enough to sell me on the products but I'll continue. They also have plenty of other success in the world of Motorsport.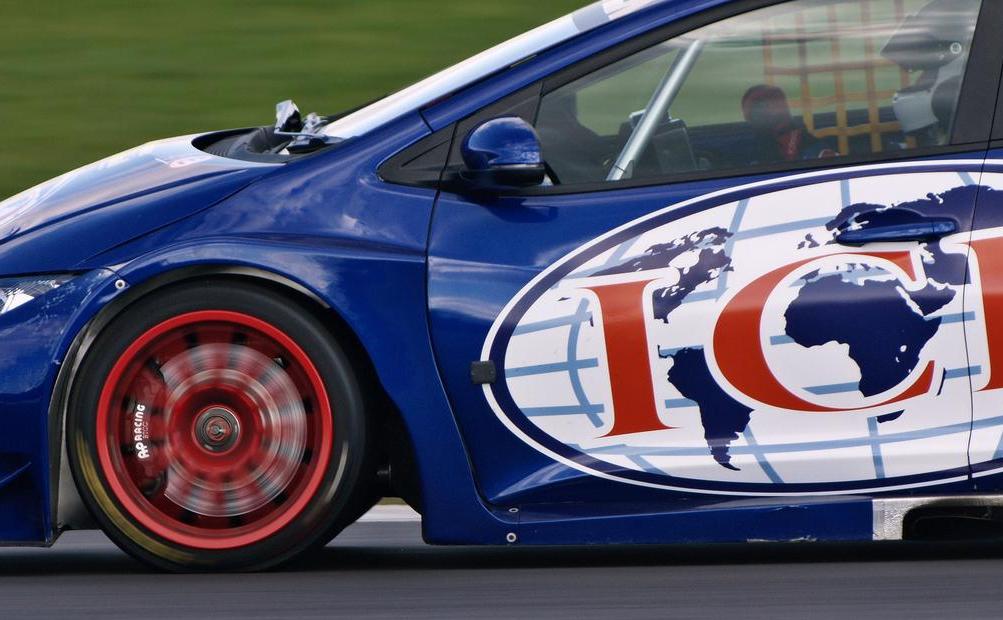 Their brakes are featured on many BTCC, Rally and ALMS teams, quite honestly too many to count.  As a matter of fact, the top 10 finishers of the last ALMS race all sported AP RACING brakes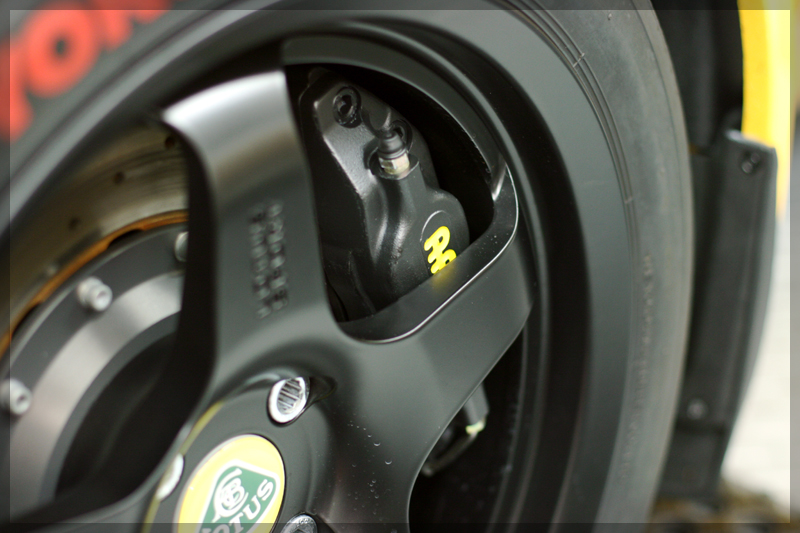 Road Cars
"All of the organisation's products are developed in close co-operation with leading car manufacturers using state-of-the-art, three-dimensional solid modelling/design and Finite Element Analysis CAD facilities, and dynamometers that simulate real world conditions. AP Racing also supplies leading performance car manufacturers with brake and clutch components as well as producing a comprehensive range of bolt on replacement performance brake kits. " (Taken from AP RACING's website)
 Some note able OE placements are:  Aston Martin, Bugatti, Caterham, Ferrari, Ford, HSV,  Lotus, Koenigsegg, Morgan, Seat, and TVR to name a few.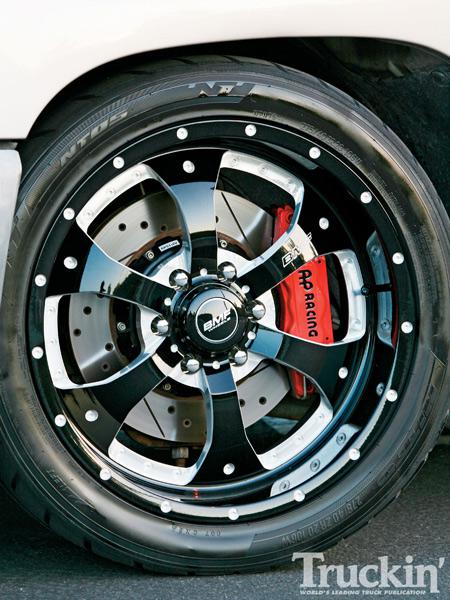 Aftermarket Success
Truckin' Magazine recently tested an AP Racing brake setup on the track with a GMC Sierra, and found that the stopping distance from 80mph was shortened by 144 feet over the stock brake setup., for a total braking distance decrease of around 35%. (Taken from Truckin' magazine's website) That's stopping before going through an entire intersection.  Not only does that make the GMC more fun to drive but you can imagine how much safer that heavy truck now is.
TOP CHOICE OF WORLD CLASS TUNER'S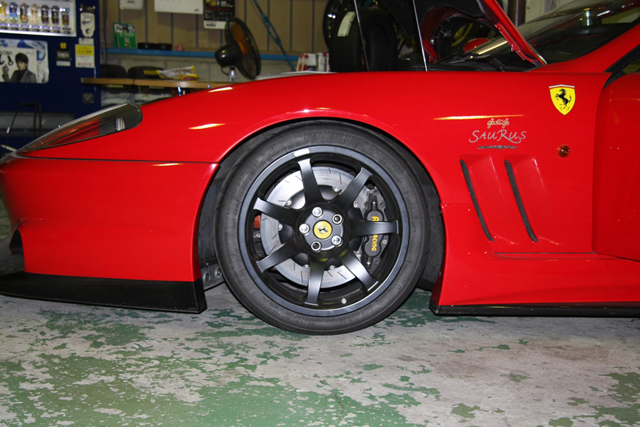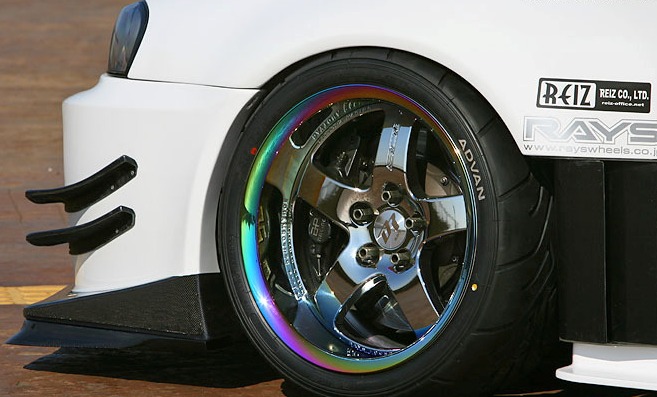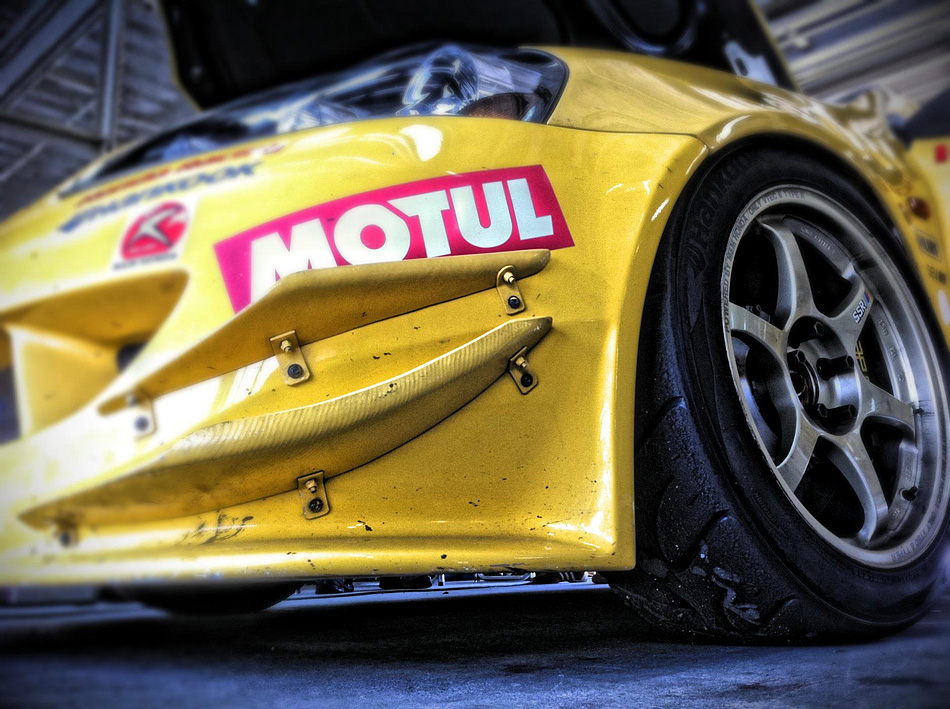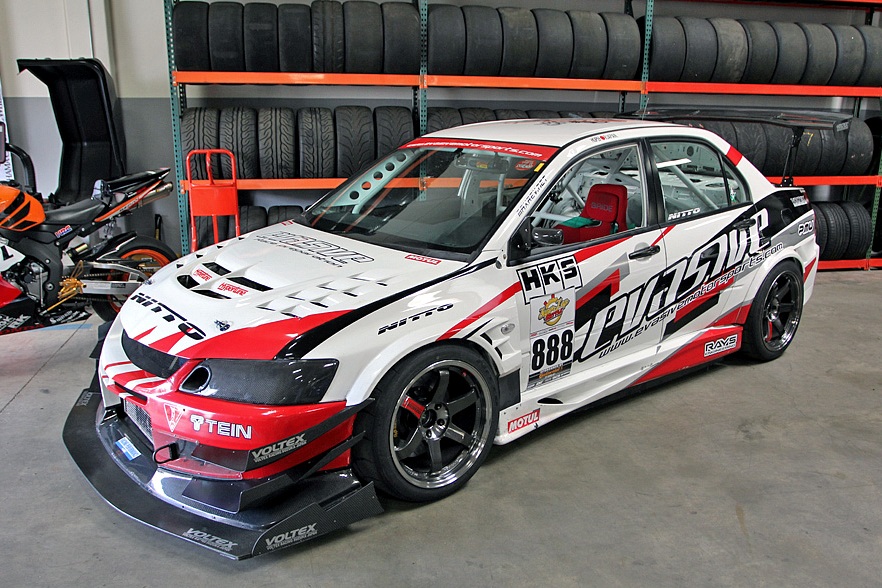 This list of AP RACING applications and accolades can go on for days but I'll digress and leave you with this.
Imagine you just spent $3000 on a set of Big Brakes from an overseas company that everyone says you "must have" because you have seen many advertisements of their cars in a few magazines. You are so excited about your new brakes that you book yourself a track day after you've selected the right set of pads and have bedded them properly just to see what your car can do. Halfway through the track event your brakes end up getting so hot and warped that flames start coming out of your wheel well. The brake fire ends up burning up your fenders, ruining your set of R compound tires and it ends up melting the cool blue paint off your shiny new "JDM" brakes. As soon as you call the company who imported the brakes for you, you quickly find out they can't help you and you are stuck with $3000 paper weights.
That very same thing happened to me on my last project car before I started working at STILLEN and I wish I never made that mistake.
Before AP RACING approves any application from race to street, they make sure to test every single aspect of the product. Lifecycle, fitment, performance, durability, real world conditions, and extreme conditions are just a few items on the quality control checklist before any big brake kit gets put in a box and shipped out.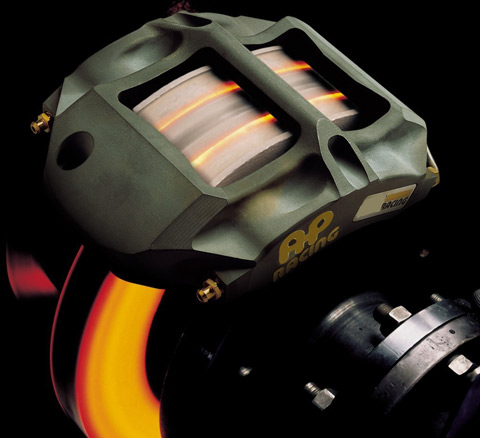 March 20, 2012
STILLEN is proud to announce the release of the new brake cooling option for 370Z owners looking to improve track times and lower brake temperatures.
These kits can be used with both Stillen Sport Rotors and Metal Matrix brake pads, AP Racing Brake Kits, and other 370Z Brakes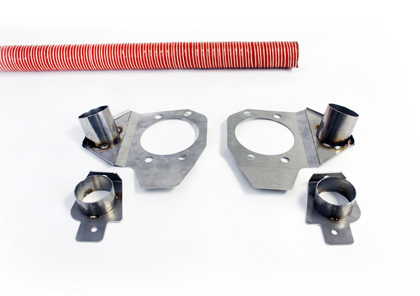 The efficient design of the STILLEN 370z brake cooling kit can lower brake surface temperatures by as much as 25%.  Or as much as  140F. (Yeah that's a lot of heat).  The best part about this kit is it can be used with just about any brake set up and it works perfectly with the STILLEN 370Z front bumper or the Stock 370z front bumper, WITHOUT any cutting.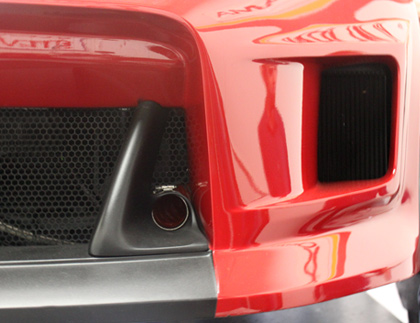 We spared no expense in the quality of components of this kit, from the High Temperature hoses to the CNC machined stainless steel mounting brackets. We made sure that everything fit perfectly and worked perfectly.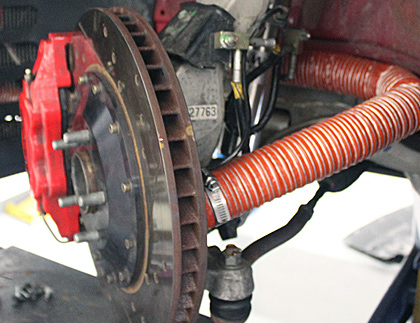 After we made sure all the components of the kit fit properly, we decided to take our test vehicle to the Auto Club Speedway in Fontana, CA for some serious testing.
We installed the 370z Brake Cooling kit on one side of the vehicle and left the other side untouched. We then installed temperature sensors on both sides of the vehicle to give us our comparison figures.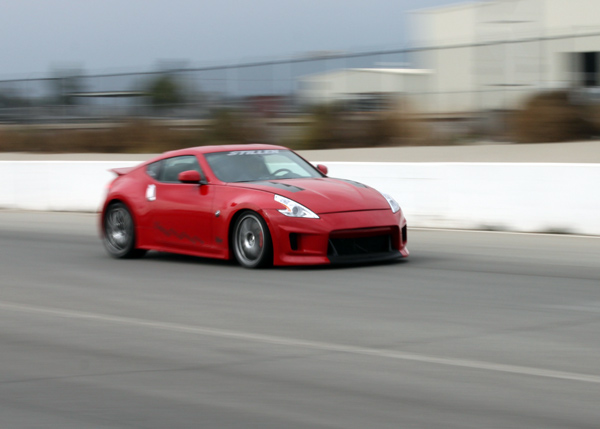 The results ended up being much better than we expected, and we saw a difference in over 140 F between the two sides.  In case you're wondering what the advantages of running cooler brakes are, here's a quick list:
• Decrease in braking distance – Reduction in brake fade
• Prevents warping – Reduced chance of pad glazing – Extends life of brakes
• Reduces the chance of brake fluid boiling
• Decreases the chance of catastrophic damage to brake system
• Improved track time and longer track sessions
Below is an illustration on how brake discs vent out heat under operating conditions, as you can see from the illustration, brake temperatures will substantially increase under periods of prolonged use. Our 370z Brake Cooling kit is specifically designed to reduce brake surface temperatures by supplying a constant stream of fresh air to the brake rotor, allowing it to vent out heat more efficiently.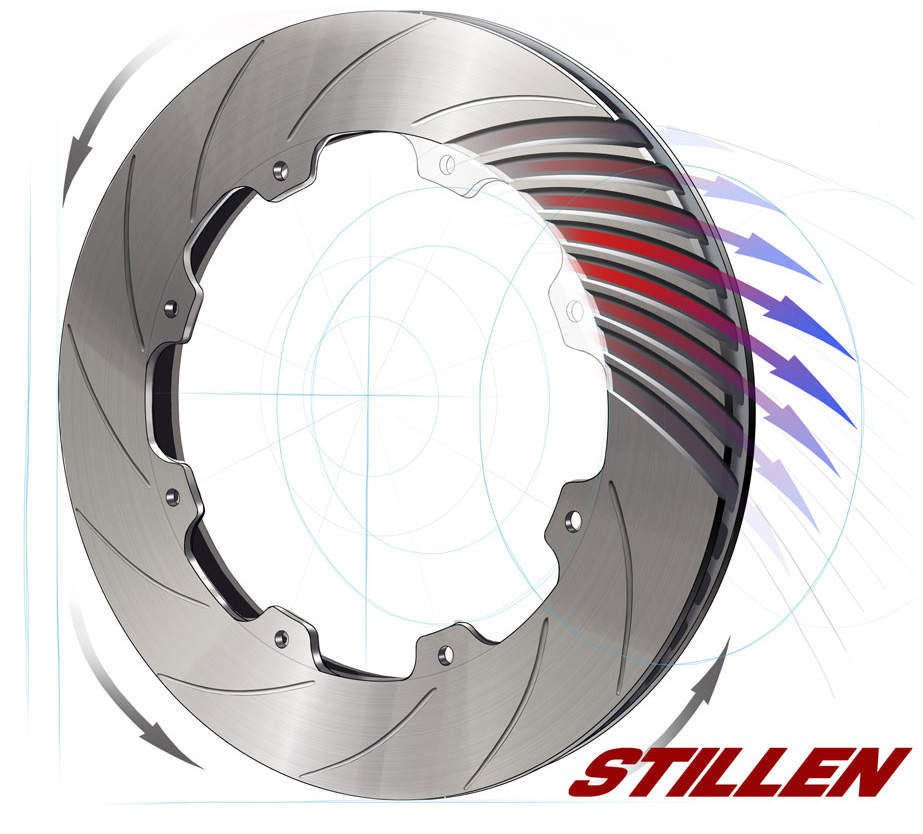 From weekend warriors to the occasional autocross 370z owners, The STILLEN 370z Brake Cooling Kit is sure to become a "must have" item.
March 16, 2012
Increase horsepower and improve gas mileage on your 2012 Infiniti M37 with Stillen's Gen 2 Dual Intake Kit.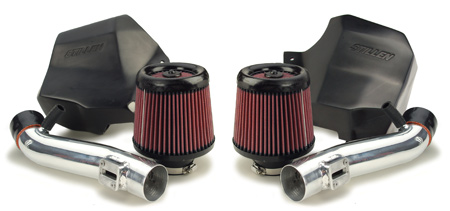 The STILLEN Infiniti M37 intake kit replaces the restrictive factory air boxes with 2 dual cone genuine K&N reusable high flow conical air filters. These filters are designed with an integral velocity stack and attach to our newly designed polished aluminum long tubes. Replacing the factory intake tubes with the STILLEN design adds additional horsepower, and a great look for the engine bay. We have also included two paint able urethane heat shields to keep the intake charge as cool as possible.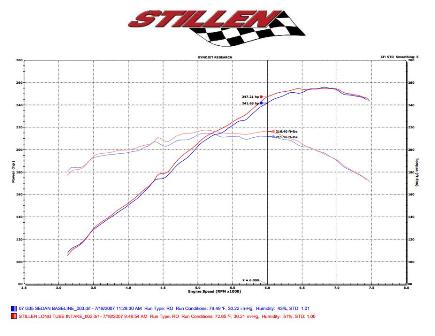 By installing just the intake kit we have seen a gain of +5 horsepower and +4lb feet of torque at the wheels on our test vehicles. Plus, you getting the added bonus of adding a little grunt to the intake sound of your M37.

For more information on the Infiniti M37 STILLEN Intake kit, click here. 
March 15, 2012
A quick snapshot of Colin setting up photos for our new R35 Nissan GTR brake options.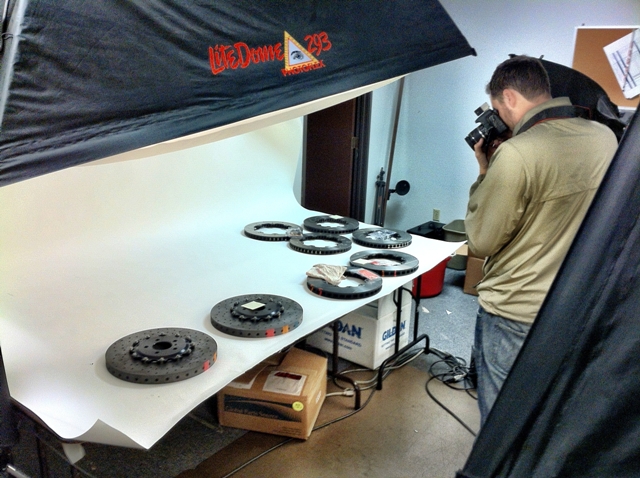 Sometimes the beauty is in the details.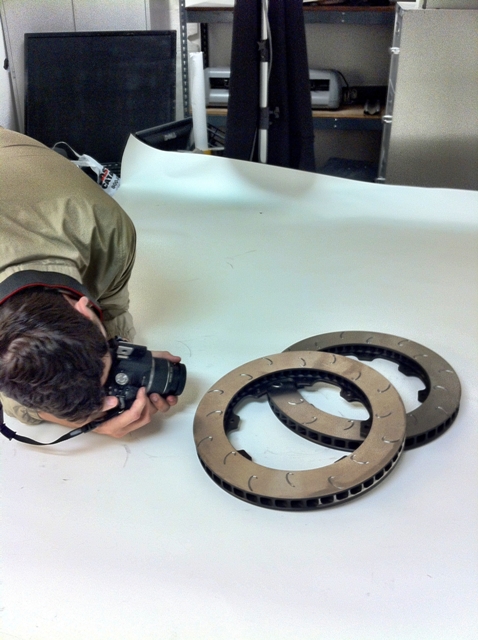 IF the standard AP / DBA rotor options just aren't enough for you, how about the holy grail of R35 GTR brake rotor options.
The new Carbon Ceramic Matrix STILLEN R35 GTR brake rotors.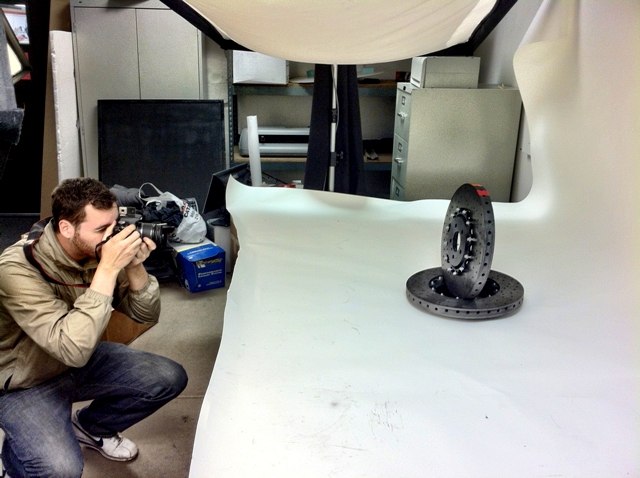 Check out more R35 GTR products on our website, and make sure to stay tuned for more  DBA, APRACING, and STILLEN braking options coming your way soon.
February 28, 2012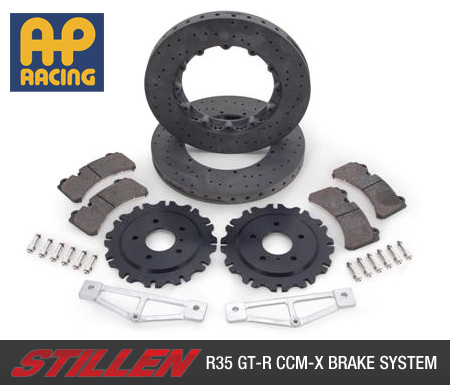 STILLEN Announces CCM-X – The next generation of Carbon-Ceramic Matrix Brakes for the Nissan R35 GT-R
The STILLEN R&D team continues to develop industry-leading performance products with long-standing technical partner AP Racing. Their hard work has resulted in the release of the next generation in Carbon-Ceramic Matrix (CCM-X) brakes for the Nissan GTR. This kit utilizes a new High Thermal Capacity (HTC) process which helps pull the heat from the CCM disc surface deeper into the 3D core to allow the discs to operate cooler through more efficient use of internal venting and air flow.
We have also homologated a new Pagid RSX1 pad material designed specifically for our new CCM-X discs for easier bedding and higher performance, these pads are ideal for use on the street and for track days.
The CCM-X disc assembly hardware has now been updated to include anti-rattle springs that still allow the full benefit of a floating disc, yet eliminates the "noise" associated with this style of disc.
During extreme performance testing at Auto Club Raceway in Fontana, CA, performing back-to-back repetitive testing runs pushing the limits of brake temperatures, the new combination of HTC CCM-X discs and Pagid RSX1 pad material reduced disc temperatures from an average of 1488F to 1346F, that's 142 degrees cooler than the previous generation CCM. These real-world tests confirmed the results of our brake dyno testing at AP Racings lab in Coventry, England.
Once found only on the world's most expensive supercars, Carbon-Ceramic Matrix (CCM) brakes have been developed for the first specifically-tuned aftermarket application – the Nissan R35 GT-R. These 400mm disc assemblies are larger than the standard OE iron discs, yet reduce weight by nearly half. This is rotating and unsprung weight, leading to improvements in all performance categories: acceleration, handling and braking.
After three decades of using carbon-carbon brakes on racing vehicles (even longer on fighter jets), AP Racing CCM discs are the next technological platform. Advancements in materials, process technologies and nanoparticle technology make it possible to use a special carbon fiber precursor along with new, patented process techniques. The unidirectional precursor is needled into a 3-Dimensional, continuous carbon fiber preform. This differs from lower cost technologies that use loose, chopped strand fibers and thin woven face plies bonded on as a friction surface. A true 3D matrix is stronger, more robust and provides longer life than the more brittle alternative. As a comparison, think quality hardwood versus particle board or MDF with a veneer.
Converting the 3D preform to carbon-carbon is done under high heat and pressure via methane cracking during a special carbon vapor infiltration (CVI) process. After initial machine work, a final conversion process results in a full matrix carbon-silicon carbide (CSiC). We call it Carbon-Ceramic Matrix, or CCM for short. The discs are then sent through the final machining, grinding, and balancing. Of course, the CCM discs are now so hard that only special diamond tooling can be used!
Who uses these ultimate CCM discs? The most up-to-date version is found on the Koenigsegg CCX and McLaren MP4-12C. And now – STILLEN and AP Racing have optimized a specific set for your R35 GT-R and its factory brake calipers.
The STILLEN-AP Racing CCM-X brake upgrade kit includes:
• Front & Rear CCM-X brake disc/hat assemblies
• Front & Rear Pagid RSX1 street & track use brake pads
• Caliper spacers
• Active brake cooling package required by Track Users (Not Shown – Sold separately and can also be used with Iron Rotors)
Note: Due to the dramatic reduction in overall mass, brake temperatures will run higher than the O.E. iron disc system given the same usage. STILLEN strongly recommends using AP Racing PRF brake fluid, one of the best high temperature fluids available. PRF is used in the most demanding Motorsports applications around the world.
Photos from Testing at Auto Club Speedway in Fontana, CA:
February 8, 2012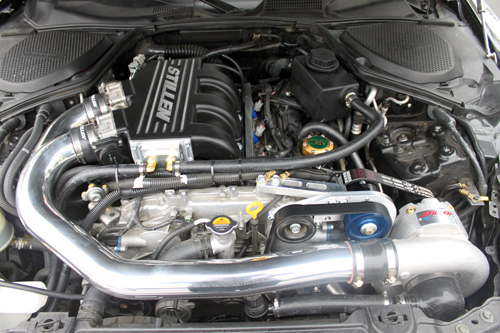 STILLEN is proud to announce the availability of the 2007-2008 350Z supercharger kit for the dual throttle body VQ35HR.
This supercharger system took over a year to develop and involves revolutionary designs to offer customers easy upgradability and installation. With this supercharger system, power is boosted to 450 horsepower (or 375whp).
Air to water intercooler: By redesigning the intake manifold we were able to incorporate the intercooler inside the manifold, thus allowing us to cool the air charge immediately before the air enters the engine. Additionally, the front mounted heat exchanger does not block the airflow supplying cool air to other vital coolers such as the radiator, engine oil cooler, transmission cooler, power steering cooler or the A/C condenser. Because water is 4 times more efficient at dissipating heat than air, we are able to utilize a more compact heat exchanger to cool the water.

** Individual results will vary based on the baseline of the stock engine, type of dynamometer used, temperature, elevation, fuel and various other factors.
September 7, 2011
For over 25 years STILLEN has been recognized as a leader in Nissan/Infiniti tuning. With a history of setting "first time" milestones in the aftermarket for these great vehicles, STILLEN has established themselves as the company to follow when it comes to Nissan and Infiniti product development. STILLEN was the first company to develop the HICAS eliminator system for the 300ZX Z32 platform. When the Z33 350Z was introduced, STILLEN was once again the leader with the first forced induction solution, as well as the first to offer CARB legality, and AGAIN the first with a 3-year/36,000 mile engine warranty.
Well, STILLEN has done it again as Team STILLEN is proud to announce the CARB approval of the Nissan 370Z (Z34) G37 Supercharger Kit.

STILLEN has not only been the first company to achieve CARB legality of a forced induction solution on the VQ37, we have also been the first company to achieve such an accomplishment while tuning through Nissan's sophisticated ECU with larger injectors. This is a major accomplishment for Team STILLEN and one that will join the many other first time landmarks STILLEN has achieved in the Nissan/Infiniti tuning world.

CARB (California Air Resources Board) is the division of the California state government that controls all aspects of air quality and standards. With standards getting stricter it is getting more and more difficult to achieve CARB legality. CARB is recognized as the toughest emissions control in the country and is therefore recognized in all 50 states as an emissions standard for all performance parts. If a performance part achieves CARB legality, it is recognized as 50-state legal.

The power the STILLEN Supercharger system delivers is dramatic, taking the factory 3.7L V6 from 332hp to over 500hp! The system is designed to work with both automatic and 6-speed vehicles, including convertible and AWD models.

The STILLEN VQ37 Supercharger features a new cast aluminum intake manifold engineered specifically for this kit, complete air-to-water intercooler system, and boost is derived from a Vortech V-3 Supercharger unit. The V-3 features a quiet V-belt design, and a self-contained oiling system for easy maintenance.

In the past year STILLEN has shipped supercharger systems around the world. Fantastic reviews and reports are coming in from:
Australia
New Zealand
Singapore
Russia
Thailand
Korea
Canada
Switzerland
Taiwan
France
Unite Arab Emirates
China
Hong Kong
United Kingdom
Not to mention all of the kits that have been installed with great success across the United States at Nissan/Infiniti dealerships and performance shops. This is a bolt-on system, capable of being installed by any qualified ASE-certified automotive performance shop, or at hundreds of Nissan and Infiniti dealerships across the country, or right here at STILLEN at our in-house install facility.
Once again, STILLEN has successfully accomplished all of its goals with another great forced induction solution for the Nissan/Infiniti vehicles.
STILLEN 3.7L Supercharger System Features Include:
Vortech V-3 Centrifugal Supercharger Unit
STILLEN purpose designed cast aluminum intake manifold with long runners for increased torque
Installs under the stock hood – No modifications needed
Complete system includes pre-assembled Vortech V-3 supercharger assembly, air intake with polished air charge pipe and genuine K&N intake filters, fuel injectors, air-to-water intercooler, UpRev ECU Tuning cable/software and detailed installation instructions.
Made in the USA
50-State Emissions Legal (E.O. Number D-436-17)
httpvh://www.youtube.com/watch?v=RRpUC72wV8M
About STILLEN
STILLEN, located in Costa Mesa, CA, is a premier manufacturer and distributor of a select line of high performance products for late model import and domestic vehicles — developed by enthusiasts for enthusiasts. Founded in 1986 by renowned professional driver and race car builder, Steve Millen, STILLEN incorporates cutting edge race proven technology and advanced aerodynamic designs into the company's proprietary performance and appearance product lines. Millen is known worldwide for achieving the greatest number of wins in IMSA GT history during the course of an impressive racing career that spans 30 years and numerous wins in series around the globe – from Le Mans to the 24 Hours of Daytona. Still family owned and operated, STILLEN branded products include exhaust systems and components, superchargers, fuel systems and components, brake kits and components, and urethane body styling products. The company's race heritage and continued participation in motorsports has added special focus on motorsports proven R&D, manufacturing processes and materials, and expert, enthusiast-based customer support, distinguishing STILLEN in the field of performance manufacturers. In addition, STILLEN is an online reseller of many high performance products for late model cars and trucks, import and domestic, and creator of unique, one-of-a-kind performance project vehicles.
August 10, 2011
Continuing in the development of body kit components for the new Camaro, STILLEN is proud to announce the availability of our newly designed Polyurethane Lip Spoiler!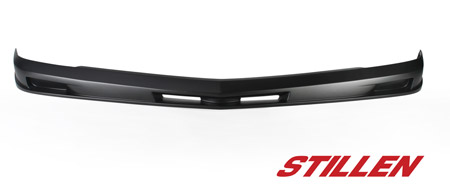 The STILLEN Camaro SS Lip Spoiler adds aggressive styling while keeping the flow and design of the new body style.  Set your Camaro apart from the rest with this bolt-on lip!
Urethane has significant benefits over fiberglass, most notably with the subtle flexibility like the OEM body, versus the rigidity found with fiberglass.
As with all STILLEN urethane body components, this lip was designed and developed at our in-house studio in Southern California. STILLEN body components come ready to prep and paint, and also include installation instructions Read more
June 1, 2011
We gave you the heads up earlier this month that we were in development of the STILLEN Protective Skid Plate for the new 2012 DBA-R35 GT-R's, and we're proud to announce that these have been completed and are now shipping!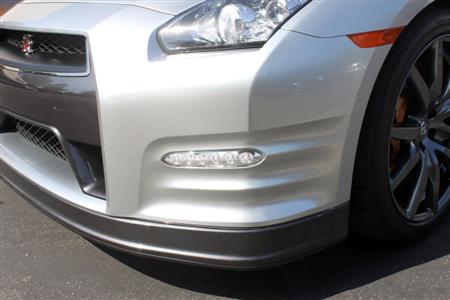 Here's the product text from the STILLEN website:
It's every GT-R owners worst nightmare, scraping the front bumper on anything from driveways, dips, speedbumps, and pulling into that parking spot with the raised curb and making contact.

.

STILLEN has developed a urethane Skid Plate which protects the OEM fascia and paint from scrapes and light bumps. This piece is specifically molded to the GT-R's front bumper, and installs with 3M automotive acrylic foam tape and self-tapping screws to the underside. Durable urethane construction ensures no cracking, and doesn't require painting, although can be color matched if desired.

.

As with all STILLEN urethane body components, these are proudly designed and made in the USA at our Costa Mesa, California facility.
May 13, 2011
STILLEN is proud to announce the availability of the VQ37 supplemental warranty for the STILLEN 500HP Supercharger System!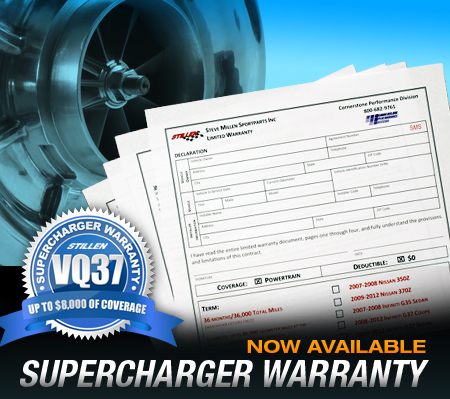 The VQ37 Supercharger supplemental warranty program is available as a 3-year/36,000 total mile term (whichever occurs first), with liability coverage of up to $8,000.  This coverage warrants engine components (including the STILLEN Supercharger), transmission and rear axle components.  The supplemental warranty is valid in the United States and Canada, has a $0 deductible, and is available for $395.
One of the biggest concerns we hear from our customers is the worry of voiding their warranty with the use of aftermarket parts, and we've outlined some information in previous posts regarding this subject, and with the combination of an engine/drivetrain warranty, can give solid piece of mind.
For more information, please contact your STILLEN representative at 866-250-5542.