February 13, 2014
After extensive research into the articulating Jeep Wrangler lift kit options on the market and over a year of rigorous development ReadyLIFT has come to market with the best answer for the off-road Jeep driver, whether a rock-crawler, sand-runner or anywhere in between. No question that the ReadyLIFT Max Flex Jeep Wrangler Lift Kit is the BEST kit on the market to get you over, around and through the toughest terrain on the planet!!!
Not Convinced Yet?
Watch this true life video of product development done right:

Features of the ReadyLift 49-6407 Jeep Wrangler Lift Kit:
You've seen the possibilities you can unlock with the ReadyLIFT's Max Flex Jeep Wrangler lift kit, let's talk about some of the specs a bit, because this bolt on kit is no other Jeep Wrangler lift kit on the market today and offers features and benefits that are unsurpassed:
Tough powder-coat of black and silver
Kits Come With the Original Currie Johnny Joint which is fully serviceable and coated in their own element-defying zinc plating finish
4″ Front Lift
3″ Rear Lift
Lifts Provided by Progressive Wound Coil Springs
Provide Maximum Articulation with No Binding or Limitations
1-2/3″ – 5/16″ Heavy Duty DOM Tube Steel Control Arms
3/16″ Plate Steel Rear Track Bar Bracket (to correct your roll center and bushing alignment)
Fits up to 38″ Tires on 4.5″ Backspacing Wheels
Fits 2 and 4-door Wranglers, including the Unlimited and Rubicon
Designed and manufactured in the USA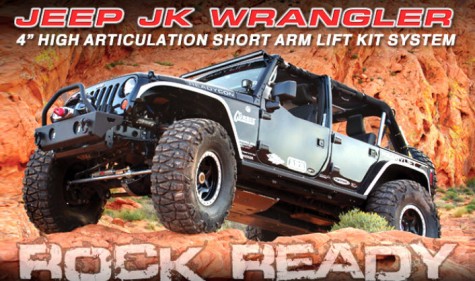 To complete your kit and take your Wrangler out to conquer all you see, the addition of longer shocks is required and are sold separately. Grab your ReadyLIFT 99-6400F front shocks for 4″ front lift and ReadyLift 99-6400R rear shocks for 3″ rear lift. ReadyLIFT tested these shocks in MOAB and ran them relentlessly on the street to prove they are the best shocks for a 4/3″ lift.
Contact Us:
For more ideas on how to customize your Jeep Wrangler, visit www.STILLEN.com or our experts a call at 866-250-5542 and we will be happy to help you. We also feature a full service Jeep performance shop that specializes in installing lift kits, exhausts and more!
February 4, 2014
STILLEN is pleased to announce the release of our new website, www.apradical.com featuring information on our brand new line of AP Racing Radi-CAL Big Brake Kits by STILLEN.  The micro-site has been designed with the user in mind with user-friendly navigation, bold colors, stunning photography as well a contemporary design. The newly designed Web site went live January 31st, 2014.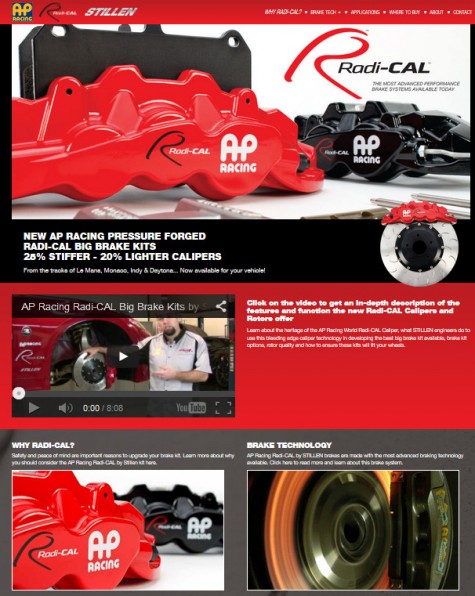 Design, Functionality, Technical Information & More
The site has been broken down into several sections that clearly highlight the different features, functionality, applications and technical information on the kits. It features expanded content and streaming media including an in-depth video filmed in the STILLEN performance garage. Also included is an "About Us" page that provides information on both of the major companies involved in the production of these big brake kits, AP Racing and STILLEN, as well as an applications page in which every viewer can see the list of vehicles this braking system is available for.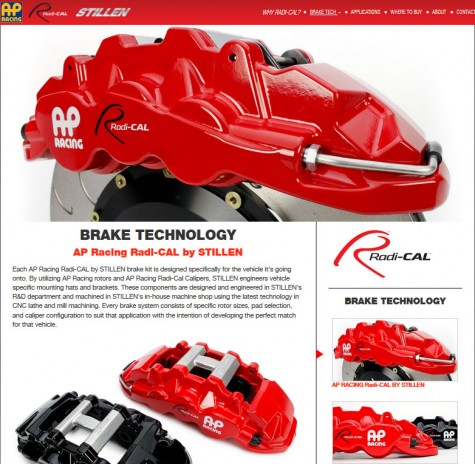 The apradical.com site aims to extend its reach to a broad audience of brake professionals, enthusiasts and wholesalers. Online visitors will now experience a more vibrant and seamless view of the entire Radi-CAL Big Brake Kit system with photography showing the calipers and discs in fine detail.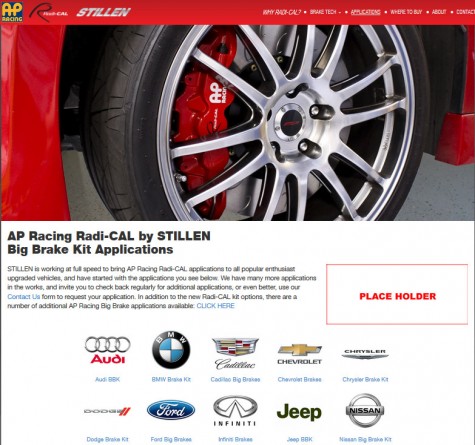 In addition to the huge catalog of beautiful photography, the micro-site showcases pages of technical information our customers have been asking for since we released these brakes at SEMA last year. The site has been organized to provide quick and direct access to all of these resources for all audiences.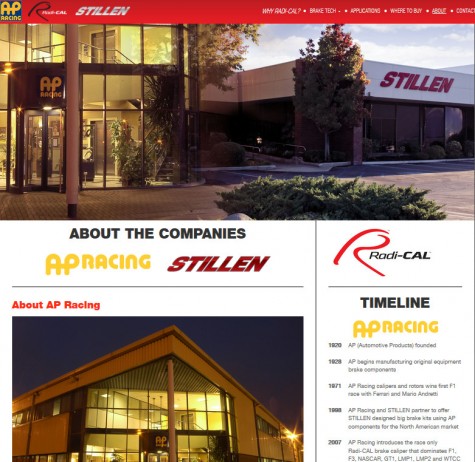 AP Racing Radi-CAL BY STILLEN Informational Video
Learn More About AP Racing Radi-CAL by STILLEN
For more information about the AP Racing Radi-CAL brake kit by STILLEN and to read our full white paper on the Radi-CAL, please visit our website or call us at 800-576-2120 and we will be happy to answer any questions you have! Be sure to check back regularly for information on new applications and to check out new images and reviews from our happy customers!
January 30, 2014
Take your 2013-2014 Sentra to the next level with a new STILLEN stainless steel axle back exhaust. Just released, this exhaust system for the Sentra is some of the finest work the STILLEN R&D has produced to date. It offers mandrel bent piping, a polished stainless steel wall tip and 304 stainless steel construction. With these high quality materials and expert manufacturing, it's easy to see why we're proud of it.
Like other STILLEN exhausts, this rear section exhaust for 2013-2014 Nissan Sentras boasts an aggressive tone under hard acceleration to add a little kick to your drive!
A Long Friendship: Nissan & STILLEN
With over 25 years' experience installing and developing Nissan aftermarket parts, you can trust that the STILLEN team of experts with your Sentra. Every one of our exhaust systems are meticulously engineered and crafted by our research & development team  at our automotive campus in Costa Mesa, California. Every exhaust that we develop is tested time and time again until we got an unsurpassed level of the perfect sound and performance.
Features & Benefits of the 2013-2014 Sentra Axle Back Exhaust by STILLEN
304 stainless steel mufflers & tip for added durability and a long life
Backed by a manufacturer's limited lifetime warranty
Mandrel bent piping for a smooth flow and fuel mileage gains at cruising speeds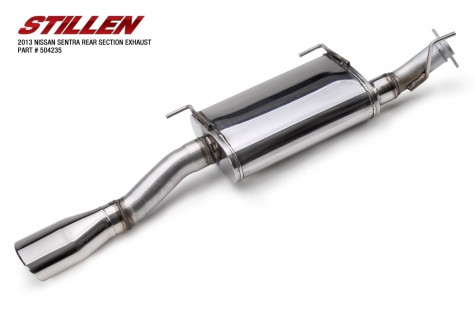 If you're interested in this Nissan Sentra axle back exhaust, please visit our website at STILLEN.com, or call us at 866-250-5542 and we will be happy to help you. We also offer rear section exhaust installations at our full service auto shop in Costa Mesa, California that specializes in both Nissan & Infiniti installations.
January 23, 2014
Eibach has been a trusted vendor with STILLEN for over 25 years having created many products needed to meet the extreme requirements of racing, from the 245-mph Mulsanne straight of Le Mans to the fender-to-fender combat of the Daytona Motor Speedway.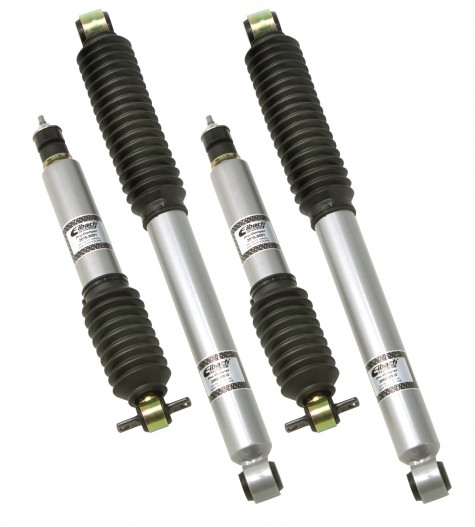 The chassis of a production vehicle is designed to be built at a minimum cost, and suited for an "average driver". We enthusiasts, however, are anything but average. We know what we want from a vehicle. We want immediate response, reduced body roll, increased stability and enhanced cornering ability. And we want the look that comes with those characteristics-a lower, more muscular, more athletic stance.
The special skills of Eibach engineers are in the tuning of the individual components (springs, dampers and stabilizers) to achieve the best possible harmony between the driver, the automobile and the road. As a driver you immediately feel more direct handling and greater predictability. Nose dive under braking is reduced, as well as excessive body roll in hard cornering. In any performance driving situation, tracking stability-and driver confidence-is greatly enhanced.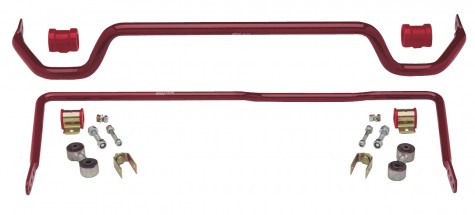 Eibach production technology is recognized worldwide as leading its field. This company is know for high-strength spring-steel alloys, advanced CNC winding process, high-quality corrosion protection and the legendary longevity of their components.
The entire process, from initial development to final shipping, is subject to a rigid Quality Control System that is certified by the highest ISO 9001:2000 international quality standard. In fact, Eibach operates in accordance to its own, often more rigid, specifications. When you see the Eibach logo on a part, you can be sure that it is of the highest possible quality.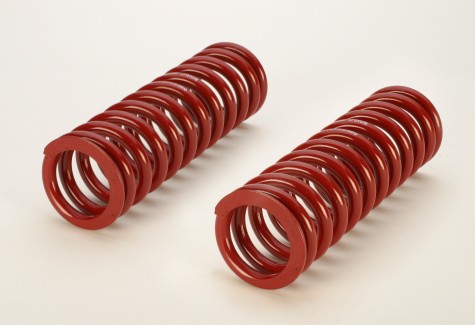 Eibach springs have supported innumerable race and championship winners over the last two decades. In series as different as Formula 1 and NASCAR, the winning factor is often chassis setup and tuning. When everybody has comparable power, the guy who wins is the guy who can put that power to the ground-and maintain his momentum through the corners. The list of Eibach partners reads like "Who's Who" in Motor Sports: AMG, Audi, BMW, Ferrari, Ford, Honda, Lamborghini, Lola, MazdaSpeed, Mitsubishi, Nissan, Subaru, Porsche, Renault F-1, Toyota, and many, many more.
Whether you're talking about F1, NASCAR, WRC, CART or Indy Car, Eibach regards Motor Sports as the ideal proving ground. The experience Eibach gains at the highest levels of racing is directly converted into their development of the highest-grade chassis components on the planet. And the enthusiasm created by the challenges of motor sports drives them to ever-higher performance-performance that you will enjoy every time you pull out of the pits-or your own garage.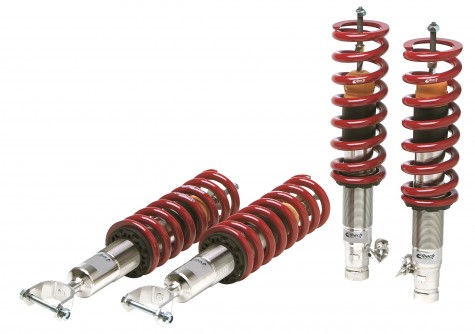 To speak with an expert and find out more about our full line of Eibach products, give us a call at (866) 250-5542. You can also visit STILLEN.com and check out the entire range of we Eibach products offer. To schedule anything from a routine maintenance to a full-scale build, visit the Orange County Performance Shop site and make your appointment.
January 22, 2014
Break out of the ordinary and take your new 2008-2014 Nissa Altima to the next level with a new STILLEN Stainless Steel Cat-Back exhaust. Just released, these exhaust systems for the Altima are the pride of the STILLEN R&D team. With mandrel bent piping, dual wall tips made of polished stainless steel and a 304 stainless steel construction, it's easy to see why.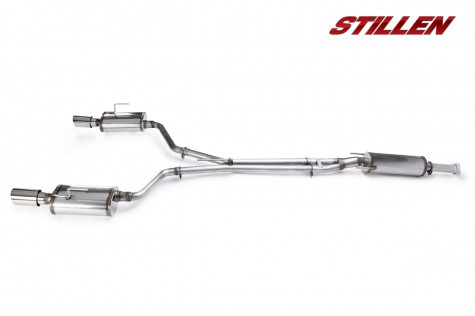 STILLEN's Nissan Altima Exhaust Systems aren't just built for looks or sound, but are built for power. Power that you can feel while driving! With this exhaust system, you are sure to enjoy the power band with a big gain on top. Additionally, mileage gains during highway travel can be expected as you cruise at steady speeds.
You're sure to enjoy this STILLEN exhaust for Nissan Altima for many years. It features aluminized performance mufflers or stainless steel free flowing mufflers for long life. Plus, this system boasts the perfect fit and finish for the Nissan Altima!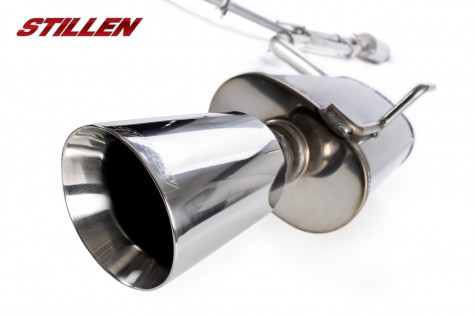 Finally, the improved airflow created by addition of the 2014 Nissan Altima cat-back exhaust is verified by the significant dyno HP increase. If you want to go faster, make your engine more efficient and enjoy a better sounding exhaust, adding the STILLEN Exhaust to your Nissan Altima is a must.
Please note: Actual product may vary slightly from image.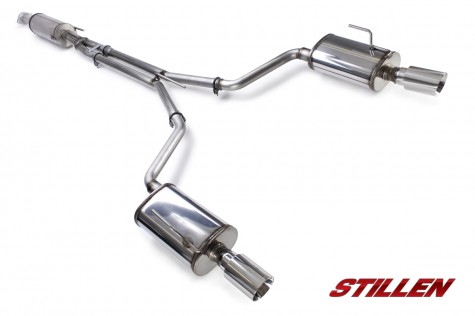 Features & Benefits of the Nissan Altima Exhaust by STILLEN:
Complete Cat-Back Exhaust System
Stainless Steel Construction
Polished Stainless Tips, End Pipes and Mufflers
Increase of Horsepower and Torque
Mild at Idle/Cruising – Aggressive Note Under Throttle
Limited Lifetime Warranty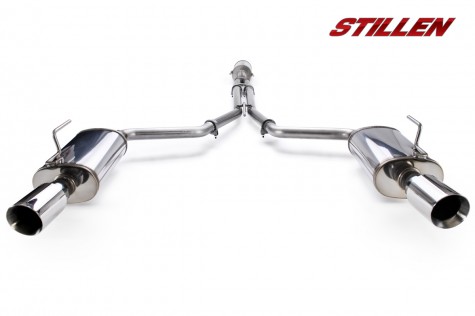 Stock Exhaust vs. STILLEN Exhaust – Hear the Difference:
This full cat-back exhaust boasts the sound STILLEN exhausts are known for with an aggressive tone under hard acceleration to add a little bite to your drive. Watch the video below to hear the difference between the Altima stock exhaust and the STILLEN
STILLEN & Nissan – A Long & Lasting Relationship:
The relationship between STILLEN and Nissan has been a long and successful venture. With over 25 years' experience installing and developing Nissan aftermarket parts, you can trust that the STILLEN team with your Altima. Each exhaust system is meticulously engineered and crafted by our research & development at our facility in Costa Mesa, California and is tested time and time again until we get the perfect sound and performance.
Have Questions? Contact Us!
If you have any questions about this exhaust or any of our other products, please contact us! We will be happy to help you and offer recommendations based on your vehicle and needs. You can reach our Nissan performance part experts at 866-250-5542.
We also carry a variety of stainless steel Altima exhaust systems including Altima cat-back exhaust and Altima axle back exhaust systems. If you are looking to have some work done on your Nissan or Infiniti car, truck or SUV, be sure to check out the STILLEN performance shop in Costa Mesa, CA.  We offer a wide variety of services including brake installations, builds, alignments, dyno tuning and more!