August 12, 2010
After months of testing and road racing, STILLEN is proud to announce the availability of the first Active Brake Cooling Package made specifically for the R35 Nissan GT-R.  This kit has been shown to reduce rotor temperature on the AP Racing Carbon Ceramic Brake Upgrade by over 200 degrees F, and is also extremely effective for those running standard OEM Iron, or the AP Racing Curved Vane Rotor Upgrades.
GT-R Front Active Brake Cooling System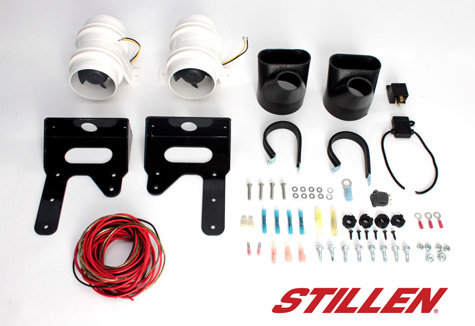 The front cooling kit consists of weather resistant electric fans, polyurethane air diversion splitter, all appropriate mounting brackets, and includes a wiring kit as well as a switch. Read more
August 10, 2010
We recently worked with Truckin' Magazine on some high speed brake testing, putting the AP Racing BBK designed by STILLEN to the ultimate test at El Toro Marine Base.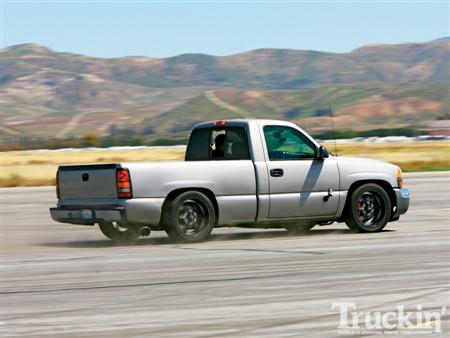 Truckin' editor Dan Ward pushed their 2004 GMC Sierra "Project Novakane" to the limit with repeated 80-0 mph stops beginning with the factory setup, swapped brake systems, and repeated the aggressive testing on the truck after outfitting the AP Racing setup onto the truck. Read more
May 24, 2010
News Release
FOR IMMEDIATE RELEASE
STILLEN OFFERS NEW AP RACING
2008-2010 BMW M3 (E9x)
FRONT AND REAR BIG BRAKE KITS
Features innovative Strap Drive System for road and track day applications
Costa Mesa, Calif. – AP Racing, the braking technology choice of professional race teams worldwide (including Rahal Letterman IMSA ALMS GT2 M3, BMW Motorsports FIA GT2 M3, etc), has introduced front and rear Big Brake System for the 2008-2010 BMW M3 (E9x). Available from the Brake Pros product division of STILLEN, these new brake upgrades fit most 18″ and 19″ OE wheels. They are compatible with OE ABS, traction control, stability systems and factory brake master cylinder. Read more
April 3, 2010
Recently we lauched the press release and information regarding the STILLEN 3.7L Supercharger for the Nissan 370Z and Infiniti G37, along with some video of track testing and data logging as we put the supercharger through it's paces in a demanding environment.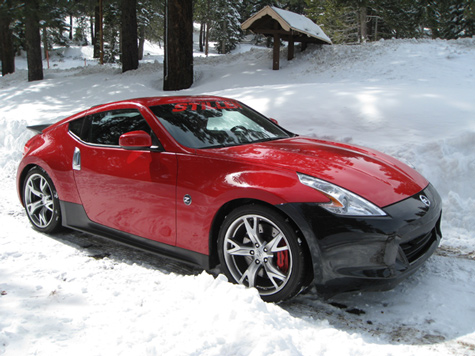 Our testing doesn't stop there.  Steve Millen personally has been putting thousands of miles on the STILLEN 370Z in all types of environments, altitudes, deserts, long trips through surrounding states, and earlier this week spent some time in the snow and cold for some cold weather endurance testing, including freezing temperatures, cold starts below freezing, etc. Read more
March 18, 2010
News Release
FOR IMMEDIATE RELEASE
March 18, 2010
STILLEN Introduces 500+HP Supercharger System for Nissan 370Z / Infiniti G37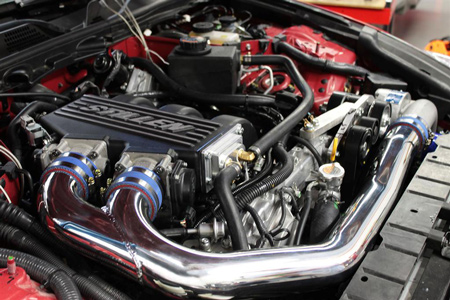 (Costa Mesa – CA) – After more than a year of development and testing, Steve Millen Sportparts (STILLEN) is proud to announce the release of the STILLEN Supercharger System for the Nissan 370Z and Infiniti G37 with the 3.7L VQ37 engine.
This complete bolt-on kit includes everything needed to increase the factory 332 horsepower to a tire shredding 500+ horsepower on 91 octane pump fuel! Read more
February 15, 2010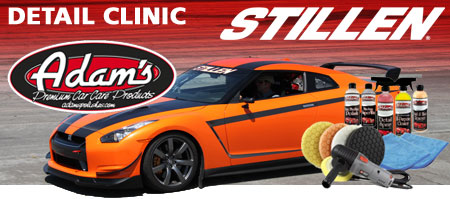 STILLEN had a Detail Clinic with Adam's Polish and it was a beautiful sunny day, perfect for a good car detail.  People where out in full force to see Dylan and Ashley from Adam's demo the full product line they have to offer.  The coffee was flowing and donuts being consumed as Dylan was explaining the importance of proper detailing techniques.
Everything you ever needed to know about detailing was explained, waxing to even the correct towels to use. Participants were even given the opportunity to roll up their sleeves and get down and dirty with the clay bar to help get their rides the ultimate mirror smooth finish.  The day concluded with a Q&A session where customer could ask specific car detailing question and even had Dylan work on there own personal cars!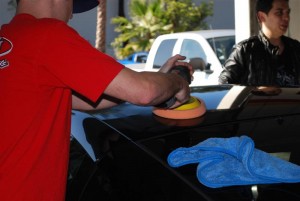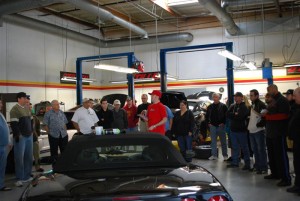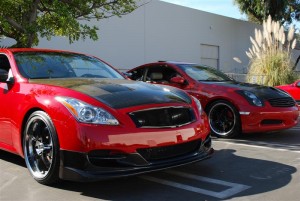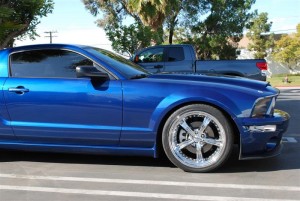 Thanks to everyone who came out that morning it was a huge success and we at STILLEN plan to have events like this In March!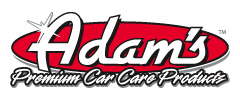 January 16, 2010
In the last update post we showed the new Intake Manifold and discussed the function of the Air-to-Water Intercooler System.  Heres some more details on the design of the Intake Manifold and the engineering behind the STILLEN VQ37 Supercharger System.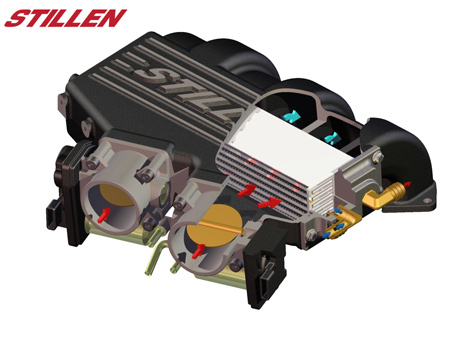 As you can see we have relocated the throttle bodies to one side of the intake manifold.  There are several reasons for this: Read more
January 16, 2010
After the decision was made to go with the Vortech Centrifugal Supercharger, work began on developing the kit.  The engineers spent hours under the hood of our project G37 Coupe taking measurements, test fitting parts, and checking the tight clearances to see where they could put all of the necessary components.  The new VQ37 has a very unique and challenging dual throttle body intake design.  The STILLEN engineers have had great success with making big power off this design and a perfect example of that are the Generation 3 Intakes which offer up to 18 horsepower!  However, the supercharger was going to require some creative thinking and once again, the engineers have pulled it off!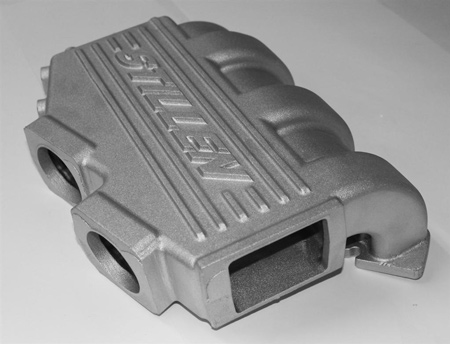 Here are some pictures of the STILLEN-designed intake manifold done with our 3D CAD software, and some of the new aluminum castings just received before final machining: Read more
January 12, 2010
Join us Saturday, January 16th at STILLEN as we host the first BIG Detail Clinic of 2010!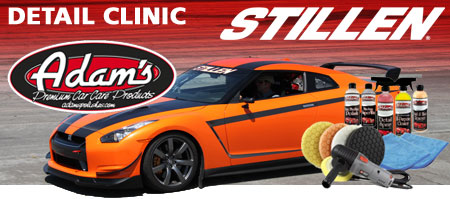 STILLEN relies on Adam's Polishes to keep all of our show cars looking the way they were meant to be, and we're opening up the shop to give our customers an up-close look at these detailing products in action. 
Adam's experts will be on hand, demoing Adam's most popular products, new detailing tools and accessories, and giving you first hand advice for getting the absolute best shine possible. Plus, there will be one-day-only special savings and FREE Adams's samples for all that attend.  Read more
January 8, 2010
STILLEN is proud to announce we are nearing completion for the Nissan 370Z / Infiniti G37 Supercharger System. As we approach production, we will be updating the progress as frequently as possible on our blog. We'll start with the concept, and some insight into the development process.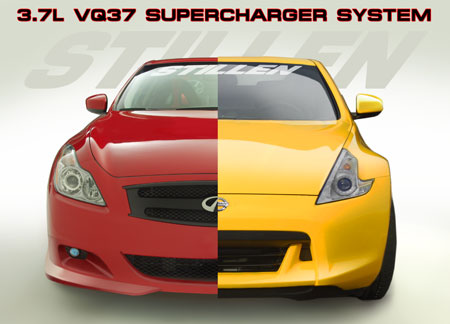 This 3.7L supercharger development began in late 2008 and moved steadily through 2009.  We had a bit of a delay in the development while the STILLEN R35 GT-R was prepared for Targa Newfoundland, but after that car was completed it was back to business on the supercharger!  We have just started the new year in 2010 and we are excited to say the supercharger is nearly finished!  Here is a re-cap on our development and some of the engineering that went into making this kit come to life! Read more