May 14, 2012
Last week, we briefly touched on the STILLEN equipped GT-R's that signed up for this year's ONE LAP OF AMERICA. Needless to say, we were really excited to see how things would shake up for 2012. All weekend long, I was glued to blogs and twitter feed's (shout out to The Smoking Tire for keeping me updated all weekend long) that were broadcasting the highlights of the race and after all the dust settled the STILLEN equipped GT-R's took spots 1 and 2 on the SSGT1 Big Bore podium.
Last year's winner TOP SPEED MOTORSPORTS ran our AP RACING J-HOOK rotors and STILLEN sway bars during their 2011 campaign. They were more than happy with the performance level of those products last year, so they decided to go with the "if it ain't broke than don't fix it" formula for 2012. Our J-hook rotors and sway bars combined with the rest of the products on the vehicle plus some skilled driving secured them another victory this year.
Nipping at the heels of TOPSPEED MOTORSPORTS all weekend were the guys from SPEED CONCEPTS. Featuring our AP RACING J-HOOK rotors and STILLEN sway bars, along with Password JDM widebody front fenders they made some pretty serious changes for 2012. Combine those parts with the skills of Tyson Timperley, and Todd Treffert behind the wheel and you have a formula for a second place victory.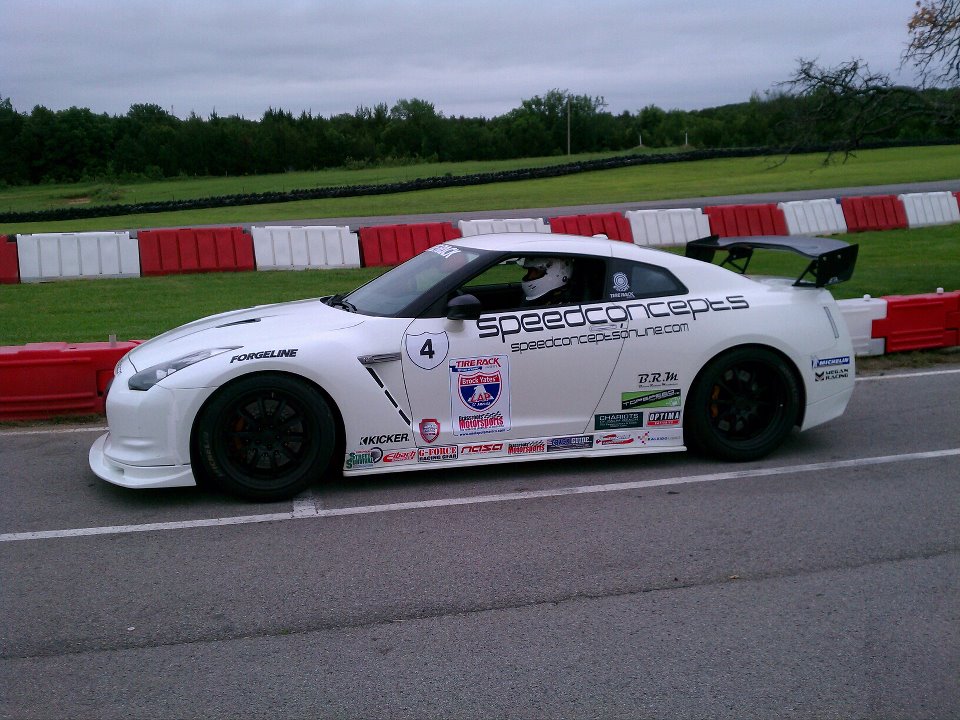 We congratulate both teams on their 1, 2, victories and can't wait to see what these guys have in store for next year.
GOOD LUCK GUYS!!
May 3, 2012
Remember a week ago when we told about those crazy Russian dudes from DRAGTIMES.info who race the best of the best in a standing mile for bragging rights? Well we stumbled upon a video from those guys today that is nothing less than amazing.
Like we mentioned earlier, these guys frequently take their GTR's up to speeds well over 170mph. Slowing a 3800 lb car from those speed's time after time will undoubtedly wreak havoc on the stock Brembo rotors and pads. It turns out, our R35 GTR Carbon Ceramic Matrix brake kit is a very popular option among these guys, because of their resistance to brake fade and warpage.  Watch the video below and you will understand why :).
(Note: Did any else notice the "rocket booster" mod on the GTR at the 3:04 mark of the video?)
April 18, 2012
Dealing with fast car's all day long rarely gets boring, but sometimes the luster of seeing a "dream" car like a GTR simply just parked in our parking lot day after day can wear off. Thankfully some of our customers in Russia like to put their GTR's through their paces. They also like to challenge their buddies with some other dream machines while doing so.
If you haven't heard of DRAGTIMES-IFO, make sure you cruise over to their YouTube page and subscribe immediately! Their goal is to bring you the best Racing videos from Moscow, and their video of the UNLIM 500+ races are simply awe inspiring. That race is automotive greatness at its best.  Six categories of vehicles from the Italian, German, American, British and Japanese automotive industry all with a MANDATORY horsepower MINIMUM of 500+ are all competing to see who can post up the fastest standing mile time.  Lucky for us, those cars need a way to scrub off such immense speed numbers and that's where our GTR Carbon Ceramic Matrix rotors come in.
These rotors represent the best of the best braking technology and are available for one of the best cars on the road today. As it turn's out, they are very popular with the guys who regularly compete in the UNLIM 500+ series.  I'm sure you can imagine how quickly stock brakes can get warped when consistently stopping a car from 150+ mph, because of the CCM-X's rotors ability to run 140 degrees cooler than the stock setup up, they are less prone to warping.  Check out the vid below for some jaw dropping standing mile action courtesy of DRAGTIMES-IFO.
April 9, 2012
Before we dive directly into the crazy action that went down this Saturday in Long Beach, I'd like to first thanks John P and everyone over at Formula D for accomodating us with press passes for the event. We had a wonderful time and we are already stoked for the next one.  Secondly, I'd like to say it's amazing to see how much the sport has grown over the past six years. Cars are getting faster and faster (even with the new tire size rules) and drivers keep pushing the limits of their vehicles I can't wait to see how much farther Formula Drift will go before the end of this season.
Our day at the Streets of Long Beach started rather early which gave us a good amount of time to get some test shots in and walk around the event before the mayhem ensued.
Our first destination was the car show area presented by FATLACE / SLAMMED SOCIETY because we wanted to check out as many cars as we could before too many people got in the way.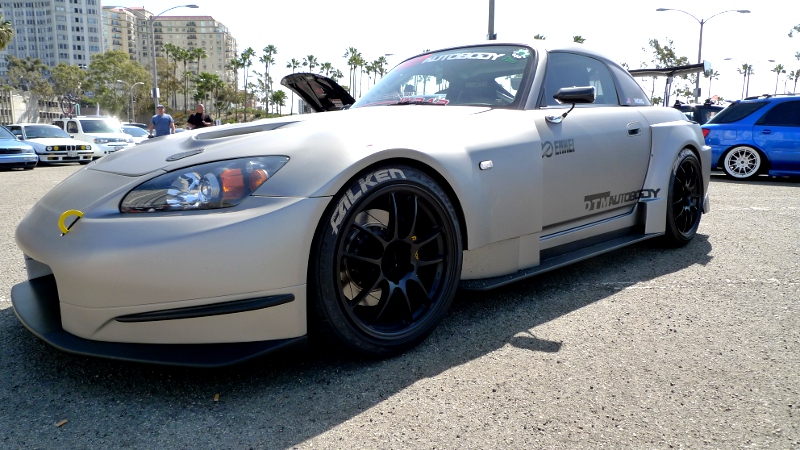 As soon as we crossed the bridge to the car show area, we noticed a beautiful widebody s2000 that happened to be running some serious AP RACING brakes.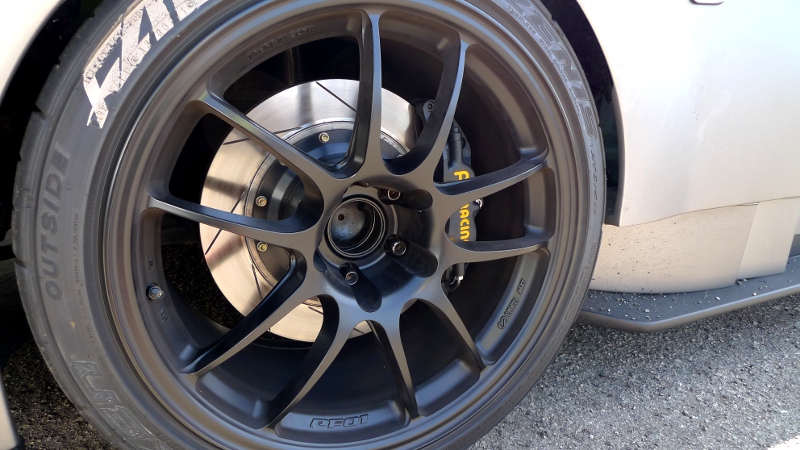 It's very hard to beat that set up in terms of looks and performance. I especially love the road debris still stuck on the sideskirts from the drive in.
After we were done drooling over the widebody glory we noticed a very clean 350z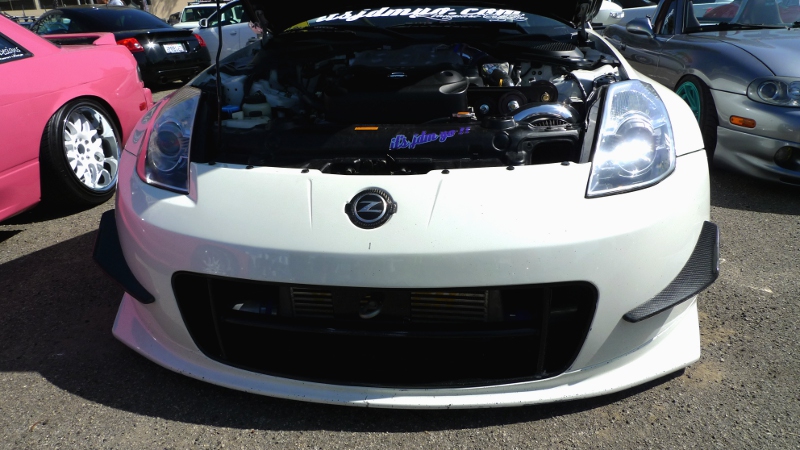 The "It'sJDMYO 350z was running an equally as clean Supercharger set up that was tucked in the engine bay very well.
Right in front of the Supercharged Z was a fine example of what happens when you combine the best of two world's when it comes to car design.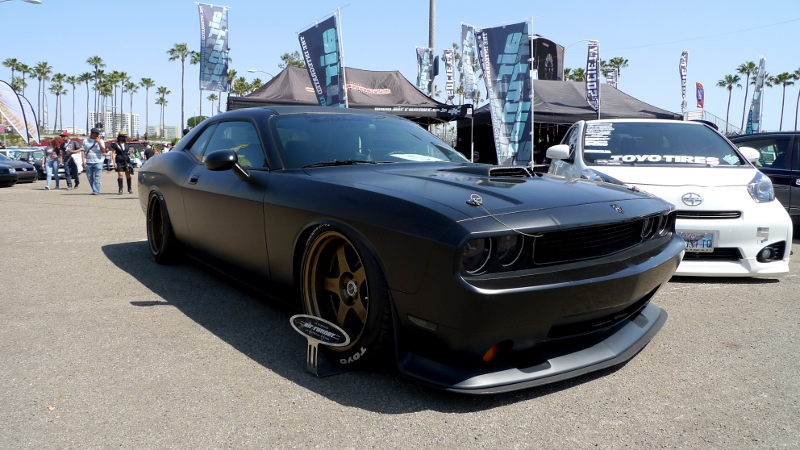 American muscle plus Japanese flavor make for a very clean and mean set up courtesy of JonSibal and Dodge.
After we walked our way through the car show, we noticed something you don't see at too many car shows and we were extremely stoked to see it.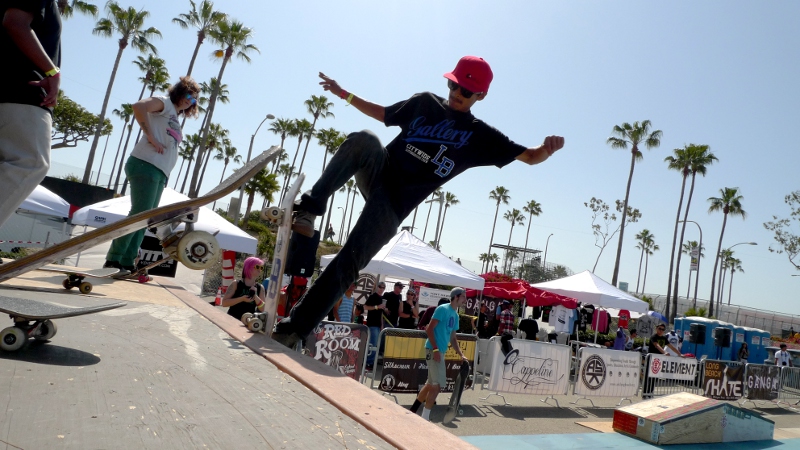 A sectioned off skate area that had everything from mini ramps to ledges to fun boxes made for some unexpected action. I almost ran to the car to grab my Psycho Stick and join in on the action until I saw this guy bust a Tail Blunt to varial and kill all my confidence.

There were some AMAZING cars on display that day and there were some cars that made us wonder if the owner just entered the car show for a good parking spot.  After we were done geeking out over show cars we directed our attention and lenses to some practice sessions.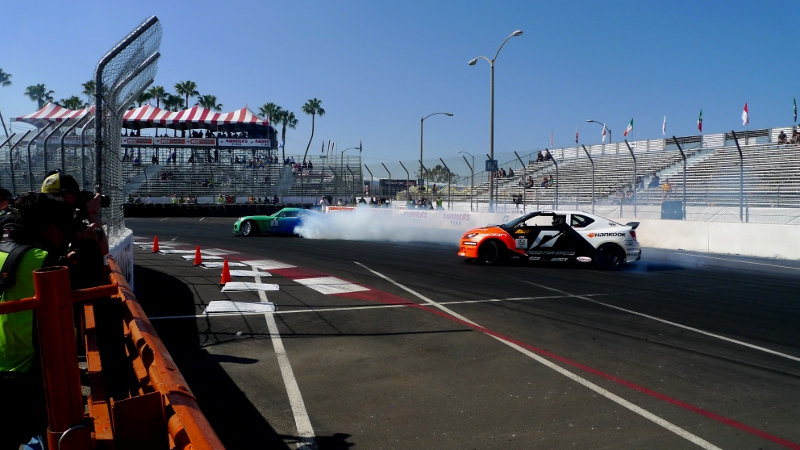 As you could see the guys were wasting no time getting used to the track before qualifying sessions started and the crowds showed up. Darren Macnamara and Frederick Asbo were going hard all day long.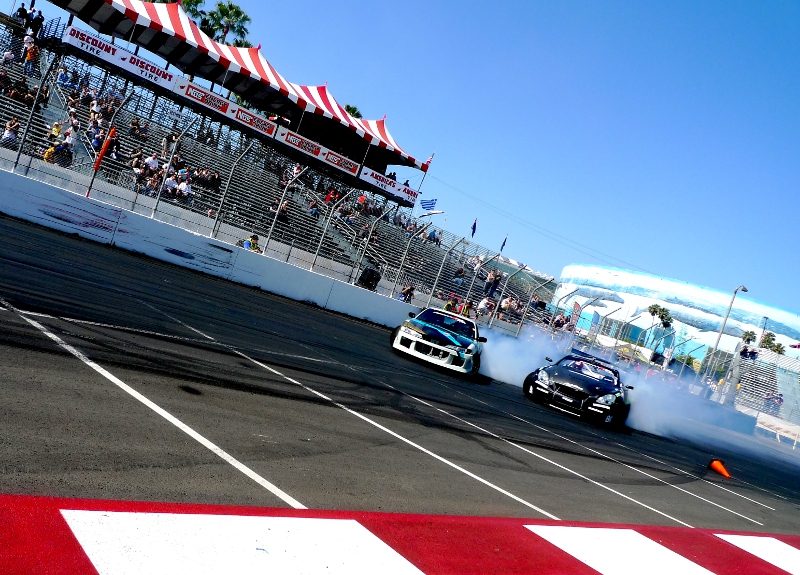 Everyone's favorite new kid on the Block Daigo Saito was getting used to the car, the track, and judging his gaps all at the same time in a few of his first outings in his new car.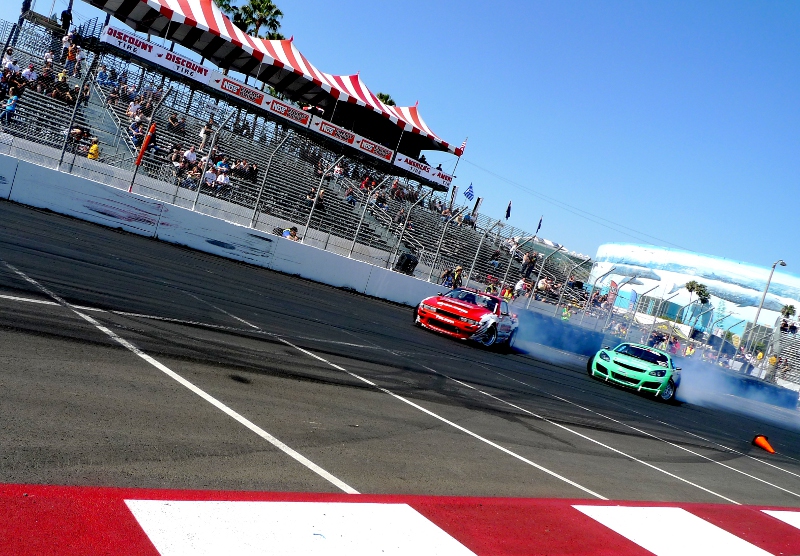 Saito wasn't the only Japanese Driver laying down some heat early in the day. Daijiro Yoshihara was getting himself warmed up for qualifications as well.
After we were done watching the crazy practice sessions, we took it as a good opportunity to walk the rest of the midway and grab some lunch.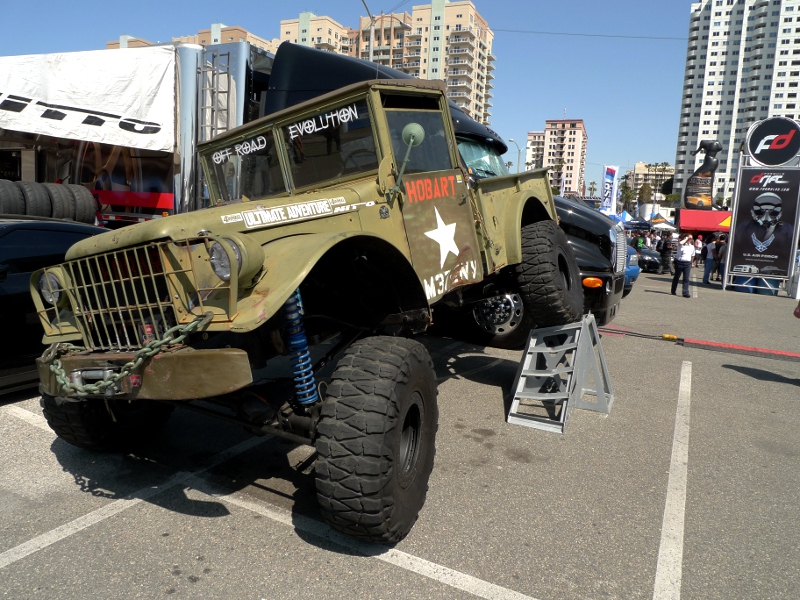 Ever get sick of driving in traffic on your way to work? Why not just drive OVER it?
After we were done stuffing our faces and getting some refuge from the sun, it was time to announce the top 16 drivers.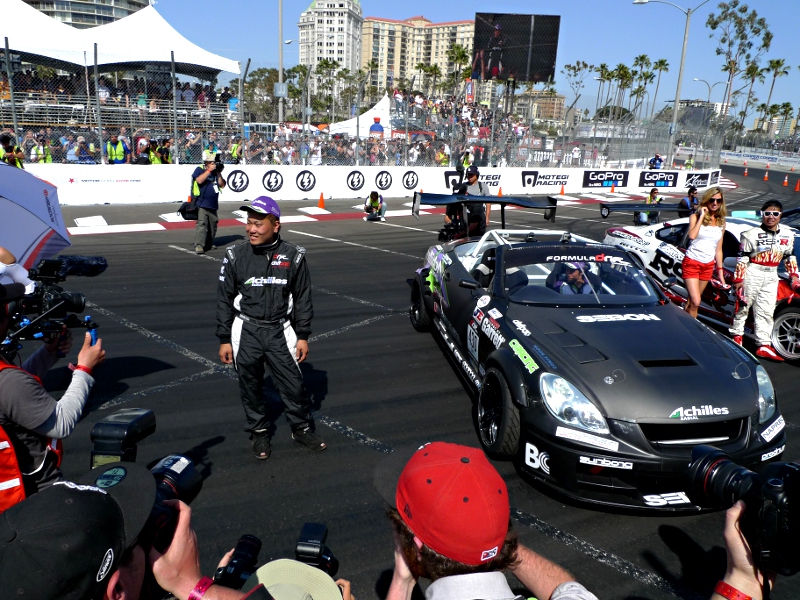 Everyone's favorite new kid in town Daigo Saito was getting a lot of attention before it was time for him to strut his stuff.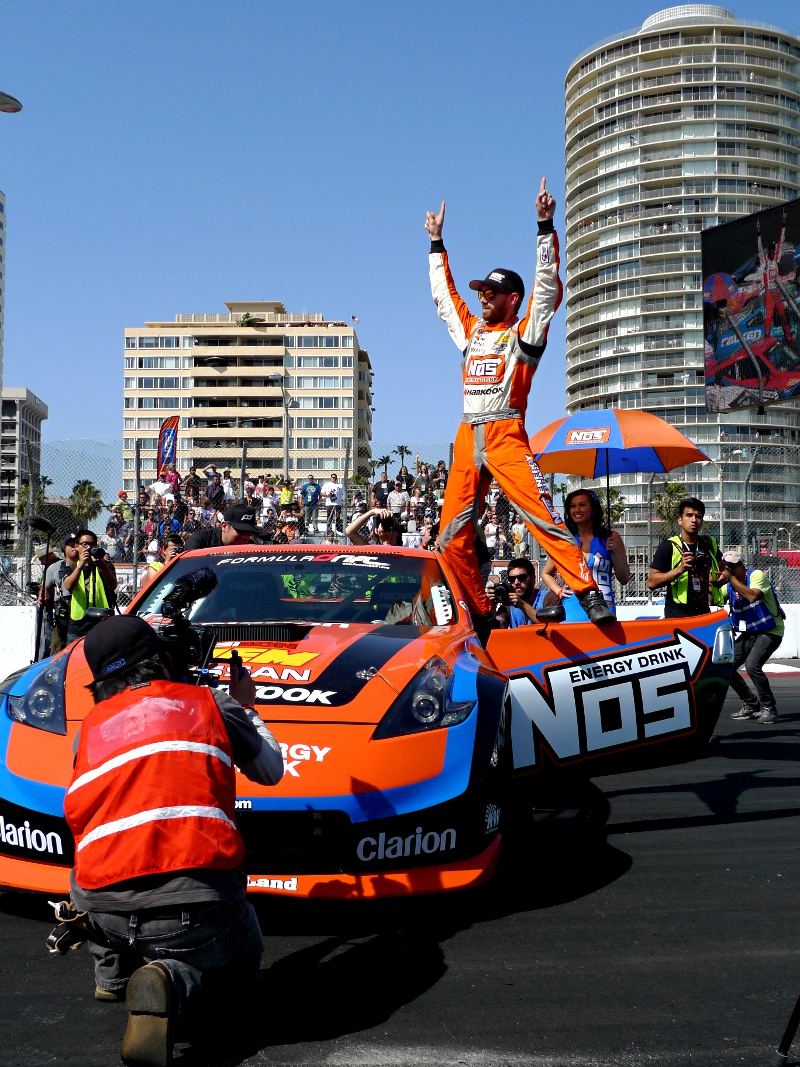 Chris Forsberg was quite literally taking his driving to a whole new level for the top 16 round.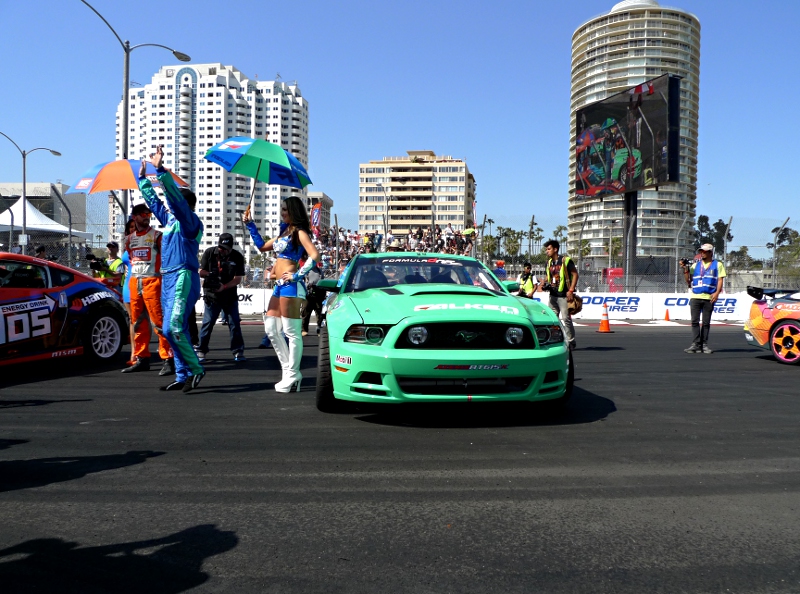 SPOILER ALERT!!: Justin Pawlak was looking to repeat his success in 2011….. He ended up achieving that goal and taking home the W.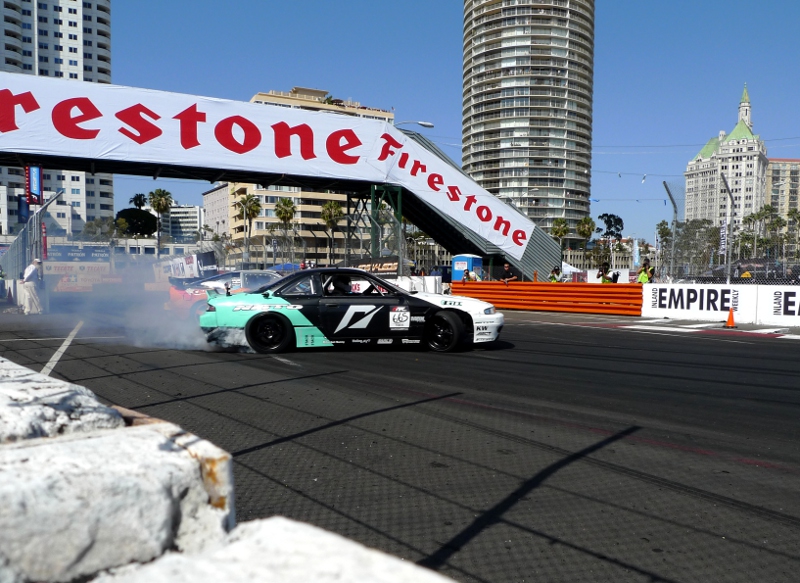 Matt Powers was also looking to repeat last year's results. He gave it his all against number one qualifier Ryan Tuerck and he ended up securing himself 4th place for the weekend.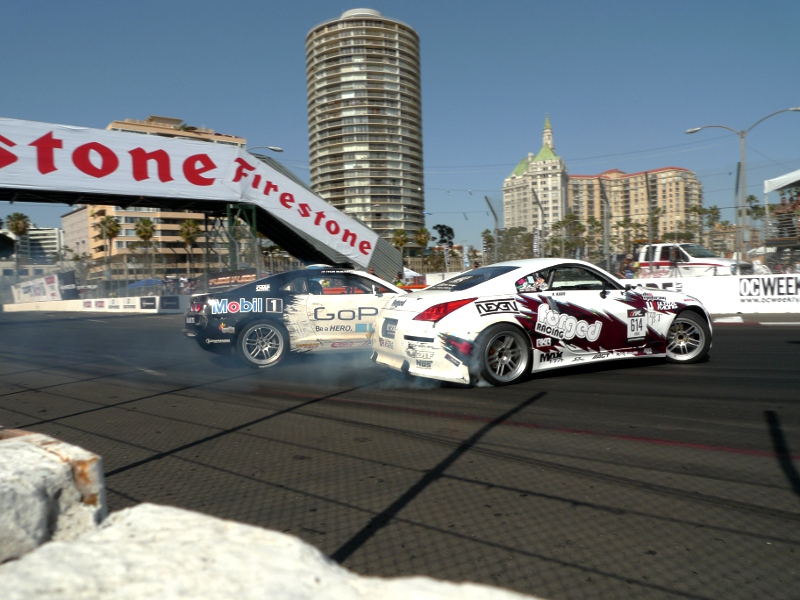 Tyler McQuarrie can just about drive the pants off anything and judging by the insanely small gap between him and Ryan Kado I'd say he was wearing his not afraid pants that day.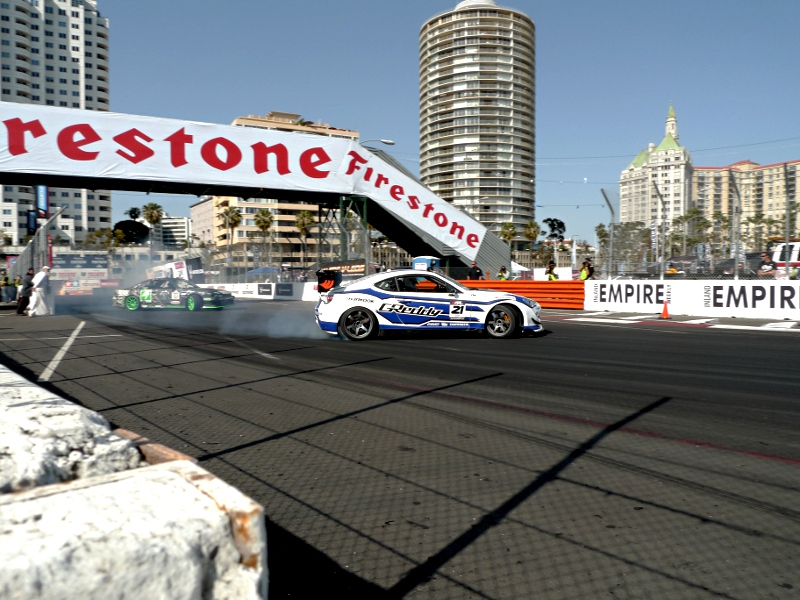 Ken Gushi was showing off what the new GREDDY built FT86 could do, and it was looking great all weekend.
After all that was said and done with, the 2012 Long Beach Formula Drift podium ended up shaping up like this.
1ST JUSTIN PAWLAK
2ND DAIJIRO YOSHIHARA
3RD DAIGO SAITO
We are extremely excited to see how the rest of the season shapes up and we can't wait to see our products in action for the rest of the year.
March 29, 2012
It's safe to say that we are firm believers in the "Form follows function" principal, all the parts we put our name on serve a purpose OTHER than just looking good. Our 370z front bumper is a testament to that. Not only did we want to make sure that it would channel air to crucial areas of the vehicle (As every front bumper SHOULD do) we also wanted to make sure that it looked good while doing it's job.  We feet as though we combined the two very well with this bumper and apparently so does Tiago's Drifthobby drift team.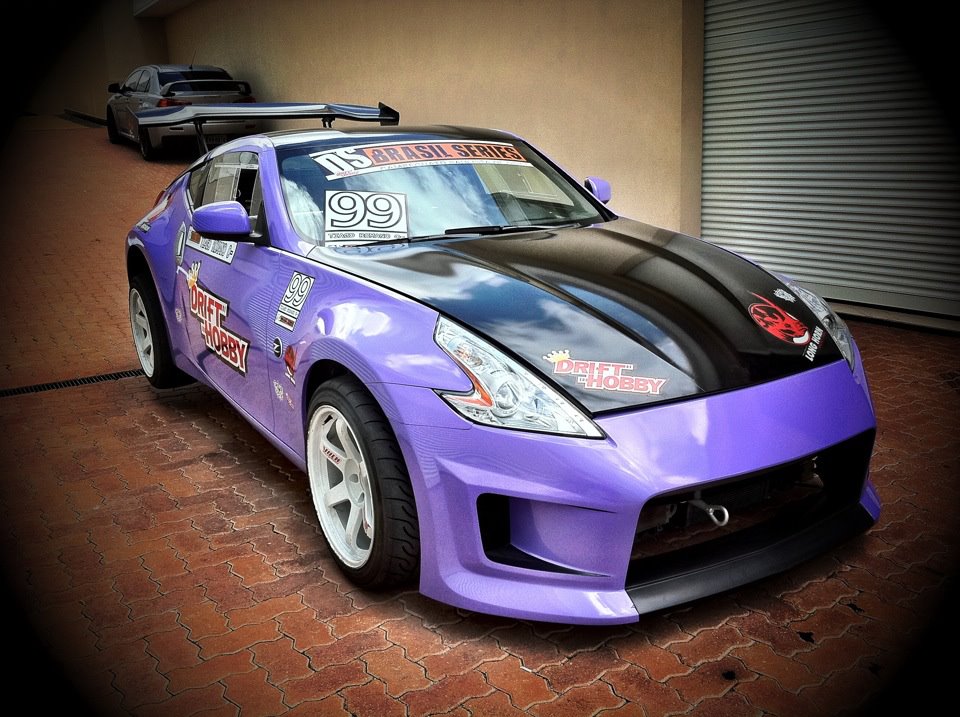 It actually looks pretty good in purple don't you think?
Well if a picture isn't enough for you, check out the quick video these guys put together of this car in action…