May 2, 2012
It's the middle of the week and our Performance Center is operating on all cylinders today, excuse the horrible pun please.  We have a car in just about every department getting the attention they deserve.
Aaron is taking car of a G35 on the dyno, and releasing some reliable torque and horsepower by way of an UP REV tune.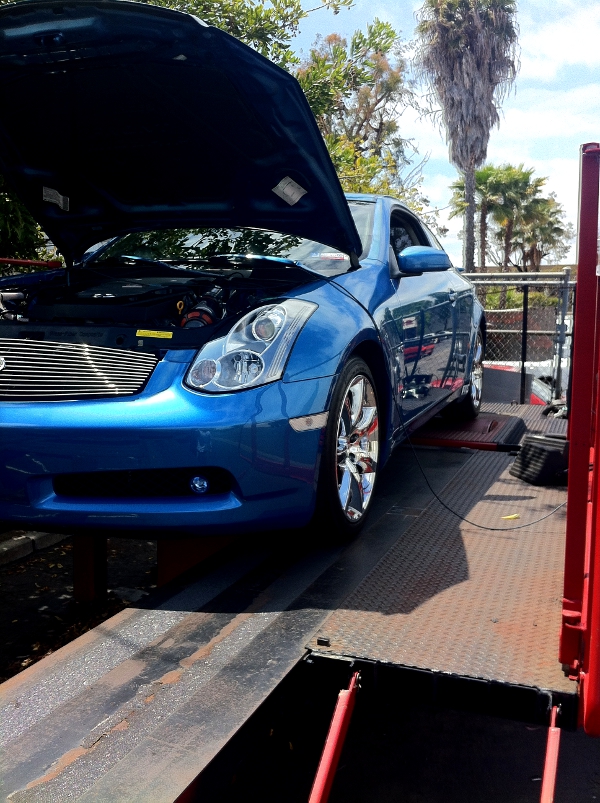 We have a twin pair of FORD GT's getting some suspension love by way of PENSKE coilovers and alignment.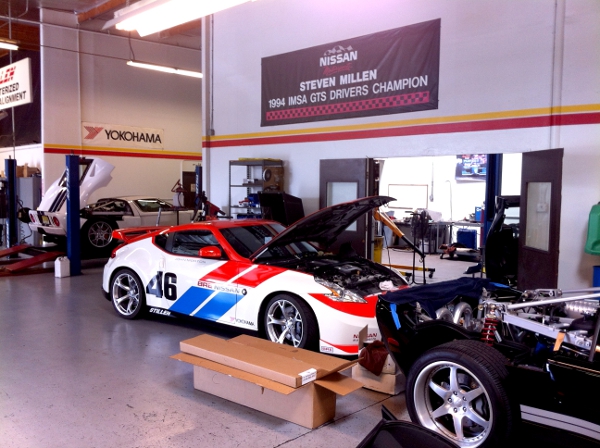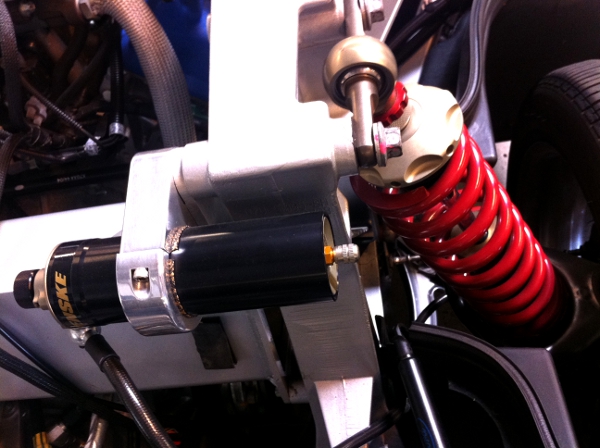 Not only do we have one gorgeous 370z in the shop but we have two, getting some routine maintenance done…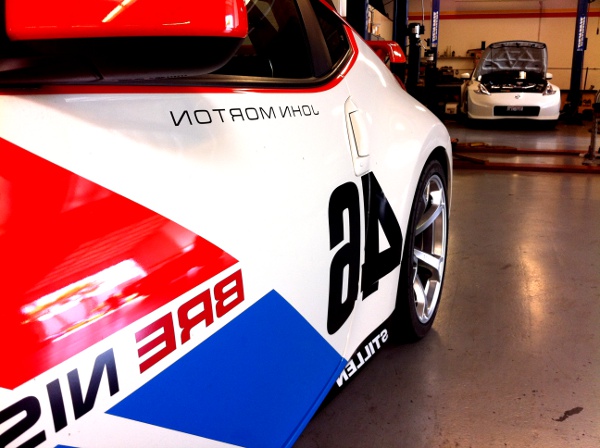 As you can see, the guys in the Performance Center have had a very busy day, but that's not to say we don't have time for new projects here at STILLEN. Make sure you give us a call if you need anything done, from oil changes to custom builds, these guys quite literally do it all.
STILLEN Performance Center
(866) 250-5542
April 27, 2012
Hooraaaaaaaay we made the cover of IMPORT TUNER!!! Well sort of, we actually made the cover of IMPORTTUNER.COM. Today, or 4/26/12, (depending on when you read this) Import Tuner put our 370z Power Pages feature on the homepage of their website.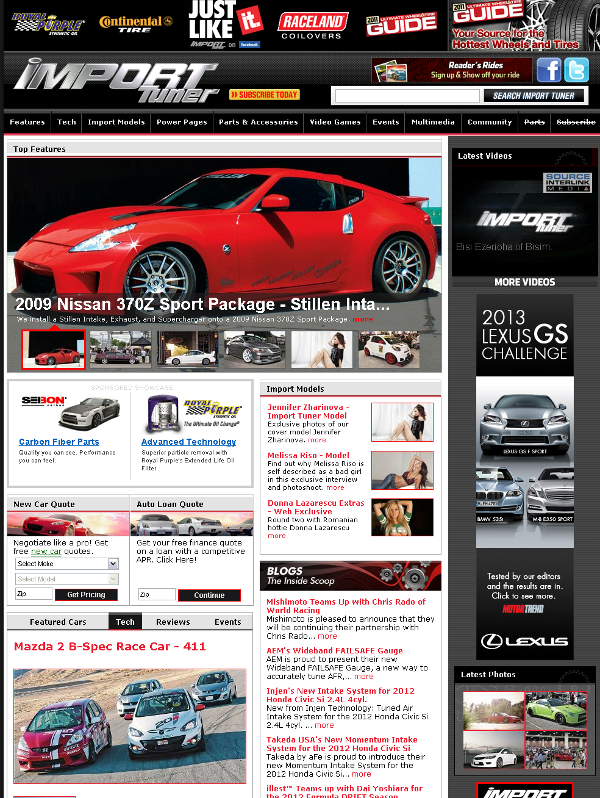 As we have stated before in earlier blog entries, the NISSAN 370Z is a very good car straight out of the box, and it takes quite a bit of patience and finess to squeeze extra ponies out of the VQ37. That being said, adding the wrong Intakes or exhausts can actually rob that car of some horsepower, so to answer the troves of people on the forums asking us how much power our 370z products make… check out the Power Pages Article here..
http://www.importtuner.com/powerpages/
SPOILER ALERT!!!! With some mild tuning we managed to squeeze and extra 139 HP out of the venerable 370z with just 3 PARTS!!!! … That's just like throwing an extra honda civic in the engine bay of your 370z but without any of the weight.
We accomplished this with the following:
STILLEN 370Z GEN3 LONG TUBE INTAKE
STILLEN 370Z INTERCOOLED SUPERCHARGER
I guess 3 really is the magic number after all

April 27, 2012
April 26, 2012
Since we do have a special running our AP RACING products this month, I figured it would be fitting to give you 4 more reasons why AP RACING should be your first choice when it comes to Big Brake upgrades for your car.
Two year's ago, ROAD AND TRACK magazine featured an article that immediately struck a chord with me and I still read that article to this day. They compared the fasted production cars on the road (at that time) vs. their ALMS beefed up twins. What made this article so interesting to me is that the cars in the ALMS (American Le Mans) field are completely based off their production siblings. The ALMS cars use the same motors, drivetrain, and body parts as their street car siblings that come off the assembly line, just much more beefed up. In fact, some of the racecars actually have LESS horsepower than their street ready siblings, go figure.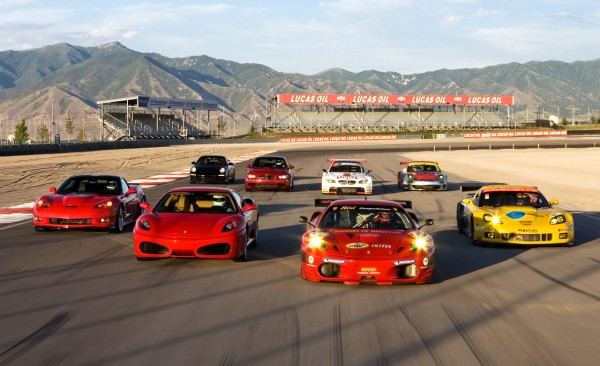 Because the ALMS cars are restricted to use the factory drivetrain layouts, and body componenets (plus some aero components) as their street siblings, you can imagine how competitive this series can be. In order to gain an advantage on the guy next to you, you have to make sure your car uses the highest quality components in every area possible. Every part of the car has to perform at the highest level and this includes the brakes. I was shocked to see that 4 out of the 5 ALMS cars tested dumped their factory big brake options and ran AP RACING.
First up we will start with Team BMW…
The AP RACING big brake upgrade is actually a very popular upgrade with BMW enthusiasts who frequently track their vehicles.
Next up, we have Ferrari… yes Ferrari! The F430 GTC Michelloto team opted to ditch their factory Brembo option and go with an AP RACING J-Hook upgrade.
Ferrari weren't the only guys who opted to ditch Brembo for some
AP RACING goodies
…. Porsche also followed that tried and true formula.
Lastly, we have the extremely competitive Team Corvette…
IF you noticed the lack of a big
AP RACING
sticker on the side of these cars don't be alarmed. That just suggests that these teams ACTUALLY paid for their brake set up and didn't get persuaded into running something inferior in hopes of a kick back for a sticker placement.  If those aren't 4 big reasons why you should consider
AP RACING
as your first choice for
big brakes
, I'll leave you with this….  Since Formula 1′s inception in 1967 AP RACING has tallied up over 228 wins with cars running their brakes.  (That's at least 5 wins a year since the beginning of Formula 1)
If you have any questions regarding applications for your specific vehicle, feel free to give us a call at anytime.
(800) 891-1058
April 20, 2012
April 19, 2012
The connection with STILLEN and anything NISSAN is extremely obvious, but many people aren't aware that we also can help many other nameplates reach their peak power potentials.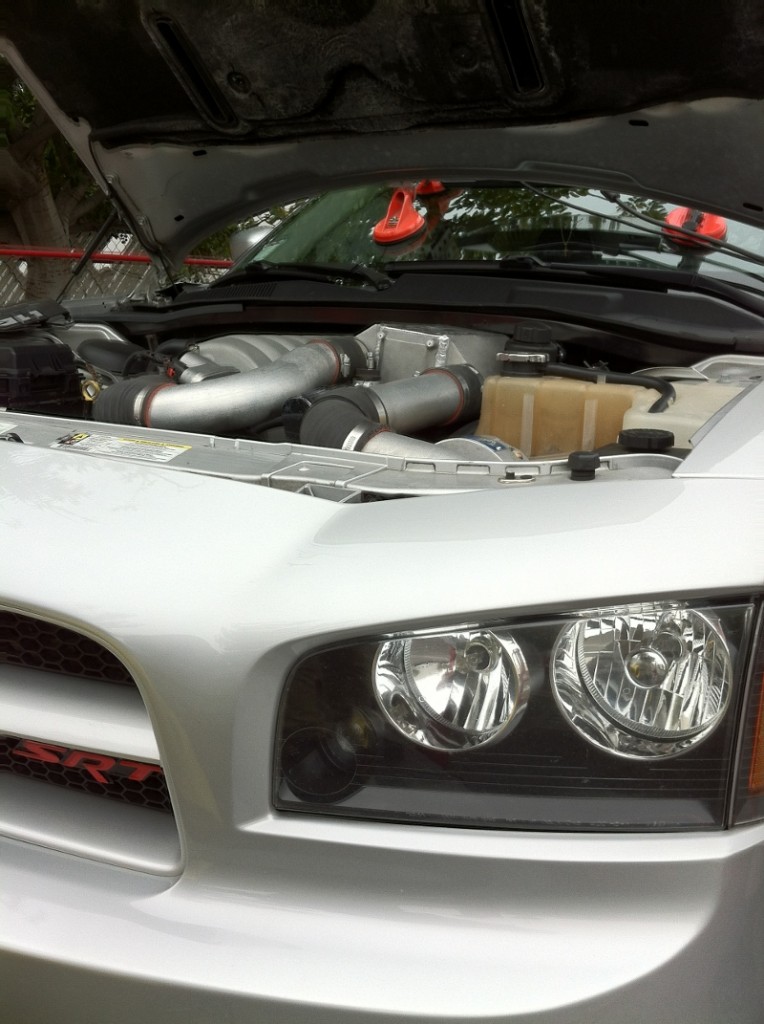 In the case of this 2011 SRT8 Dodge Charger, the customer just wasn't happy with the factory performance levels, he turned to us to help him build a very mean machine. With the help of our Performance Department, we addressed as many areas in the engine as we could that would fit into our customers budget.  He told us he wanted to make some serious power figures with his Vortech supercharger kit, and instead of just slapping a big pulley on there and calling it a day. We did what any respectable shop would do and started with the basics.
First, we installed forged pistons and rods in order to handle the larger volume of air in the cylinders. Then we of course, added larger injectors and upgraded the fuel pump to provide the engine with plenty of fuel for safety. In order to keep things flowing properly, we then ported and polished the head and made sure to beef up the hardware holding everything together. After all the known weaknesses in the engine were addressed we installed the Vortech Supercharger and gave the customer a smaller pulley, raising his boost to 7lbs.  With all that serious engine work done, the customer opted to go for the more smog friendly route and installed some high flowing cats and a cat back exhaust.
After everything was bolted back together, it was time to get some baseline dyno runs and begin the tuning process to keep everything working in harmony.
While I can't release the final numbers just yet, I will leave you with a quick vid of the Mopar beast laying down some serious power on our dyno….  I apologize for the quality of the video (shot with my iPhone) but it most definitely get's the point across.
All you MOPAR fans make sure you get yourselves acquainted with our Performance Center as soon as you can. We got you covered.
April 18, 2012
Dealing with fast car's all day long rarely gets boring, but sometimes the luster of seeing a "dream" car like a GTR simply just parked in our parking lot day after day can wear off. Thankfully some of our customers in Russia like to put their GTR's through their paces. They also like to challenge their buddies with some other dream machines while doing so.
If you haven't heard of DRAGTIMES-IFO, make sure you cruise over to their YouTube page and subscribe immediately! Their goal is to bring you the best Racing videos from Moscow, and their video of the UNLIM 500+ races are simply awe inspiring. That race is automotive greatness at its best.  Six categories of vehicles from the Italian, German, American, British and Japanese automotive industry all with a MANDATORY horsepower MINIMUM of 500+ are all competing to see who can post up the fastest standing mile time.  Lucky for us, those cars need a way to scrub off such immense speed numbers and that's where our GTR Carbon Ceramic Matrix rotors come in.
These rotors represent the best of the best braking technology and are available for one of the best cars on the road today. As it turn's out, they are very popular with the guys who regularly compete in the UNLIM 500+ series.  I'm sure you can imagine how quickly stock brakes can get warped when consistently stopping a car from 150+ mph, because of the CCM-X's rotors ability to run 140 degrees cooler than the stock setup up, they are less prone to warping.  Check out the vid below for some jaw dropping standing mile action courtesy of DRAGTIMES-IFO.
April 13, 2012
April 12, 2012
The 2012 Nissan Altima fresh from the factory is already a pretty good looking coupe. It pays homage to its Z big brothers and at the same time has a lot of character of its own. We wanted to keep that character in mind when we were developed our NISSAN ALTIMA STILLEN FRONT LIP. We felt like we accomplished this pretty well, but when we found out this morning that 66MVP was outfitting their ALTIMA's in their showroom with our LIP KIT we were ecstatic!!! Needless to say, we took this as a HUUUUGE compliment.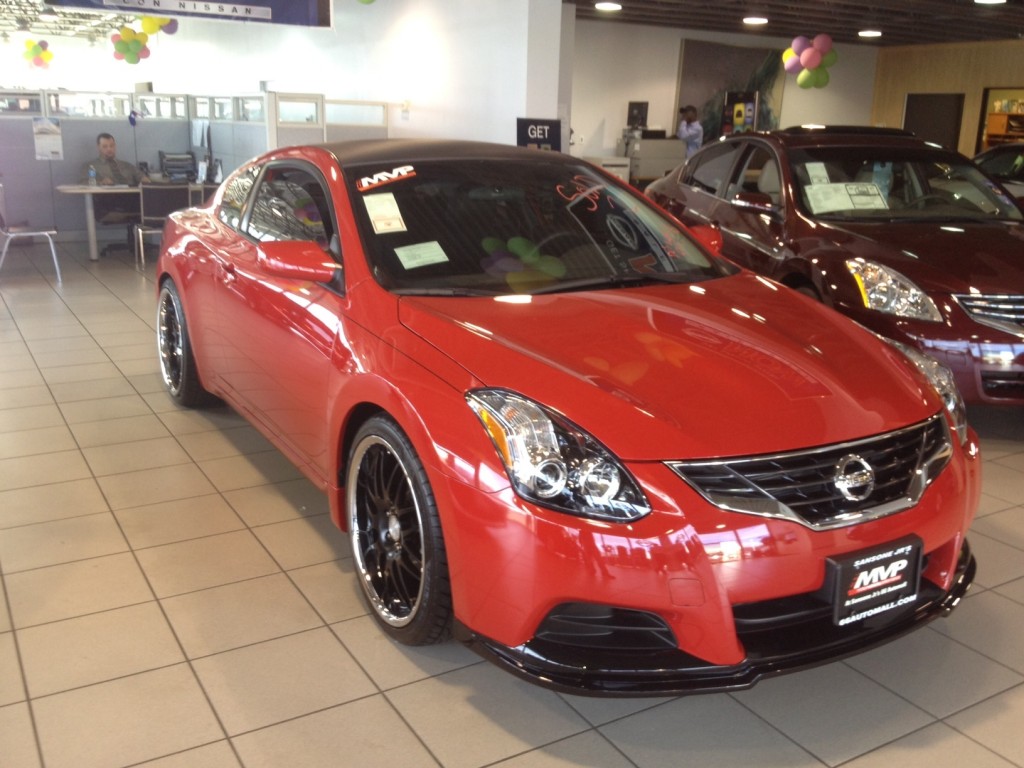 As you can see from the picture above, the STILLEN equipped ALTIMA coupe looks classy and mean at the same time.
If you happen to be in the New Jersey area, make sure you pay the boys over at 66AUTOMALL a visit. Not only do they have a wide selection of new and pre-owned NISSAN's, KIA's, and SUZUKI's to choose from but they also happen to have a very one of a kind GTR for sale.

Or if you can't make the drive, do some traveling in cyberspace and check out their website: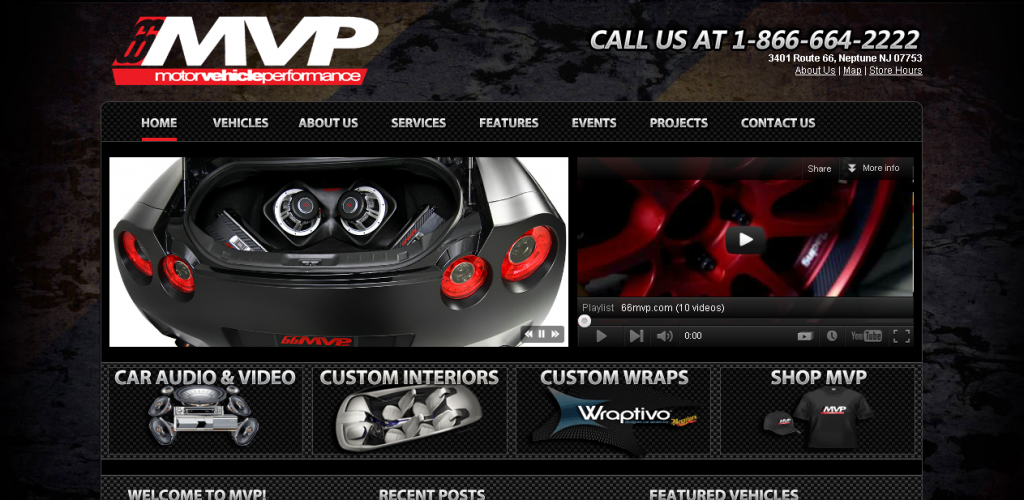 1-866-664-2222
3401 Route 66, Neptune NJ 07753
April 9, 2012
Before we dive directly into the crazy action that went down this Saturday in Long Beach, I'd like to first thanks John P and everyone over at Formula D for accomodating us with press passes for the event. We had a wonderful time and we are already stoked for the next one.  Secondly, I'd like to say it's amazing to see how much the sport has grown over the past six years. Cars are getting faster and faster (even with the new tire size rules) and drivers keep pushing the limits of their vehicles I can't wait to see how much farther Formula Drift will go before the end of this season.
Our day at the Streets of Long Beach started rather early which gave us a good amount of time to get some test shots in and walk around the event before the mayhem ensued.
Our first destination was the car show area presented by FATLACE / SLAMMED SOCIETY because we wanted to check out as many cars as we could before too many people got in the way.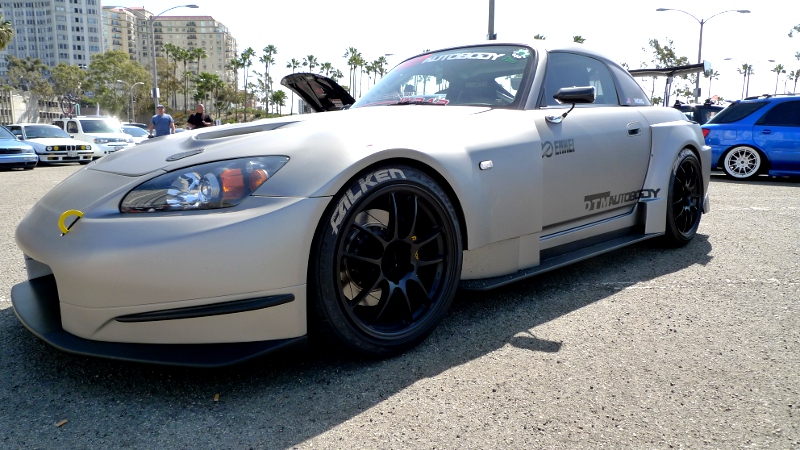 As soon as we crossed the bridge to the car show area, we noticed a beautiful widebody s2000 that happened to be running some serious AP RACING brakes.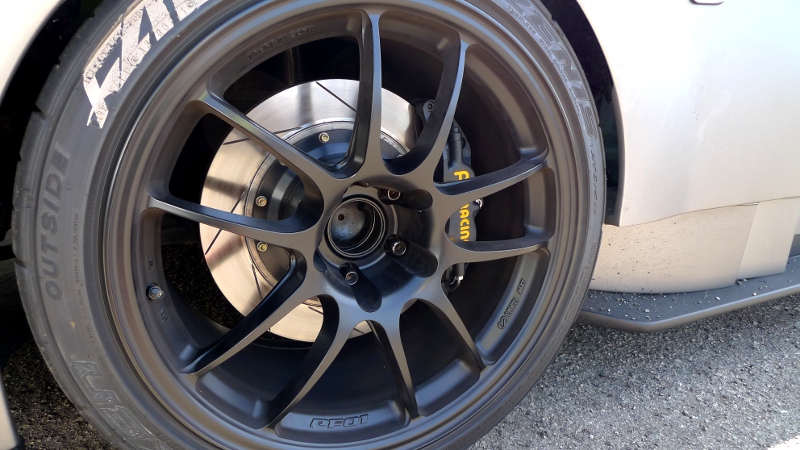 It's very hard to beat that set up in terms of looks and performance. I especially love the road debris still stuck on the sideskirts from the drive in.
After we were done drooling over the widebody glory we noticed a very clean 350z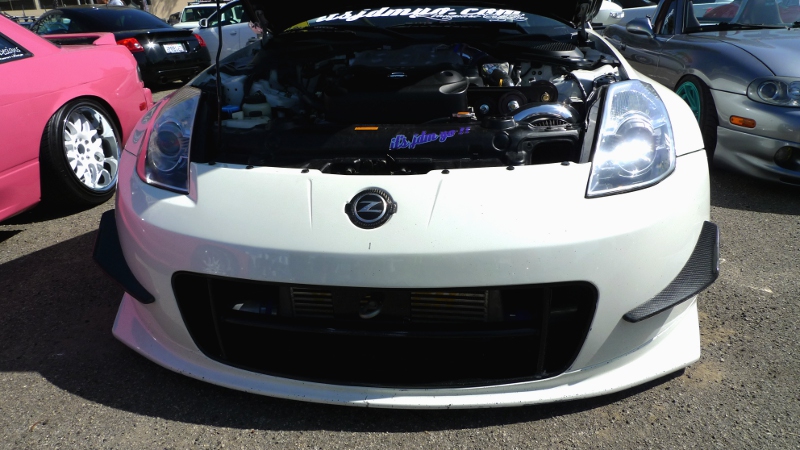 The "It'sJDMYO 350z was running an equally as clean Supercharger set up that was tucked in the engine bay very well.
Right in front of the Supercharged Z was a fine example of what happens when you combine the best of two world's when it comes to car design.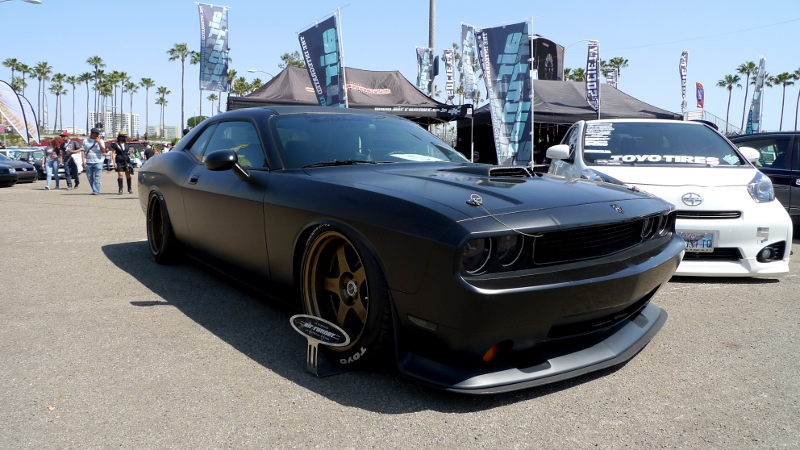 American muscle plus Japanese flavor make for a very clean and mean set up courtesy of JonSibal and Dodge.
After we walked our way through the car show, we noticed something you don't see at too many car shows and we were extremely stoked to see it.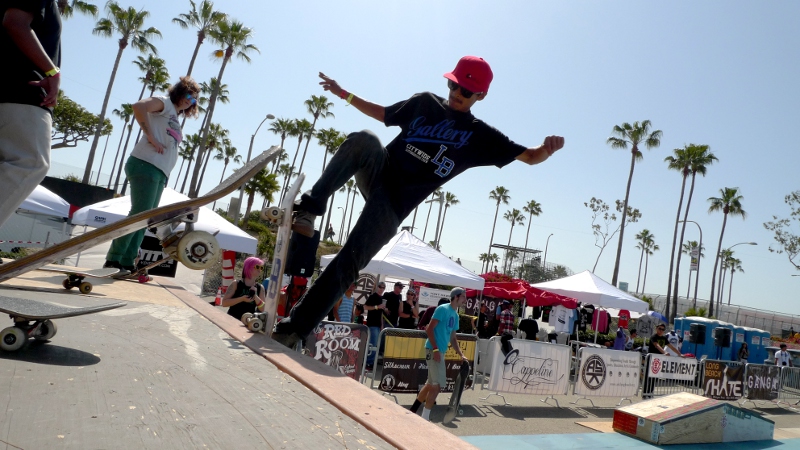 A sectioned off skate area that had everything from mini ramps to ledges to fun boxes made for some unexpected action. I almost ran to the car to grab my Psycho Stick and join in on the action until I saw this guy bust a Tail Blunt to varial and kill all my confidence.

There were some AMAZING cars on display that day and there were some cars that made us wonder if the owner just entered the car show for a good parking spot.  After we were done geeking out over show cars we directed our attention and lenses to some practice sessions.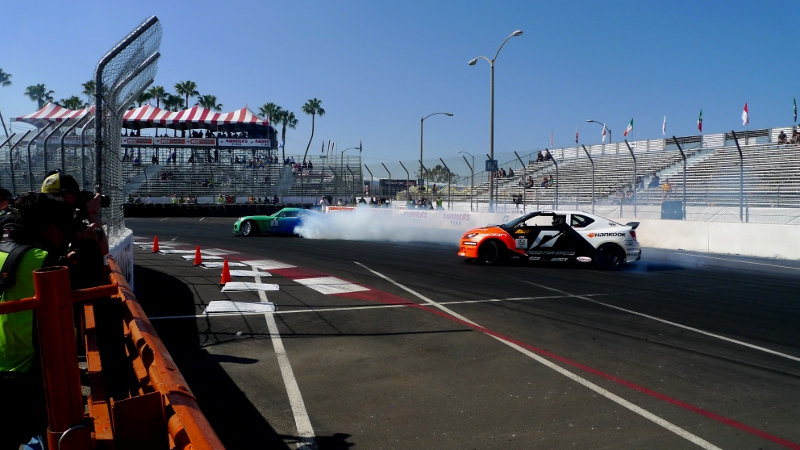 As you could see the guys were wasting no time getting used to the track before qualifying sessions started and the crowds showed up. Darren Macnamara and Frederick Asbo were going hard all day long.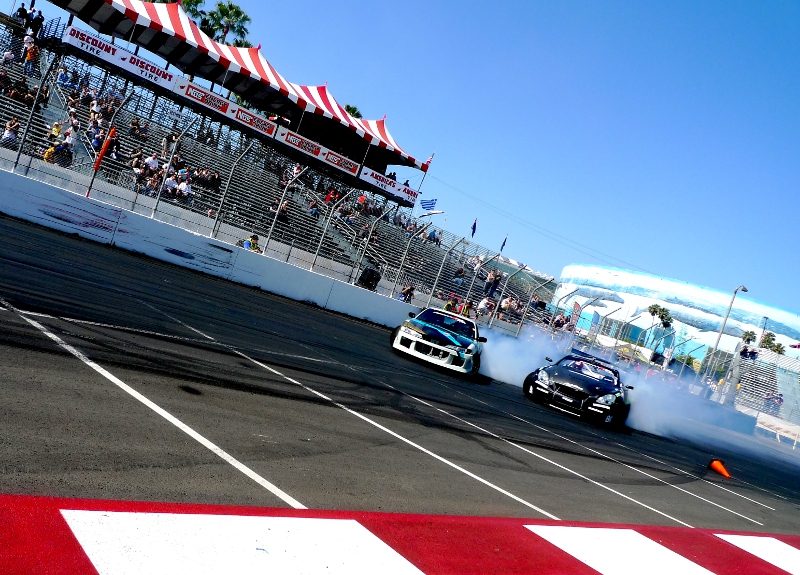 Everyone's favorite new kid on the Block Daigo Saito was getting used to the car, the track, and judging his gaps all at the same time in a few of his first outings in his new car.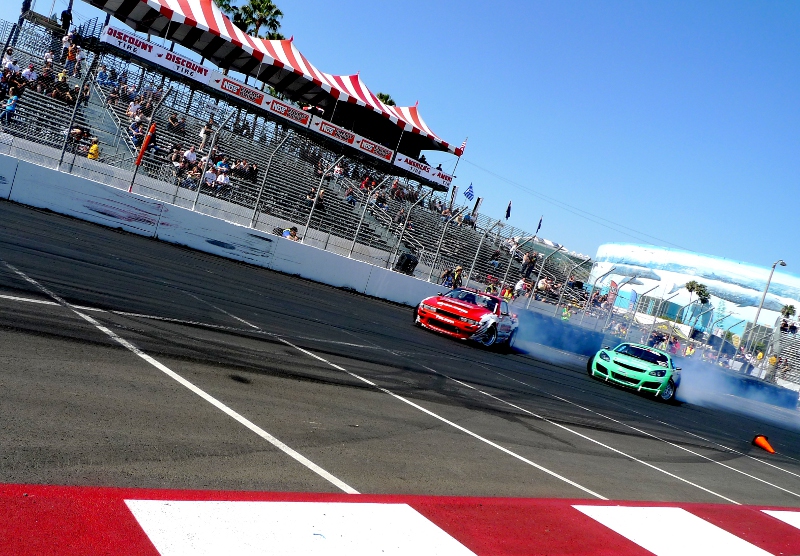 Saito wasn't the only Japanese Driver laying down some heat early in the day. Daijiro Yoshihara was getting himself warmed up for qualifications as well.
After we were done watching the crazy practice sessions, we took it as a good opportunity to walk the rest of the midway and grab some lunch.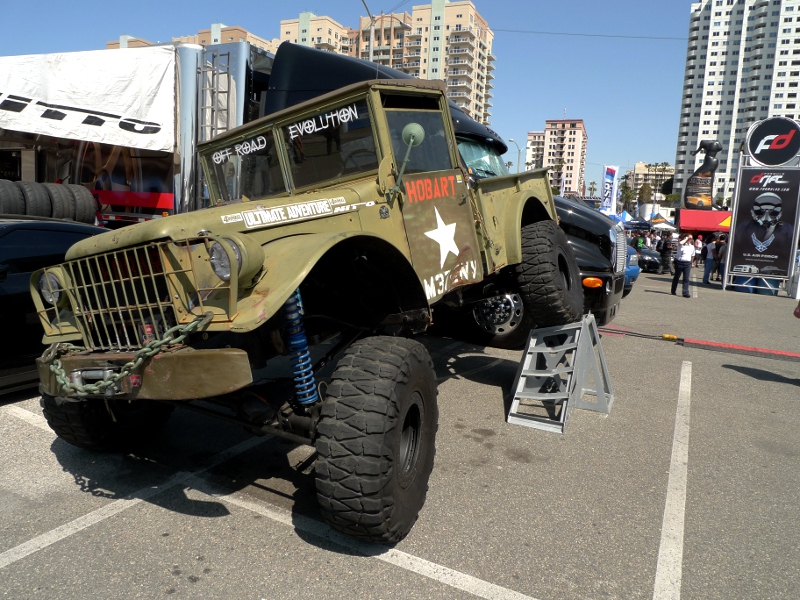 Ever get sick of driving in traffic on your way to work? Why not just drive OVER it?
After we were done stuffing our faces and getting some refuge from the sun, it was time to announce the top 16 drivers.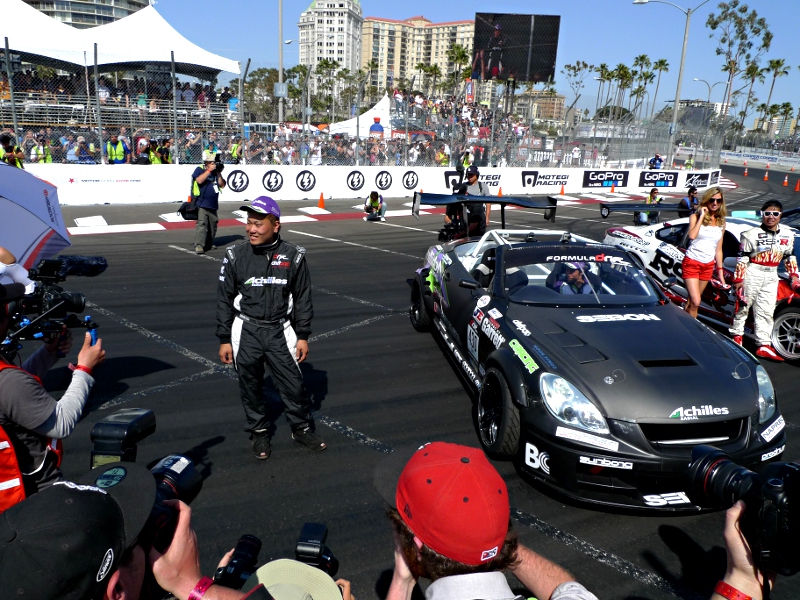 Everyone's favorite new kid in town Daigo Saito was getting a lot of attention before it was time for him to strut his stuff.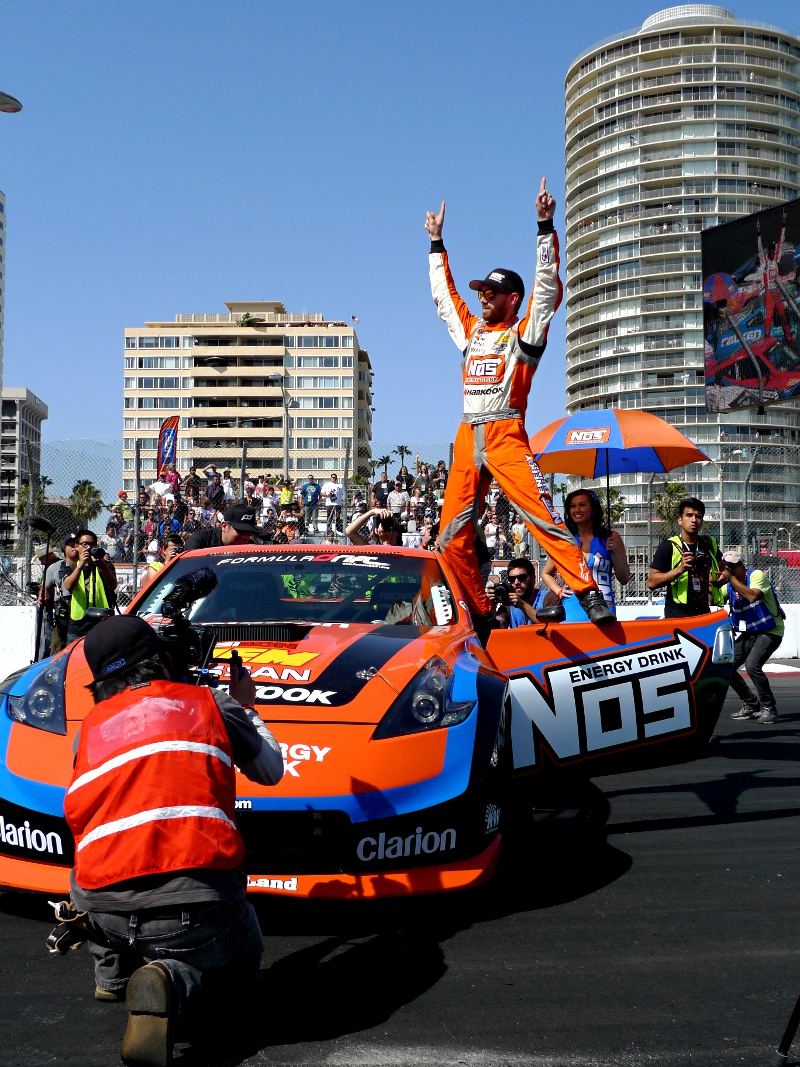 Chris Forsberg was quite literally taking his driving to a whole new level for the top 16 round.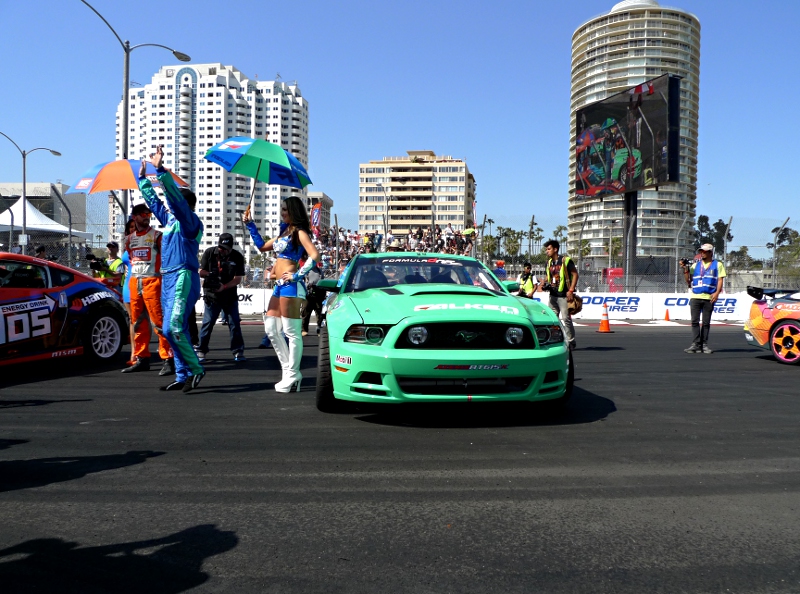 SPOILER ALERT!!: Justin Pawlak was looking to repeat his success in 2011….. He ended up achieving that goal and taking home the W.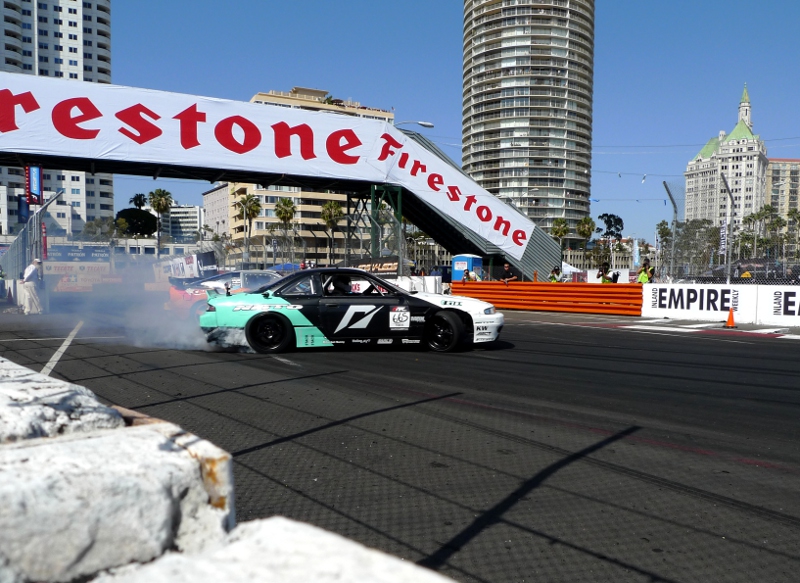 Matt Powers was also looking to repeat last year's results. He gave it his all against number one qualifier Ryan Tuerck and he ended up securing himself 4th place for the weekend.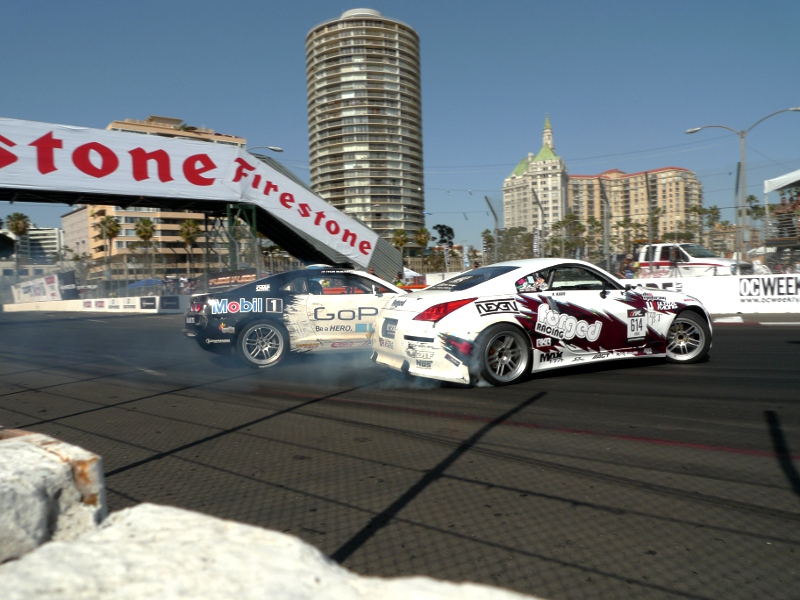 Tyler McQuarrie can just about drive the pants off anything and judging by the insanely small gap between him and Ryan Kado I'd say he was wearing his not afraid pants that day.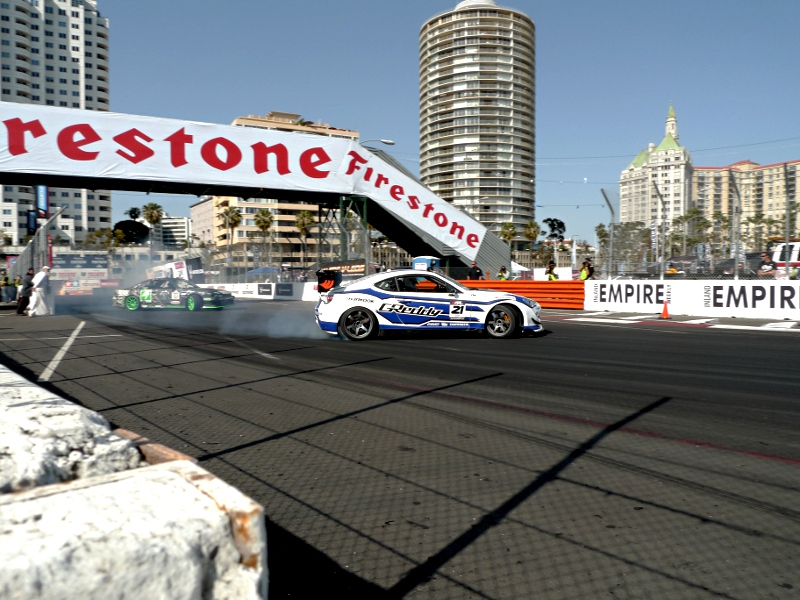 Ken Gushi was showing off what the new GREDDY built FT86 could do, and it was looking great all weekend.
After all that was said and done with, the 2012 Long Beach Formula Drift podium ended up shaping up like this.
1ST JUSTIN PAWLAK
2ND DAIJIRO YOSHIHARA
3RD DAIGO SAITO
We are extremely excited to see how the rest of the season shapes up and we can't wait to see our products in action for the rest of the year.