January 22, 2013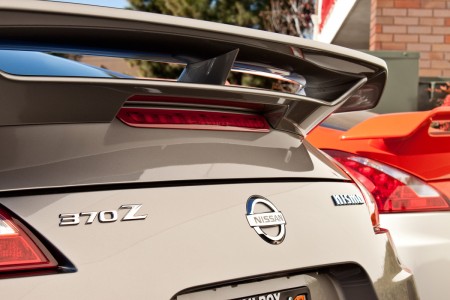 Towards the end of summer we received a phone call from a gentleman who lives in Northern California. He told us he has a Nismo 370Z and enjoys taking the car to Infineon raceway and was looking to make a few upgrades to make it a bit more enjoyable around the track. So, the car was sent to STILLEN with around 1,500 miles on the odometer with a fairly normal build sheet. We were going to install the supercharger kit, oil cooler, power steering cooler, and cat-back exhaust.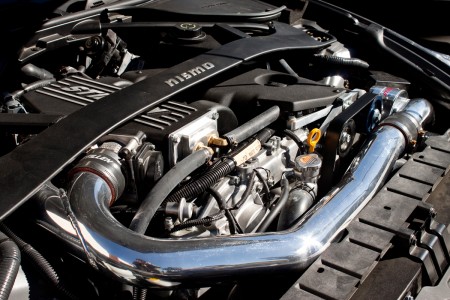 STILLEN Polished Supercharger Kit
STILLEN Custom Street 19 Row Oil Cooler Kit
STILLEN Power Steering Cooler Kit
STILLEN Cat-back Exhaust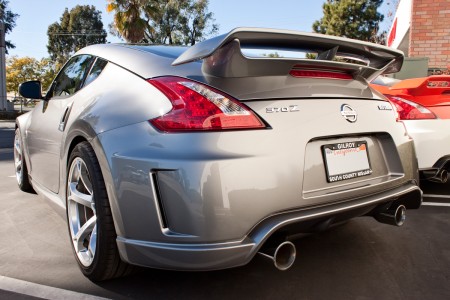 When the car arrived we received another phone call from the owner. He had decided to go ahead and add the ACT 370Z HDSS clutch along with the Aasco lightweight aluminum flywheel. We suggested that while the transmission was already out of the car it would be a good time to install the STILLEN short shifter as well and the customer agreed.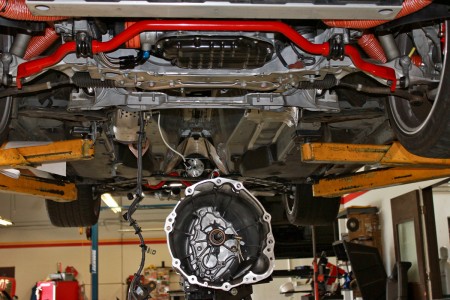 STILLEN Short Shifter
ACT HDSS Clutch Kit & Aasco Aluminum Flywheel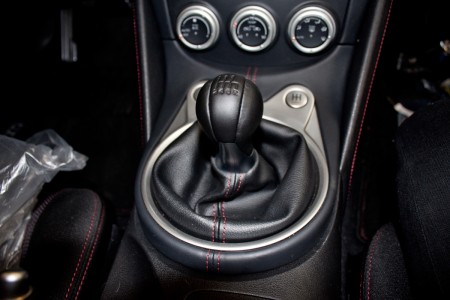 This was a pretty straightforward installation and one our guys have done hundreds of time so we quickly called the owner to let him know the car was ready to go. During this phone call the owner of the car mentioned how he had seen the videos of our red 370Z on youtube and he really liked our front fascia with the functional brake cooling kit as well as the STILLEN sway bars and AP Racing big brakes that were on the red STILLEN 370Z. So, we took one of our fascias over to our local painter and had them do a perfect color-match to the factory gun metallic body panels. We made the recommendation that if we were going to be pulling the wheels off and doing the big brake kit we should really do some H&R spacers as they will flush out the factory Nismo wheels perfectly. The customer agreed so a set of 15mm DRS wheel spacers were installed front and rear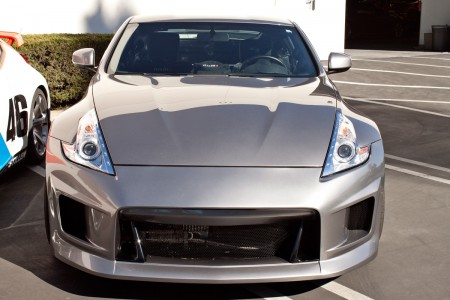 STILLEN Front Fascia with Mesh Grille
STILLEN Brake Ducts
STILLEN "Fangs" Brake Duct Inserts
STILLEN Sway Bars
STILLEN AP Red Front 6 Piston 14.25" Brake Kit
STILLEN AP Red Rear 4 Piston 13" Brake Kit
H&R 15mm DRS Wheel Spacers Front & Rear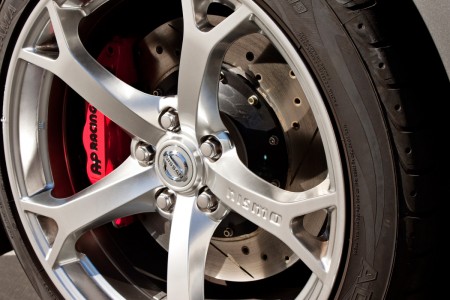 During this conversation the owner of this beautiful Nismo 370Z asked if we could install some gauges for him on the A pillar. This is a fairly common request, unfortunately though, no one actually makes an A pillar gauge pod for the 370Z. So, our talented technicians got together with our in-house design studio where all of our urethane body kits are made and developed this custom, one-off A pillar gauge pod equipped with Auto Meter boost and air/fuel ratio gauges along with a seamlessly integrated Auto Meter LED dimmer control box. To wrap up the project completely the owner of this now fully customized Nismo 370Z knew that the factory differential probably wouldn't survive long with over 500 horsepower when being pushed hard at a demanding track like Sears Point Raceway. So, a quick phone call was made to Kaaz USA where we sourced the 1.5 way limited slip differential.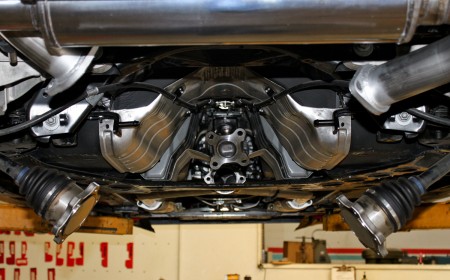 Kaaz 1.5 Way Super-Q LSD
Auto Meter Custom Full Length A Pillar Gauge Pod
Auto Meter Boost & Air/Fuel Ration Gauge
Auto Meter LED Dimmer Box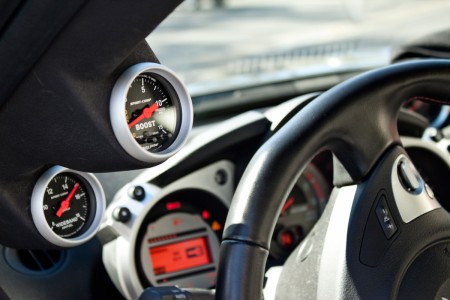 As you can see, this Nismo 370Z went from mild to wild in a short time! Now producing over 500 horsepower and well prepped for track day duty this car will be sure to turn some heads when blasting through the demanding road course. The owner of the car flew down yesterday and made the 350 mile road trip home. So, if you live near Northern California and you see this beautiful grey metallic Nismo 370Z pull next to you at the light…I'd recommend waving him on with a smile and a nod.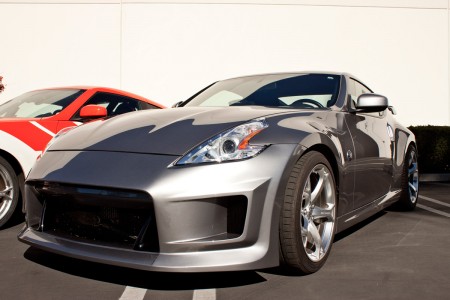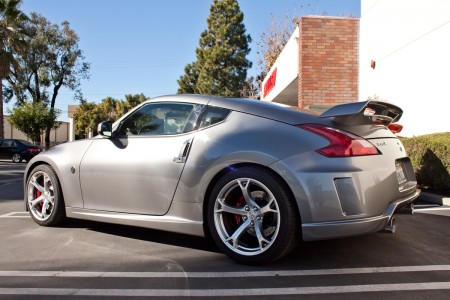 January 18, 2013

STILLEN is pleased to announce new available products and accessories for the 2013 Infiniti G37 Sedan.
---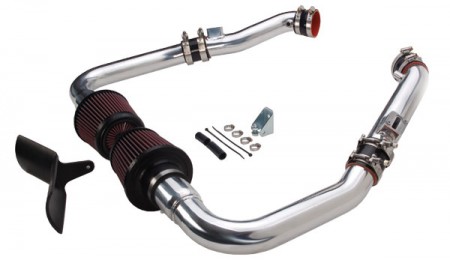 2013 Infiniti G37 Sedan Cold Air Intakes
The most popular upgrade! Solid dyno-proven horsepower increase, improved throttle response and under full throttle an amazing engine note sure to put a smile on your face. STILLEN's Gen 3 Cold Air Intakes for the 2013 Infiniti G37 Sedan use long mandrel bent polished aluminum intake tubes fitted with genuine K&N Filters that carry a 1,000,000 mile warranty. A Gen 2 version is also available and features aluminum piping mating to polyurethane filter covers to providing cool air from outside the engine bay. The Cold Air Intakes are also CARB Approved and 50-state legal. Gen 3 Intake shown above.
---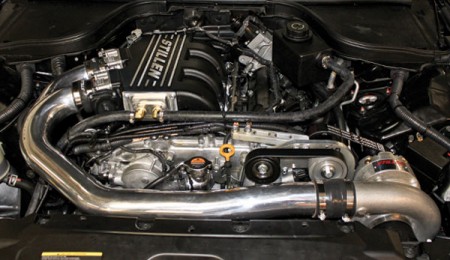 2013 Infiniti G37 Sedan Superchargers
Increase your G37 Sedan from 328 horsepower to over 500 horsepower with STILLEN's 2013 Infiniti G37 Sedan Supercharger. These are turn-key tuned kits that are a bolt-on installation. The STILLEN superchargers incorporate the Vortech V3 self-lubricating supercharger system and install cleanly under the stock G37 Sedan hood, without any modifications required. The 2013 G37 Sedan supercharger is 50 state street legal with an optional 3 year/36 mile warranty.
---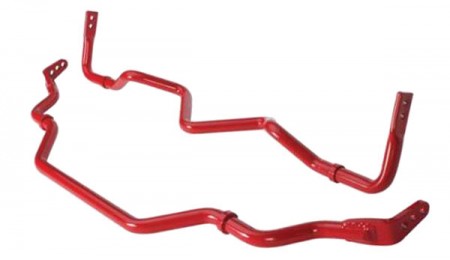 2013 Infiniti G37 Sedan Sway Bars
Heavy cars create body roll when cornering, combat that by upgrading to STILLEN's 2013 Infiniti G37 Sway Bars, and take corners with stability and confidence! STILLEN Sway Bars are constructed from high strength aircraft-grade steel with a high quality powdercoated finish to prevent corrosion. The 2013 G37 Sedan Sway Bars include a 5-Way Adjustable Front Bar (21-48% Stiffer) and 3-Way Adjustable Rear Bar (37-70% Stiffer) to fit any style of driving, whether on the track or cruising around town.
---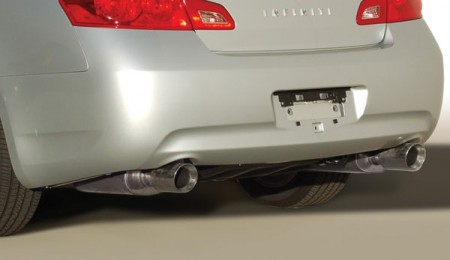 2013 Infiniti G37 Sedan Cat-back Exhaust
Unleash the true sound of the Infiniti 3.7L engine with STILLEN's 2013 Infiniti G37 Sedan Cat-Back Exhausts. Constructed from 304 Stainless Steel with polished 304SS dual wall exhaust tips, the 2013 G37 Sedan Cat-Back Exhaust Systems show a dyno proven 19 horsepower increase with a pleasing sound while driving around town, but have an aggressive note under full throttle. All STILLEN 2013 G37 Sedan Exhausts come with a limited lifetime warranty.
---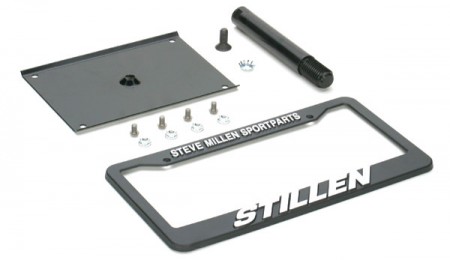 2013 Infiniti G37 Sedan License Plate Relocator Bracket
The STILLEN 2013 Infiniti G37 Sedan License Plate Relocator Bracket utilizes the factory tow hook to relocate the front license plate without having to drill into the front fascia. The License Plate Bracket includes all hardware and instructions for the 2013 G37 Sedan for a quick and easy install. Save yourself the hassle from potential tickets without ruining your front bumper by drilling in a plate bracket.
---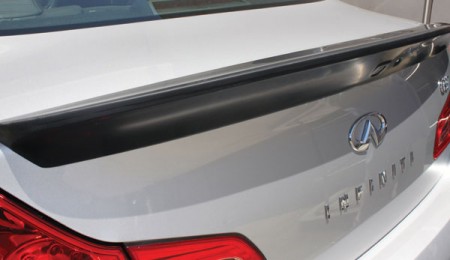 2013 Infiniti G37 Sedan Trunk Wing
The STILLEN 2013 Infiniti G37 Sedan Trunk Wing is designed, tested and built in-house at our facilities in Costa Mesa, California. The Trunk Wing is crafted to keep the functionality of the 2013 G37 Sedan's rear backup camera while keeping an OEM-like fitment without any drilling to the car to install. All STILLEN body components are constructed from high quality polyurethane, ready for prep and paint (as shown above) and have a limited lifetime warranty against cracking or breaking under normal use.
---
Also Available for the 2013 Infiniti G37 Sedan:
2013 Infiniti G37 Sedan Oil Coolers
2013 Infiniti G37 Sedan AP Racing Big Brake Kits
2013 Infiniti G37 Sedan Lowering Kits
2013 Infiniti G37 Sedan Coil Overs, and more.
STILLEN also carries a full line of auto parts for the entire Infiniti family of cars. Call for more information.
For more information on available auto parts and accessories for the 2013 Infiniti G37 Sedan, call (866) 250-5542 or visit www.STILLEN.com
January 16, 2013
Recently we received a great customer review of our Nissan Juke cat-back exhaust system.  This exhaust is available as an axle back or a cat back.  In the Juke cat-back exhaust configuration the system has been dyno tested to deliver 20 horsepower!  That's about a 10% increase in total output!
Here is the review from Mr. Michael Z:
"Good morning Kenny. I hope your day is fantastic.
I received my exhaust yesterday and took it down to my local Midas shop.
Not only was I impressed with how the exhaust looked but so was the Midas
team.  From the time they racked the car up and until they took my car off
the rack was 33 minutes.
Upon starting my Juke,  everyone including other customers in the shop
were again impressed with the deep sound and great look and fit of the exhaust.
As I left the parking lot of Midas, it was time for a test drive.
I'm excited to tell you that all of the information you gave me was
correct.  At idle it has a nice purr.  On acceleration, it sounds
like a souped up foreign sports car.
I do not know what the power gains are, but it sure is more responsive and
appears to have much more get up go.  It also adds a litle more driving
fun.
Thanks again for your help and wealth of information.  Your products are
number one.
Michael"
Thank you very much Michael for the great review.  We are very proud of our products here at STILLEN.  From the engineering, to the testing, to the manufacturing, we do it all here in-house in Costa Mesa, California!
To see the dyno results and learn more about our Nissan Juke cat-back exhaust or our Nissan Juke axle back exhaust take a look at the product page on our website:
http://www.stillen.com/products/exhaust/stillen-nissan-juke-exhaust-100116/
December 27, 2012
ANNOUNCING STILLEN'S ALL NEW SCION FR-S / SUBARU BRZ BODY KIT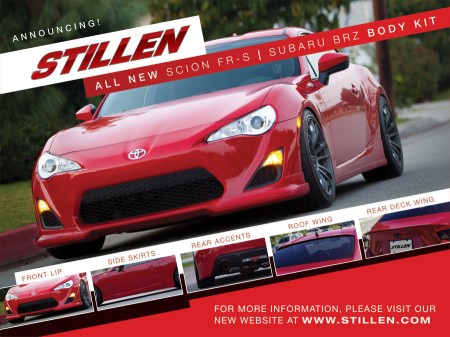 Continuing STILLEN's long-standing heritage of producing OEM-quality polyurethane body kits, we're excited to release the highly anticipated body kit components for the new Scion FR-S and Subaru BRZ.
These OEM-quality body components are the result of a community-sourced design contest publicized on Facebook.
After a two month open entry period, top finalists were picked by STILLEN's staff from over 100 design entries. The top contestants were then voted on by STILLEN Facebook fans. After a tight race between Greg Thompson and Mohammed Irfendy, Thompson took the win as people's choice.
The parts were sculpted at STILLEN's modeling shop in Costa Mesa, CA. Final production pieces are manufactured out of OEM-quality polyurethane in-house at the STILLEN headquarters and manufacturing center. Polyurethane has many benefits for aftermarket automotive applications, the most obvious is it will maintain an OEM-quality finish without cracking, as opposed to composites like fiberglass or carbon fiber.
Components are available separately, as well as packaged together as complete kits. The components include:
POLYURETHANE FRONT LIP SPOILER
This clean yet aggressive lip spoiler has a strong visual effect on the front of the FR-S. Installs over the OEM fascia, and has body lines to ease in painting the piece a 2-tone for additional effect, or can be painted completely body color as well. Front lip spoiler fits FR-S only.
POLYURETHANE SIDE SKIRTS (ROCKERS) WITH REAR CORNER ACCENTS
This 4-piece kit includes both passenger and driver-side side skirts, and also includes rear corners for both sides. Like the lip spoiler, there are body lines present to incorporate a 2-tone paint scheme if desired. Side skirts replace the OEM skirts, and the rear corner accents cover the OEM rear fascia.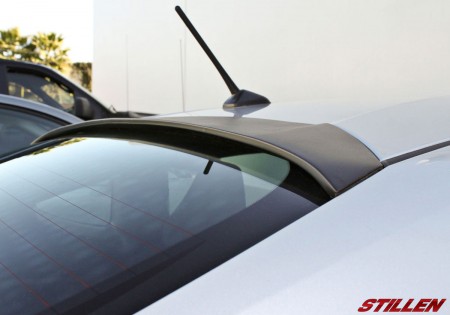 POLYURETHANE ROOF WING
A unique element which rounds out the body kit, seeming to extend the roof line into the rear window. Installs at the top of the rear glass, designed specifically to match the contours of the vehicle.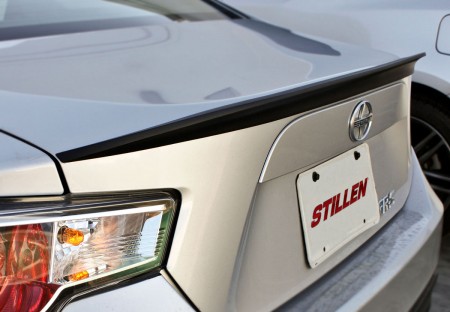 POLYURETHANE REAR DECK WING
This simple design element adds a surprisingly large amount of character to the rear trunk. Easily installed and does not require drilling.
• Polyurethane Front Lip Spoiler – Part # KB21022
• Polyurethane Side Skirts (Rockers) with Rear Corner Accents – Part # KB21025
• Polyurethane Roof Wing – Part # KB21024
• Polyurethane Rear Deck Wing – Part # KB21023
FOR MORE INFORMATION, PLEASE VISIT OUR NEW WEBSITE AT WWW.STILLEN.COM
September 7, 2012
August 31, 2012
After months of reviewing hundreds of designs and counting the hundreds of votes we have found ourselves a WINNER!!!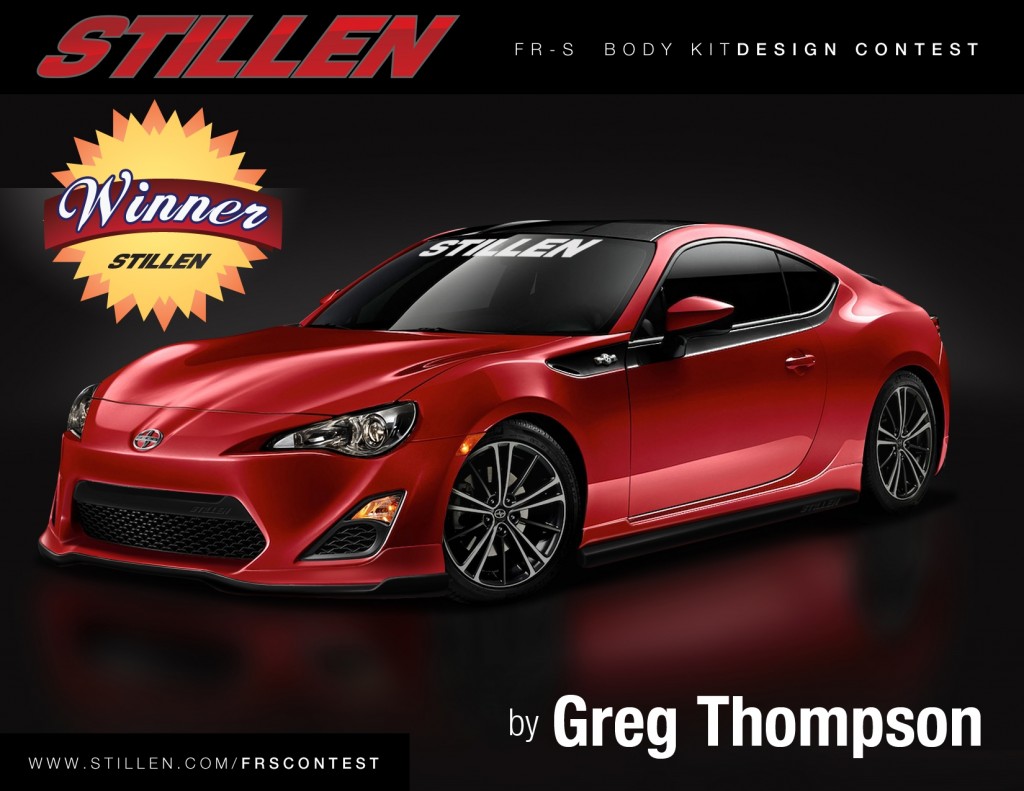 We can't wait to get started on the production of this kit and we already have our FR-S in the modeling shop getting some measurements done.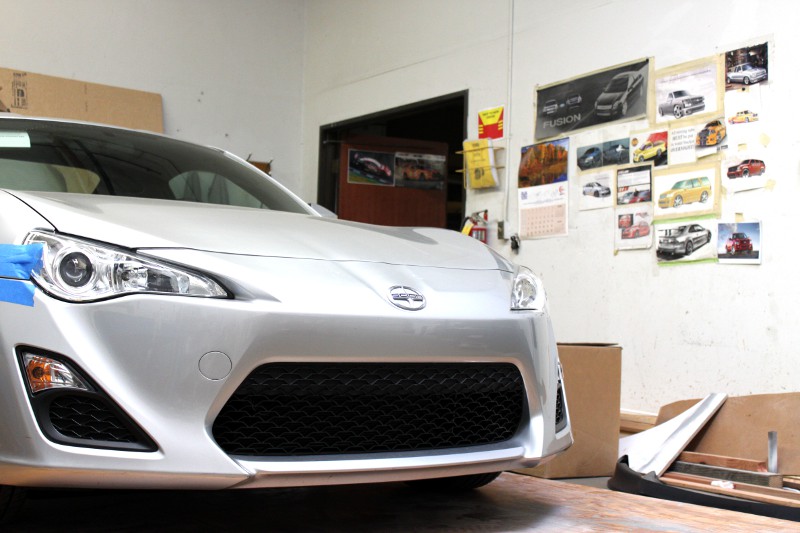 Greg is a very skilled car designer and actually submitted two designs that made it into our final 5. The other one is listed below…

Ultimately, the voters spoke and the design we will be producing is here….

Greg also has a pretty amazing DeviantArt page where you can see more of his designs. http://rotr8.deviantart.com/gallery/
We can't wait to see you in Vegas Greg!

August 31, 2012
August 28, 2012
If you haven't voted already in our STILLEN Scion FR-S Body Kit contest please click the link to get your vote in before it's too late.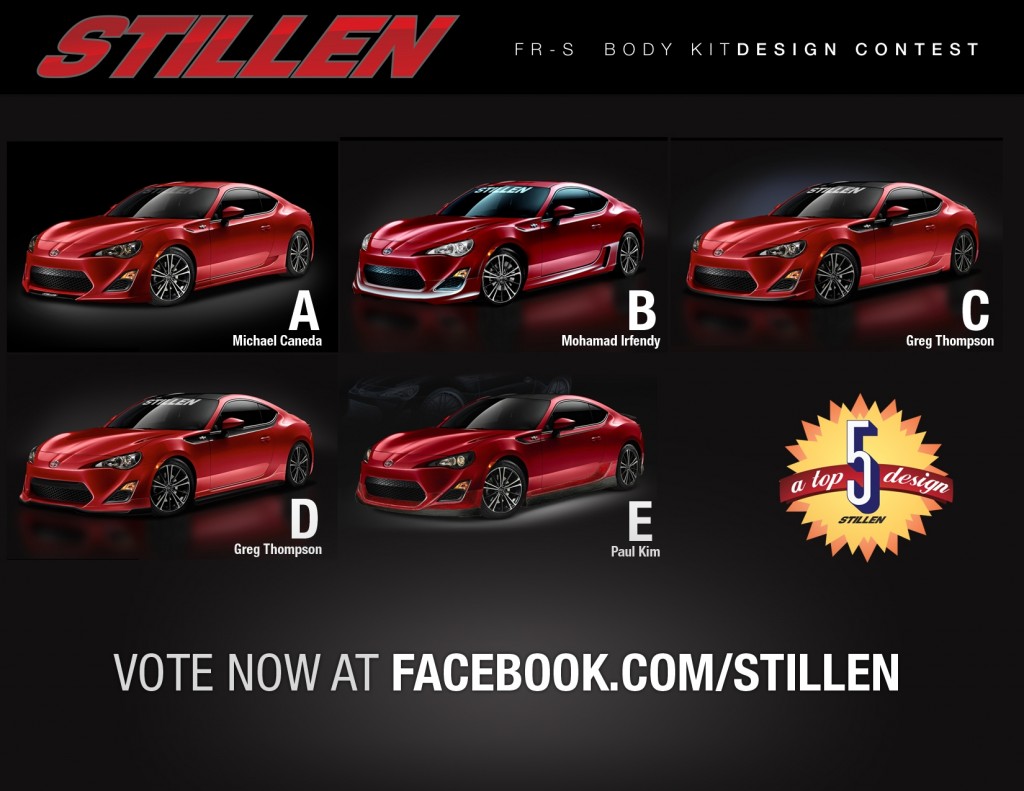 You can go directly to our facebook or you can follow the link here. Either way, we can't wait to see how this thing shakes up.
August 24, 2012
We EXCLUSIVELY use K&N Filters for all of our intake kits here at STILLEN for plenty of reasons. Proven horsepower gains, fuel efficiency gains, and most of all MAINTENANCE! Every K&N filter comes with a 1,000,000 mile warranty and is meant to be REUSED.  I know that may seem crazy but trust us on this one, K&N filters are worth every penny.
Now with that said, the question remains. When do you clean your air filter? The thing with air filters is that it's their job to trap dirt before it reaches your engine… in other words, they are designed to get dirty. But how dirty is TOO dirty?
K&N has provided a very simple graphic to help illustrate this.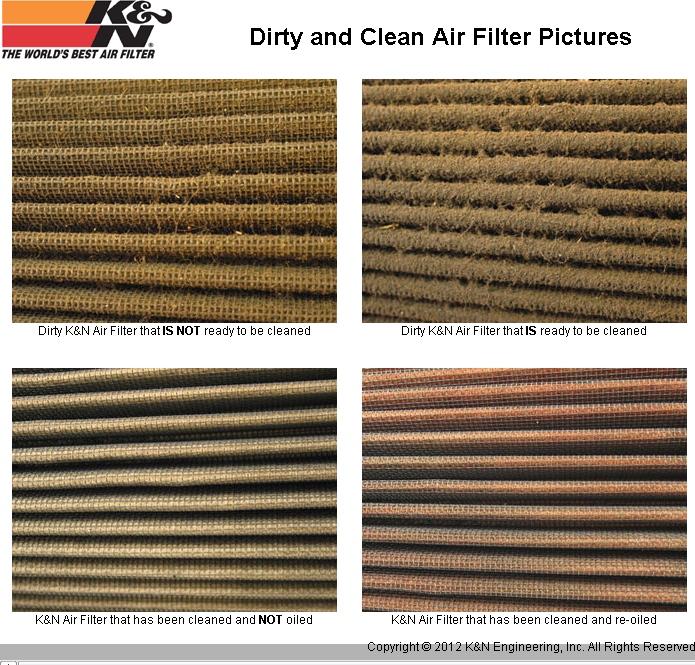 More information on how to clean your K&N filter can be found on K&N's website
http://www.knfilters.com/cleaning.htm
Now that you know when and how to change your K&N filter, go pop that hood and check to see if you're making the most out of your intake kit. It will be a perfect project to tackle over the weekend.
One of our sales specialists are also here to chat with you regarding your filter cleaning questions.
Feel free to give us a call at anytime.
(800) 891-1058
August 24, 2012