February 13, 2014
After extensive research into the articulating Jeep Wrangler lift kit options on the market and over a year of rigorous development ReadyLIFT has come to market with the best answer for the off-road Jeep driver, whether a rock-crawler, sand-runner or anywhere in between. No question that the ReadyLIFT Max Flex Jeep Wrangler Lift Kit is the BEST kit on the market to get you over, around and through the toughest terrain on the planet!!!
Not Convinced Yet?
Watch this true life video of product development done right and catch me on the other side for details on how to match this GIRL off-road:

Features of the ReadyLift 49-6407 Jeep Wrangler Lift Kit:
You've seen the possibilities you can unlock with the ReadyLIFT's Max Flex Jeep Wrangler lift kit, let's talk about some of the specs a bit, because this bolt on kit is no other Jeep Wrangler lift kit on the market today and offers features and benefits that are unsurpassed:
Tough powder-coat of black and silver
Kits Come With the Original Currie Johnny Joint which is fully serviceable and coated in their own element-defying zinc plating finish
4″ Front Lift
3″ Rear Lift
Lifts Provided by Progressive Wound Coil Springs
Provide Maximum Articulation with No Binding or Limitations
1-2/3″ – 5/16″ Heavy Duty DOM Tube Steel Control Arms
3/16″ Plate Steel Rear Track Bar Bracket (to correct your roll center and bushing alignment)
Fits up to 38″ Tires on 4.5″ Backspacing Wheels
Fits 2 and 4-door Wranglers, including the Unlimited and Rubicon
Designed and manufactured in the USA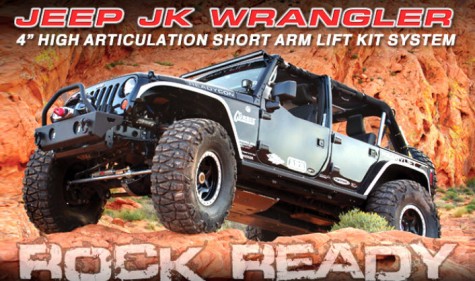 To complete your kit and take your Wrangler out to conquer all you see, the addition of longer shocks is required and are sold separately. Grab your ReadyLIFT 99-6400F front shocks for 4″ front lift and ReadyLift 99-6400R rear shocks for 3″ rear lift. ReadyLIFT tested these shocks in MOAB and ran them relentlessly on the street to prove they are the best shocks for a 4/3″ lift.
Contact Us:
For more ideas on how to customize your Jeep Wrangler, visit www.STILLEN.com or our experts a call at 866-250-5542 and we will be happy to help you. We also feature a full service Jeep performance shop that specializes in installing lift kits, exhausts and more!
February 12, 2014
With temperatures at all-time lows throughout most of the country, you probably don't have a lot of motivation to spend hours on end in a cold garage lifting your truck, lowering your truck, upgrading your braking system or making other modifications to your truck. But, if you're like us, you're probably getting antsy to start modifying your Ford F150 or Chevy Silverado and making it your own. With the cold weather in mind, we've listed out some of our quickest and easiest winter truck upgrades that you can be making now and not spending hours freezing in a cold garage.
Top 5 Easy Winter Truck Upgrades:
1. Tonneau Covers
Adding a truck bed cover or tonneau cover to your truck is a great addition for protecting your gear year round, but this is especially true during the winter. A tonneau cover will help protect items you haul in your truck bed from rain, snow and other winter conditions. Plus, they are extremely easy to install on your truck. For an example installation, see the Extang Trifecta Tonneau Cover installation video below.
Popular Tonneau Covers:
2. Floor Mats
Installation literally could be easier than getting new floor mats, but these can easily become your favorite truck accessories. They help protect your interior from mud, dirt and everything else that comes with winter weather. Not only will this make you happier because your truck will look better, but it will help with the resale value down the line because your truck will be better protected from nasty stains. Getting new floor mats for your truck is one of the best winter upgrades you can make.
Popular Floor Mats and Floor Liners:
3. Grilles
For a quick upgrade that will make a big impact on the look of your truck, consider changing out the existing grill with a new aftermarket grille or grille insert. Like most aftermarket parts, installing a certain types of grilles can be easier than others, but in general this should be a fairly quick and easy upgrade. Check out the video below to see how to install a T-Rex Billet Grill on a Ford F-150.
Popular Grilles:
4. Mud Flap Kits:
While these are a good year round truck accessory, mud flaps are especially important during the winter months. Mud guards are great for keeping your tires from kicking up water on the road, but did you know they actually help protect your vehicle from damage? As roads wear down and leave loose rocks and debris in their wake, your tires kick up debris and can cause unwanted dents, dings and chipping. Mud guards can help prevent this.
Popular Mud Flap Kits:
5. Paint Protectors & Hood Protectors
Like mud guards, hood protectors are great upgrades that you can make in the winter that are helpful all year round. Again, as loose gravel, rocks and other road debris are kicked up by tires, they can cause unsightly chipping and dings. Using a clear paint protector or hood protector can help prevent this and it's an easy upgrade to take care during the winter.
Popular Hood Guards:
Next Steps:
If you have any questions about the winter truck upgrades above or are feeling more ambitious and have questions about our other product lines like superchargers, brake kits or exhaust systems, give us a call at 866-250-5542 and we will be happy to help you. Also, check out our performance shop site for more ideas on modifications you can make to improve your truck's performance!
February 5, 2014
February 6th 1994 was a truly defining day in the career of Steve Millen. Not only did he finish first overall in the Rolex 24 Hours of Daytona, but he also took pole position and fastest lap… automobile racing's version of the Triple Crown! What made this accomplishment all the more remarkable was the fact that Steve had suffered a potentially career ending injury at Watkins Glen only 6 months earlier in which he suffered a skull fracture, broken jaw, nerve damage as well as a broken arm and ribs.
The 1994 IMSA season saw a series that was at the height of its popularity with races broadcast live on CBS, huge crowds and multiple manufacturers with factory teams running extremely competitive races. It was truly a difficult year to win races.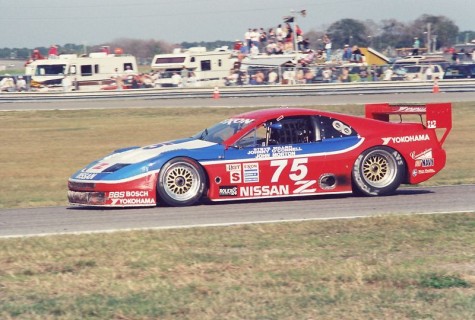 The season started out in Florida with the Rolex 24 Hours of Daytona – the Superbowl of the series, and the race everybody wanted to win. Steve's team came into the race confident after a great off season of testing where the factory Nissan 75 & 76 300ZX-Turbo cars had been run thousand of miles, making both cars fast and reliable.
Pole Position
The first goal at the track when they arrived was to secure pole position which Steve did. Getting the pole at Daytona was extremely important as over 70 cars had entered this prestigious race. Getting the pole here was more important than any other race as you "didn't want to get stuck in the back heading for that first corner with that many cars scrambling for position so early in the race". Once that was achieved, the next most important item was to setup the car so it was not only fast, but comfortable too seeing as it was going to be run for 24 hours.
As the lead driver for the Nissan factory team, Steve had the option to stay out of both cars for the first few hours until they could determine which car would give him the best chance of scoring as many points as possible. And with Daytona a bonus point race due to its length, this was even more important to get the points for the overall championship.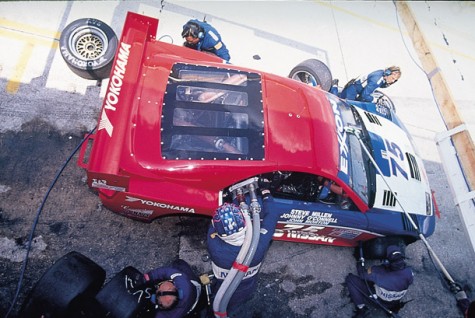 Broken Crank Shafts, Rain & Overcoming Obstacles
The 75 & 76 were comfortably running 1 & 2 after 7 hours of racing, so Steve decided to get into the 75 car he had qualified on pole. Unfortunately, while in the lead, the crank shaft broke, which took his car out of the race. Hours later, however, the heavens opened and it poured rain. Steve was pushed into duty in the 76 car being driven by Scott Pruett, Paul Gentilozzi and Butch Leitzinger.
None of them really wanted to negotiate Daytona's banked track at over 200 M.P.H., so in he went. Steve also happens to be a bit of a rain-master – A la Senna and Schumacher, who excel while running in the wet. (During his entire career, he won every race he had ever been in when it rained… probably due to learning to drive in New Zealand, where it gets its fair share of rain!) As soon as he got in the car, he started to pull away from the field, consistently running fast lap after fast lap in the testing conditions.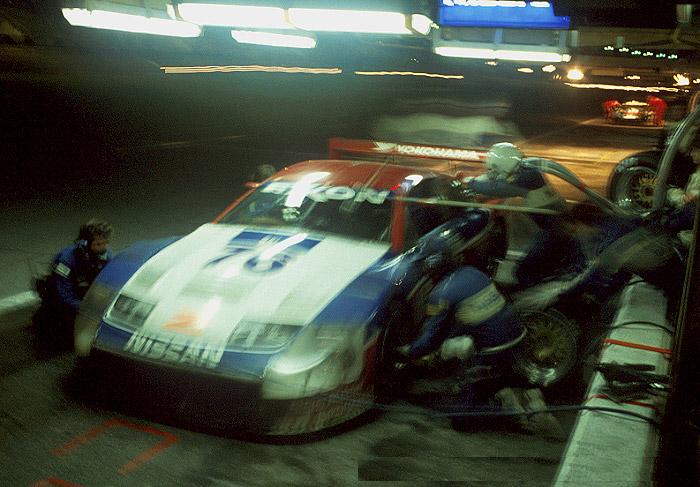 Victory!
The No. 76 Nissan 300ZX-Turbo was steady throughout the rest of the race covering in total 707 laps, 2,516.92 miles and averaging 104.80 mph. Leading for all but 111 laps, including the final 427, the team's margin of victory was a dominating 24 laps.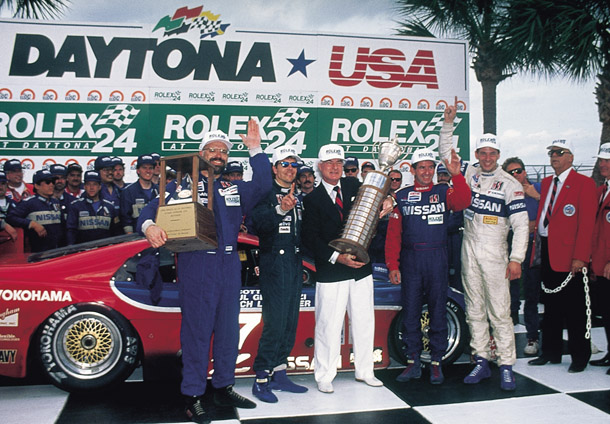 Entered as a partnership between Gentilozzi and Clayton Cunningham, the Nissan 300ZX-Turbo scored the first overall win in the Rolex 24 for a GT car since 1983 and the first win for a front-engine car since 1976.
Speedhunters.com also wrote a top notch expose covering Steve's exploits in the Twin Turbo Cunningham racing cars that season, as well as several others which can be read here.
Hear Steve's description in the video below as well as some clips from the race itself.
Learn More About Steve Millen & STILLEN
If you would like to learn more about Steve Millen and his racing career, please click here. While on the site, you can also learn more about how he turned his professional racing career into the STILLEN brand that is so well respected in the automotive industry today.  Also at STILLEN.com, you can shop a variety of aftermarket and performance parts, including the STILLEN brand of exhausts, superchargers, air intakes, big brake kits and more. STILLEN Costa Mesa, Ca. headquarters also features an expert research and development team and full service performance shop, which allows the STILLEN brand to continue Steve Millen's winning tradition!
February 4, 2014
STILLEN is pleased to announce the release of our new website, www.apradical.com featuring information on our brand new line of AP Racing Radi-CAL Big Brake Kits by STILLEN.  The micro-site has been designed with the user in mind with user-friendly navigation, bold colors, stunning photography as well a contemporary design. The newly designed Web site went live January 31st, 2014.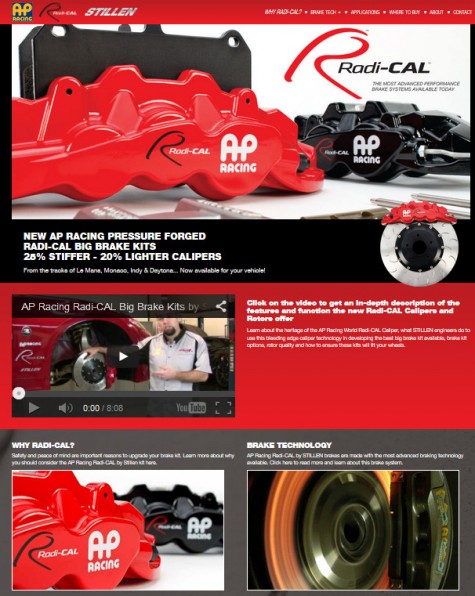 Design, Functionality, Technical Information & More
The site has been broken down into several sections that clearly highlight the different features, functionality, applications and technical information on the kits. It features expanded content and streaming media including an in-depth video filmed in the STILLEN performance garage. Also included is an "About Us" page that provides information on both of the major companies involved in the production of these big brake kits, AP Racing and STILLEN, as well as an applications page in which every viewer can see the list of vehicles this braking system is available for.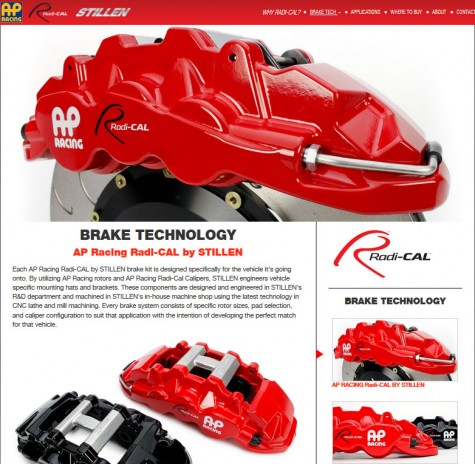 The apradical.com site aims to extend its reach to a broad audience of brake professionals, enthusiasts and wholesalers. Online visitors will now experience a more vibrant and seamless view of the entire Radi-CAL Big Brake Kit system with photography showing the calipers and discs in fine detail.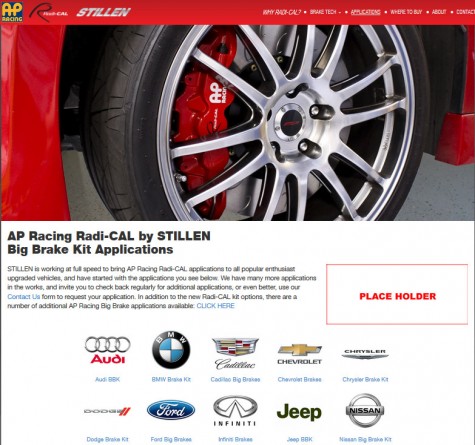 In addition to the huge catalog of beautiful photography, the micro-site showcases pages of technical information our customers have been asking for since we released these brakes at SEMA last year. The site has been organized to provide quick and direct access to all of these resources for all audiences.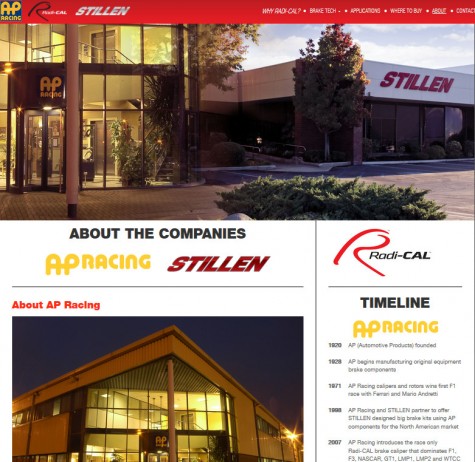 AP Racing Radi-CAL BY STILLEN Informational Video
Learn More About AP Racing Radi-CAL by STILLEN
For more information about the AP Racing Radi-CAL brake kit by STILLEN and to read our full white paper on the Radi-CAL, please visit our website or call us at 800-576-2120 and we will be happy to answer any questions you have! Be sure to check back regularly for information on new applications and to check out new images and reviews from our happy customers!
January 30, 2014
Take your 2013-2014 Sentra to the next level with a new STILLEN stainless steel axle back exhaust. Just released, this exhaust system for the Sentra is some of the finest work the STILLEN R&D has produced to date. It offers mandrel bent piping, a polished stainless steel wall tip and 304 stainless steel construction. With these high quality materials and expert manufacturing, it's easy to see why we're proud of it.
Like other STILLEN exhausts, this rear section exhaust for 2013-2014 Nissan Sentras boasts an aggressive tone under hard acceleration to add a little kick to your drive!
A Long Friendship: Nissan & STILLEN
With over 25 years' experience installing and developing Nissan aftermarket parts, you can trust that the STILLEN team of experts with your Sentra. Every one of our exhaust systems are meticulously engineered and crafted by our research & development team  at our automotive campus in Costa Mesa, California. Every exhaust that we develop is tested time and time again until we got an unsurpassed level of the perfect sound and performance.
Features & Benefits of the 2013-2014 Sentra Axle Back Exhaust by STILLEN
304 stainless steel mufflers & tip for added durability and a long life
Backed by a manufacturer's limited lifetime warranty
Mandrel bent piping for a smooth flow and fuel mileage gains at cruising speeds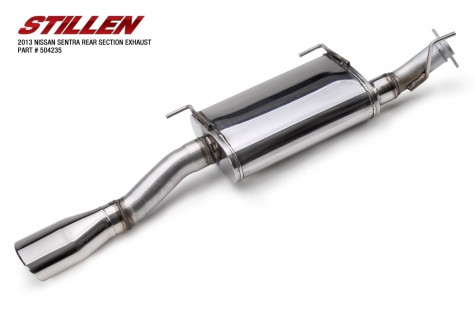 If you're interested in this Nissan Sentra axle back exhaust, please visit our website at STILLEN.com, or call us at 866-250-5542 and we will be happy to help you. We also offer rear section exhaust installations at our full service auto shop in Costa Mesa, California that specializes in both Nissan & Infiniti installations.