July 6, 2012
July 5, 2012
In the world of Social Media, today is known as #ThrowbackThursday and when you have been in business for 20 plus years, the amount of amazing content at your disposal to "throw back" to is insane. Today's throwback Thursday post was very difficult chose, it was most definitely a toss up between covering Montel Jordan's STILLEN equipped glorious 1990′s Chevy Suburban or some NISSAN TITAN awesomeness. Needless to say, the Titan won.
I swear, I can watch that video over and over.
In case you were wondering which STILLEN parts, that TITAN happened to have on it. Here's the breakdown:
STILLEN NISSAN TITAN SUPERCHARGER
STILLEN NISSAN TITAN HEADERS
STILLEN NISSAN TITAN AP RACING BIG BRAKE KIT
STILLEN NISSAN TITAN TRANSMISSION COOLER
STILLEN NISSAN TITAN HI FLOW INTAKE KIT
Back in 2006 during one of our "STILLEN DAYS" a customer brought out his INSANE Nissan Titan just to lend us a hand in destroying one of our cars that was already scheduled to be crushed. This moment will go down history as eternally epic.
July 3, 2012
Magazine's and parts manufacturer have always had a relationship much like peanut butter and jelly. Magazine's usually rely on manufacturer's for ads and manufacturer's rely on magazines for advertising. They are good on their own, but it seems like they were made for each other.  I'm proud to let you know that STILLEN and DSPORT have teamed up to give you something just as wonderful as the perfect PB&J.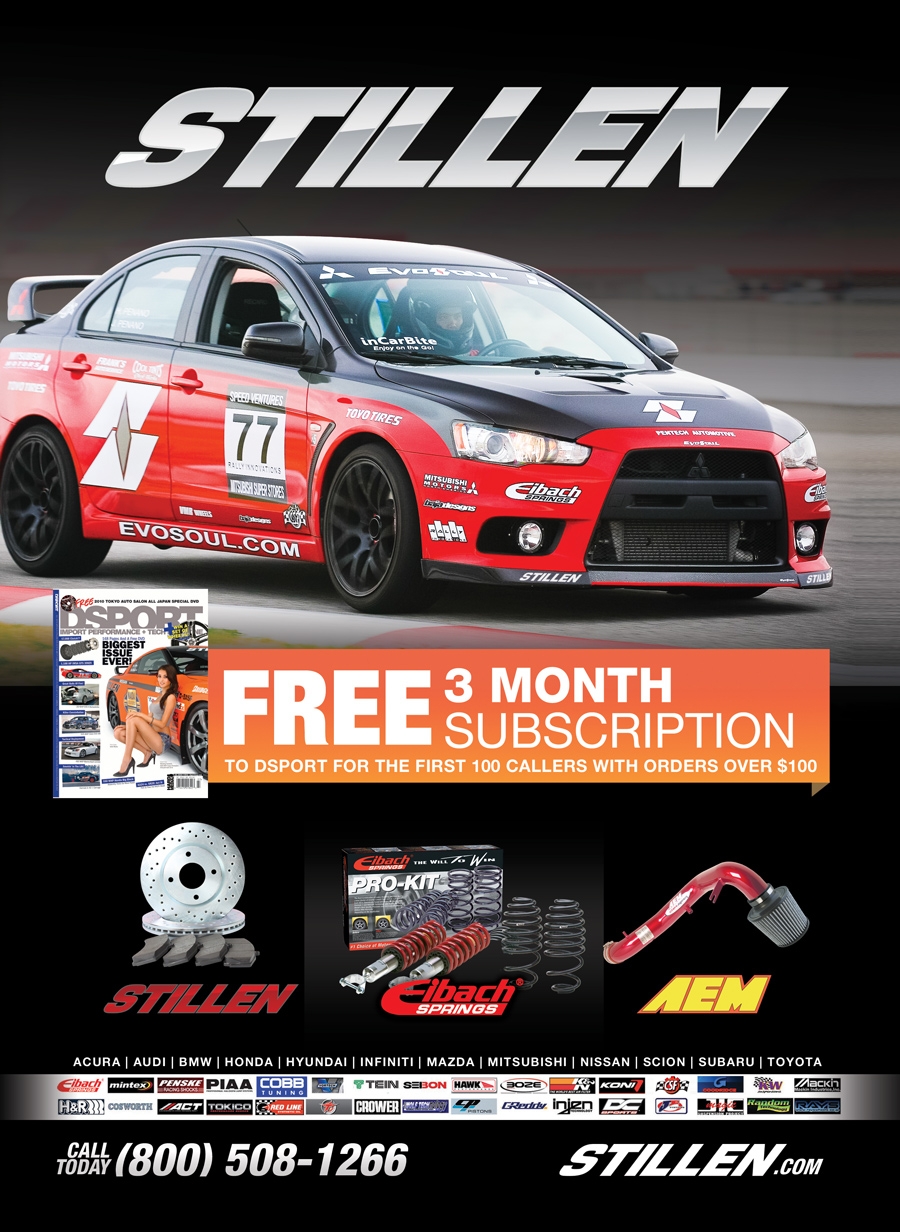 THE FIRST 100 CALLERS WITH ORDERS OF $100 OR MORE will get a FREE 3 month subscription to
DSPORT
magazine.
Don't sleep on this folks, spots are filling up fast.
CALL TODAY
1800 508- 1266
June 29, 2012
STILLEN is proud to announce the release of the AP RACING 4 Piston and 6 Piston Big Brake Kit for the Scion FR-S and Subaru BRZ.
The 4 Pisont front kit under part number AP3120 uses a 330x28mm two piece disc and you have the option of getting either crossed drilled and slotted or just Slotted. You also have 2 color options when it comes to the 4 piston caliper: Red, or Black will look really nice in the wheel well of any BRZ / FR-S.
RED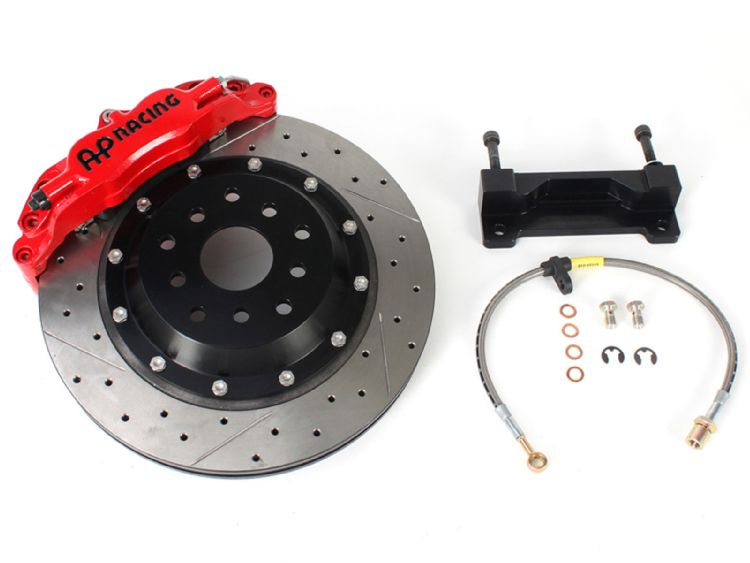 BLACK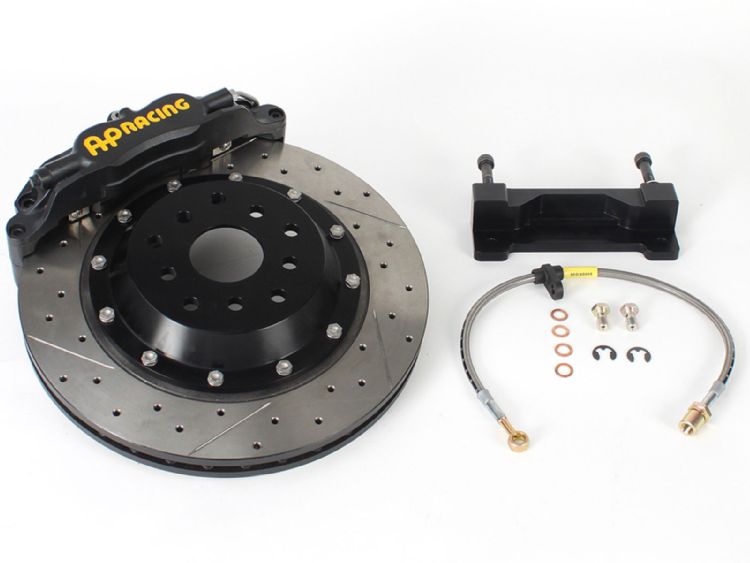 If you're looking for the next level of braking performance we also offer the AP6100 6 Piston kit.
The  AP6100 kit uses the AP RACING 6 piston caliper with larger 355x32mm two piece discs. You also have the option of three different Caliper colors, and two rotor styles.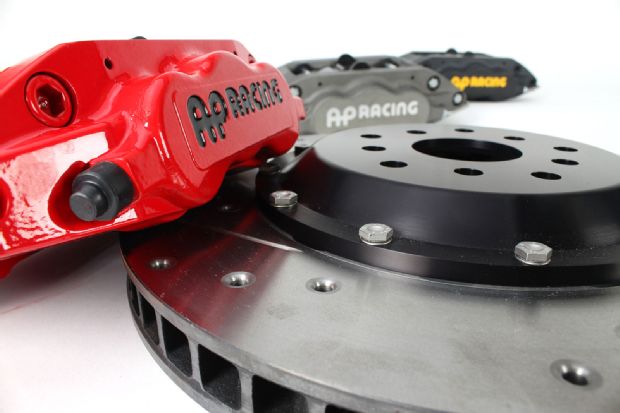 As you can see, we also offer the Slotted and Drilled, or just Slotted rotor options for the AP 6100 brake kit rotors.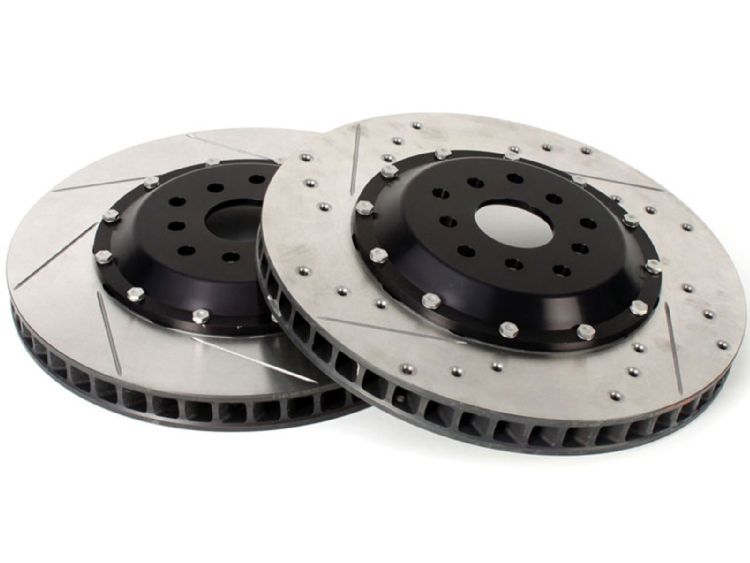 Both of these AP RACING kits bolt up to the factory locations and are designed to work well with the factory ABS systems and brake master cylinder. They also feature dust seals over each caliper piston to ensure reliability and high performance for as long as you own your vehicle.
If you have any questions or would like more information on the BRZ / FR-S AP racing Big Brake kits please give us a call
(800) 891-1058
June 29, 2012
June 22, 2012
Driving a vintage Cadillac is one of those things in life that very few actually get to enjoy. Late 50′s Cadillac's were made to make a point, they were stylish, they were advanced and they were powerful. Having a car with Power Mirrors and a Power drop top was something that was mind blowing back in the day. Now a days we expect our cars to come with features like that plus a whole lot more as industry standards. Putting everything the company had into a flagship vehicle, usually meant that the vehicle's grew to almost astronomical sizes. Just like this 1959 Coupe De Ville, the luxury cars of that day were almost a whole 6 inches longer than a full sized modern Chevy Suburban. Just to put things into perspective, the 1959 Cadillac Coupe De Ville Convertible is also a full 6 FEET longer than a 2012 Mazda 2. Obviously, cars this large carried with them a lot of weight and even though they rode as smooth as eggs, they handled like a wet sock.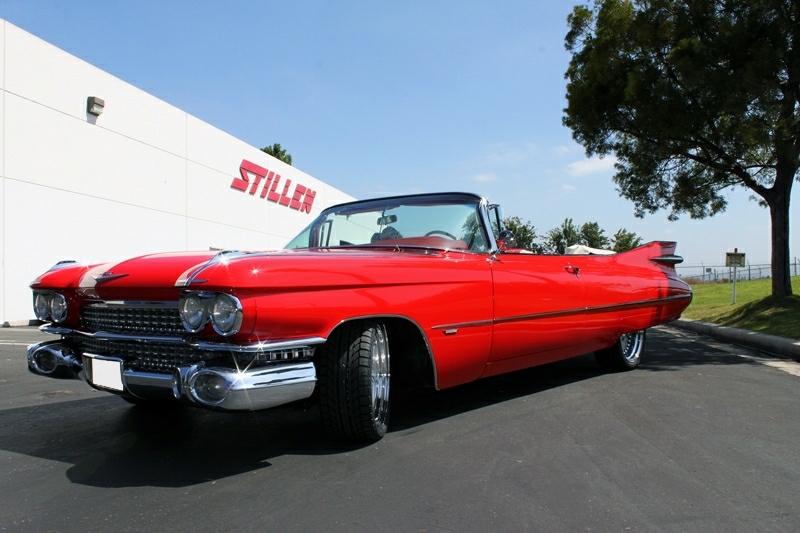 Thankfully, Steve's Coupe De Ville got a HUGE boost in the handling department today with the BFGoodrich g-Force Sport Comp 2 tires. Steve chose the BFGoodrich Sport Comp 2 tires in a 255/35/ZR19 all around to ensure his caddy would have plenty of meat under it's feet to keep everything in check in terms of handling. Not only do these tires give the Caddy a refreshed look, but they make sure the ride handles a whole heck of a lot better as well. The Sport Comp 2′s ETEC cap and their sidewall inserts make sure that caddy corners like a dream.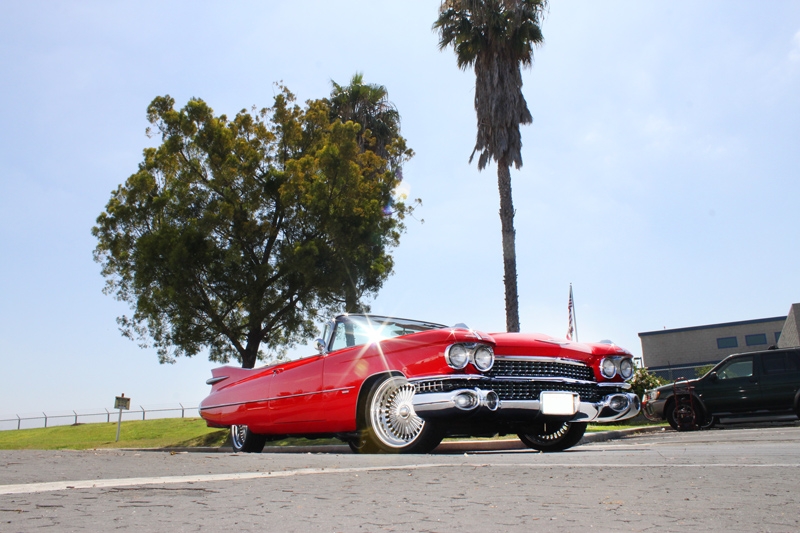 Steve ended up choosing BFGoodrich tires because he appreciates a well made tire and he wanted to make sure his caddy got what it deserved.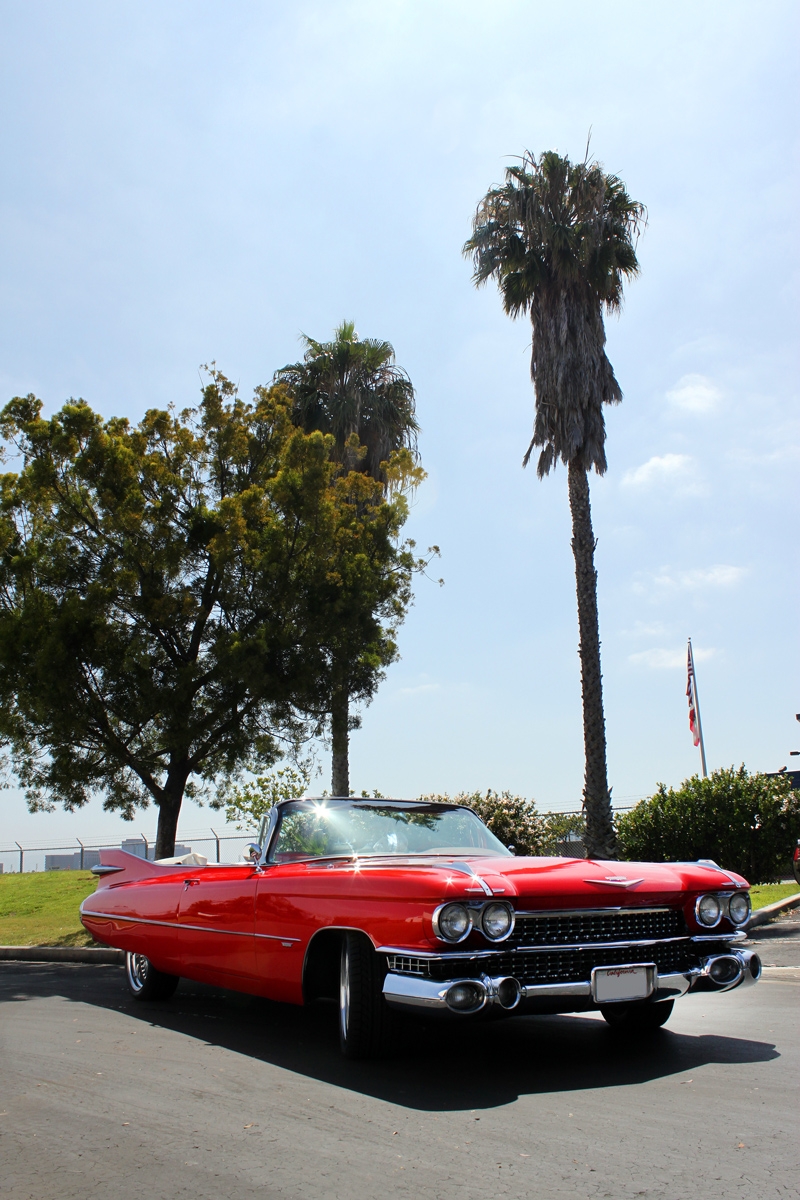 For more info on the BFGoodrich Sport Comp 2 tires cruise over to their website:
June 22, 2012
June 20, 2012
If you happen to be in the Nor. Cal area during the weekend of August 25th 2012, make sure you stop by Dublin Nissan.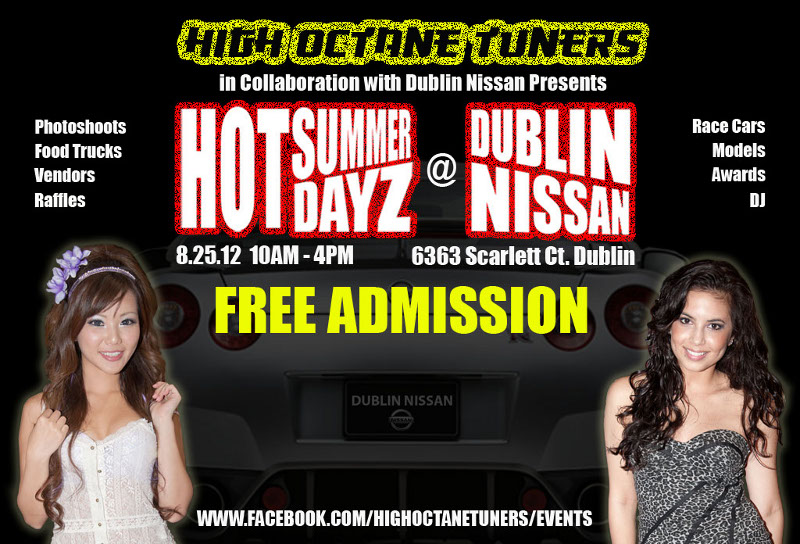 They got, plenty to keep you entertained all day and best of all ITS FREE to attend. Check out: www.facebook.com/highoctanetuners/events  For more information regarding the event.
June 18, 2012
The Hyundai Genesis coupe is one of those cars that quietly keeps impressing critics and owners over and over. Lately, it seems as though all the FR love has gone in the direction of the FR-S / BRZ but that's not to say that they Hyundai Genesis has disappeared.
A week or so ago, GCoupe de Ville posted his  install walkthrough and impressions of the STILLEN adjustable front and rear sway bars on the GenCoupe boards.  The full write up can be found here: http://www.gencoupe.com/media/100615-stillen-sway-bar-install.html
But a here's a brief re-cap.
As you can see, the STILLEN Hyndai Genesis sway bars are not only beefed up from the factory, but we give you the ability to adjust how much stiffness you would like to dial in.
You can also see that sway bars bolt up perfectly to the factory mounting points. Also note the quality of welds on the bars. One thing I should mention is that all of our sway bars are made RIGHT HERE IN THE USA!!! Which gives us the ability to hold the quality of our products to the highest standard.

His quick write up on his initial impressions express exactly what our sway bars were engineered to do:
"I went for a short test drive after the install and let me say even though I had the track suspension this is a HUGE step forward. The car just Feels tighter even when I'm driving it in a straight line and it corners like a dream. In the turns the back end is just pleading to drift out with how I set my bars up. Overall I love the upgrade!"
We are glad to hear you are pleased with your purchase and set up GCoupe de Ville, and we can't to hear what you have to say about them in the future.
In case, you are wondering, we are fully stocked on our Genesis front and rear Sway bar kit and they are available right now.
Give us a call at (800) 834-0376
Or visit our website:
STILLEN Hyundai Genesis Coupe Front and Rear Sway Bars.
June 15, 2012
Our $500 STILLEN BUCKS facebook sweepstakes has officially come to an end and we have found our lucky winner!!!!!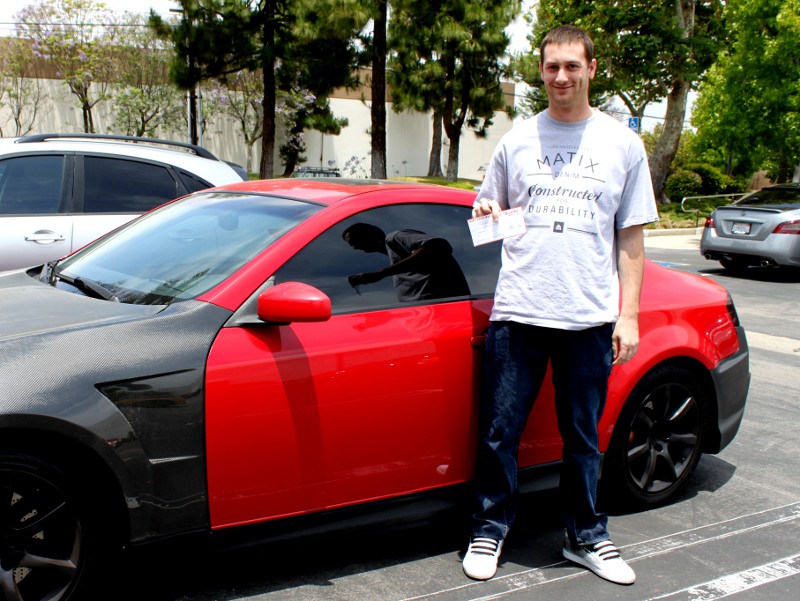 During our 1 month contest we received over 1,000 entries and almost twice as many facebook likes… On behalf of Team STILLEN, I would like to say THANK YOU to everyone who liked our page / shared the contest / and filled out the entry form.
In order to make things the most unbiased and fair as possible, we inputted the amount of unique entries into a random number generator and the results chose entry #195 for TERRANCE WHITE!!!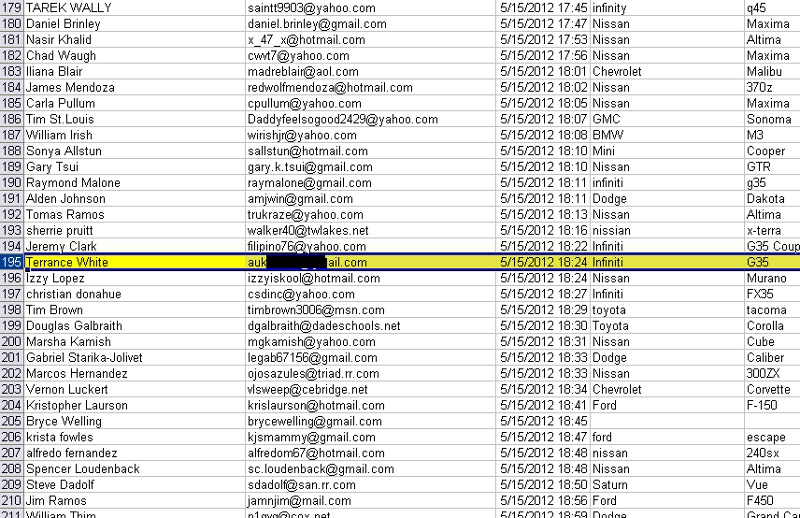 Congratulation Terry. We can't wait to get you outfitted.