January 9, 2014
Break out of the ordinary and take your new 2014 Infiniti Q50 to the next level with a new STILLEN Stainless Steel Cat-Back exhaust. Just released, these exhaust systems for the Infiniti Q50 are the pride of the STILLEN R&D team. With mandrel bent pipping, dual wall tips made of polished stainless steel and a 304 stainless steel construction, it's easy to see why.
Hear the Difference
This cat-back exhaust boasts the sound STILLEN exhausts are known for with an aggressive tone under hard acceleration to add a little kick to your drive. Watch the video below to hear the difference between the Q50 stock exhaust and the STILLEN Q50 exhaust.
STILLEN Infiniti Q50 Exhaust Details
304 stainless steel mufflers & tips for added durability and a long life
Backed by a manufacturer's limited lifetime warranty
Mandrel bent piping for a smooth flow and fuel mileage gains at cruising speeds
STILLEN & Infiniti
The relationship between STILLEN and Infiniti has been a long and successful venture. With over 25 years' experience installing and developing Infiniti aftermarket parts, you can trust that the STILLEN team with your Infiniti Q50. Each exhaust system is meticulously engineered and crafted by our research & development at our facility in Costa Mesa, California and is tested time and time again until we get the perfect sound and performance.
Next Steps
If you're interested in an Infiniti Q50 exhaust, please visit our website at STILLEN.com or call us at 866-250-5542 and we will be happy to help you. We also offer exhaust installations at our full service auto shop in Costa Mesa, California that specializes in Infiniti installations.
January 8, 2014
Enjoy the feeling of people checking out your car with the new body components for 2014 Infiniti Q50 by STILLEN, including a front splitter, roof wing and deck wing. Adding these details can take your 2014 Q50 from nice to custom in just one visit to the body shop!
Expert Design & Manufacturing
Like all STILLEN aero parts, the Q50 body components have been specially designed for the vehicle. They are also made of durable polyurethane, which is known for its resilience to scratches and dings. Each part is designed, tested and produced in our shop in Costa Mesa, CA. Our expert team has taken time to ensure that air flow management and overall look were built-in to the design. Additionally, the body components are shipped ready for final prep and painting. This makes them easy to install over your stock fascia.
Please Note: We recommend installation and paint should be done by an experienced and quality oriented body and paint shop.
Infiniti Q50 Front Splitter
Part #: KB11225
This lip spoiler for Infiniti Q50 sport models is designed for more than just looks. It actually helps make your car more efficient by creating a high pressure zone that allows you to slice through the air as you drive down the road. See below for additional Infiniti Q50 front spoiler benefits: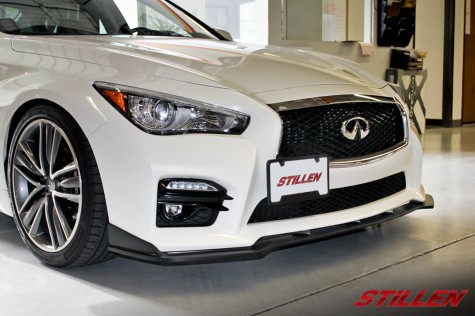 Stillen 2014 Infiniti Q50 front lip spoiler
Creates a more aggressive, custom look for 2014 Infiniti Q50 sedans
Features a matte black finish, but can be customized to any color by your body or paint shop
Attaches directly to your front fascia
Adds downforce to front wheels and increases air flow through radiator & heat exchange
Please note: This lip spoiler is specially designed for sport models only.
Infiniti Q50 Roof Wing
Part #: KB11224
Manage air flow and enjoy a distinctive look with a STILLEN Infiniti Q50 roof wing, which attaches at the top of the rear window. The STILLEN R&D team spent countless hours refining this body component so that the fit is so precise that it looks as though it came from the factory's design studio. Plus, it is made of durable polyurethane and ships ready for prep and paint!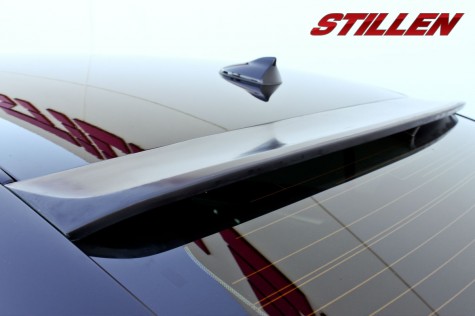 Developed and manufactured by the STILLEN team in our Costa Mesa, California body shop
Manufacturer's limited lifetime warranty that guarantees against breakage or cracking
Specially designed for 2014 Infiniti Q50
Infiniti Q50 Rear Wing
Part #: KB11223
Make a statement with an Infiniti Q50 rear spoiler. This deck wing is made at the STILLEN body shop in Orange County, CA and is shipped with a black matte finish that's perfect for prep and paint. It also features a limited lifetime warranty that guarantees the component will not break or crack under with normal use.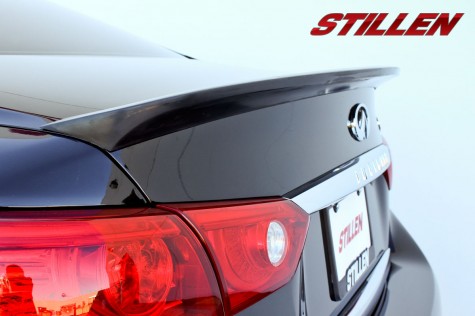 Designed specifically for the Infiniti Q50
Ready for prep and paint a polyurethane construction
Developed and manufactured in-house the STILLEN Infiniti experts
Next Steps
If you're ready to order or just want more information, visit our website at stillen.com or give our experts a call at 866-250-5542 and we will be happy to help you. We also offer a full service body shop in Orange County, CA that specializes in Infiniti body component installation!
January 7, 2014
Get major HP and torque with the new K&N Blackhawk 5.0 Mustang cold air intake for the 2011-2014 Mustang GT, and it's a serious performance upgrade that will make your stallion gallop faster and breathe better. The Blackhawk Mustang cold air intake gets its name from the stylish, all black design and the story goes deeper for this K&N 5.0 GT Mustang cold air intake, because on the dyno, it made over 14HP and 16ft/lbs torque for the pony wearing it!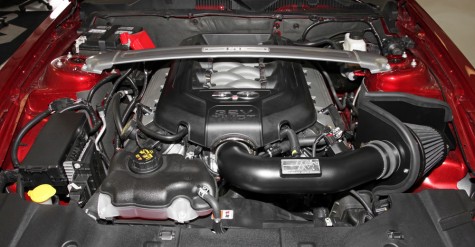 The Mustang Cold Air Intake That's Made to Last
Just as they do with every product, K&N backs their new Blackhawk Mustang cold air intake with a million mile warranty. However, with this quality system, chances are you'll never find or have a reason to use this industry leading guarantee. The Blackhawk Mustang cold air intake is easy to mount and requires no more than a few common hand tools. It's also washable and comes with a with a Dryflow filter and heat shield, which utilizes the fresh air scoop in your pony to push air through your intake.  Once you have this cold air intake kit installed, you'll know the difference the first time you press the gas!
K&N makes the intake tube out of aluminum and then black powder coats it to match the heat shield. Each Blackhawk Mustang cold air intake has a K&N engraved name plate welded onto the tube and comes with the RU-3102HBK Dryflow filter, which doesn't require oil and can go for up to 100,000mi between cleanings in certain environments. So, if you're looking for a stylish, affordable performance upgrade that's long lasting, high quality and makes for a killer engine sound, what you're looking for is the K&N 71-3527 Blackhawk 5.0 GT Mustang cold air intake.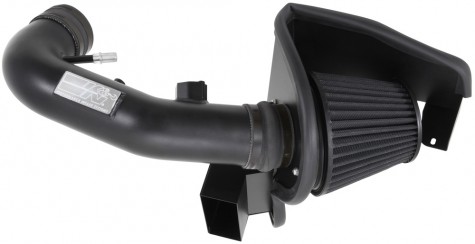 Next Steps
Give us a call to speak to an expert and place your order today at (866) 250-5542. If you have another Mustang and would like to see what K&N can do for you, check out all of the available K&N Mustang products or look over all of the K&N we have to find nearly any vehicle's K&N product options. Also, look around at the whole lineup of products available at STILLEN. Visit the STILLEN Costa Mesa Performance Shop site to schedule anything from a routine maintenance or install to a full-scale build.
January 6, 2014
Check out the new T-Rex Torch LED Light Grille for the 10-13 Ford F-150 Raptor! If you're driving an SVT Raptor around, it's probably not your grocery getter and it only makes sense to have the very best visibility possible when you're enjoying the times OFF-ROAD. Let's face it, this is what you bought your incredible machine for!
T-REX LED Light Grilles
If you don't want to deal with the hassle or expense of putting an over-sized, cumbersome and cargo limiting light mounting system on to have a marginal amount of more light, you don't have to worry.  T-Rex has you taken care of with the T-Rex 6315661 2010-2013 Ford F-150 SVT Raptor Torch Grille! Without having to worry about much more than when it will arrive or where you can pick one up, you can have an iconic T-Rex grille in your Raptor, with an amazing array of 2 twelve inch LED light bars set to turn the night ahead of you into a well-lit path, ready for travel.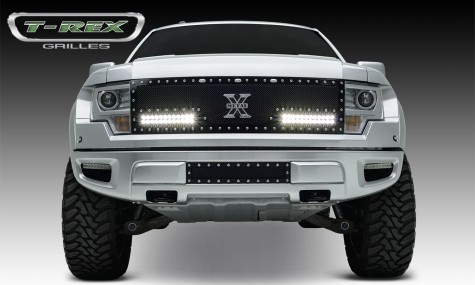 Specially designed for your very special ride and easy to install, this LED Light grille carries the large "Metal X" logo and is ready to fit right on, plug in and illuminate the road less traveled, OR not made yet. As with all of the products this innovative California local, American design and manufacturing company offers, the Torch LED Light grille is made with top quality materials and backed by lifetime structural and 3 year finish warranties.
All of the Torch LED Light grille series can be quickly and easily installed with the Optional T-Rex wiring harness 639HAR1, which is sold separately  but can easily be added to your order.  Just leave a comment in your order during check out or give us a call at (866) 250-5542 and we will adjust your order for you.
Next Steps
Like the idea of some LEDs right in your grille, but don't have an F-150 Raptor? Check out the entire line up of T-Rex Torch LED Light grilles we sell at STILLEN. To speak with and expert and place an order or schedule installation or maintenance give us a call at (866) 250-5542, or visit the Performance Shop in Orange County today.
January 3, 2014
MagnaFlow has put out a new 1987-93 Competition Series Mustang 5.0 exhaust. Not only does this thing make your Stang look and sound leaps and bounds above the stock system, but it's dyno tested and proven to make power and create performance gains in horsepower and torque. With the Competition Series Mustang 5.0 exhaust by MagnaFlow put on you'll get all new levels of power, performance and MAN, what a sound!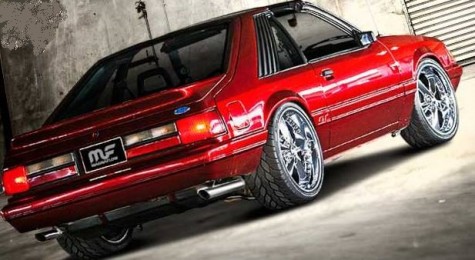 Made right here in the US, the Mustang 5.0 exhaust by MagnaFlow is mandrel-bent, with 3-inch tubing, a 4×14-inch muffler and 3-inch dual split rear end exit turn-down tips. Capable of being put on either the LX or GT models, the MagnaFlow 16996 Mustang 5.0 exhaust systems fall into the Competition Series because they simply have the power to make your 87-93 ready to take out to the track and show everyone what serious performance sounds like. Don't take our word for it, watch the video and see for yourself the MagnaFlow Performance difference:
If you think these Mustang 5.0 exhaust systems sound good in the video, just wait until you get the feel of the real rumble and the resulting steady push into the back of your seat once you put these on your classic Ford muscle car. The mandrel-bent, all welded, 100% stainless steel construction ensure that you'll have no use for the Lifetime Warranty, and the easy to install design and provided install sheet will make it a cinch to get this Mustang 5.0 exhaust on and roaring.
MagnaFlow 16996 Competition 1987-93 Mustang 5.0 Exhaust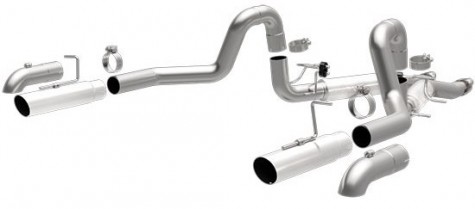 To speak to an expert, give us a call at (866) 250-5542 and place an order for your Mustang 5.0 exhaust or other Ford Mustang parts today. You can also visit STILLEN and check out the entire range of products we offer, or just see what MagnaFlow you may be interested in. To schedule anything from a routine maintenance to a full-scale build, visit the Orange County Performance Shop site and make your appointment.