August 6, 2008
The STILLEN Engine Damper Brace (part #307360) for the new VQ35HR 350Z engine have been released, and are available for shipping.  These braces dampen the engine's torque, recovering wasted motion into forward momentum.
These are a similar design to the already available Engine Damper Braces for the previous 350Z, G35, and 300ZX Nissan/Infiniti models.  Care and detail were taken in the manufacturing and design of this brace, and subsequently cost was reduced, reducing the final price on these.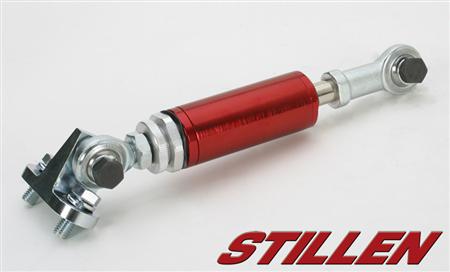 Available from the STILLEN ecommerce site here
May 21, 2008
Fresh out of our R&D Department, these chassis stiffeners increase the rigidity of the 350Z, allowing the suspension to deal with road (or track!) conditions more effectively and predictably.
These powder coated braces link rear suspension pick up points together as well as triangulating the factory front suspension braces with the structural members running down either side of the transmission tunnel.
Now available for purchase!
EDIT 8/8/08:  These braces can work in conjunction with the new STILLEN Front Core Support Brace also available.