May 24, 2010
News Release
FOR IMMEDIATE RELEASE
STILLEN OFFERS NEW AP RACING
2008-2010 BMW M3 (E9x)
FRONT AND REAR BIG BRAKE KITS
Features innovative Strap Drive System for road and track day applications
Costa Mesa, Calif. – AP Racing, the braking technology choice of professional race teams worldwide (including Rahal Letterman IMSA ALMS GT2 M3, BMW Motorsports FIA GT2 M3, etc), has introduced front and rear Big Brake System for the 2008-2010 BMW M3 (E9x). Available from the Brake Pros product division of STILLEN, these new brake upgrades fit most 18″ and 19″ OE wheels. They are compatible with OE ABS, traction control, stability systems and factory brake master cylinder. Read more
January 14, 2010
A little while back we had a chance to meet up with Matt Farah and his awesome crew from TheSmokingTire.com and show them around the buildings here at STILLEN.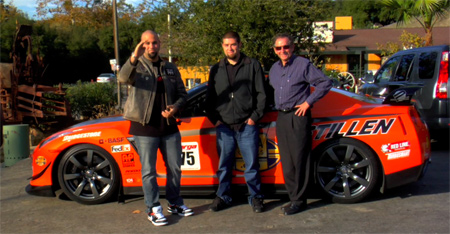 Matt and Steve then jumped in the bright orange STILLEN GT-R and took a run through some of the local canyons.  See below for the video! Read more
January 7, 2010
This Strap Drive System has been developed by AP Racing both for Road and Race applications. The standard fitment brake discs on many performance cars can suffer from brake vibrations caused by disc distortion. This generally occurs on fast road and track installations.
On many performance cars the typical standard brake disc will be a heavy duty ventilated single piece casting. Couple this type of rigid disc to a standard hub and wheel bearing and the result is any hub distortion / run out will transfer onto the disc brake faces. This eventually results in brake vibrations, usually picked up through the steering wheel.
The AP Racing Strap Drive System offers a new take on the floating systems already in the market place. Strap Drive uses a series of stainless steel straps to locate the disc to the mounting bell, producing a flexible coupling between the hub and the disc faces. This allows the disc to run true in the caliper under all conditions and also permits the disc to expand and contract without being restricted. Read more
July 31, 2009
Steve Millen and the R&D crew here at STILLEN are at full throttle wrapping up the build of the STILLEN GT-R, and Road & Track has been continuing their great video coverage of the build and testing.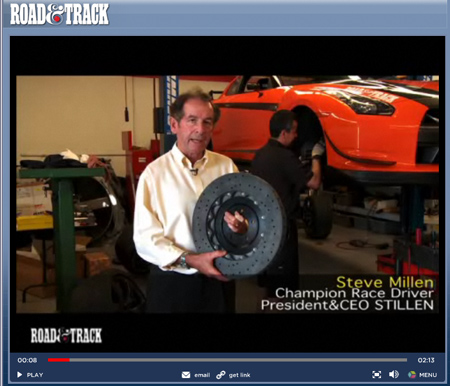 These three videos bring the total to 16 videos surrounding the STILLEN GT-R and the build for the Targa Newfoundland Rally which is in mid-September and quickly approaching. Read more
July 13, 2009
The office was buzzing today, as development continues on braking improvements to the R35 Nissan GT-R.  Here's a teaser shot of the upcoming STILLEN / AP Racing Carbon Ceramic Brake Upgrades currently in R&D here at STILLEN.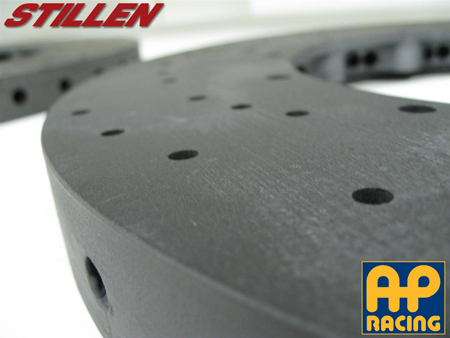 This setup will be used on the STILLEN GT-R being campaigned at the 2009 Targa Newfoundland Rally this September.
More information is coming soon.. be sure to follow our RSS Feed for up-to-date information as we release it.