November 19, 2010
News Release
For Immediate Release
 
STILLEN OFFERS RUGGED AP RACING BRAKE UPGRADE
FOR 2000-2010 GM 2500/3500 TRUCKS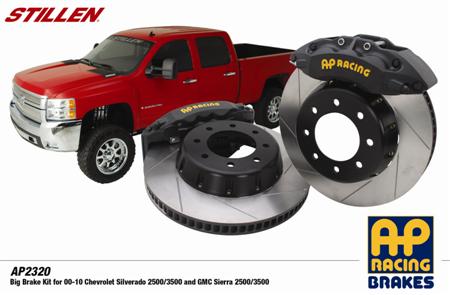 Costa Mesa, Calif.– STILLEN announces the availability of a new front and rear big brake system for the 2000-2010 Chevrolet Silverado 2500/3500 and GMC Sierra 2500/3500 (including Dual Rear Wheel models). This rugged, state-of-the-art brake upgrade is based on AP Racing brake technology, the number one choice for a wide range of professional race teams that compete at the highest levels (i.e. NASCAR, FORMULA 1).
 
Available from the STILLEN brake product division, these GM Truck brake upgrades Read more
August 12, 2010
After months of testing and road racing, STILLEN is proud to announce the availability of the first Active Brake Cooling Package made specifically for the R35 Nissan GT-R.  This kit has been shown to reduce rotor temperature on the AP Racing Carbon Ceramic Brake Upgrade by over 200 degrees F, and is also extremely effective for those running standard OEM Iron, or the AP Racing Curved Vane Rotor Upgrades.
GT-R Front Active Brake Cooling System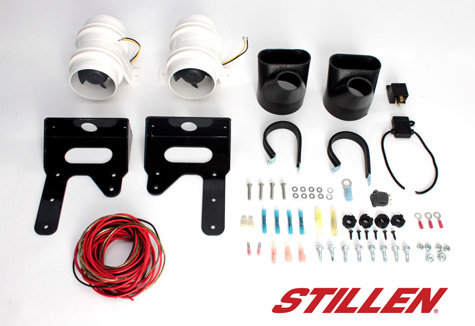 The front cooling kit consists of weather resistant electric fans, polyurethane air diversion splitter, all appropriate mounting brackets, and includes a wiring kit as well as a switch. Read more
August 10, 2010
We recently worked with Truckin' Magazine on some high speed brake testing, putting the AP Racing BBK designed by STILLEN to the ultimate test at El Toro Marine Base.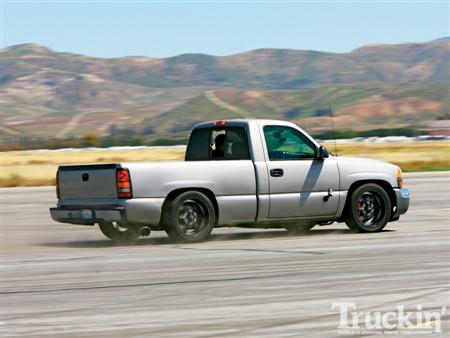 Truckin' editor Dan Ward pushed their 2004 GMC Sierra "Project Novakane" to the limit with repeated 80-0 mph stops beginning with the factory setup, swapped brake systems, and repeated the aggressive testing on the truck after outfitting the AP Racing setup onto the truck. Read more
May 24, 2010
News Release
FOR IMMEDIATE RELEASE
STILLEN OFFERS NEW AP RACING
2008-2010 BMW M3 (E9x)
FRONT AND REAR BIG BRAKE KITS
Features innovative Strap Drive System for road and track day applications
Costa Mesa, Calif. – AP Racing, the braking technology choice of professional race teams worldwide (including Rahal Letterman IMSA ALMS GT2 M3, BMW Motorsports FIA GT2 M3, etc), has introduced front and rear Big Brake System for the 2008-2010 BMW M3 (E9x). Available from the Brake Pros product division of STILLEN, these new brake upgrades fit most 18″ and 19″ OE wheels. They are compatible with OE ABS, traction control, stability systems and factory brake master cylinder. Read more
January 14, 2010
A little while back we had a chance to meet up with Matt Farah and his awesome crew from TheSmokingTire.com and show them around the buildings here at STILLEN.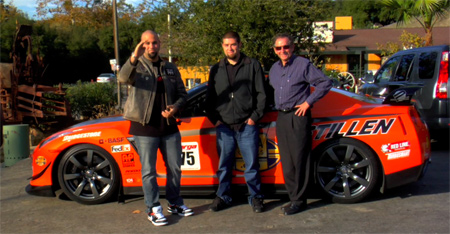 Matt and Steve then jumped in the bright orange STILLEN GT-R and took a run through some of the local canyons.  See below for the video! Read more