January 7, 2010
This Strap Drive System has been developed by AP Racing both for Road and Race applications. The standard fitment brake discs on many performance cars can suffer from brake vibrations caused by disc distortion. This generally occurs on fast road and track installations.
On many performance cars the typical standard brake disc will be a heavy duty ventilated single piece casting. Couple this type of rigid disc to a standard hub and wheel bearing and the result is any hub distortion / run out will transfer onto the disc brake faces. This eventually results in brake vibrations, usually picked up through the steering wheel.
The AP Racing Strap Drive System offers a new take on the floating systems already in the market place. Strap Drive uses a series of stainless steel straps to locate the disc to the mounting bell, producing a flexible coupling between the hub and the disc faces. This allows the disc to run true in the caliper under all conditions and also permits the disc to expand and contract without being restricted. Read more
July 31, 2009
Steve Millen and the R&D crew here at STILLEN are at full throttle wrapping up the build of the STILLEN GT-R, and Road & Track has been continuing their great video coverage of the build and testing.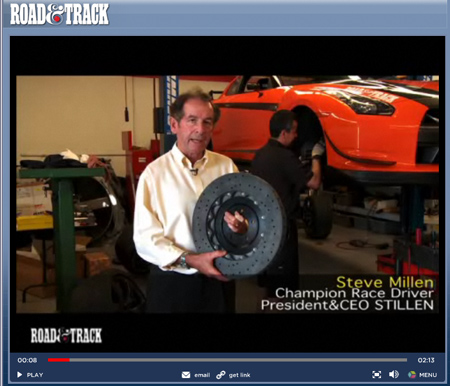 These three videos bring the total to 16 videos surrounding the STILLEN GT-R and the build for the Targa Newfoundland Rally which is in mid-September and quickly approaching. Read more
July 13, 2009
The office was buzzing today, as development continues on braking improvements to the R35 Nissan GT-R.  Here's a teaser shot of the upcoming STILLEN / AP Racing Carbon Ceramic Brake Upgrades currently in R&D here at STILLEN.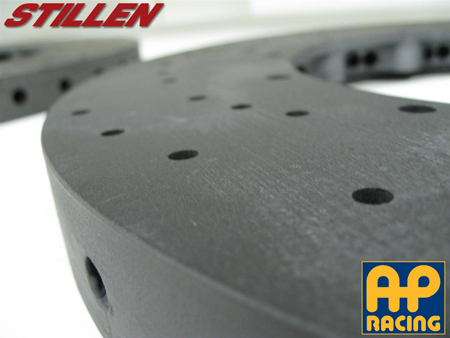 This setup will be used on the STILLEN GT-R being campaigned at the 2009 Targa Newfoundland Rally this September.
More information is coming soon.. be sure to follow our RSS Feed for up-to-date information as we release it.
June 17, 2009
We posted earlier that MOTORZ TV was doing a brake upgrade install using STILLEN Brake Pros components, and the episode has been released!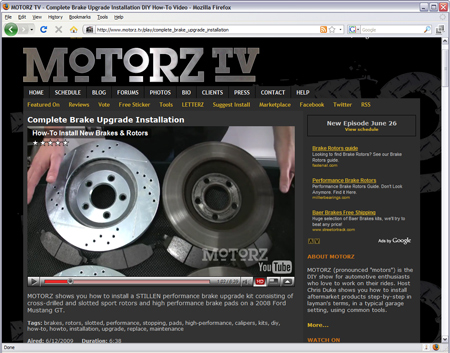 Take a peek as they go through the steps of upgrading a 2008 Ford Mustang GT with STILLEN Sport Rotors and STILLEN High Performance Metal Matrix Brake Pads. Read more
June 4, 2009
Our friends at MOTORZ TV approached us when looking at brake upgrades for their 2008 Mustang GT, and we were excited to get a chance to put some parts in their hands and get their feedback.
MOTORZ is a TV show framed around the DIY auto enthusiast who loves to get his/her hands dirty, and provides a step-by-step install on products, just like it's done in a typical garage or driveway setup.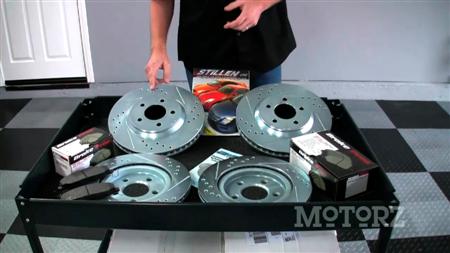 As they received the product, Chris Duke (the producer and on-screen personality) immediately ripped open the boxes to check out the STILLEN Sport Rotors and Metal Matrix High Performance Brake Pads and give them a once over.
(Video below the jump) Read more