February 26, 2009
We have finished final production on the new STILLEN Stainless 370Z Cat-Back Exhaust System, and wanted to share the pictures, video sound clip and dyno sheets with you.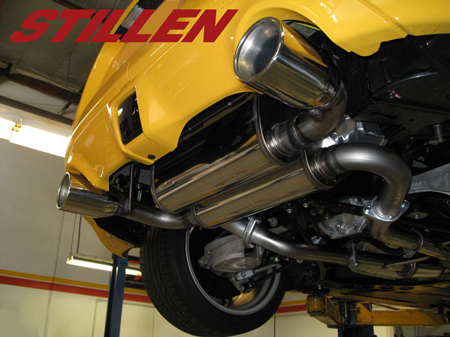 The 370Z is responding excellent to power modifications, and our heritage with tuning the Z car has allowed us to squeeze an additional 18whp from this upgrade.  See below for the pictures and video. Read more
August 29, 2008
We received the first batch of Mine's Silence VX Pro Titan II Titanium Cat-Back Exhaust Systems for the R35 Nissan GT-R's, and pulled one out of the box to get a closer look at this completely titanium system, see what all of the fuss is about, and shoot some pictures.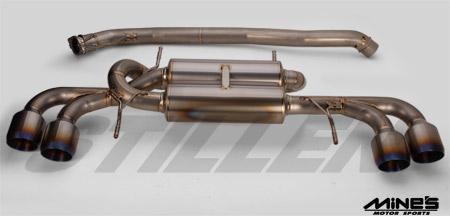 The construction on this exhaust system is beautiful, with every flawless weld point showcasing that signature heat treated titanium color band.
More pictures and information after the jump.. Read more
July 3, 2008
We recently had a G37 at the facility, and we were able to do some testing on the G37 Headers, Cat-Back Exhaust, and High-Flow Catalytic Converters on the same vehicle to compare versus stock.
PDF Dyno Sheets are available below:
STILLEN G37 Cat-Back Stainless Steel Exhaust
Part #504400 – Dual Wall Straight Cut Tips
Part #504401 – Single Wall Slash Cut Tips
18 WHP Gain
STILLEN G37 High-Flow Catalytic Converters
Part #503436 – Metallic Converters (Pair)
14 WHP Gain
STILLEN G37 Stainless Steel Headers
Part #508387C – Ceramic Stainless 409
Part #508387S – Stainless 304
Part #508387N – Stainless 409
14 WHP Gain
These parts are all in stock and available for immediate shipping.  Pictures of these items are also below.
June 26, 2008
STILLEN's G37 Dual Exhaust and Hi-Flow Cats are featured in the Power Pages section in the June issue of Import Tuner. These two parts combined for a total increase of 20 hp and 18.4 lb/ft of torque at the wheels!
Check out the full article in the pdf below, then check out the rest of the Power Pages articles archived on Import Tuner's Site.