December 15, 2011
Few things stick out in my life as such happy times as ripping open the giant Slot Car box at Christmas with the TYCO logo and the huge "Zero Gravity Cliff Hangers" or            "US1 Trucking" emblazoned on the side, shoving aside other gifts and wads of torn and crumpled wrapping paper to clear enough room and take over the living room.
Getting the track set up, plugged in, the hum of the power supply, finally jamming a finger down on the trigger and watching the little car shoot down the track at what seems like 900mph with tiny sparks visible under the chassis, not having a chance in the world at making the turn and spiraling off somehow getting airborne and disappearing in the depths and darkness behind the Christmas tree in the corner.. Controller surprisingly hot in my hand and a curl of smoke coming up through the vents..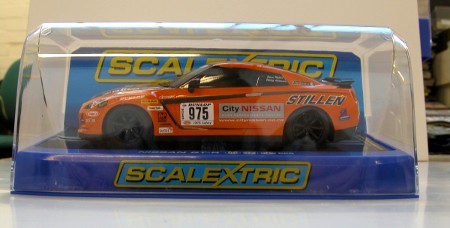 For those who hung on to those good times and continued on with Slot Car Racing, no doubt Scalextric is a name you've heard of and trust. They specialize in bringing realistic vehicles to the slot car world, and this year they've taken on recreating the STILLEN R35 Nissan GT-R in striking detail.
The Nissan GT-R is done in a 1:32 scale, and even be modified just like the real thing, changing anything from tires to gears to swapping motors. Check out the detail in the pictures below:
Steve Millen and STILLEN have a history with Scalextrix, as they also did the STILLEN Ford GT a couple of years back after it competed in the New Zealand Targa:
So if you are a slot car enthusiast, or know of one, this is a perfect Christmas item to add to the vehicle fleet!
September 19, 2008
Arrrrrrgh.. It's September 19th again Matey.. and hopefully you know what that means..
Yes, the always anticipated Talk Like A Pirate Day (TLAP) has come upon us, so spread some Pirate folklore and find some booty.. (ahem.. treasure.. right..)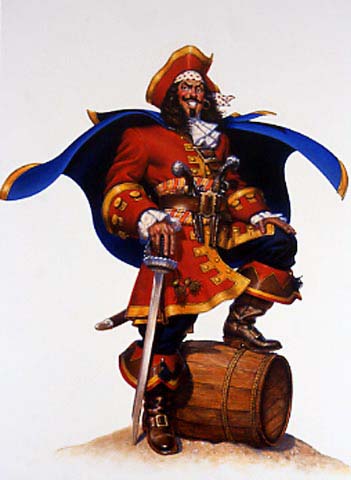 (my favorite captain)
What's that, you say you don't know how? Well you're in luck, the fine folks at talklikeapirate.com have you covered with their handy how-to section that should get you rolling.
They also have a flickr photostream to get you inspired.
Once you have the passion, you'll find that anything is possible, just see what some old-fashioned creativity can bring:
(shamelessly gleaned from google images and flickr)
July 30, 2008
We'd like to think so.. case in point..
It's nice to know with new innovations in the automotive world, new technology, new products, pyretic gas prices, new anti-enthusiast laws, changing shifts in every industry, there are always the staples that never seem to change.
You might think I'm referring to such companies and products supplied by K&N, Eibach, AP Racing, Bilstein and many others.. but in this case.. not so much.
See below the fold to hear our thoughts..
June 9, 2008
Memorial Day.. Beer.. Motorized Cooler.. Beer.. what could possibly go wrong?  Well for this guy in New York, everything, as he was busted for a DUI for "driving" his Cruizin Cooler..  ouch!
For those not familiar with this particular 'vehicle':
"
WHITEHALL – In case you were wondering, a motorized cooler on wheels is a motor vehicle under state law.

A Whitehall man learned that on Memorial Day, when he was charged with driving while intoxicated after police pulled him over for swerving and driving on the sidewalk on a four-wheeled, motorized cooler known as a "Cruzin Cooler."
Leslie J. "Bomber" Marr, 57, could face felony DWI and aggravated unlicensed operation of a motor vehicle charges because of prior arrests and convictions in drinking-and-driving cases, said Whitehall Police Chief Richard LaChapelle.
The electricity-powered Cruzin Cooler that Marr was riding contained 14 beers, the chief said.
LaChapelle said Whitehall Police Patrolman Andrew Mija stopped Marr at about 7:45 p.m. after the officer saw Marr swerving and preparing to cross William Street on the motorized cooler…" The rest of the article is available from the link below.
Source:  Poststar.com / CruizinCooler.com
May 21, 2008
Apparently it's as simple as picking up this used slightly modified 2002 BMW M3, just ask the owner, who has all of the answers you're looking for.. as posted on his AutoTrader entry..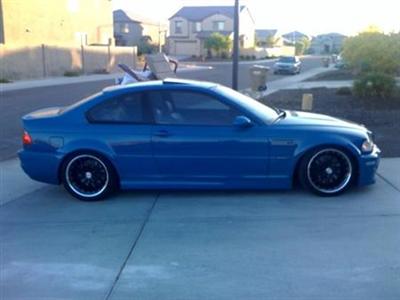 "2002 BMW M3 Coupe, 6-speed manual, Rare Laguna Seca blue, Gruppe M intake, Remus exhaust, Fully adjustable coilover suspension, AC Schnitzer rear spoiler, AC Schnitzer roof spoiler, AC Schnitzer clear corners, LED tail lights with smoke colored lenses, 50k service (big one including valve adjustment) done at 65k miles, New brakes, Maintenance records available, New 18″ wheels and tires, Harman Kardon premium sound system, Ice cold A/C, Looks & runs great, Non-smoker, Power everything, Very clean interior, Well maintained, 100k BMW engine warranty. Private Seller (no sales tax). This car has gotten me laid so much it is ridiculous. I would like pull up to a pimp club in Scottsdale and the valet would crap his pants, but I wouldn't let him park it. I just leave it up front and make sure all the ladies saw me get out. I'm also totally ripped so that helps too. I inject myself with pure bull shark testosterone and lift 4 hours a day. My diet also consists of 24 egg whites a day. I've got a killer 6 pack and some delts that you would not believe. I only hook up with 9s and 10s. Never less because I'm a winner! I'm not saying this car will do the same for you but it's a start. If you're interested in taking the first step to becoming a true Jedi Pimp email me at conner.john2@xxxxx.com. I'll probably be working out so I'll get back to you as soon as I finish my protein shake (and probably hooking up with a hot chick)."
Source:  AutoTrader.com