December 10, 2013
STILLEN is proud to announce the 2011-2014 Nissan Juke all-wheel drive rear sway bar is now available.  The STILLEN 2011-2014 Nissan Juke AWD Rear Sway Bar is rear mounted and offers more rigidity than the factory rear sway bar to aid in cornering and vehicle stability.  STILLEN has designed this sway bar to be stiffer than the factory bar which will allow for better turn-in, rotation, and overall improved stability when pushing either a Nissan or Nismo Juke hard through canyon roads, on the track, or even trying to get to work in the morning!
A common complaint on all wheel drive vehicles is the experience of "understeer."  Understeer is where you are driving the car spiritedly and the car doesn't want to rotate through the turn.  Instead the front tires just "push" or "under steer."  By stiffening the rear suspension, the chassis will be more planted and allow the car to rotate better which gives drivers a more positive feel as they accelerate through turns.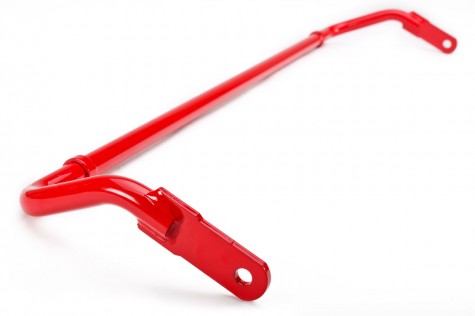 The STILLEN sway bar for the AWD Nissan & Nismo Juke is:
•    Made out of high-tensile strength steel.
•    Incorporates precision laser cut end link brackets.
•    Finished in a brilliant red powder coat finish.
•    Protects against corrosion and wear & tear.
•    Designed to keep the underside of the car looking great!
•    Backed with a STILLEN lifetime guarantee!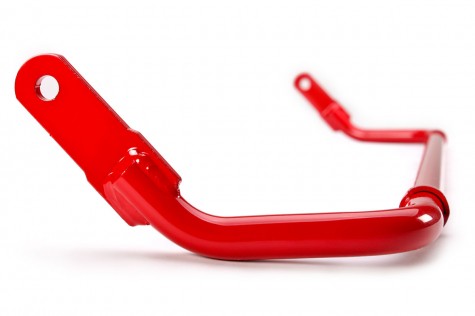 To speak with an expert and place your sway bar order, give us a call at (866) 250-5542. You can check out all the STILLEN Sway Bars we carry, or explore all the items we have for sale here at STILLEN.com. You can also schedule anything from a routine maintenance or install to a full scale racing build on the Performance Shop site.
May 9, 2012
Last week, we told you about the IMPORT TUNER Power Pages article that featured our Supercharged 370z with just 3 magical parts on it.
STILLEN 370Z INTERCOOLED SUPERCHARGER KIT
STILLEN 370Z DUAL EXHAUST SYSTEM
STILLEN UP REV ENGINE TUNE
As you can see from the previous article, those three parts alone gave the 370z a 139HP boost at the wheels and 90lb/ft of torque. While we would LOVE to equip our customers cars with superchargers all day, the $8,000+ price tag might be a little too much for every budget. So today, we figured it would be fitting to cover a more cost effective approach to the "magic number."
While navigating through the wonderful world of YOUTUBE this morning, I stumbled upon a video from EFI LOGICS that features the magic number of 3 in a much more affordable combination.
For their customer (Richard Park) EFI LOGICS  combined the
370Z GEN 3 STILLEN LONG TUBE INTAKE $499
370Z STILLEN CAT BACK DUAL EXHAUST SYTEM $1269.61
370Z UP REV OSIRIS ECU TUNE $499 (plus dyno time)
For some pretty amazing horsepower and torque gains.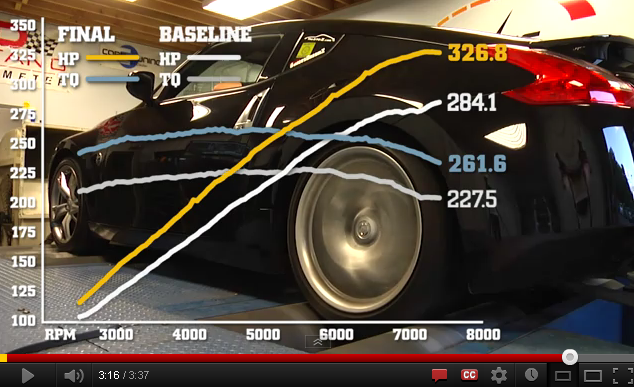 As you can see, it turns out 3 is in fact the magic number on the 370z for gains good for +40HP at the wheels and +30 lb/ft of torque. All for a price that's roughly around $2500.
If you are interested in taking your 370z to the next level, give us or EFI LOGICS a call and both of us will gladly help point you in the right direction.
April 27, 2012
Hooraaaaaaaay we made the cover of IMPORT TUNER!!! Well sort of, we actually made the cover of IMPORTTUNER.COM. Today, or 4/26/12, (depending on when you read this) Import Tuner put our 370z Power Pages feature on the homepage of their website.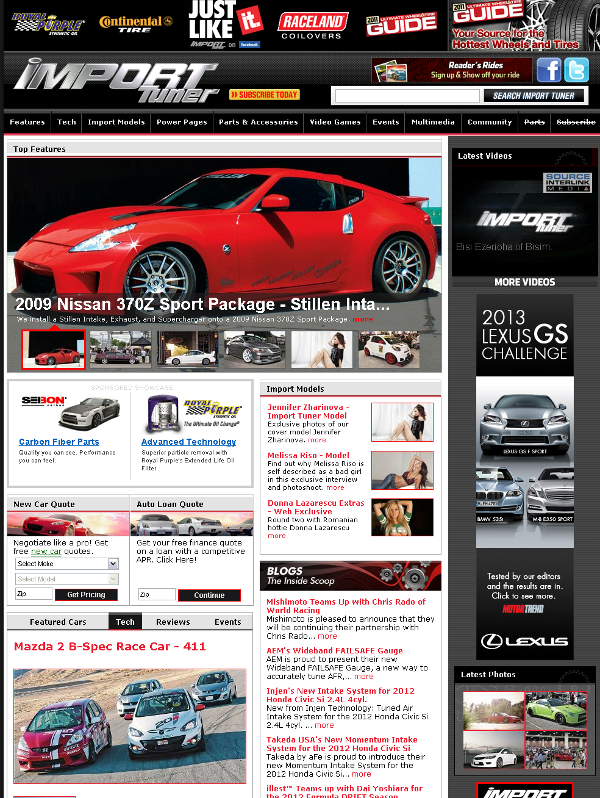 As we have stated before in earlier blog entries, the NISSAN 370Z is a very good car straight out of the box, and it takes quite a bit of patience and finess to squeeze extra ponies out of the VQ37. That being said, adding the wrong Intakes or exhausts can actually rob that car of some horsepower, so to answer the troves of people on the forums asking us how much power our 370z products make… check out the Power Pages Article here..
http://www.importtuner.com/powerpages/
SPOILER ALERT!!!! With some mild tuning we managed to squeeze and extra 139 HP out of the venerable 370z with just 3 PARTS!!!! … That's just like throwing an extra honda civic in the engine bay of your 370z but without any of the weight.
We accomplished this with the following:
STILLEN 370Z GEN3 LONG TUBE INTAKE
STILLEN 370Z INTERCOOLED SUPERCHARGER
I guess 3 really is the magic number after all

April 16, 2012
Lately, we have been getting a ton of 370z questions regarding when we officially recommend tuning your 370Z after adding a few bolt on's.  The 370z is a very potent car straight out of the box but as soon as you start adding one too many bolt on's you can change the car's optimal air/fuel ratio to actually start to hinder your motor. Instead of boring you with a horribly written "Guide to modding your 370z," I'll refer you to the IMPORT TUNER power pages article where they managed to massage an extra 40HP out of the VQ37VHR powerplant.
The article can be found here.
2009 Nissan 370Z Touring – Power Pages
Maybe that will help clear up the "what part adds what and when you should tune" debate. As they say in the article…
THE DYNO DOESN'T LIE!
For more information on the products that can be found in this article…
STILLEN 370Z DUAL EXHAUST SYSTEM
STILLEN 370Z GENERATION 3 ULTRA LONG TUBE INTAKE KIT
In terms of engine management, we recommend going the UPREV route, which we can also provide in-house tuning for at our STILLEN PERFORMANCE CENTER. 
Plus we have plenty of other 370Z power adding goodies available if you want to step things up a little further than 40hp.
June 26, 2008
STILLEN's G37 Dual Exhaust and Hi-Flow Cats are featured in the Power Pages section in the June issue of Import Tuner. These two parts combined for a total increase of 20 hp and 18.4 lb/ft of torque at the wheels!
Check out the full article in the pdf below, then check out the rest of the Power Pages articles archived on Import Tuner's Site.