August 26, 2010
DSPORT Magazine and IDRC are throwing an event at the Auto Club Speedway on September 4th.  It's combining both the IDRC International Finals and the SHAKOTAN Auto Showcase to the same venue, and should be packed with things to see.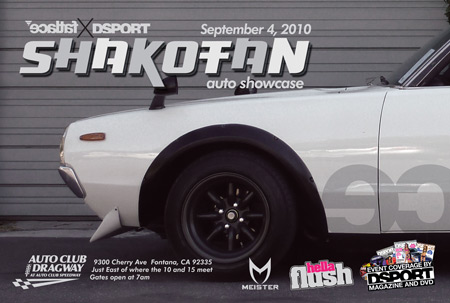 Drag Racing, Drifting, and a car show featuring all types of show cars.  Event hours are from 7am-5pm. Read more
August 24, 2010
STILLEN has partnered with DSPORT Magazine and their 2011 New Car Buyer's Guide Issue (on newsstands now) to bring you a special contest, where 3 winners will take a share of $2,000 in STILLEN Bucks redeemable for anything we sell here at STILLEN.

Grand Prize x 1
$1,000 in STILLEN Bucks
2nd Place Prize x 2
$500 in STILLEN Bucks



Simply fill out your information and answer a couple of questions here at their website, and you'll be entered to win! Imagine the possibilities of what you could get with a $500 or even $1,000 shopping spree!
March 18, 2010
News Release
FOR IMMEDIATE RELEASE
March 18, 2010
STILLEN Introduces 500+HP Supercharger System for Nissan 370Z / Infiniti G37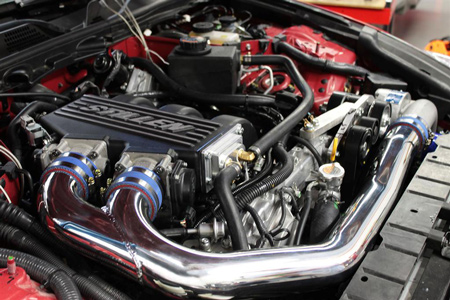 (Costa Mesa – CA) – After more than a year of development and testing, Steve Millen Sportparts (STILLEN) is proud to announce the release of the STILLEN Supercharger System for the Nissan 370Z and Infiniti G37 with the 3.7L VQ37 engine.
This complete bolt-on kit includes everything needed to increase the factory 332 horsepower to a tire shredding 500+ horsepower on 91 octane pump fuel! Read more
March 16, 2010
STILLEN founder and owner Steve Millen has again been invited out to the 2010 Toyota Pro/Celebrity Race at the 36th annual Toyota Grand Prix of Long Beach on
April 17, 2010.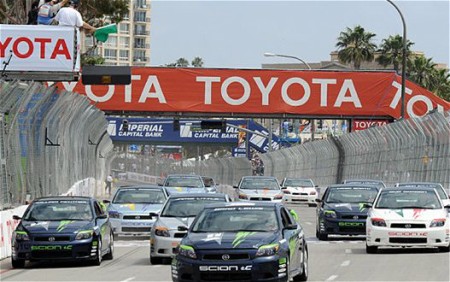 Steve Millen will climb into the Scion tC, pitted against a field of 17 other drivers, from long-time STILLEN friend and comedian Adam Carolla, celebrities such as skateboarding legend Tony Hawk, to other racing stars such as drift and X-Games driver Tanner Foust. Read more
February 18, 2010
Earlier this month we said goodbye again to the STILLEN R35 GT-R after getting the call from Nissan that they would like to bring the GT-R back into Canada for the 2010 Canadian International Auto Show in Toronto.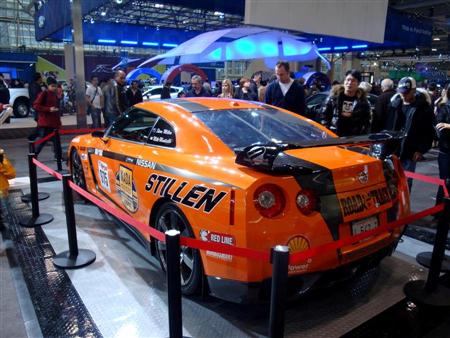 Nissan arranged for transport, and placed the Targa GT-R in the center of their booth, giving attendees a chance to get inches away from the Orange Godzilla and get a peek for themselves. The show runs through February 21, 2010. [Pictures & Video after the jump] Read more
November 7, 2009
 Steve Millen and the marketing crew here at STILLEN took some time out and traveled to LA to spend some time with Adam Carolla, and be a part of his CarCast show.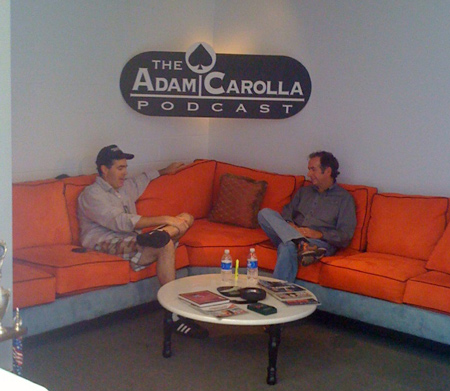 Adam's shop is very cool, with interesting things around every corner, and numerous projects in various states of completion. Read more
November 11, 2008
STILLEN invites you to see and touch the new 2010 Nissan 370Z before anyone else, including the LA Auto Show, right here at the STILLEN facility in Costa Mesa!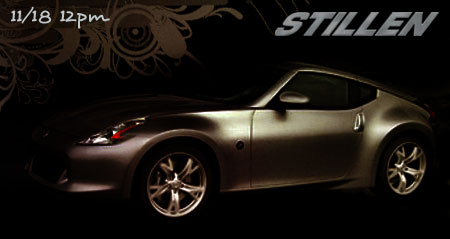 EDIT 11/19/08:  Pictures and Video of the 370Z are up as well.. CLICK HERE
more information, date, time and directions after the jump… Read more
September 11, 2008
Steve Millen and the STILLEN crew are very excited to once again be participating in the Dunlop Targa Rally held in New Zealand with the STILLEN Ford GT. This is an annual road rally held on 38 stages run over closed public roads, with a variety of vehicles, from classics to Porsche's, EVO's, STi's, Skyline's and everything in between.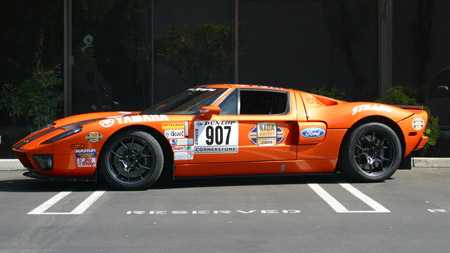 The competition stages are public roads which have been closed by the police and driven flat out. The goal is simple, the car that covers the distance in the shortest time wins.
EDIT: Here's some additional coverage, photos, and previous stories from our friends at Autoblog.com
Videos of the 2006 Targa Rally, including in-car are available at the STILLEN GT Project Vehicle page
More pictures and information after the jump… Read more
August 21, 2008
Car & Driver released their testing results on several Nissan GT-R's they have had in their October 2008 article from their website.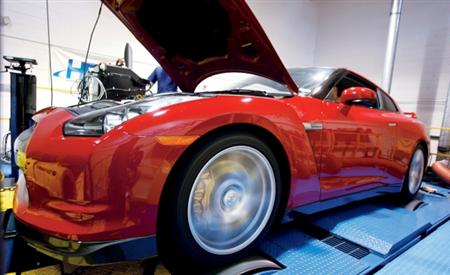 Excerpt from the online article:
On MotorCity Speed's Mustang dyno in Commerce Township, Michigan, GT-R No. 4 produced a peak of 415 horsepower at the wheels. Based on our 20-percent loss estimate, the engine output was 519, or 39 horsepower more than Nissan's stated 480.
More information and dyno sheets after the fold… Read more
June 26, 2008
The folks over at NADAGuides.com, a leading new and used vehicle information site have today launched a new segment, the NADAGuides Garage Blog, aimed at delivering their massive amount of content, new vehicle information, industry news, and enthusiast happenings in a slickly designed blog.
Be sure to subscribe to their RSS feed, and you'll never be out of the loop with all of the new and upcoming vehicles.
NADAGuides was on hand for the 2008 STILLEN Customer Appreciation Day to see the new 2009 Nissan GT-R, 2009 Maxima, and the 2009 Infiniti FX50 in person.  You can see their thoughts here.