April 8, 2014
STILLEN is proud to announce the launch of the Nissan Altima rear sway bar. This rear sway bar has gone through extensive R&D and testing to eliminate the common Nissan Altima rear sway bar defect. Due to many complaints from customers and vehicle owners, STILLEN decided to take a very close look into the design of the factory 2008 to 2013 Nissan Altima rear sway bar. In doing so, our engineers discovered that the cause of the failures is the design of the bar and the way the leverage is applied to the bar.
Finding the Nissan Altima Sway Bar Design flaw
The first thing the STILLEN engineers did was examine the entire suspension of the Altima rear end. To do so, we started by removing the driver side rear spring. This allows us to put a jack underneath the rear of that control arm and compress the rear suspension. By doing so, this simulates the cars suspension travel and shows the engineers what the rear suspension and most importantly the rear sway bar goes through during a full cycle.
Factory Nissan Altima Sway Bar Broken Due to Poor Design
Right away our engineers could see the problem. Due to the design of the sway bar, the suspension is not actually twisting the bar. Instead, as the suspension compresses up into the wheel well the sway bar actually bends at the middle rather than twist like it should. Illustrated in the pictures below, you can see what our engineers saw. To start with this is what the sway bar looks like when both corners are at "full droop." This means there is no load applied to either corner and the sway bar is "at rest." In these images we have included a straight edge to better illustrate exactly what we're talking about.
Factory sway bar at rest:
Here is an image of the factory sway bar with one corner compressed:
Not only was the sway bar not twisting properly but the factory rubber bushings were also deflecting in a manner they shouldn't be.
Fixing the Problem
To remedy the situation our engineers started by throwing out the factory design of the 2008 Nissan Altima sway bar altogether. After looking at the design of the bar, it was easy to see that the angle of the sway bar from the end link to the middle of the bar is simply insufficient and does not actually allow the bar to twist.
When looking at the factory sway bar compared to the STILLEN sway bar you can quickly see the entire design is different. By adding the additional bends in precise locations the sway bar now applies the torsional load from the suspension travel to the center of the sway bar in a twisting fashion as opposed to a leveraging angle. During the testing the STILLEN engineers performed the same test on the STILLEN sway bar as the factory sway bar. Here are the results:
STILLEN sway bar at rest:
STILLEN sway bar with one corner compressed:
STILLEN sway bar with one corner compressed, stock bushing very little deflection:
Due to the new end link mounting angle of the sway bar our engineers were uncomfortable re-using the factory end links as the angles did not match in a satisfactory position. Because of this STILLEN's engineers designed new end links for the Nissan Altima, utilizing high durometer urethane couplers with high tensile strength steel hardware finished with a black powdercoating to protect from road debris and corrosion.
More Reasons Why You Should Upgrade To A STILLEN Altima Sway Bar
The STILLEN sway bar is more than a Nissan Altima replacement sway bar. By upgrading to STILLEN's performance sway bar, you not only get a higher quality, better designed sway bar, but you also get to enjoy better handling it brings. Here are a few of the other benefits you can enjoy:
Better Handling – This sway bar is designed to handle comfortably on the street, while also making your Altima more fun to drive.
Warranty – Buy with confidence knowing that you are getting a genuine STILLEN sway bar that is made with the highest quality materials and comes with a manufacturer's 1 year limited warranty.
Made in the USA – know that you are supporting American workers when you purchase STILLEN parts. For each STILLEN part, we make every effort possible to ensure that it is designed and manufactured in the US.
STILLEN 304236 – 2008-2013 Nissan Altima Sway Bar (Fits 2008-2013 Coupe or 2008-2012 Sedan)
Next Steps
If you have any questions about the STILLEN replacement sway bar for Nissan Altima Coupe or Sedan, please contact us at 866-250-5542 and we will be happy to answer any questions you have. If you live in the southern California area and would like to get your new sway bar installed by the experts, please stop by the STILLEN performance shop. We feature an expert team that will be happy to install your sway bar for you or other Nissan Altima performance parts you may be considering like exhausts, air intakes, and more!
January 22, 2014
Break out of the ordinary and take your new 2008-2014 Nissa Altima to the next level with a new STILLEN Stainless Steel Cat-Back exhaust. Just released, these exhaust systems for the Altima are the pride of the STILLEN R&D team. With mandrel bent piping, dual wall tips made of polished stainless steel and a 304 stainless steel construction, it's easy to see why.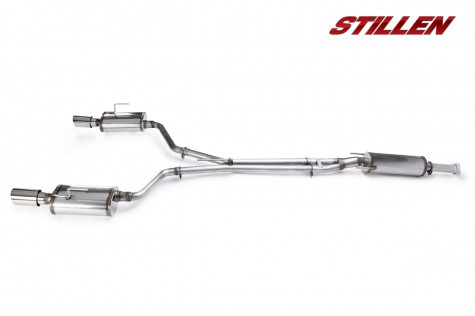 STILLEN's Nissan Altima Exhaust Systems aren't just built for looks or sound, but are built for power. Power that you can feel while driving! With this exhaust system, you are sure to enjoy the power band with a big gain on top. Additionally, mileage gains during highway travel can be expected as you cruise at steady speeds.
You're sure to enjoy this STILLEN exhaust for Nissan Altima for many years. It features aluminized performance mufflers or stainless steel free flowing mufflers for long life. Plus, this system boasts the perfect fit and finish for the Nissan Altima!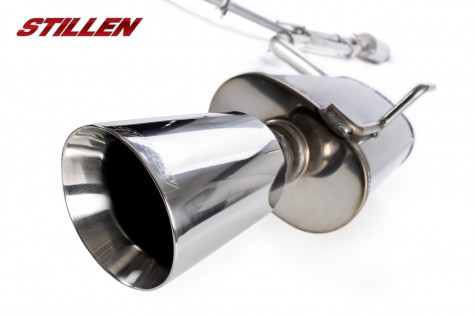 Finally, the improved airflow created by addition of the 2014 Nissan Altima cat-back exhaust is verified by the significant dyno HP increase. If you want to go faster, make your engine more efficient and enjoy a better sounding exhaust, adding the STILLEN Exhaust to your Nissan Altima is a must.
Please note: Actual product may vary slightly from image.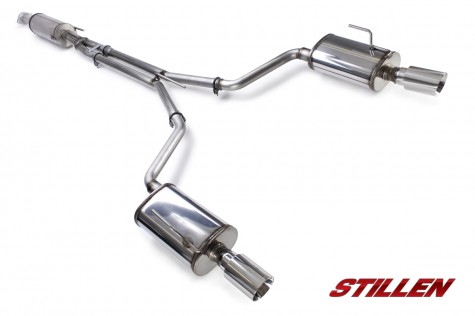 Features & Benefits of the Nissan Altima Exhaust by STILLEN:
Complete Cat-Back Exhaust System
Stainless Steel Construction
Polished Stainless Tips, End Pipes and Mufflers
Increase of Horsepower and Torque
Mild at Idle/Cruising – Aggressive Note Under Throttle
Limited Lifetime Warranty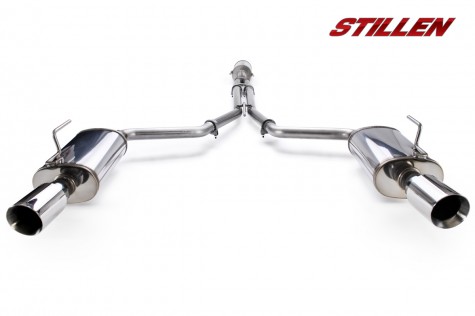 Stock Exhaust vs. STILLEN Exhaust – Hear the Difference:
This full cat-back exhaust boasts the sound STILLEN exhausts are known for with an aggressive tone under hard acceleration to add a little bite to your drive. Watch the video below to hear the difference between the Altima stock exhaust and the STILLEN
STILLEN & Nissan – A Long & Lasting Relationship:
The relationship between STILLEN and Nissan has been a long and successful venture. With over 25 years' experience installing and developing Nissan aftermarket parts, you can trust that the STILLEN team with your Altima. Each exhaust system is meticulously engineered and crafted by our research & development at our facility in Costa Mesa, California and is tested time and time again until we get the perfect sound and performance.
Have Questions? Contact Us!
If you have any questions about this exhaust or any of our other products, please contact us! We will be happy to help you and offer recommendations based on your vehicle and needs. You can reach our Nissan performance part experts at 866-250-5542.
We also carry a variety of stainless steel Altima exhaust systems including Altima cat-back exhaust and Altima axle back exhaust systems. If you are looking to have some work done on your Nissan or Infiniti car, truck or SUV, be sure to check out the STILLEN performance shop in Costa Mesa, CA.  We offer a wide variety of services including brake installations, builds, alignments, dyno tuning and more!
July 11, 2012
The new 2013 Nissan Altima is making waves all over the car world and we were lucky enough to get our hands on one this week for some R&D.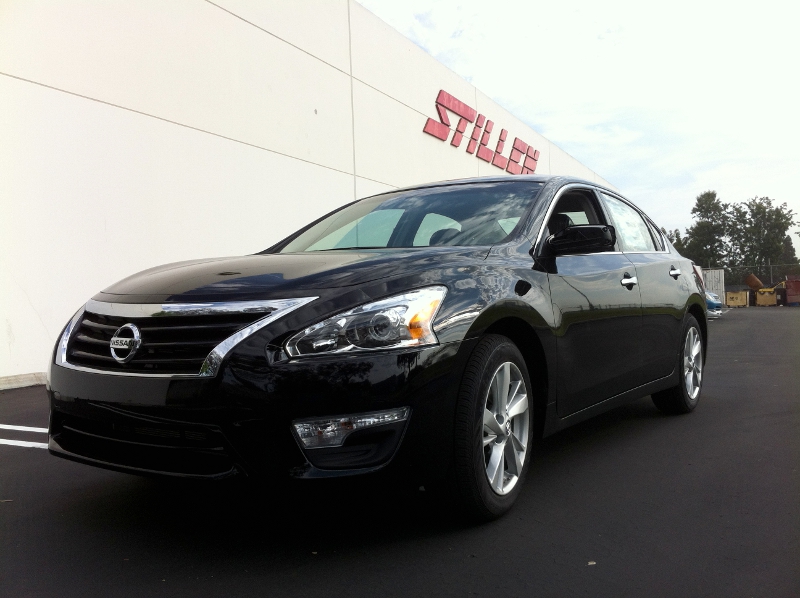 As you can see the new Altima is starting to look more and more like it's big brother Mr. Maxima, but that's about the only thing it shares with it's bigger sibling.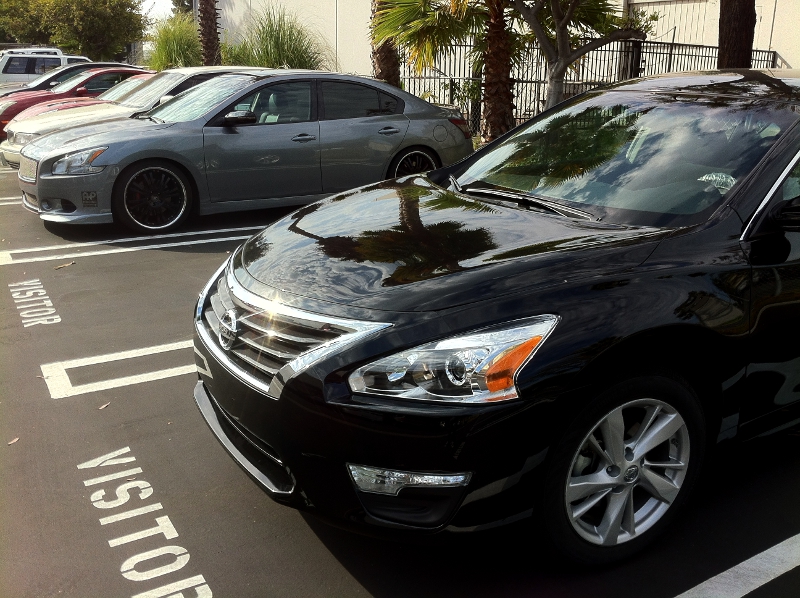 We are working on a full array of products for the new 2013 Altima but for now, we have already dialed in a Big Brake Kit, and a STILLEN intake kit. Stay tuned for the release date announcements.
June 4, 2012
A few months ago, we got a flurry of inquiries regarding a STILLEN front lip for the 2012 Nissan Altima Sedan and we are proud to announce all your questions have been answered. The 2012 NISSAN ALTIMA SEDAN STILLEN FRONT LIP is now available.
It looks pretty awesome on just about any color Altima,
White

Or Blue

Feel free to visit our site for more information.
STILLEN 2012 Nissan Altima Sedan Front lip. And of course, we currently have one available for the coupe as well. Check out our Nissan Altima aftermarket parts page.
April 12, 2012
The 2012 Nissan Altima fresh from the factory is already a pretty good looking coupe. It pays homage to its Z big brothers and at the same time has a lot of character of its own. We wanted to keep that character in mind when we were developed our NISSAN ALTIMA STILLEN FRONT LIP. We felt like we accomplished this pretty well, but when we found out this morning that 66MVP was outfitting their ALTIMA's in their showroom with our LIP KIT we were ecstatic!!! Needless to say, we took this as a HUUUUGE compliment.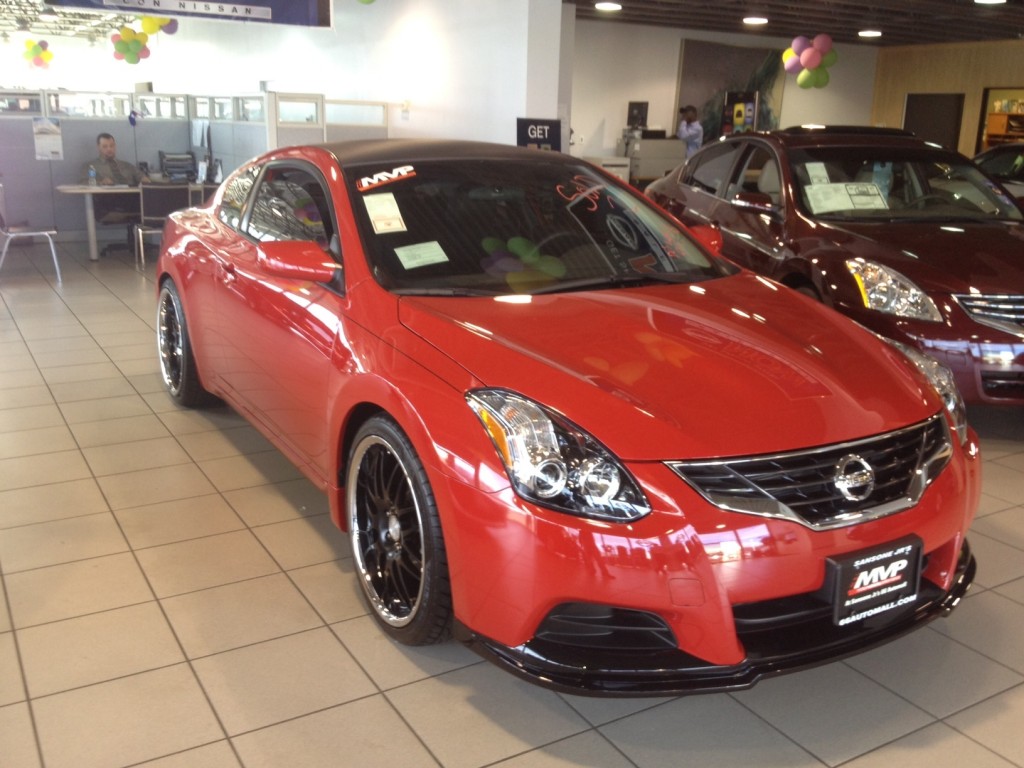 As you can see from the picture above, the STILLEN equipped ALTIMA coupe looks classy and mean at the same time.
If you happen to be in the New Jersey area, make sure you pay the boys over at 66AUTOMALL a visit. Not only do they have a wide selection of new and pre-owned NISSAN's, KIA's, and SUZUKI's to choose from but they also happen to have a very one of a kind GTR for sale.

Or if you can't make the drive, do some traveling in cyberspace and check out their website: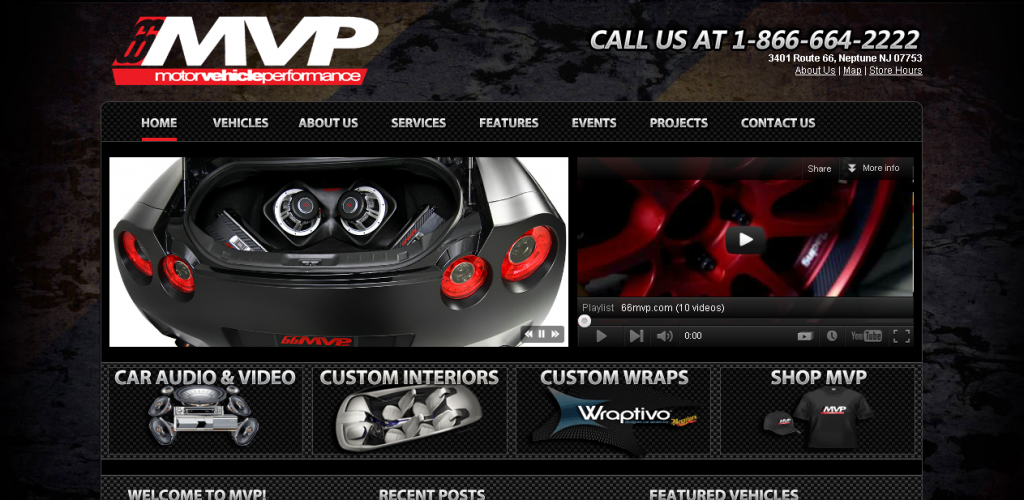 1-866-664-2222
3401 Route 66, Neptune NJ 07753