August 12, 2010
After months of testing and road racing, STILLEN is proud to announce the availability of the first Active Brake Cooling Package made specifically for the R35 Nissan GT-R.  This kit has been shown to reduce rotor temperature on the AP Racing Carbon Ceramic Brake Upgrade by over 200 degrees F, and is also extremely effective for those running standard OEM Iron, or the AP Racing Curved Vane Rotor Upgrades.
GT-R Front Active Brake Cooling System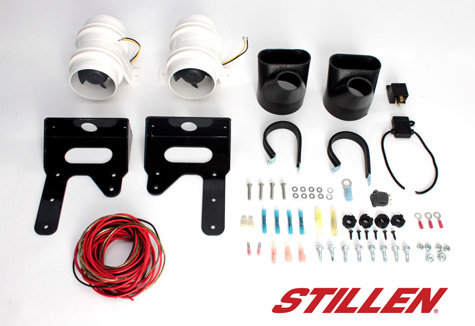 The front cooling kit consists of weather resistant electric fans, polyurethane air diversion splitter, all appropriate mounting brackets, and includes a wiring kit as well as a switch. Read more
June 29, 2010
Steve Millen and the STILLEN team have returned home from the Spectre 341 Challenge.  We had a great trip and we are already thinking of ways to improve the car for next year and see what kind of car I (Kyle Millen) can bring up there to compete in!  The team at Spectre did a great job for their first event and we are really looking forward to heading back next year!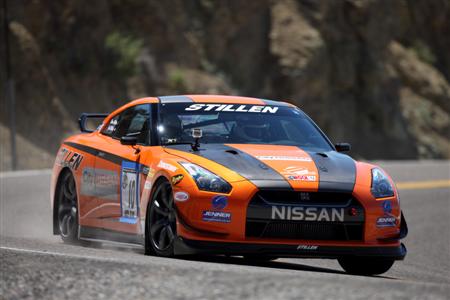 Photo courtesy of Larry Chen / Spectre 341
The GT-R finished 2nd overall, missing the top time by 1 second. Next year we'll be bringing back some Dunlops and should be able to pick up at least 5 or 6 seconds.  Unfortunately the Bridgestone run flats did not offer enough grip for the hill climb.  But, we knew that going into the event as the Dunlop tire is the NISSAN recommended performance tire.  Unfortunately they were out of stock though so we had to run the Bridgestone's. Read more
June 25, 2010
Looks like cell phone coverage is decent out in Virginia City where STILLEN and Steve Millen are running the GT-R at the Spectre 341 Challenge. We'll use this blog post as a place to post updates and photos we get back from the team.  We'll have a full recap after the event ends.
Friday 6/25 – 11:20am (Kyle via text)
Phone works okay.. no real updates.. did drivers meeting this morning and the drivers got a tour of the race course with tips from Amir from Spectre
The HRE Porsche is pretty nice and looks well prepared and the LG Vette is nice.. light weight good tires.. all good
There's a hearse here too!  I don't know about it though.. I think they are just here
Friday 6/25 – 11:43am (Kyle via text)
The hearse now has numbers.. looks like it's running! Read more
June 22, 2010
The busy schedule for the STILLEN R35 Nissan GT-R has finally finished with the shows and now it's time to get back to racing!  Team STILLEN will be bringing the orange beast to Virginia City, Nevada for the first annual running of the Spectre 341 Challenge being held June 25-26, 2010.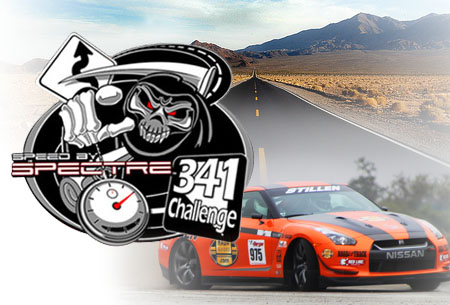 This event is held on a closed section of Highway 341 that would normally be opened to the public.  Originally started in the early 70's this event was pioneered by the local Ferrari clubs.  The event ran until 2002 before being shut down.  2010 marks the re-organization of the event Read more
June 3, 2010
We recently met up with the guys at DSPORT Magazine at a local studio to shoot the STILLEN R35 GT-R for the cover and feature of their July 2010 issue.  We're happy to announce that this issue is currently on the newsstands, and has been delivered to subscribers!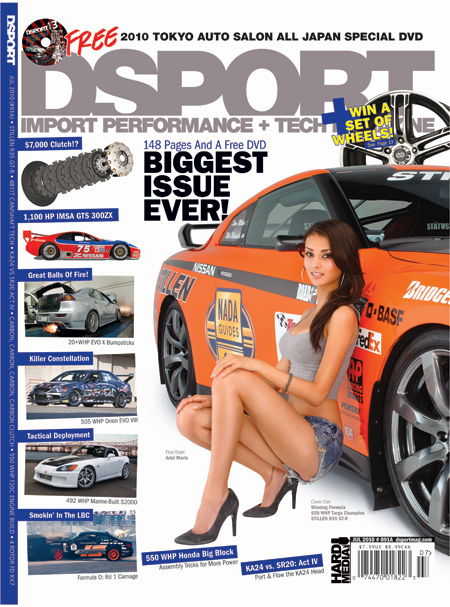 In addition to getting some fanastic studio shots of the GT-R with the beautiful Ariel Marie, DSPORT also shot Steve Millen's Championship IMSA 300ZX Twin Turbo Read more
May 4, 2010
We have never been busier here at STILLEN, with the R&D department at full throttle, new products launching left and right (515hp 370Z/G37 Supercharger, 370Z Body Kit, just some of the recent launches), the sales team busy on the phones, and all of us putting the final touches on what is shaping up to be a great Open House event here this Saturday!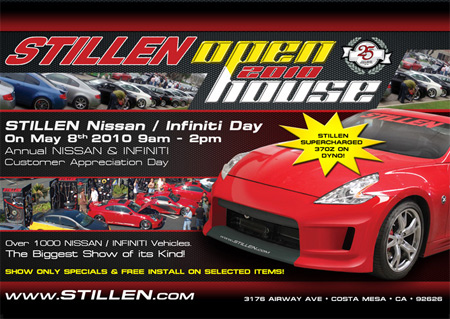 (High Resolution Version – Click Here)
We've been getting tons of feedback for our 25th year in business and are just as excited as the Nissan and Infiniti owners who are making the journey (from 5 different states!) out to the STILLEN headquarters this weekend to help us celebrate. We've done our part to make this event special.  In our previous post we've outlined some details of the event (and they are recapped below), and we're working hard to make this even even more special. Read more
March 29, 2010
Last month we celebrated Steve Millen's birthday in the style that would only fit a bunch of car guys and racers… We gave him an exact replica remote control car of his Nissan GT-R Targa Rally car. 
After a bit of research online we found that HPI Racing has a 1:10 scale 2009 Nissan GT-R.  Read more
March 18, 2010
News Release
FOR IMMEDIATE RELEASE
March 18, 2010
STILLEN Introduces 500+HP Supercharger System for Nissan 370Z / Infiniti G37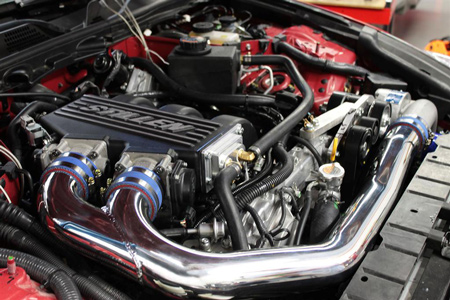 (Costa Mesa – CA) – After more than a year of development and testing, Steve Millen Sportparts (STILLEN) is proud to announce the release of the STILLEN Supercharger System for the Nissan 370Z and Infiniti G37 with the 3.7L VQ37 engine.
This complete bolt-on kit includes everything needed to increase the factory 332 horsepower to a tire shredding 500+ horsepower on 91 octane pump fuel! Read more
February 27, 2010
Mark your calendars:  STILLEN's Open House Customer Appreciation Day is
May 8th, 2010!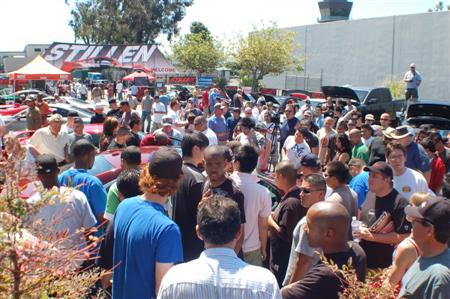 2009 brought some high highs and some low lows.  Through the tough economic times STILLEN pushed ahead with new products, new race programs and took the STILLEN prepared Nissan R35 GT-R to a first place finish in the Targa Newfoundland Rally.  All the while continuing growth saw the expansion of our manufacturing facility and more development out of R&D.
Development of that race program prevented us from being able to hold our annual Open House Customer Appreciation Day, but we are very excited to announce that 2010 will see the return of the highly anticipated event.  We would like to invite you to come down and celebrate our 25th year in business! Read more
February 18, 2010
Earlier this month we said goodbye again to the STILLEN R35 GT-R after getting the call from Nissan that they would like to bring the GT-R back into Canada for the 2010 Canadian International Auto Show in Toronto.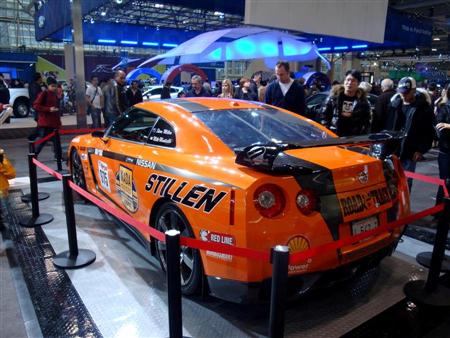 Nissan arranged for transport, and placed the Targa GT-R in the center of their booth, giving attendees a chance to get inches away from the Orange Godzilla and get a peek for themselves. The show runs through February 21, 2010. [Pictures & Video after the jump] Read more