October 28, 2010
We have made it to New Plymouth and I am writing this update from a Beaurepairs Service Center.  Tonight we went through the car for a mid-week check up, went through the oil change, checked brake wear, tires, etc.  Also the guys are having to fix the front lip after a local at one of the lunch stops guided Steve straight into the curb when he was trying to get into the parking area for lunch.  They had stacked up some blocks of wood to get over the curb and with three guys watching they guided him straight into the curb and pushed the front lip back!  Mark and Joe have had a pretty easy week though compared to Newfoundland so I guess it's good to keep them up for a night.  All is good on the car and the teams spirits are high. 
We came to the service center to rotate the tires on the rims.  Today was another hot day and we saw some pretty serious tire wear occurring and we want to stay ahead of it as tire consumption is a big part of the strategy on the Targa rallies. Read more
October 27, 2010
We are in our second night at Palmerston North and have some good news!  Steve is really enjoying the car and having a great time.  He pushed hard today and caught some ground on Proctor in the Metalman car but unfortunately another car caught more ground and squeaked ahead of us by a few seconds.  So, currently we're running 4th overall but making gains on the competition.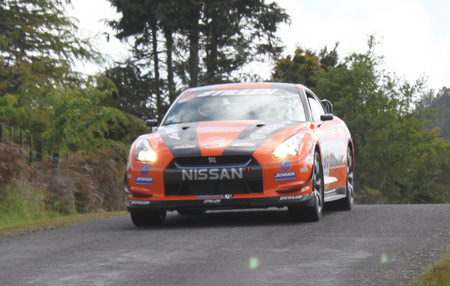 Something I did not include in yesterdays update is the great sportsmanship on this rally.  People work hard to help each other and teams competing against each other have been known to lend a hand and help their competitors to get them back on the road a little sooner.  Last night both Proctor and Dodson developed leaky Read more
October 26, 2010
I am writing this from the hotel in New Plymouth.  The good news is, the STILLEN GT-R is running very well and Steve and Phillip are doing very well and working great together!  Steve took it kind of careful today as he wanted to see how the tires were going to fair.  These Dunlops are looking great and are showing hardly any wear.  We are very excited to see how they work through the week!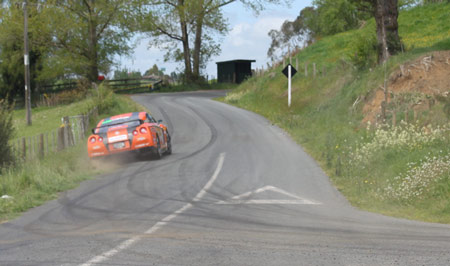 (For a larger version, click here)
 
Today was unusually tough as the weather was uncharacteristically warm..  The roads were hot and we really expected the tires to start wearing heavily.  However, The GT-R is running strong and working very well!  Read more
October 25, 2010
Well, I am sitting in the hotel room in Manakau (man-ah-cow) and I'm a bit confused about this week in New Zealand with the STILLEN team competing in the Targa Rally.  In 2006 I packed some board shorts, t-shirts, shorts, a couple pairs of jeans and a light wind breaker.  I immediately went down and bought myself a heavy jacket, jeans, and some rain gear.  In 2008 I was optimistic and brought down a pair of board shorts, couple pair of shorts and some t-shirts along with a heavy jacket and jeans.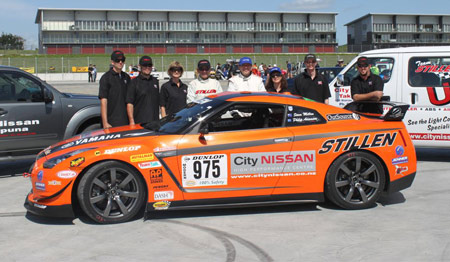 Upon my arrival I dumped the T-shirts, shorts, and boardshorts at the house as I realized I wouldn't need any of it for the week.  Just stuck with the jeans and jackets and was good all week.  This year when I packed I laughed when I saw my clean boardshorts sitting in the closet, grabbed all my jeans, my heavy jackets, and one pair of shorts and a few shirts.  Now I'm convinced that New Zealand is messing with me.  We haven't had a drop of rain or even a menacing cloud and the weather reports are good for most the week with some rain possible towards the end of the week.  Just my luck!!! Read more
October 19, 2010
Well, it's that time of year again.  Every year around this time we prepare for Steve Millen to send the race car to some far off country or island where we will race for 5 days straight and cover nearly 2,000 miles.  In 2009 the team took on the challenges of Targa Newfoundland for the first time and brought home a first place finish in the modern division, first place finish for the manufacturers, and put down some new stage records on the public streets of Gander and others.  It was an amazing journey that saw the unveiling of the STILLEN GT-R in Targa rally competition.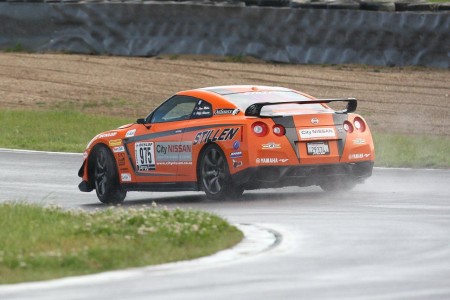 If you've been following the STILLEN GT-R race-car you've seen that upon completion of the Targa Newfoundland rally the car was immediately driven by Read more
August 19, 2010
NZ Autocar magazine is the premier automotive magazine covering all things cool in the automotive world of New Zealand, and this month the STILLEN GT-R graces the cover and a full 8-page feature with performance testing.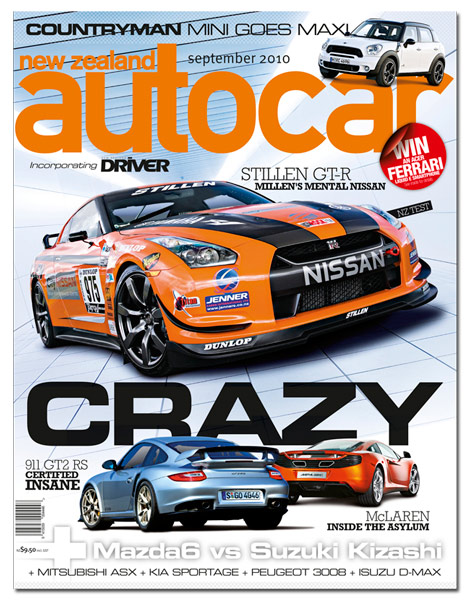 With the STILLEN GT-R down in New Zealand for both the Speedshow (NZ's largest auto show) where it was on display with the matching orange STILLEN Ford GT, and the upcoming Targa New Zealand Rally,  it was the perfect opportunity for Read more
August 10, 2010
We recently worked with Truckin' Magazine on some high speed brake testing, putting the AP Racing BBK designed by STILLEN to the ultimate test at El Toro Marine Base.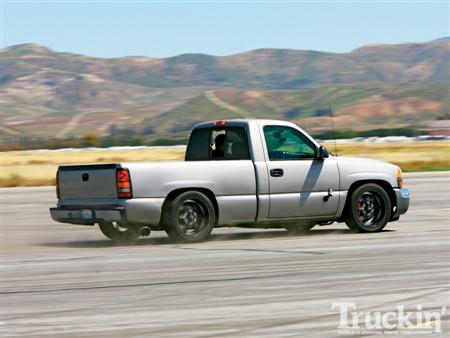 Truckin' editor Dan Ward pushed their 2004 GMC Sierra "Project Novakane" to the limit with repeated 80-0 mph stops beginning with the factory setup, swapped brake systems, and repeated the aggressive testing on the truck after outfitting the AP Racing setup onto the truck. Read more
June 29, 2010
Steve Millen and the STILLEN team have returned home from the Spectre 341 Challenge.  We had a great trip and we are already thinking of ways to improve the car for next year and see what kind of car I (Kyle Millen) can bring up there to compete in!  The team at Spectre did a great job for their first event and we are really looking forward to heading back next year!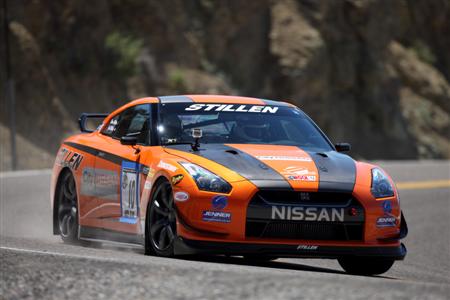 Photo courtesy of Larry Chen / Spectre 341
The GT-R finished 2nd overall, missing the top time by 1 second. Next year we'll be bringing back some Dunlops and should be able to pick up at least 5 or 6 seconds.  Unfortunately the Bridgestone run flats did not offer enough grip for the hill climb.  But, we knew that going into the event as the Dunlop tire is the NISSAN recommended performance tire.  Unfortunately they were out of stock though so we had to run the Bridgestone's. Read more
June 25, 2010
Looks like cell phone coverage is decent out in Virginia City where STILLEN and Steve Millen are running the GT-R at the Spectre 341 Challenge. We'll use this blog post as a place to post updates and photos we get back from the team.  We'll have a full recap after the event ends.
Friday 6/25 – 11:20am (Kyle via text)
Phone works okay.. no real updates.. did drivers meeting this morning and the drivers got a tour of the race course with tips from Amir from Spectre
The HRE Porsche is pretty nice and looks well prepared and the LG Vette is nice.. light weight good tires.. all good
There's a hearse here too!  I don't know about it though.. I think they are just here
Friday 6/25 – 11:43am (Kyle via text)
The hearse now has numbers.. looks like it's running! Read more
June 22, 2010
The busy schedule for the STILLEN R35 Nissan GT-R has finally finished with the shows and now it's time to get back to racing!  Team STILLEN will be bringing the orange beast to Virginia City, Nevada for the first annual running of the Spectre 341 Challenge being held June 25-26, 2010.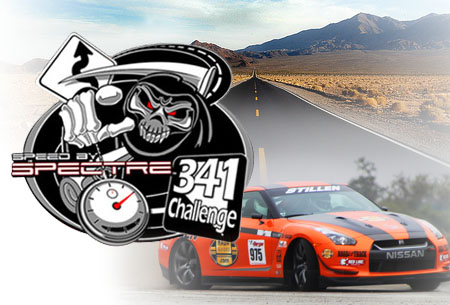 This event is held on a closed section of Highway 341 that would normally be opened to the public.  Originally started in the early 70's this event was pioneered by the local Ferrari clubs.  The event ran until 2002 before being shut down.  2010 marks the re-organization of the event Read more