May 11, 2011
One of the more popular products we make for the Nissan GT-R has been the polyurethane Protective Skid Plate, and with the changes to the new 2012 GT-R's front lip, this required a new skid plate to be designed. Proud to announce we are in final development of the new version for the new model!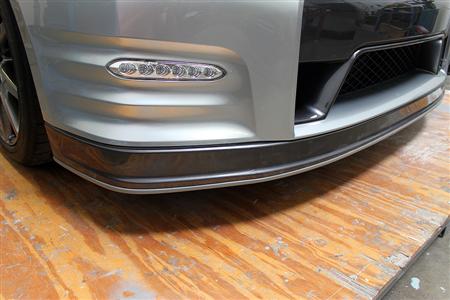 Here's a sneak peek inside the STILLEN modeling shop located in Costa Mesa, CA, and shows the final piece test fitted on the car before we sent it into mold preparation.  The final production part will be black urethane, sprayed with a black matte paint, and can also easily be painted to match any specific color if desired. Read more
January 23, 2009
STILLEN is proud to release our line of high performance lightweight pulleys for popular Nissan/Infiniti applications.  OEM steel pulleys, especially crank pulleys, can be quite heavy, robbing horsepower.  
Upgrading these pulleys to a STILLEN 6061 Aluminum set reduces rotating mass, allowing for easier and quicker revving of the engine, resulting in increased performance. Read more
August 15, 2008
We showed some pictures of the STILLEN Production Facility in its earlier construction phase in late June, and as you can see from the photos below, construction is almost complete.  This expansion will double the size of this STILLEN building, giving us the much needed room to expand the fabrication and manufacturing divisions of STILLEN.
Everyone is chomping at the bit to get some machines in there and increase production…
June 30, 2008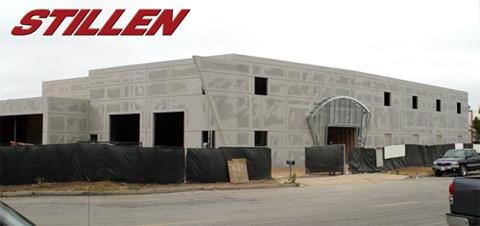 In early 2007 Steve Millen set a goal to expand our manufacturing facility (one of our three buildings in Costa Mesa, California) by the end of 2008. After months of planning and dozens of re-designs the plans to double the size of our fabrication/manufacturing building were finalized. This expansion was necessary to meet the increasing demand for our exhausts, headers, sway bars and other Stillen made products. A little known fact – STILLEN's manufacturing division makes sway bars, headers, exhaust system and other parts for some of the largest and best known brands in the performance industry.
During the last 22 years we have expanded from a small 1,000 square foot facility in Santa Ana, California into a 3 building campus occupying over 100,000 square feet in Costa Mesa, California next to the John Wayne airport. Within these 3 buildings 95% of the parts we manufacture are made in house. Along with the new building will come new machinery for both manufacturing and R&D. So, no matter what you can dream of, STILLEN will always be there pushing the performance envelope!