December 27, 2012
ANNOUNCING STILLEN'S ALL NEW SCION FR-S / SUBARU BRZ BODY KIT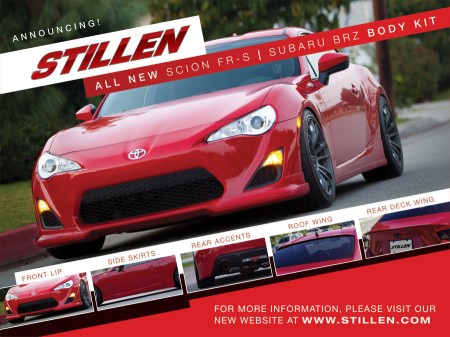 Continuing STILLEN's long-standing heritage of producing OEM-quality polyurethane body kits, we're excited to release the highly anticipated body kit components for the new Scion FR-S and Subaru BRZ.
These OEM-quality body components are the result of a community-sourced design contest publicized on Facebook.
After a two month open entry period, top finalists were picked by STILLEN's staff from over 100 design entries. The top contestants were then voted on by STILLEN Facebook fans. After a tight race between Greg Thompson and Mohammed Irfendy, Thompson took the win as people's choice.
The parts were sculpted at STILLEN's modeling shop in Costa Mesa, CA. Final production pieces are manufactured out of OEM-quality polyurethane in-house at the STILLEN headquarters and manufacturing center. Polyurethane has many benefits for aftermarket automotive applications, the most obvious is it will maintain an OEM-quality finish without cracking, as opposed to composites like fiberglass or carbon fiber.
Components are available separately, as well as packaged together as complete kits. The components include:
POLYURETHANE FRONT LIP SPOILER
This clean yet aggressive lip spoiler has a strong visual effect on the front of the FR-S. Installs over the OEM fascia, and has body lines to ease in painting the piece a 2-tone for additional effect, or can be painted completely body color as well. Front lip spoiler fits FR-S only.
POLYURETHANE SIDE SKIRTS (ROCKERS) WITH REAR CORNER ACCENTS
This 4-piece kit includes both passenger and driver-side side skirts, and also includes rear corners for both sides. Like the lip spoiler, there are body lines present to incorporate a 2-tone paint scheme if desired. Side skirts replace the OEM skirts, and the rear corner accents cover the OEM rear fascia.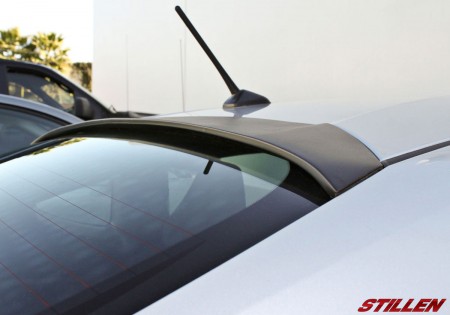 POLYURETHANE ROOF WING
A unique element which rounds out the body kit, seeming to extend the roof line into the rear window. Installs at the top of the rear glass, designed specifically to match the contours of the vehicle.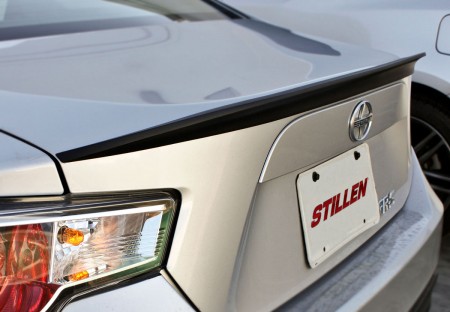 POLYURETHANE REAR DECK WING
This simple design element adds a surprisingly large amount of character to the rear trunk. Easily installed and does not require drilling.
• Polyurethane Front Lip Spoiler – Part # KB21022
• Polyurethane Side Skirts (Rockers) with Rear Corner Accents – Part # KB21025
• Polyurethane Roof Wing – Part # KB21024
• Polyurethane Rear Deck Wing – Part # KB21023
• All Scion FR-S Performance Parts
FOR MORE INFORMATION, PLEASE VISIT OUR NEW WEBSITE AT WWW.STILLEN.COM
August 10, 2012
It's official the Scion FR-S / Subaru BRZ has the aftermarket industry in a buzz and although we would LOVE to get our products out on the market as soon as possible, we always make sure the products do what they should before you put them on your vehicle. Case in point the STILLEN designed intake for the Scion FR-S.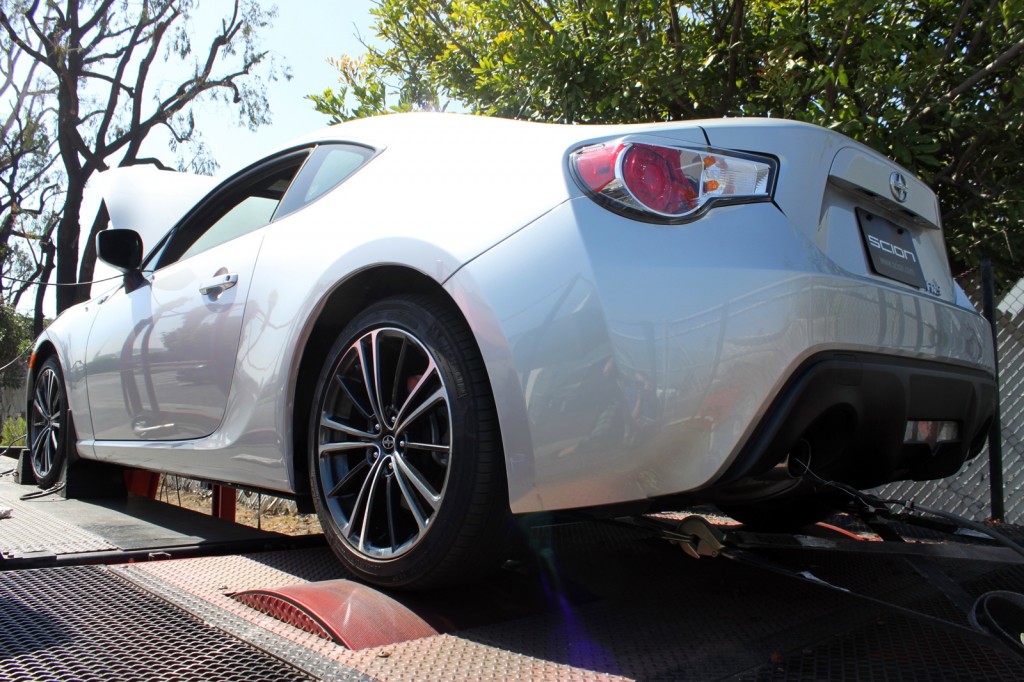 Here's a quick teaser vid of the FR-S putting the intake to good use… We can't wait to hear a customer scream by the building as soon as they get theirs installed.

Make sure you visit our website or give us a call for more information on STILLEN SCION FR-S and SUBARU BRZ goodies.
www.STILLEN.com
STILLEN
(800) 834-0376
July 26, 2012
It's like Christmas morning inside our warehouse today. We just received a shipment of over 17 palletes of AP RACING product. Everything from full big brake kits to rotors to hardware to everything in between. We can't wait to get everything unpacked and shipped out to you ASAP.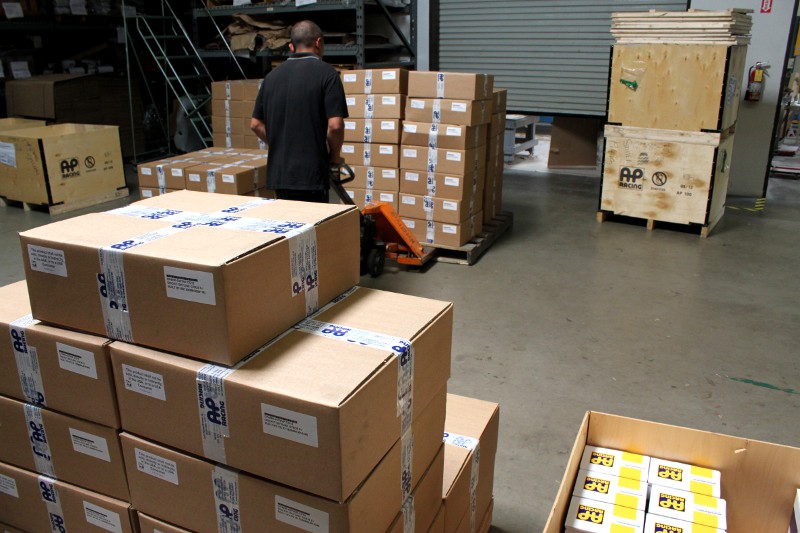 This isn't even HALF of the AP Racing shipment and we are already running out of space in the warehouse.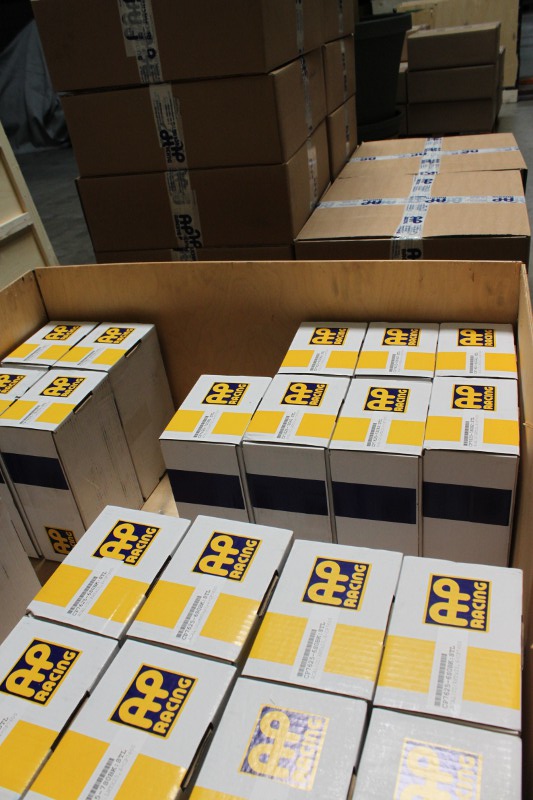 For those of you waiting on your AP RACING back orders to arrive from overseas we got many of you covered.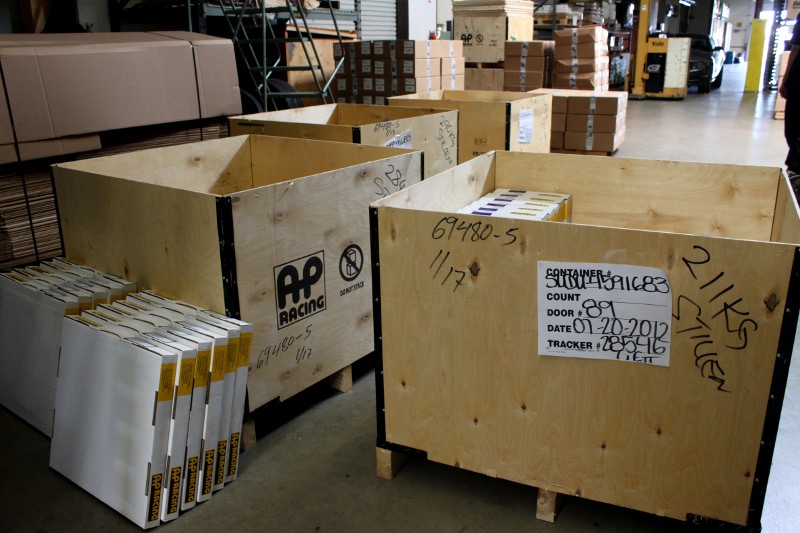 Make sure to give our specialists a call ASAP to pick up your
AP RACING
goodies before they all disappear. This stuff always moves fast.  (No pun intended)
STILLEN
(800) 891-1058
Or you can always visit our
AP RACING
section of our website for all your braking needs.
July 23, 2012
We have been getting an overwhelming response to our STILLEN FR-S body kit design contest. While we are basing our judging on overall design and function and NOT on technical ability, some of the designs that have been sent in are very impressive.
Here are some examples of the quality of work we have received.
We have more coming in each day so stay tuned for some really amazing examples. Also if you haven't done so already, make sure you stop by www.STILLEN.com/frscontest to get started on your design before it's too late.
July 18, 2012
We here at STILLEN are very excited about the release of the new Scion FR-S / Subaru BRZ.  In typical STILLEN fashion, we have already got the ball rolling on many upgrades for the car, but here is YOUR chance to make your mark on the aftermarket FR-S world.
For the first time in STILLEN history, we are giving YOU, the public, the chance to design the next STILLEN lip kit that will be produced by STILLEN for the Scion FRS.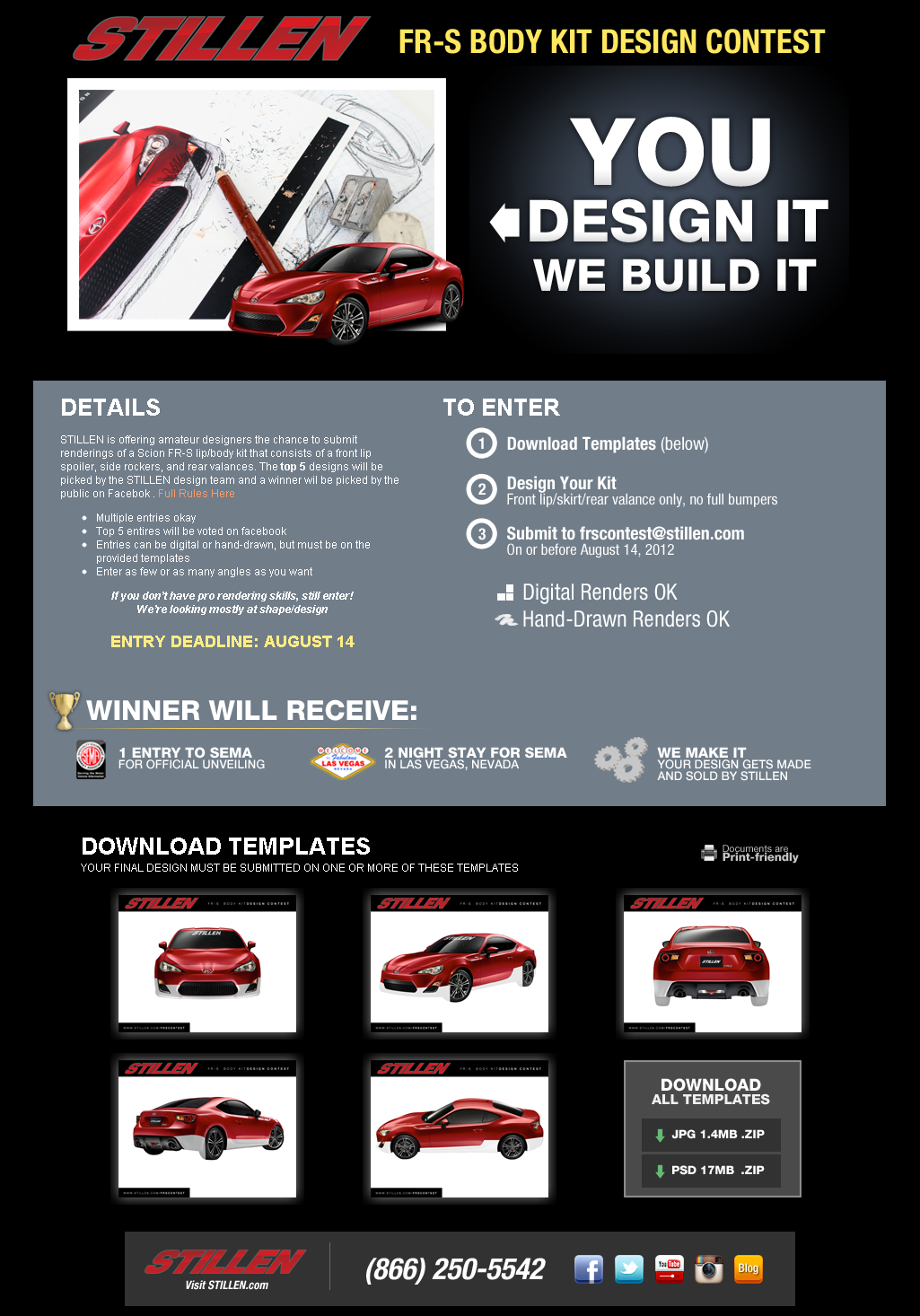 That's right YOU DESIGN IT, WE BUILD IT! 
We are accepting submissions today through August 14th 2012, once all the submissions are collected (send to:  frscontest@stillen.com ) we will pick the top 5 designs for people to vote on via facebook poll.  The designs must be able to be reproduced out of urethane only. Sorry guys, no carbon fiber or fiberglass work. You can include them in your renderings but just know, we won't be manufacturing those pieces.
Submissions must be based off the downloadable templates (found here) and can either be hand drawn or digital.
After all the facebook votes have been tallied, the winner will be announced by us on August 20th 2012.
The grand prize winner will receive:
THEIR BODY KIT BEING BUILT AND SOLD BY STILLEN
2 NIGHTS STAY IN VEGAS FOR SEMA 2012
SEMA SHOW PASSES TO SEE THEIR BODY KIT REVEALED FOR THE FIRST TIME
This is your chance to build the Scion FR-S of your dreams. We can't wait to see what you guys come up with.