April 16, 2012
Lately, we have been getting a ton of 370z questions regarding when we officially recommend tuning your 370Z after adding a few bolt on's.  The 370z is a very potent car straight out of the box but as soon as you start adding one too many bolt on's you can change the car's optimal air/fuel ratio to actually start to hinder your motor. Instead of boring you with a horribly written "Guide to modding your 370z," I'll refer you to the IMPORT TUNER power pages article where they managed to massage an extra 40HP out of the VQ37VHR powerplant.
The article can be found here.
2009 Nissan 370Z Touring – Power Pages
Maybe that will help clear up the "what part adds what and when you should tune" debate. As they say in the article…
THE DYNO DOESN'T LIE!
For more information on the products that can be found in this article…
STILLEN 370Z DUAL EXHAUST SYSTEM
STILLEN 370Z GENERATION 3 ULTRA LONG TUBE INTAKE KIT
In terms of engine management, we recommend going the UPREV route, which we can also provide in-house tuning for at our STILLEN PERFORMANCE CENTER. 
Plus we have plenty of other 370Z power adding goodies available if you want to step things up a little further than 40hp.
April 9, 2012
Before we dive directly into the crazy action that went down this Saturday in Long Beach, I'd like to first thanks John P and everyone over at Formula D for accomodating us with press passes for the event. We had a wonderful time and we are already stoked for the next one.  Secondly, I'd like to say it's amazing to see how much the sport has grown over the past six years. Cars are getting faster and faster (even with the new tire size rules) and drivers keep pushing the limits of their vehicles I can't wait to see how much farther Formula Drift will go before the end of this season.
Our day at the Streets of Long Beach started rather early which gave us a good amount of time to get some test shots in and walk around the event before the mayhem ensued.
Our first destination was the car show area presented by FATLACE / SLAMMED SOCIETY because we wanted to check out as many cars as we could before too many people got in the way.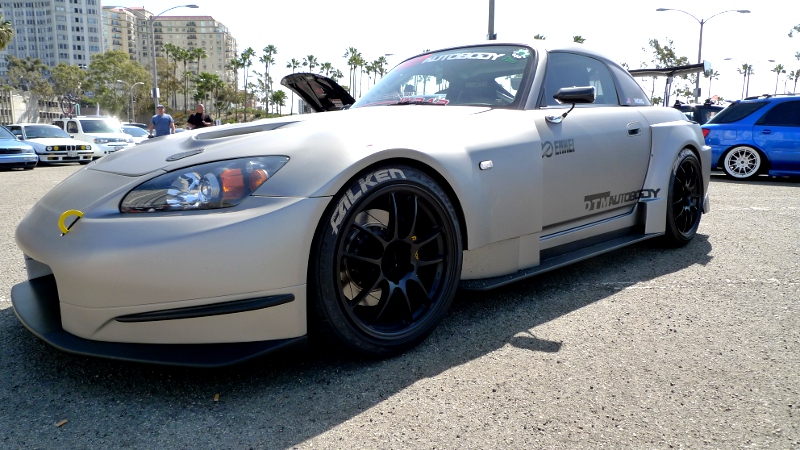 As soon as we crossed the bridge to the car show area, we noticed a beautiful widebody s2000 that happened to be running some serious AP RACING brakes.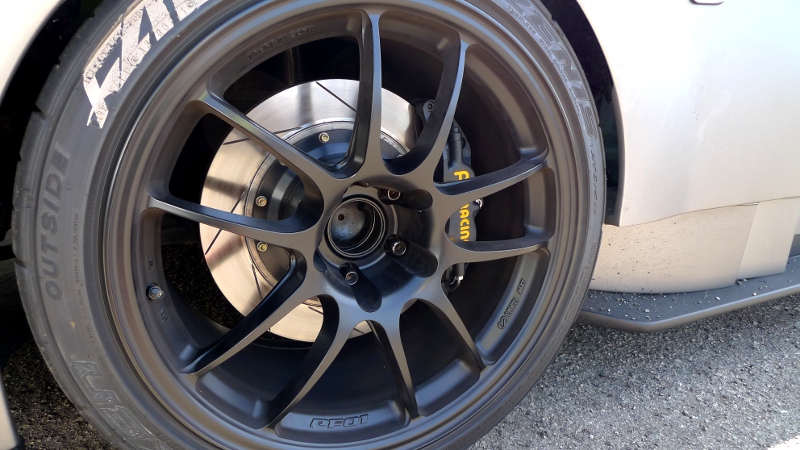 It's very hard to beat that set up in terms of looks and performance. I especially love the road debris still stuck on the sideskirts from the drive in.
After we were done drooling over the widebody glory we noticed a very clean 350z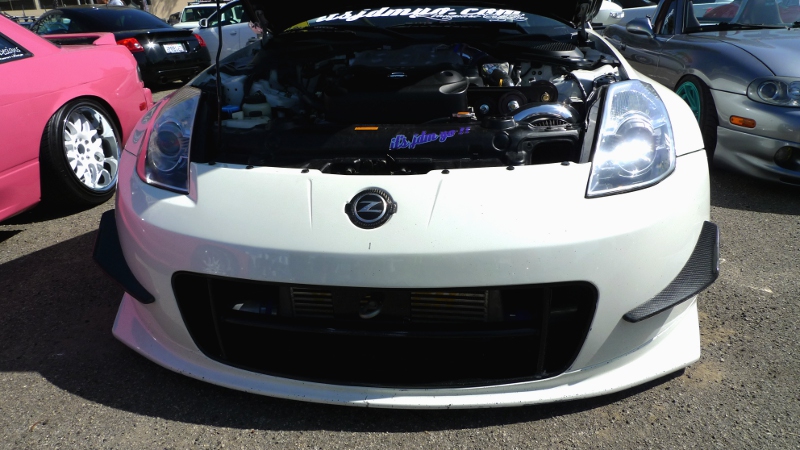 The "It'sJDMYO 350z was running an equally as clean Supercharger set up that was tucked in the engine bay very well.
Right in front of the Supercharged Z was a fine example of what happens when you combine the best of two world's when it comes to car design.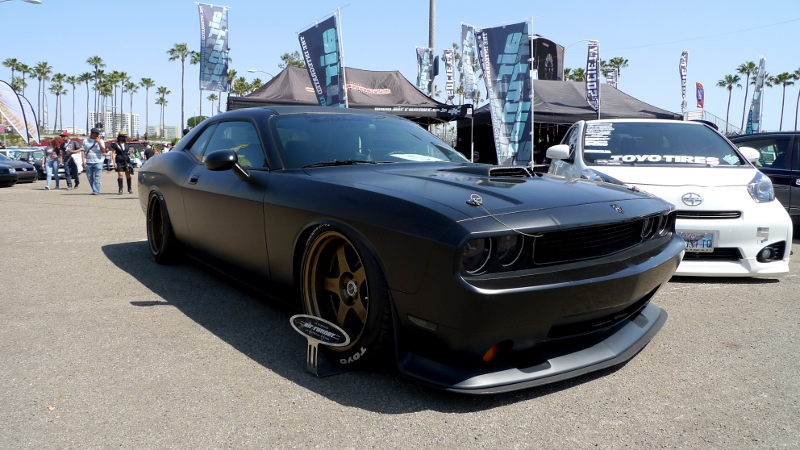 American muscle plus Japanese flavor make for a very clean and mean set up courtesy of JonSibal and Dodge.
After we walked our way through the car show, we noticed something you don't see at too many car shows and we were extremely stoked to see it.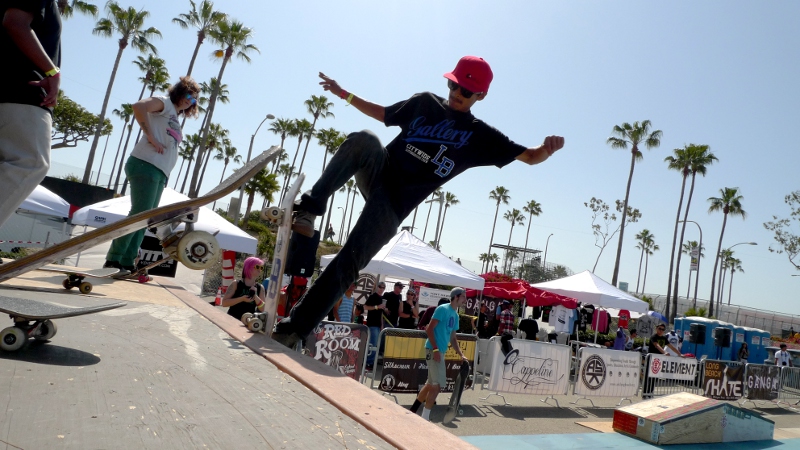 A sectioned off skate area that had everything from mini ramps to ledges to fun boxes made for some unexpected action. I almost ran to the car to grab my Psycho Stick and join in on the action until I saw this guy bust a Tail Blunt to varial and kill all my confidence.

There were some AMAZING cars on display that day and there were some cars that made us wonder if the owner just entered the car show for a good parking spot.  After we were done geeking out over show cars we directed our attention and lenses to some practice sessions.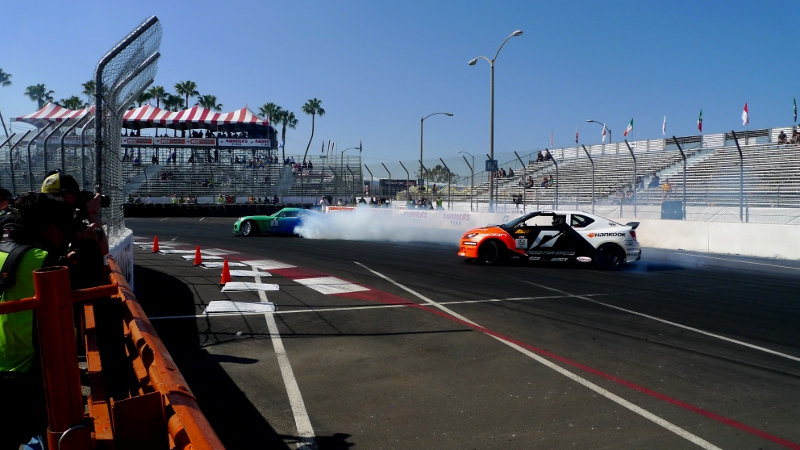 As you could see the guys were wasting no time getting used to the track before qualifying sessions started and the crowds showed up. Darren Macnamara and Frederick Asbo were going hard all day long.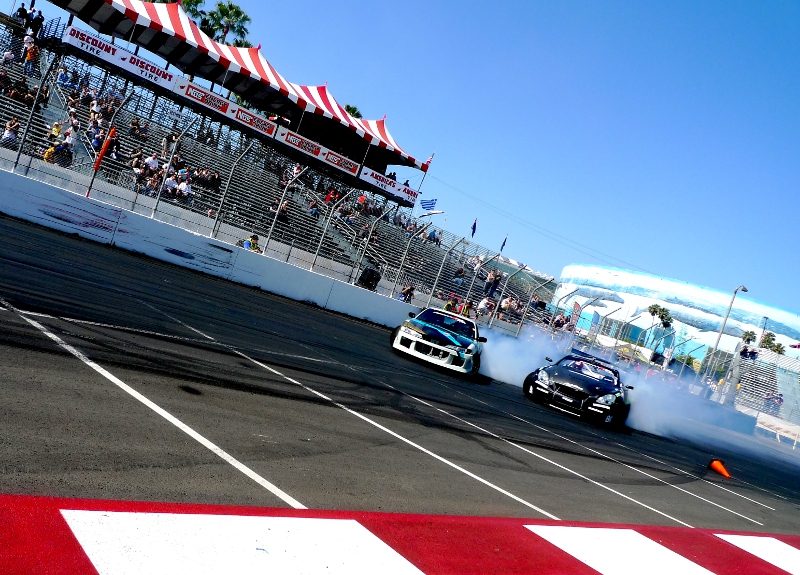 Everyone's favorite new kid on the Block Daigo Saito was getting used to the car, the track, and judging his gaps all at the same time in a few of his first outings in his new car.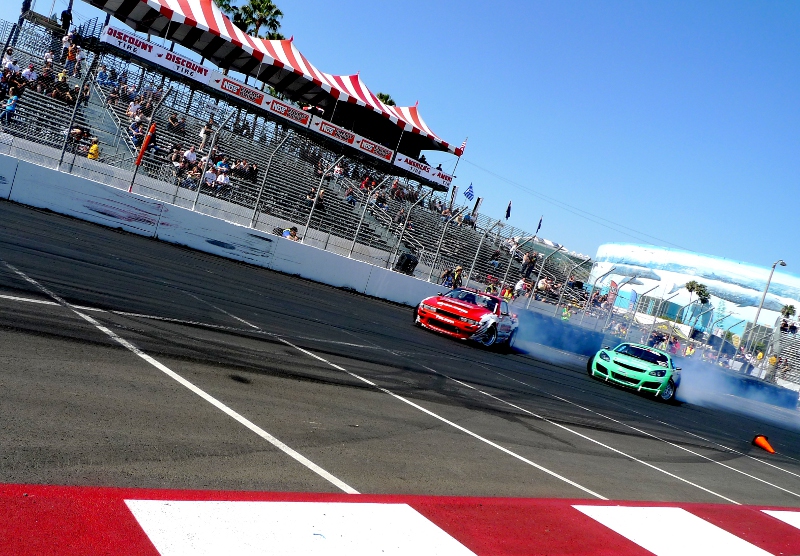 Saito wasn't the only Japanese Driver laying down some heat early in the day. Daijiro Yoshihara was getting himself warmed up for qualifications as well.
After we were done watching the crazy practice sessions, we took it as a good opportunity to walk the rest of the midway and grab some lunch.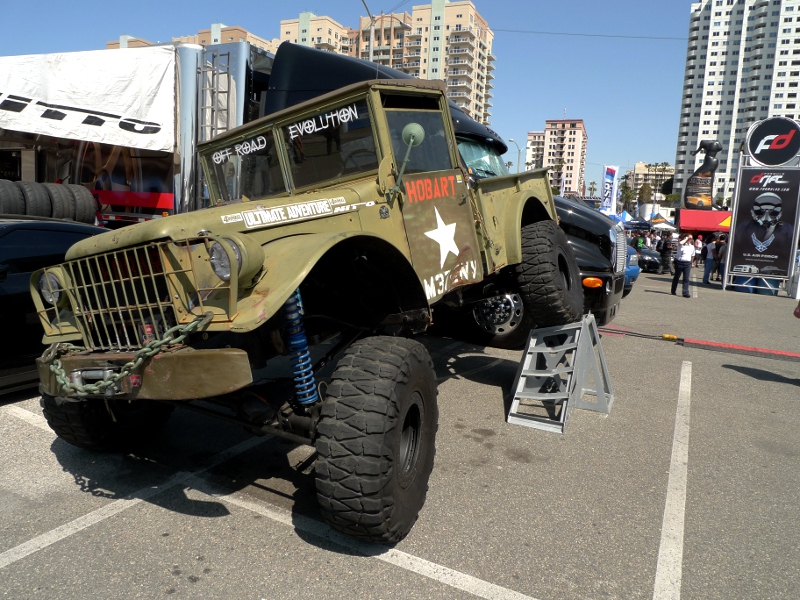 Ever get sick of driving in traffic on your way to work? Why not just drive OVER it?
After we were done stuffing our faces and getting some refuge from the sun, it was time to announce the top 16 drivers.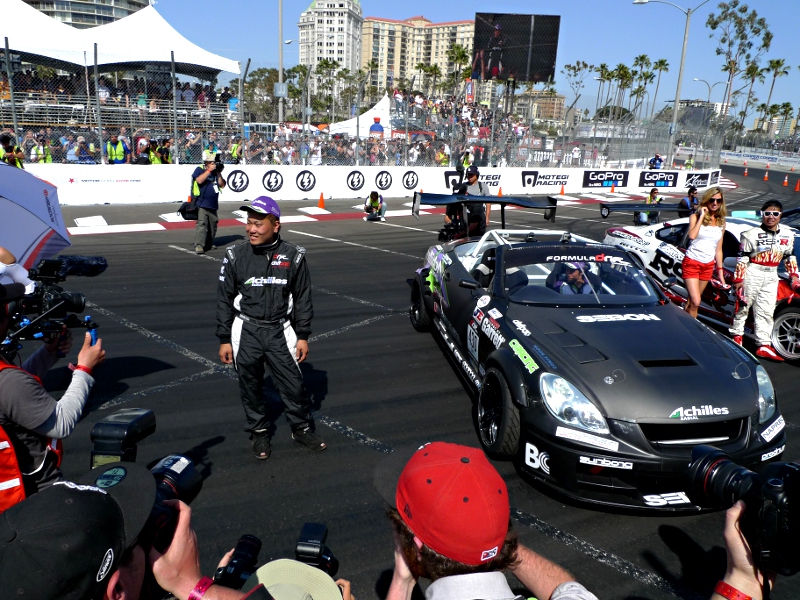 Everyone's favorite new kid in town Daigo Saito was getting a lot of attention before it was time for him to strut his stuff.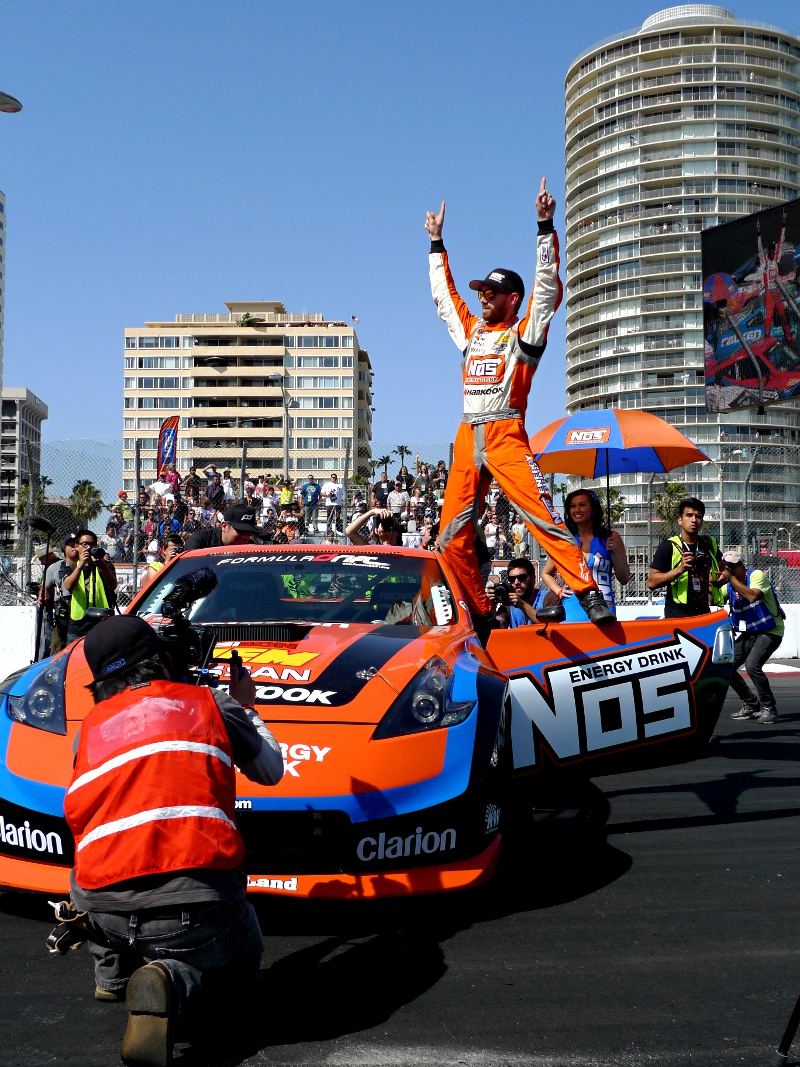 Chris Forsberg was quite literally taking his driving to a whole new level for the top 16 round.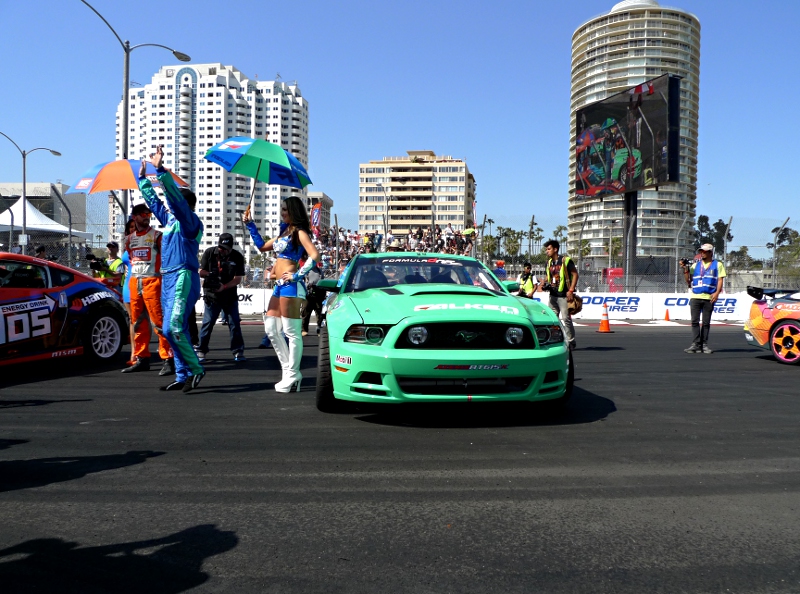 SPOILER ALERT!!: Justin Pawlak was looking to repeat his success in 2011….. He ended up achieving that goal and taking home the W.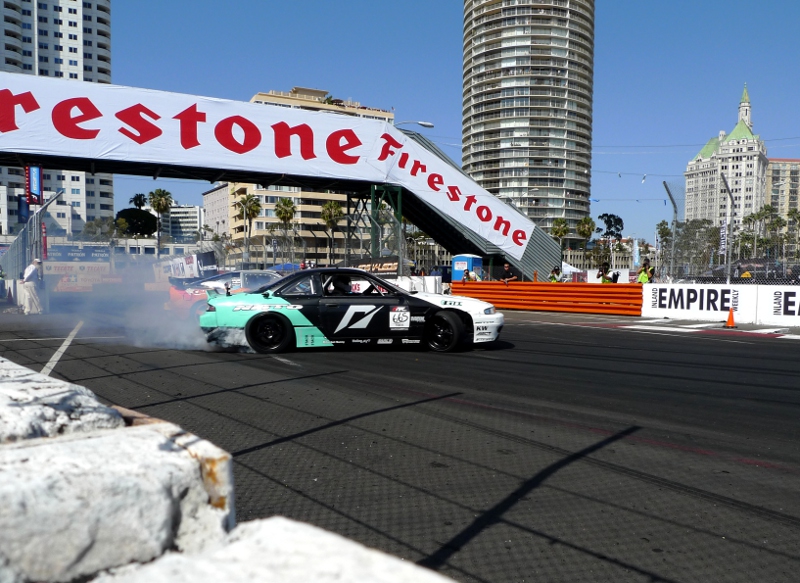 Matt Powers was also looking to repeat last year's results. He gave it his all against number one qualifier Ryan Tuerck and he ended up securing himself 4th place for the weekend.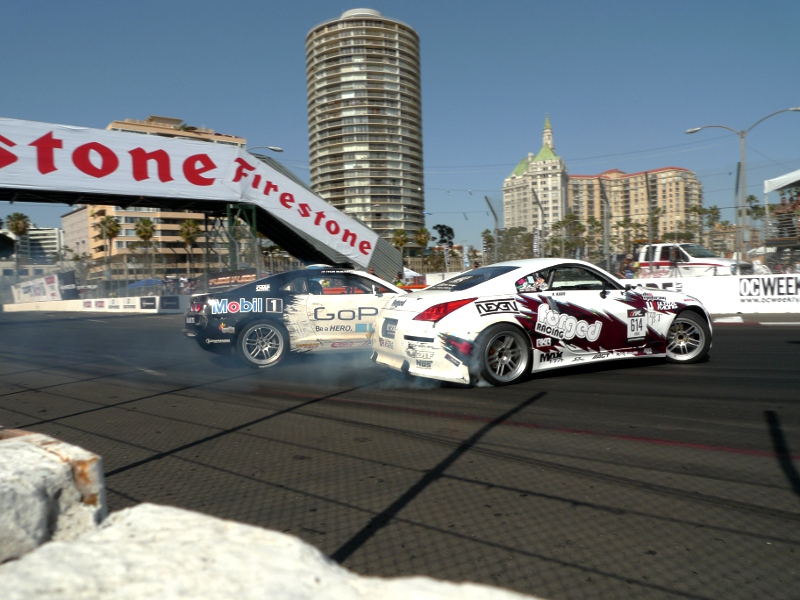 Tyler McQuarrie can just about drive the pants off anything and judging by the insanely small gap between him and Ryan Kado I'd say he was wearing his not afraid pants that day.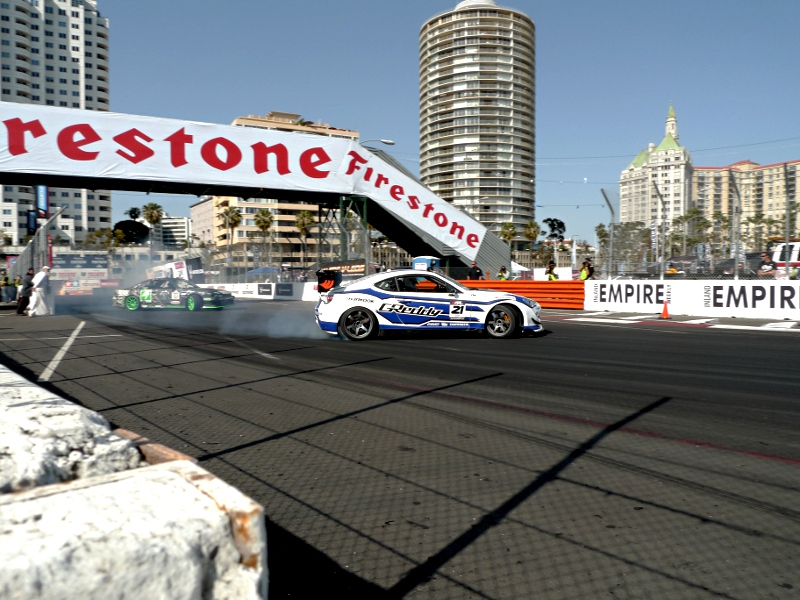 Ken Gushi was showing off what the new GREDDY built FT86 could do, and it was looking great all weekend.
After all that was said and done with, the 2012 Long Beach Formula Drift podium ended up shaping up like this.
1ST JUSTIN PAWLAK
2ND DAIJIRO YOSHIHARA
3RD DAIGO SAITO
We are extremely excited to see how the rest of the season shapes up and we can't wait to see our products in action for the rest of the year.
March 28, 2012
Often times we get customers who stop by to pick up parts they purchased from our online store and they aren't aware of our fully functioning service bay.  Heck, it even surprised me when I first showed up here. We know that in this day and age it's very rare to have an actual shop that allows local pick up of purchased parts and it's even MORE rare to have a kick ass service bay attached to that shop that will install those parts for you.  We pride ourselves in providing both to our customers.
That was actually the case for the customer with the Ford Mustang Boss 302.  Being an avid ford enthusiast, he has more than one Ford vehicle in his driveway, a (550 hp) Ford GT, a "plain old" (400hp) Mustang GT , and this (440hp) Ford Mustang BOSS 302 are a few of the ponies in his stable.  Guess which one he takes to track the most?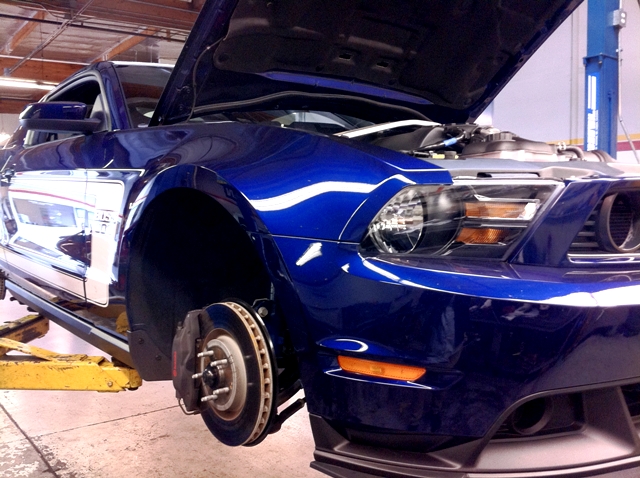 Yeah, I wouldn't take my priceless FORD GT to the track that much either, and the Mustang GT I would probably let the wife use to get groceries and roast boy racers on the weekends. Which leaves only one option… BOSS!
Having a weekend warrior track car usually means that you burn through items such as brake pads and tires pretty quickly, and the only shop he trusts to do all his maintenance work is, yeah you guessed it, STILLEN.
We threw the thoroughbred BOSS 302 up on the lift and swapped out the Brembo brake pads and added new brake fluid in a jif, so our customer can spend more time at the track with rock solid brakes and less couch time.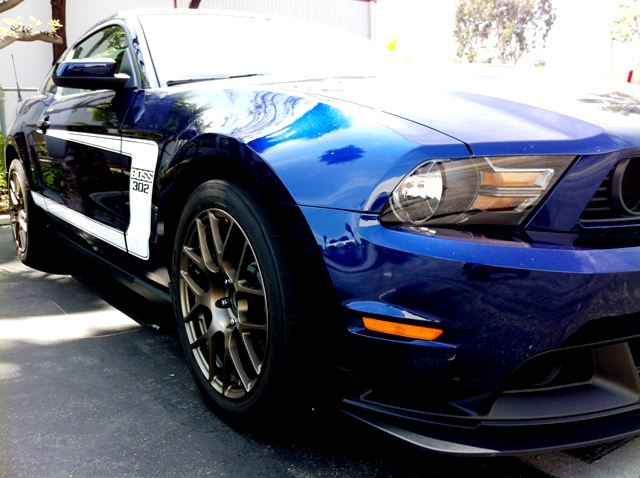 If you have any questions or would like to schedule a service appointment for your car please feel free to give us a call at (888) 366-0686 or go to www.STILLEN.com
March 16, 2012
Increase horsepower and improve gas mileage on your 2012 Infiniti M37 with Stillen's Gen 2 Dual Intake Kit.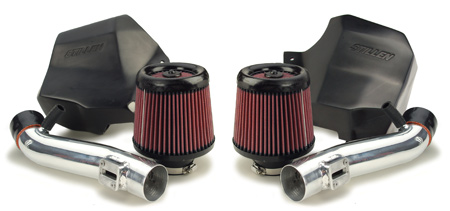 The STILLEN Infiniti M37 intake kit replaces the restrictive factory air boxes with 2 dual cone genuine K&N reusable high flow conical air filters. These filters are designed with an integral velocity stack and attach to our newly designed polished aluminum long tubes. Replacing the factory intake tubes with the STILLEN design adds additional horsepower, and a great look for the engine bay. We have also included two paint able urethane heat shields to keep the intake charge as cool as possible.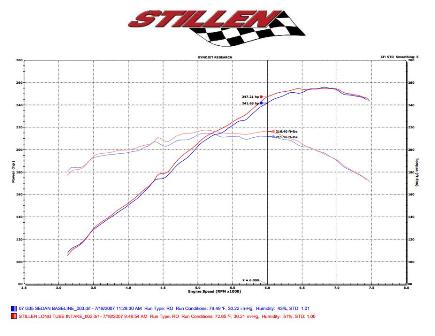 By installing just the intake kit we have seen a gain of +5 horsepower and +4lb feet of torque at the wheels on our test vehicles. Plus, you getting the added bonus of adding a little grunt to the intake sound of your M37.

For more information on the Infiniti M37 STILLEN Intake kit, click here. 
February 13, 2012
It's not every day that we release our Nissan 370Z demo car into the wild but when the guys from The Smoking Tire asked to stop by and take the car for a spin we had to oblige!  Matt Farah has been here before and went for a spin with Steve in the team STILLEN GT-R Targa rally car.  During that visit Matt saw the 370Z in multiple pieces as it was receiving the STILLEN treatment.  After multiple phone calls, emails, and text messages we were able to schedule a visit for Matt to get into the drivers seat of a STILLEN tuned 370Z.
This car has been reworked from the inside out and from front to back.  With KW Variant III coil overs, adjustable sway bars, adjustable control arms, AP Racing brakes, Enkei GTC-01 wheels and Toyo R888 tires, cat-back exhaust, 370Z supercharger (CARB legal and warrantied) to the urethane 370Z body kit by STILLEN along with the Seibon carbon fiber hood.
Or check out the video at TheSmokingTire.com.
February 10, 2012
Newmarket Infiniti/Nissan's latest build: this stylish 2012 Nissan Maxima.
Parts List
20″ M56S Wheels in Toyo Tires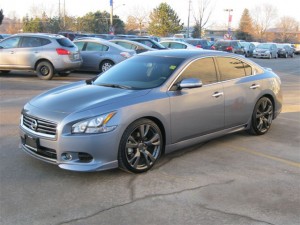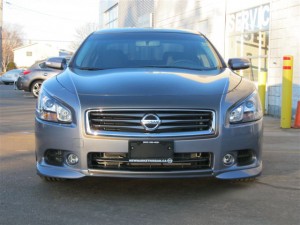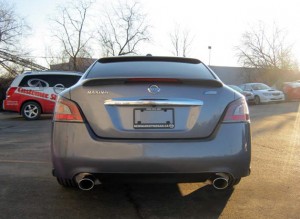 If you're in Ontario, Canada and want to check out this modified Maxima and others like it, stop by New Market Infiniti/Nissan or call Tom @ (905) 895-8785
February 10, 2012
This mean 6.1L hemi-powered Charger is getting a Vortech Supercharger (#4CL218-030L) installation finished up today before getting unleashed on the streets for what's sure to be a good weekend for the owner of this beast.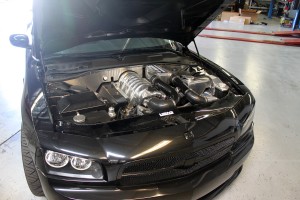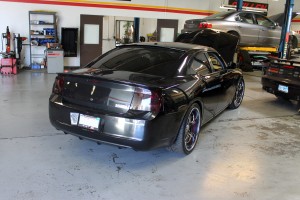 February 10, 2012
The STILLEN Performance Center is in the process of installing a C6 Corvette Supercharger kit by Edelbrock (#EDE1590) – Right now the techs are doing the unpackaging of the kit and prepping the car for install.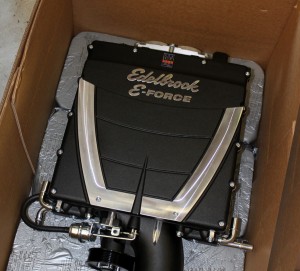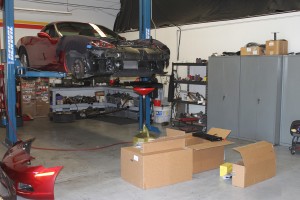 February 8, 2012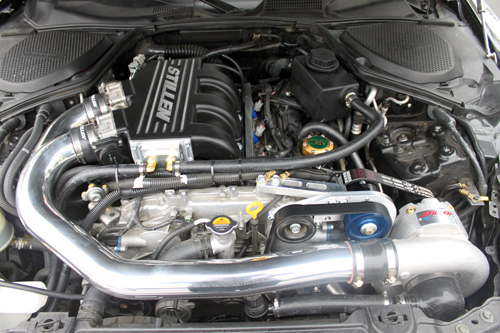 STILLEN is proud to announce the availability of the 2007-2008 350Z supercharger kit for the dual throttle body VQ35HR.
This supercharger system took over a year to develop and involves revolutionary designs to offer customers easy upgradability and installation. With this supercharger system, power is boosted to 450 horsepower (or 375whp).
Air to water intercooler: By redesigning the intake manifold we were able to incorporate the intercooler inside the manifold, thus allowing us to cool the air charge immediately before the air enters the engine. Additionally, the front mounted heat exchanger does not block the airflow supplying cool air to other vital coolers such as the radiator, engine oil cooler, transmission cooler, power steering cooler or the A/C condenser. Because water is 4 times more efficient at dissipating heat than air, we are able to utilize a more compact heat exchanger to cool the water.

** Individual results will vary based on the baseline of the stock engine, type of dynamometer used, temperature, elevation, fuel and various other factors.
January 9, 2012
Our friends over at Newmarket Infiniti/Nissan in Ontario, Canada have made getting quality aftermarket parts straight from the dealership possible for Nissan and Infiniti owners in Newmarket.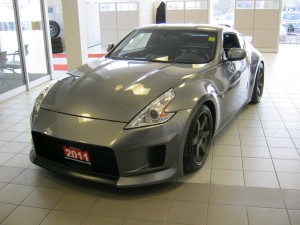 These 370Z's don't just look fast, they are fast; outfitted with Stillen performance cat back exhausts, Gen III intakes and more.
Newmarket Infiniti Nissan is a fully authorized Stillen performance center, offering a full line dealer of all Infiniti and Nissan models.
If you have a Versa, 307Z, G37 M37 or anything in between, Newmarket will make it look great and go fast.
Call Tom in the parts department at (905) 895-8785 and he will get you all the STILLEN style and power you need!
To make your 370Z look like this, pick up the STILLEN 370Z Fascia or Full Body Kit.