April 11, 2014
Our friends at Nissan Lloydminster are at it again with another souped-up Titan. The goal of this project truck was to make it powerful and fast to leave other trucks in its dust… They definitely met their goal with this Titan! The list of upgrades on the Nissan Lloydminster truck is impressive and is definitely enough to turn any enthusiast's head!
Adding Horsepower to the Souped-Up Titan:
To get the horsepower they were looking for, the Nissan Lloydminster team started by replacing the stock intake with a STILLEN Hi-Flow cold air intake. They also removed the stock exhaust and added a STILLEN 503257 dual exhaust. Not only do these upgrades improve horsepower, but they also help improve air efficiency. However, these changes were not enough for the Lloydminster Nissan team… They wanted more power! To accomplish this, they decided to supercharge the engine with a STILLEN 407570 supercharger, which has brought the power on similar Titans up to 379HP at the wheels (check out the STILLEN test dyno chart here). Now, this Titan can really haul!
Note: Dyno results will vary based on temperature, altitude, and other environmental factors.
Don't worry though, this Titan didn't just get a STILLEN power boost. It also got several other upgrades to round out its makeover. Other upgrades made include new wheels and tires, lowering shackles, transmission mount and chrome billet grille.
The Full List of Upgrades:
Check out the full list upgrades this project Titan has:
American Racing "Mainline" 22 x 9.5 wheels wrapped in Cooper Zeon 285 45R22 tires
PRG products transmission mount
PRG products 1" lowering shackles
Nissan Chrome Billet Grille
How to Find This Souped-Up Nissan Titan:
If you are as excited about this truck as we are and are in the Lloydminster, AB area, you'll want to stop by the Lloydminster Nissan dealership or give them a call at (888) 273-4071. Additionally, if you have any questions about the STILLEN parts on this truck or any of the other parts we manufacturer, please give us a call 866-250-5542 and we will be happy to answer any questions you have.
March 25, 2014
STILLEN is proud to announce that all current production STILLEN superchargers have achieved CARB exemption through 2014!  For many years, STILLEN has been recognized as the leader in NISSAN/INFINITI performance products and we continue our commitment by continuing to invest in tuning these fine vehicles. Our dedication to the NISSAN/INFINITI vehicles and the pride we have for the parts we manufacture for them shines through with this latest accomplishment.  The new CARB exemption order numbers (EO # D-426-19 and EO# D-436-20) cover all single and dual throttle body supercharger systems for the VQ35, VQ35HR, VQ37, VQ40 and VK56 engines.
Not only is STILLEN the only company to offer CARB exempt performance parts for these vehicles, but STILLEN is the only company in the world to achieve CARB legality when tuning through the factory ECU with larger fuel injectors.  In the past, the only way to achieve CARB approval was with a piggyback ECU.
With the latest extension of CARB Exemption Order numbers, STILLEN is also excited to announce the extension of the powertrain warranty programs already in place for these supercharger systems.  When you purchase your supercharger kit you have the option of adding a 3 year/36,000 mile powertrain warranty.  STILLEN is the only NISSAN/INFINITI tuner in the world to offer this with their supercharger systems.
Note: CARB (California Air Resources Board), a division of the California state government, is widely recognized as the strictest emissions control in the US and is recognized in all 50 states as an emissions standard for all performance parts. If a performance part achieves CARB legality, it is recognized as 50-state legal.
STILLEN CARB Approved Superchargers:
Single Throttle Body Superchargers (EO# D-436-19)
Dual Throttle Body Superchargers (EO# D-436-20)
Want to see more photos of the of the STILLEN dual throttle body superchargers? Check out the slide show below!
Next Steps
For more information about STILLEN's 50 state legal superchargers, please call us at (866) 250-5542 and we will be happy to help you. We also feature wide variety of other performance parts and a full service performance shop that specializes in dyno tuning, laser alignment, supercharger installations, and more!
March 12, 2014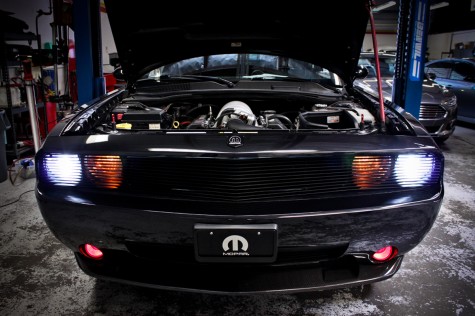 It's been a while since we've posted an update from the STILLEN Performance Shop, but that doesn't mean there has been a shortage of awesome vehicles to roll through. From exhausts to superchargers, our mechanics have been busy installing, tuning and everything in between to get upgrades completed for our customers so they can get back on the road.
Magnuson Supercharged Challenger SRT8
A few months back this menacing black SRT8 came through for a Magnuson Supercharger install. It was already boasting some heavy modifications like upgraded suspension, cat-back exhaust, carbon fiber front lip, hood and trunk.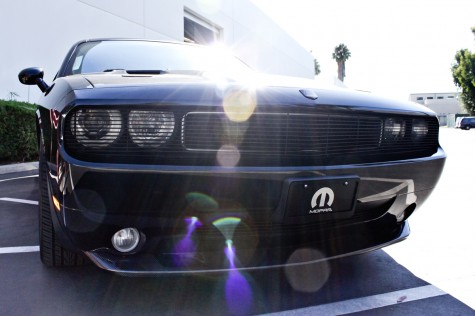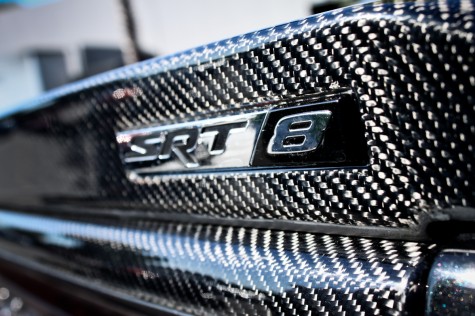 Check out the lighting set up on this black beauty!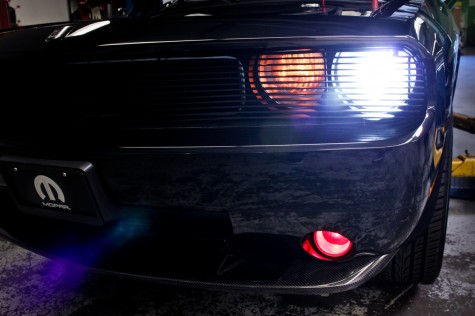 There are a few supercharger options available for the Dodge Challenger, including forced induction kits from Whipple and Edelbrock, but it seems like the Magnuson has been the favorite for the 6.1L Hemi as of late.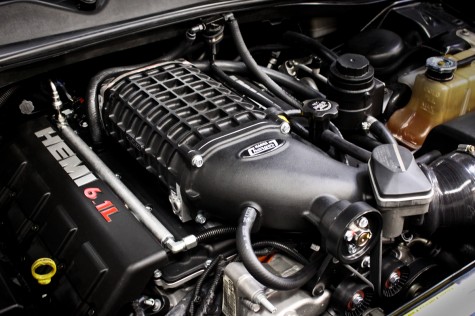 The Magnuson Supercharger is a CARB approved Hybrid Roots supercharger that is a 100% bolt-on system and is said to produce approximately 120 horsepower and 120 ft pounds of torque to the wheels.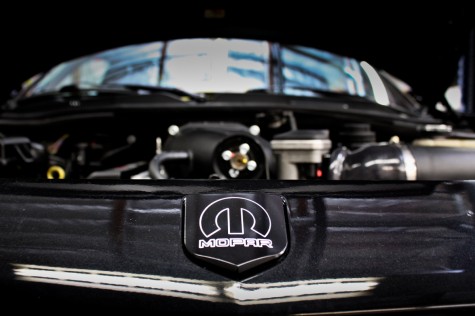 Magnuson Supercharged Challenger SRT8 Specifications
Produces approximately 120 horsepower and 120 ft-pounds of torque
CARB approved EO# D-488-16
Only requires an oil change every 80,000-120,000 miles
No hood modifications are required
Standard 3-year/36,000 mile Warranty on the Magnuson supercharger hardware
Standard 1-year Limited Warranty on electronics
Optional 3-year/36,000 mile, 5-year/60,000 mile, or 5-year/100,000 mile Powertrain Warranty (additional cost)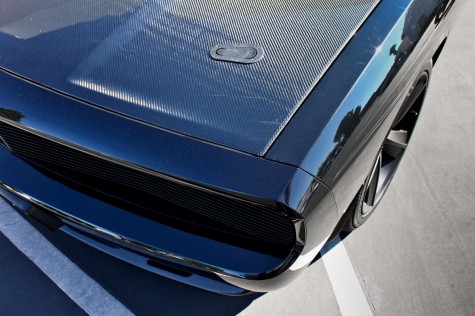 For more info on Magnuson Superchargers or to schedule an appointment with the STILLEN Performance Shop for an install, give us a call at (888) 366-0686 or visit http://www.stillen.com. Our performance shop also specializes in exhaust installations, body component installations, dyno-tuning and more!
December 31, 2013
Since STILLEN signed the agreement with Whipple Superchargers to become the only recognized and warranty certified installer in the Southern California area, the STILLEN Performance Shop  has been booked solid installing these beauties. The dominant car has definitely been the Chevrolet Camaro, but the latest installation was on this absolutely gorgeous Ford F150 6.2 Liter SVT Raptor.
To say we were excited to get right into the Ford Raptor supercharger install would be a huge understatement, the whole office was buzzing and taking bets (no money was exchanged- just bragging rights) on how much h.p. this beast would pull on the Dyno after the install.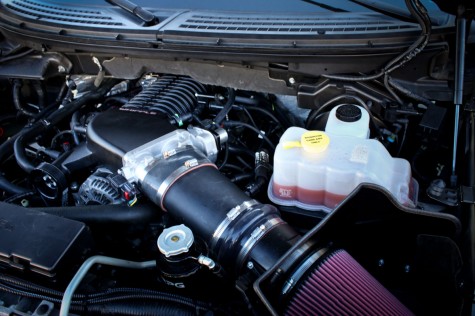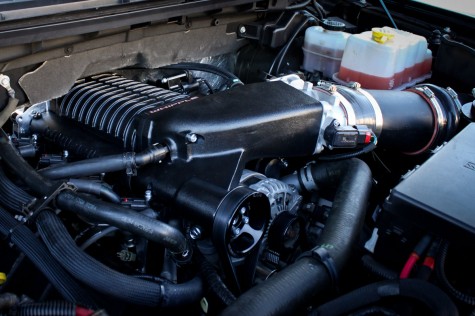 We've had plenty of trucks come through the doors here to get work done, but this was the first Raptor, and a heavily modified one at that with a full RPG suspension, cat-back exhaust, LED lights, winch, 37's, etc.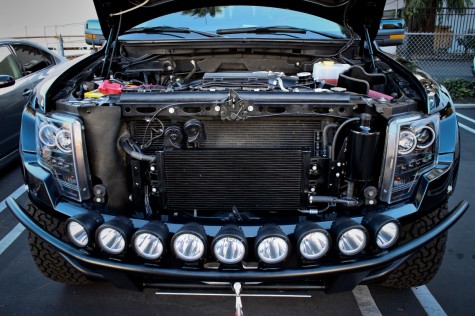 With the latest technology, the all new Whipple supercharger kit creates more power than any other superchargers on the market and is 100% complete and designed for stock engines, but also has enough capability to work with the heaviest of modified engines. With this in mind, we were expecting the Whipple to add about 25% extra horsepower at the wheel to this truck's already impressive resume!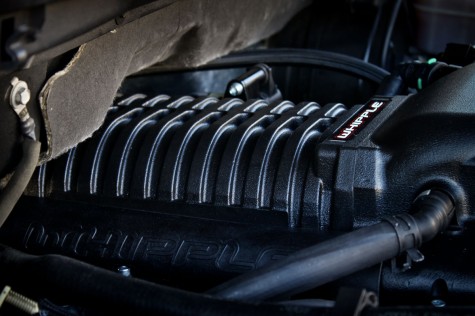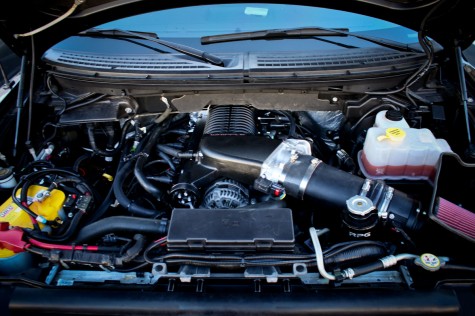 After the Ford Raptor Supercharger Install
On the baseline run on the Dyno the truck pulled 360 h.p. at the wheel. After the install, we mounted it up again and this time the results were drastically different!!! The truck laid down 502 h.p., an almost 40% increase.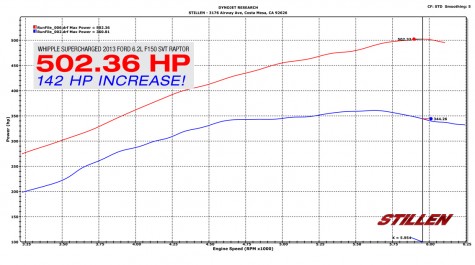 Additionally, our customer saw an increase from 386 to 485 in FT Lbs. of Torque, a 25% increase!!!!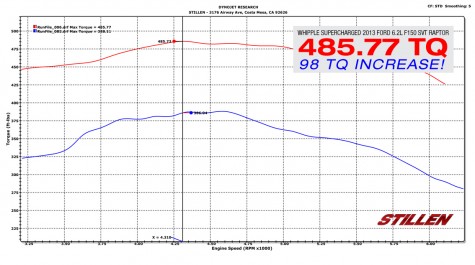 To say our customer was happy after the Ford Raptor supercharger install would be an understatement…..he was over the moon!!! He knew in an instant he had made the right choice on not only the Supercharger, but also on the highly skilled team of technicians at STILLEN to get it installed correctly!! Click on the video below to see second Dyno pull and check out the results.
Whipple Superchargers Installed By STILLEN
STILLEN continues to be the only recognized and warranty certified installer in the Southern California area for all Whipple Supercharger installations. When you have your supercharger kit installed by the STILLEN Performance Shop you can be rest assured that your vehicle will be eligible for coverage under the Whipple Supercharger 3-year/36,000 mile, 5-year/60,000 mile or even the 5-year/100,000 mile warranty options!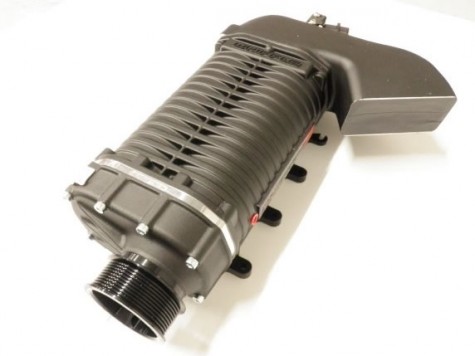 Whipple Superchargers are designed and manufactured in the US and utilize their innovative Twin Screw Compressor technology and only require oil replacement every 100,000 miles. We have Whipple Supercharger kits available and ready to install on your American Car, Truck, or SUV! Call the STILLEN Performance Shop today at (866) 250-5542 to schedule an appointment.
June 19, 2013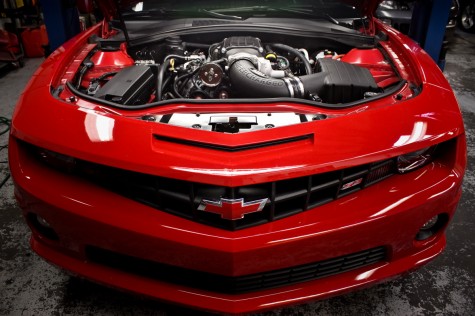 More supercharger goodness here in the STILLEN Performance Shop. This time in the form of a Magnuson Supercharger System dropping into a 2011 Victory Red Chevy Camaro SS. The stock Camaro SS is a 6.2L V8 powerplant that is said to boost 426 horsepower and 420 Foot Pounds of Torque in this 6-speed manual transmission.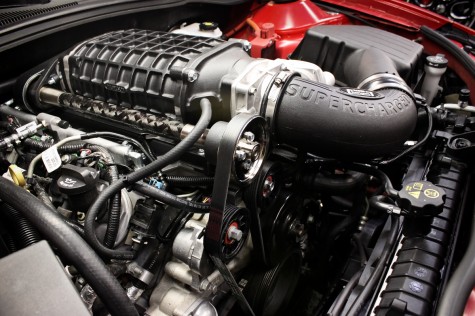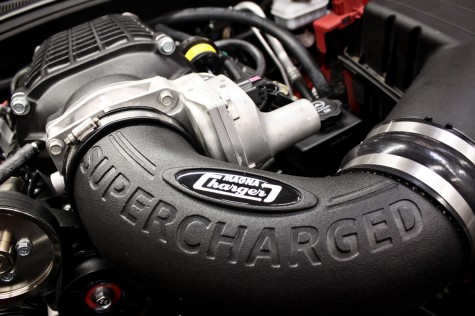 Along with the supercharger, we bolted on a few Pfadt Suspension pieces.
The Chevy Camaro SS Pfadt Rear Arm Package includes Rear Trailing Arms and Rear Tie Rods. These stainless steel arms increase strength while reducing overall weight. This allows the Camaro rear suspension to react quicker while keeping the rear tires in contact with the road for greater traction. The Pfadt Rear Arm Packages includes all required upgraded replacement bushings.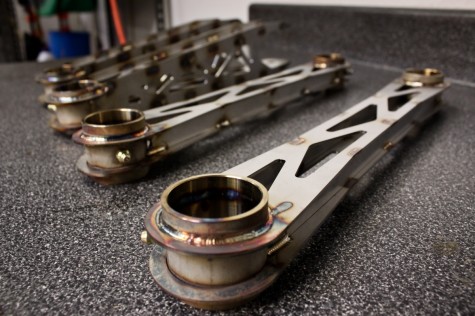 Pfadt Camaro Front and Rear Adjustable Sport Sway Bars
5th Generation Camaros are notorious for under-steer. The Pfadt Sport Sway Bars eliminate that by providing a proper rate of stiffness and balance. This reduces body roll and increases steering response resulting in a better driving experience. Pfadt Sport Sway Bars include greasable graphite-impregnated polyurethane bushings and new mounting brackets for a complete installation.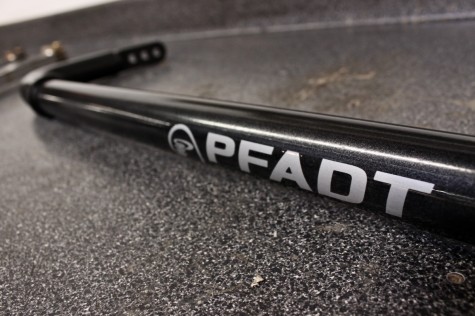 After the Pfadt Front and Rear Sway Bars and Rear Arm Package were installed, it went up on the rack for computer alignment to get it back into spec.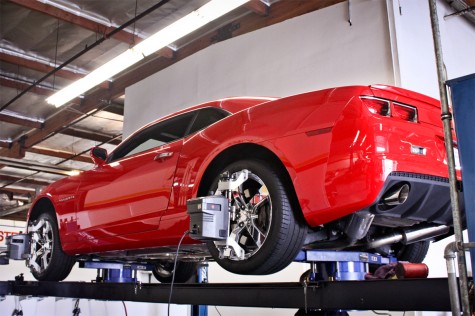 Then it was out to the Dyno to see this Magnuson Supercharger in action.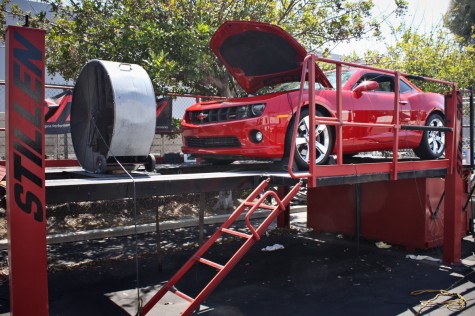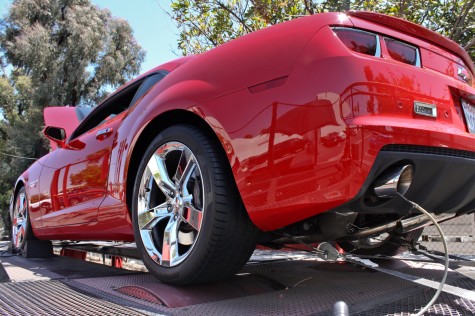 After it was all said and done, the supercharged Chevy put down 521 horsepower and 495 foot pounds of torque!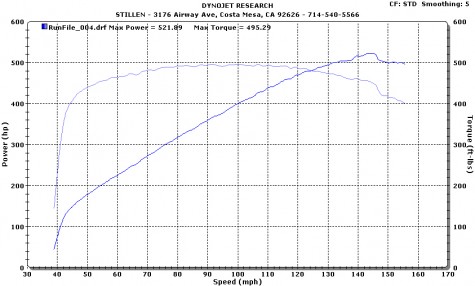 For more info on any of the performance products installed in this Chevy Camaro SS or to schedule an appointment with our ASE Certified Technicians for an install, give us a call at (714) 540-5566 or visit http://www.stillen.com