October 25, 2011
Today was the first  day of actual racing.  It was a great day and Jen and Steve did a fantastic job.  Their still getting to know each other's styles and figure out what the other one wants to say as well as hear.  It always takes a bit of time to develop that relationship between driver and co-driver.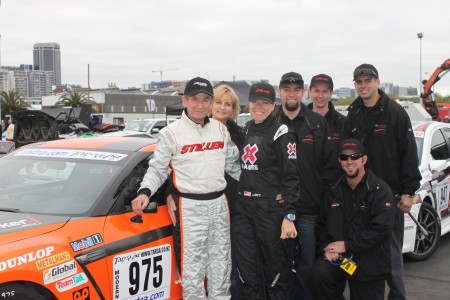 (Team STILLEN – Steve Millen, Jodi Millen, Jen Horsey, Kyle Millen, Conrad Healy, Joe Nagy, Mark Ungles)
The car is running well.  We're ending the night in Whangarei ("wonG uh ray" or "phonG uh ray" if you say it the Maori way).  We're very excited to be on new roads this year.  It really helps level the playing field.  When the organizers put these events on they have to get the approval from every single person who lives on the roads we're going to be racing on.  It takes about five months and they see around 9,000 people.  It's truly impressive and even more impressive that they were able to branch out to new parts of the country!  Peter Martin and the crew at Targa New Zealand have worked hard to put on the best possible event!
Conrad and I did quite a lot of traveling today and got to see three stages!  Got some great action shots as well as a few "uh oh" moments from some of the competitors.  Steve has been up and down in the standings all day.  The first couple of stages were a bit rocky but later in the day they started making some great times and even beating some of the front runners like Tony Quinn.  It's still very early in the race though.
Wish us luck and follow along as the rally continues!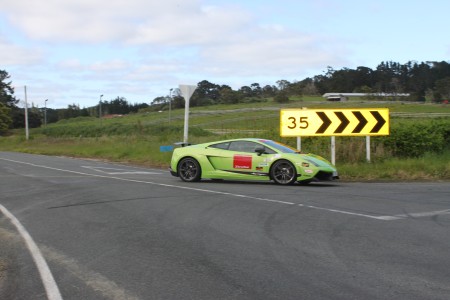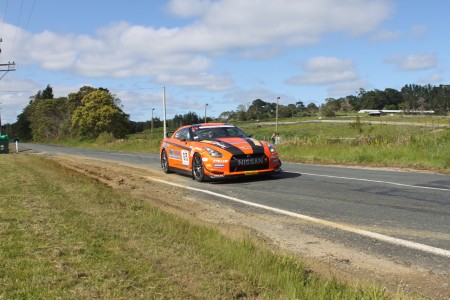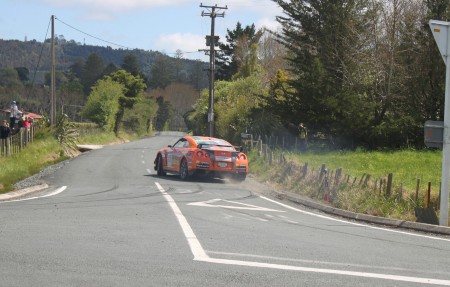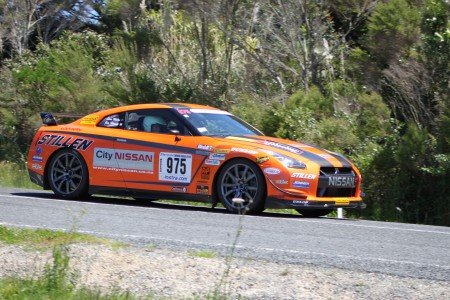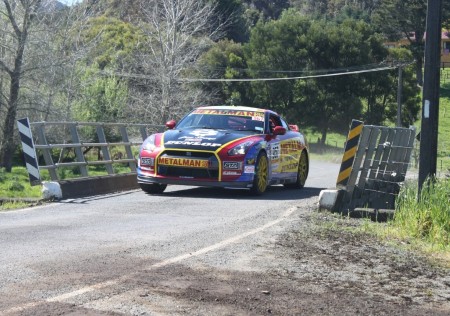 All 2011 Targa New Zealand Coverage
================================================
October 24, 2011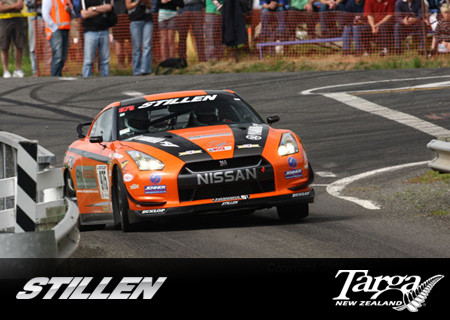 Well, we're back in New Zealand for the Targa Rally.  Today was the first official day of the event and it started with scrutineering in the viaduct in Auckland Harbor.  Last night was pretty exciting as the All Blacks (New Zealand rugby team) won the world cup!  Today was a bit busy in Auckland as they shut down the main streets and had a ticker tape parade for the team.  GO ALL BLACKS!!!!!
Once we got down to the scrutineering location we let Steve and Jen (more on Jen later in this post) do their thing with the organizers of the event.  Mark and Joe (you know them from years past) have to follow up with their crew meeting.  Conrad and I cruised through the park ferme (parking area) to check out some of the competitors cars.  The BS has already started as some of the other GT-R teams are telling us they aren't running as much power as we know they are….That's OK…we're not going to tell them everything we've done either!!! Read more
November 11, 2010
Every year towards the end of October, teams from around the world gather together in Auckland, New Zealand to start the 5 day Dunlop Targa Rally.  The Targa Rally is a grueling test of man and machine that takes place over closed country roads that would normally be open to the public.  The roads get closed down for just a few hours, just long enough to funnel 100+ "rally" cars through.  Competitors arrive in all types of vehicles, from a Ferrari F430 World Challenge race car, a Maserati and a few Porsche GT3 super cars to WRC-prepared Subaru and Mitsubishi rally cars, and even the older classic cars come out in force, like the old Mark 1 Escort's and even a Datsun 240Z with a supercharged LS2 engine and sequential gearbox.  2010 however was the year of Godzilla.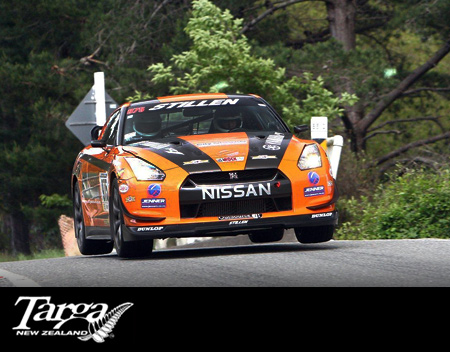 In the 2010 running of the New Zealand Dunlop Targa Rally there were four Nissan R35 GT-R's competing in the actual race, and one GT-R competing in the Targa "Tour", an event which takes place on the same closed roads and along the exact same route as the actual rally, the only difference being the Tour drivers are limited to a much lower top speed and do not compete for any sort of winner's prize.  The four GT-R's this year were piloted by some of the most experienced Targa Rally competitors, including Tony Quinn.  Tony has won 3 Targa's now and competes in Australia and New Zealand with his GT-R in numerous different Targa's each year.  Steve Millen took the STILLEN-prepared GT-R to the event Read more
October 29, 2010
Racing Day 5 Wrap Up!
I am in my hotel room writing this before Steve and Phillip get into the wharf for the final destination.  They have both done an amazing job and the entire team is very proud of the effort and hard work put in by all!  Steve pulled out some pretty miraculous skills this week and showed that he hasn't lost his edge.  Steve competes in very few of these rallies and really doesn't get much time to get back into the racing lifestyle anymore, so it took a day or two for him to feel fully comfortable with the car, but I'll tell you once he was in the zone he was a machine!  The in-car video footage and the photos tell the story better than I ever could!
 
The car has performed flawlessly all week and Mark and Joe have done a great job maintaining the car and making sure Steve and Phillip have exactly what they needed all week.  Jodi and Vivian (Phillip's wife) have been great team moms and looked after the service crew and the drivers better than anyone could have asked for.  We are all very happy to come home with the drivers and car all together in one piece and with a very Read more
October 29, 2010
Wellington is a lot like it normally is…Cold…Windy…and a high probability of rain!  Not a huge surprise yet very welcomed!  We are holding strong in third place and Steve drove hard today and won a couple stages chipping away time at Quinn and Inkster.  Inkster fought hard and also had a great showing and we are expecting tomorrow to bring an awesome battle!  All three vehicles are running strong and working hard!
Last night I was walking through the parking lot and noticed a car on a trailer covered by a tarp Read more